Who's one of the original supermodels, the first black model to cover French Vogue, and still lands major high fashion campaigns at 47 years old? NAOMI CAMPBELL!!!
Also on her list of accomplishments? Being the world's longest reigning Shade Queen. In case you forgot about her queen status, she just reminded us all in a slightly shady—but very necessary—IG post aimed at British Vogue and its former editor Alexandra Schulman.
Never one to bite her tongue, Campbell posted an IG pic of British Vogue's 2017 editorial staff with the caption, "This is the staff photo of @britishvogue under the previous editor #AlexandraSchulman. Looking forward to an inclusive and diverse staff now that @edward_enninful is the editor."
The fashion mag clearly has a preference.
Now, there are several reasons why this is suuuch a good read. Let's start with the tagging of BV. Did she have to use that @ symbol? No. But she did because she WANTED the mag to know she was calling them out. It's a bold play, only practiced by the realest.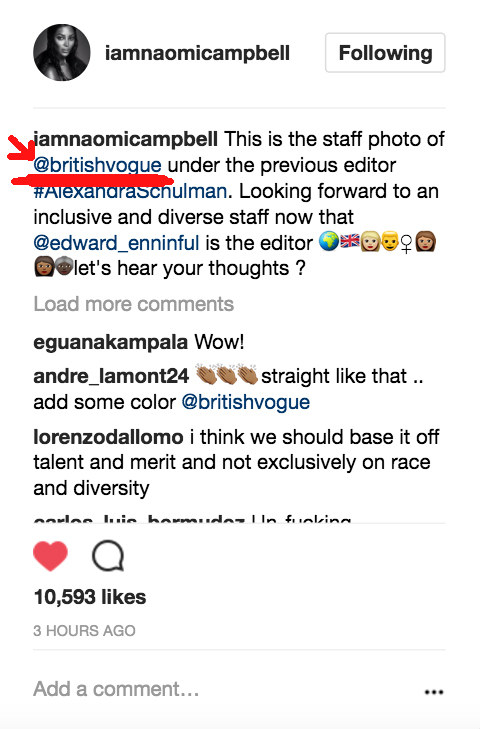 Also worth noting is Campbell's decision to NOT tag Schulman, even though she could have because she follows her. Perhaps Campbell is really trying to start a social media movement, hashtagging Schulman's name to spark awareness and conversation around her exclusionary leadership.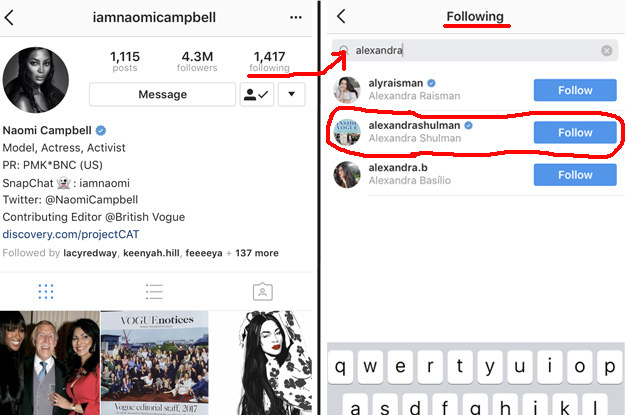 And lastly, in sharing her excitement for her friend Edward Enninful to take Schulman's spot as editor, Campbell also writes how she's "Looking forward to an inclusive and diverse staff now." This is but another reminder, in case we missed the message, that British Vogue and its former editor failed to employ an inclusive and diverse staff before.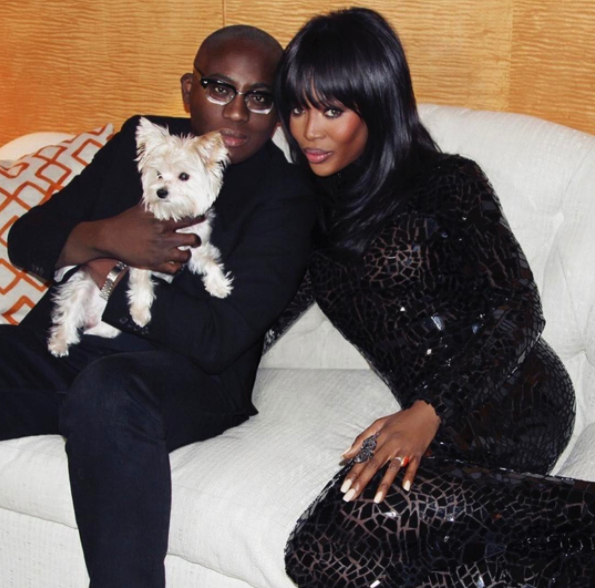 There were definitely a few sprinkles of shade in Naomi Campbell's post, but one might argue that they were much needed as the fashion industry consistently fails to value diversity and representation—behind the scenes and in front of the camera. Fall 2017's Fashion Weeks (which happen in February) were the most diverse ever, and still only 27.9% of the models were non-white, according to The Fashion Spot.
In an interview earlier this year, the model turned icon told Town & Country editor-in-chief Stellene Volandes that she will "not shut up until it gets to the point where it's equal and balanced." And to that we say, YAAAAAS, NAOMI!