It wasn't until high school and college when people would say, "You're so pretty for a dark-skinned girl," that I really became aware of colorism. I couldn't quite process the meaning of the backhanded compliment, but it made me feel weird and my response was always a hesitant and confused "Thank you?" Through talking with peers about their own experiences being discriminated against because they were darker-skinned and as I noted the dwindling absence of chocolate girls in mainstream media — particularly as the love interests in BET music videos — I began to understand what that "compliment" meant.
As Destiny's Child split and each member pursued their solo careers, I thought, This is it! Kelly's the one to put dark-skinned black women back into the narrative! I knew that if anyone could shake things up, it was her. She could sing and dance, she was charismatic on late night TV, and she was undeniably, EXCEPTIONALLY stunning. She's a real star by America's standards. I went into full stage mom mode, planning what I wanted for her career. She could become the face of a major cosmetics brand, co-host a panel talk show, reinvent herself as an EDM artist to draw a clear separation from her girl group bandmates (the Grammy-winning record "When Love Takes Over" with David Guetta was proof that this was a lane she could own). I wanted to see her in Covergirl commercials and Balmain campaigns because that's the kind of visibility, as shallow as it is, that shifts mainstream beauty standards. And this was not to minimize all that Kelly had given us: "Dilemma," X-Factor (U.K, USA), The Voice (Australia), "Motivation" and its steamy BET Awards performance, four solid R&B albums that were actual bodies of work and not just singles, and the rare star power to hold our attention for 20-plus years in a constantly evolving entertainment industry.
But I still wanted more. I wanted her celebrity to single-handedly fix a centuries-old, deep-rooted societal ill that she had no hand in creating — and having that desire was both unrealistic and unfair. I didn't come to the latter realization until a few months ago at a Schick launch event, where I talked to Kelly Rowland who is a face of the brand's Intuition F.A.B. Razor Kit (it literally shaves in BOTH directions so you can't cut yourself). We obviously talked about products because I'm always gonna get the beau-tea when given the chance to chat with one of the most gorgeous celebrities of our time, but I also asked her all the questions the Kelly stan in me wanted to know, like why she's yet to follow my dreams for her and endorse a major makeup or skin care brand. By the end of the conversation I sensed that she was genuinely happy with how she'd evolved — professionally, but more importantly personally — and my own idea of what her evolution should look like paled in comparison to her's.


In a "Breakfast Club" interview, Jermaine Dupri said it's still hard for dark-skinned women in the industry. We can point to examples of that representation, like yourself, but there's still a disparity. What are your thoughts on that?
I think that things will continue to get better. Whitney Houston did it: a chocolate girl. Jody Watley did it: chocolate girl. I did it, and I'm still not done. Now it's just time to get back on it, you know what I mean? I think that you continue to open up doors for artists who really connect with women. As a black woman we can sense when you're for us. It's time for that artist. I don't know if she even sings, but I am such a fan of Marsai Martin from Black-ish. I literally love her! I love the fact that she's just so unapologetic and chocolate, so proud and confident in herself. I put that one on my shoulder. I hold her up high and want other people to celebrate her. Of course there's other ladies out there and we celebrate them, too, but she's another generation and she's one that I see.

[Watch the "Breakfast Club" interview here. Colorism commentary at 39:40.]
I love that you stan for her. Have you met her?
I met her, but then I hit her on IG — oh yes, honey, I follow Marsai — and just told her how I think she's just incredible. I used "intelligent" first, because I think that's what we have to instill in our younger generation. Your intelligence, your knowledge. Your beauty is one thing, but I just feel like she's such a great representation of a generation.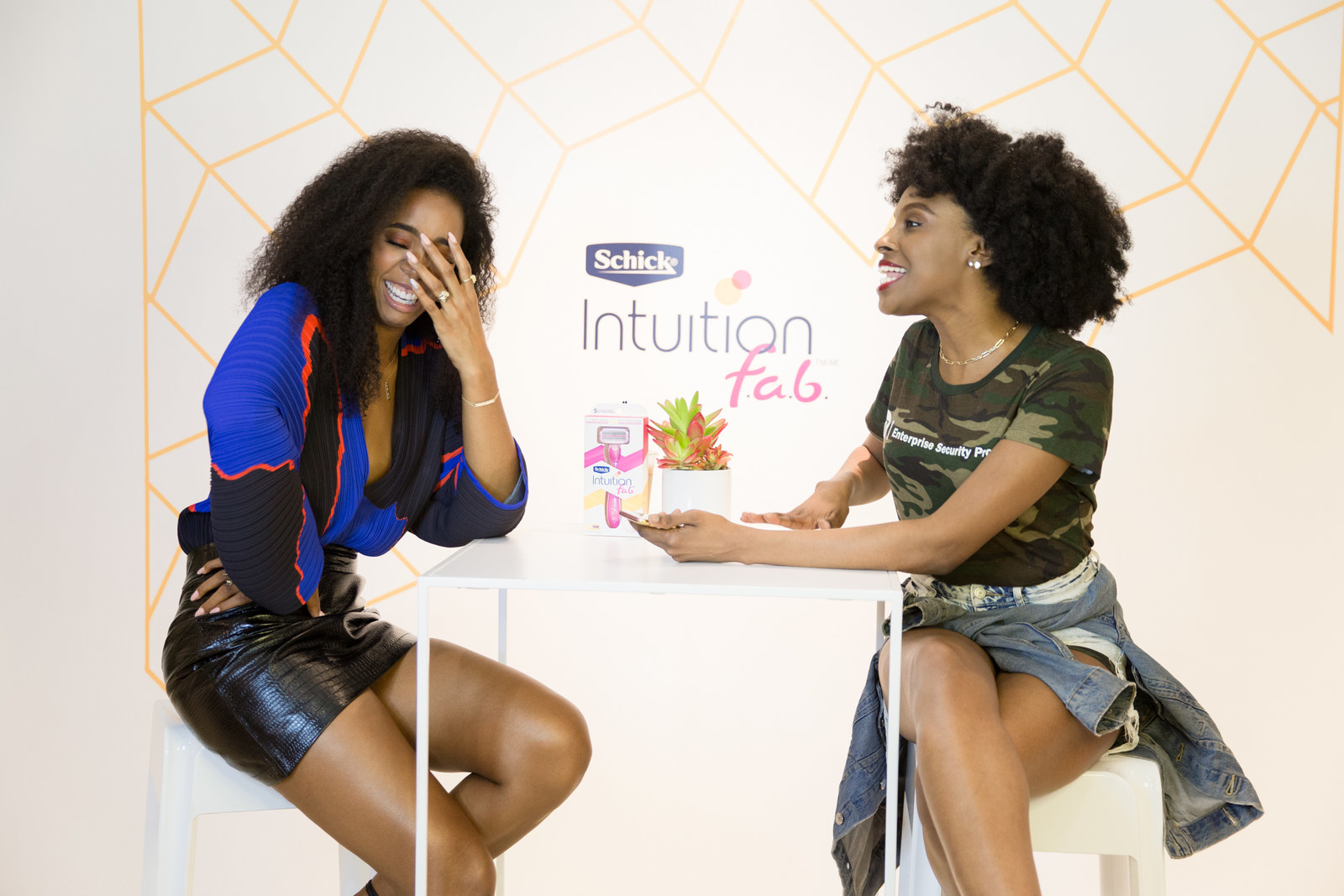 You've haven't intentionally made giving a voice to people who've been left out of the mainstream beauty narrative your mission, but you've done that just by your sheer existence and we love you for it, black women especially.
I often wonder if people with an exceptional quality know that they have it. Like, did Whitney actually know she had the greatest voice of all time? And I always wonder if you know you're exceptionally stunning. Do you ever think about it?
I don't know if I necessarily think about it like that. When my makeup is done right, when my hair is flawless [I feel fly]. Or when I don't have anything on at all, that's actually when I feel fly. When my husband says the right thing to me I feel fly. The first time my son held my face in his hands and he said, "I love you, Mommy," that made me feel stunning! The day that I had him, I felt like I could do anything.
Maybe it's because the older I get, the more I appreciate those things because to be honest, I didn't really get my worth — not even just about beauty — but just worth. It started to click in at like twenty-seven. Twenty-seven, twenty-eight, I was like, "Oh, you dope!" I remember there was a time in my life where I operated off of,
"What does that person think? Should I do what they say?" I don't give a fuck anymore. I really, really don't. It's just all about what makes me happy, [and] my family makes me happy.
It made so much sense when Schick announced this partnership because you're a beauty icon and should be aligning with women's lifestyle brands. Would you ever be the face of a major cosmetics company?
I'd love my own! That's what [my makeup artist] Sheika Daley and I are working on now, but that's another side conversation. It takes a lot of money for that. It's on both of our vision boards. We've already actually started the beginnings of making the product. We have all the samples. It's just that next phase is really expensive.
Your skin is incredible! Give me a rundown of your skin care routine.
What are your top five favorite products you can't live without?
So who's the what of Destiny's Child because in every sisterhood, every friendship, there's a dynamic?
Ooh, gosh, that's a hard question. Michelle is the soul, Bey is the brain, I'm the heart. Bey is the brain 'cause the way we figure stuff out in the studio, it's pretty remarkable. She's like, "Oh, let's do this," and then we bounce off of that. It's even awesome in the fact that we're able to do that amongst each other and be so secure within what we bring to the table. I think that's how groups really last. You have to be secure in what you bring to the table, and know that one light is not higher or lower or whatever. They're all dynamic, and they all need each other. I secretly call us another trinity.

How happy were you when Michelle got engaged?
WHAT?! Oh my god! When she called me, I started crying. I was in Australia and I was in such shock. But, by the way, if you ask her, I told her she was going to be engaged in a year. I literally told her. When I met him, I knew that me and Chad were gonna be close, and we are. I knew that he was gonna be a good guy, and he is such a good guy and she deserves a good guy. He's just awesome, and she's amazing, so I'm just happy that they found each other and happy that they trusted God, they trusted love. And look where they are!
What do you want your legacy to be? Obviously you're in the best girl group of all time and you've done such amazing work. But Kelly Rowland, the individual person, what do you want that legacy to be?
That I was a light. I feel like it's so much happening in the world already... People are already walking around in enough darkness. When God gives you a platform — I'm gonna start crying — you're supposed to be a light. I know it's so much different energy I'm about to take on [onstage], so let me pour my light into you. That's what you deserve. You paid your ticket to come. This obviously means you want to be fulfilled, you want to be happy, you want a memory. I have to give you light. I have to give you light for my record. I have to give you light when I speak to you. I have to pour into you, the way I feel God pours into me every day. I'm so blessed in the way my husband pours into me, or the way my baby pours into me, the way my assistant pours into me, the way my team pours into me, the way you're pouring into me right now. I just wanna be a light.


Kelly Rowland-approved products:
Schick Intuition f.a.b. Razor. Get it from Amazon for $8.26.

Elora Lane lashes. Get them from Elora Lane for $6-$35.
iS Clinical Cleansing Complex. Get it from Amazon for $42.
Dr. Lancer The Method: Nourish moisturizer. Get it from Sephora for $125.
Shani Darden Retinol Reform. Get it from Shani Darden for $95.
Honest Company Instant Plump Eye Cream. Get it from Amazon for $20.89.
LightStim LED. Get it from LightStim for $169-$245.
Katalaya face cleanser. Call to learn more.
Shani Darden Déesse Pro LED Mask. Get it from Shani Darden for $2,300.

Kevin Aucoin The Expert Mascara. Get it from Sephora for $29.

Honest Company Magic Balm. Get it from Honest Co. for $12.99.