Skin care routines are so personal because we all have different skin types, hues, and all these other features that heavily influence what products we use. Obviously what works for some may not work for others, but it's still fascinating to know exactly what other people use — especially journalists who often have access to tons of beauty products (I literally can't remember the last time I had to buy skin care or makeup), and who've typically nailed a solid routine that works because their job requires them to be so visible. (The last thing you want is a super shiny forehead while you're interviewing a celeb at a swanky event.) We reached out to eight journalists of varying ages and stages in their careers to ask about their skin care rituals. We also asked them for a #nofilter selfie with minimal makeup, and who had the most iconic beat between Beyoncé, Kim K, and Ru Paul because no reason.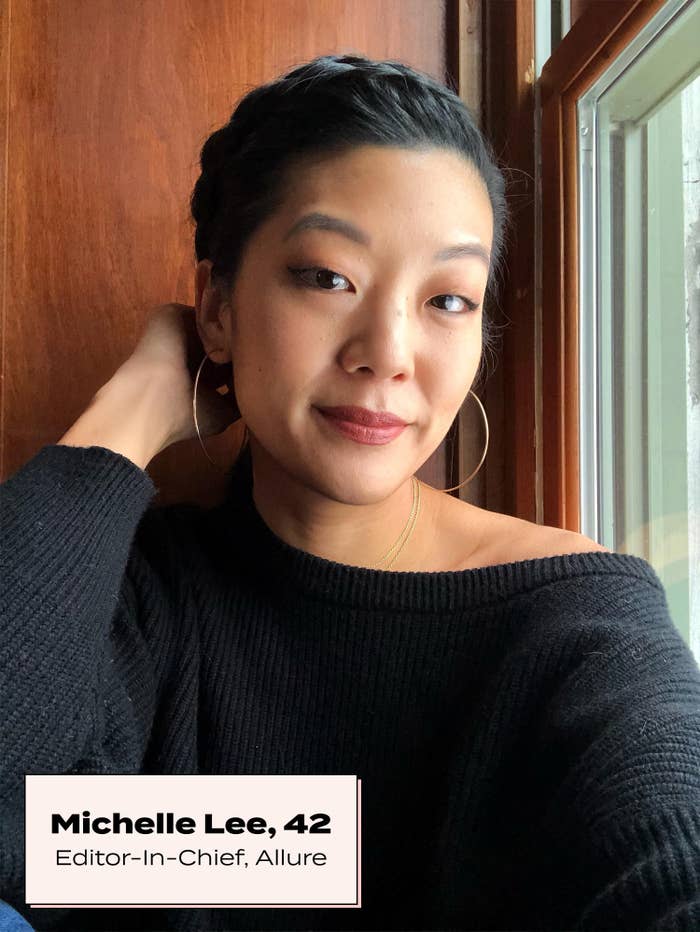 "K, let me preface this: My list here is going to look extremely fancy. Keep in mind that beauty editors get get a lot of products for free. I realize that my regimen has taken on Rich Kids of Dubai levels, but I find the skin care routine particularly soothing and I get all sorts of stuff sent to me, so why not enjoy, right? That being said, I included a few lower-priced options that I also use—and love."

Everyday skin care routine: "In the shower, I cleanse with Environ Mild Cleansing Lotion. Post-shower, I sweep a cotton pad soaked with Environ Youth EssentiA Toner all over then pat on Tatcha The Essence. I just started using a lot of Dr. Barbara Sturm products a month ago and am obsessed with her Hyaluronic Acid Serum and Ampoules. I'll pat that juicy serum all over or Sulwhasoo First Care Serum, which is also nicely hydrating. I like eye cream but anything too creamy or oily makes my eye makeup run, so I opt for M61 Hydraboost Eye Serum for day, which is a clear gel that absorbs quickly. Then, super important, a good moisturizing day cream with SPF. My daily go-to is Révive Dark Spot Remover with SPF 30, which leaves a pretty, dewy, almost pearlescent, finish (OR Olay Regenerist Micro-Sculpting Cream with SPF 30). Anyone who follows me on Instagram, @heymichellelee, knows that I'm big on facial mist. I have about 20 on my desk, but I've been reaching for these two the most: Herbivore Rose Hibiscus or Mario Badescu Aloe, Chamomile and Lavender. I'll mist as a little refresher once or twice a day. (Side note: my nighttime routine is almost the same but I use Tatcha Camellia Cleansing Oil to take off my makeup and swap in Dr. Sturm Eye Cream and Augustinus Bader The Cream as night cream.)"

Most iconic beat between Beyoncé, Kim Kardashian, and Ru Paul: "Normally, Beyoncé wins everything in my book. But you've got to give respect to Rupaul. Kim, Kylie, Huda, Mario, Manny—so much Insta-beauty is based on techniques that the drag community has been doing for decades."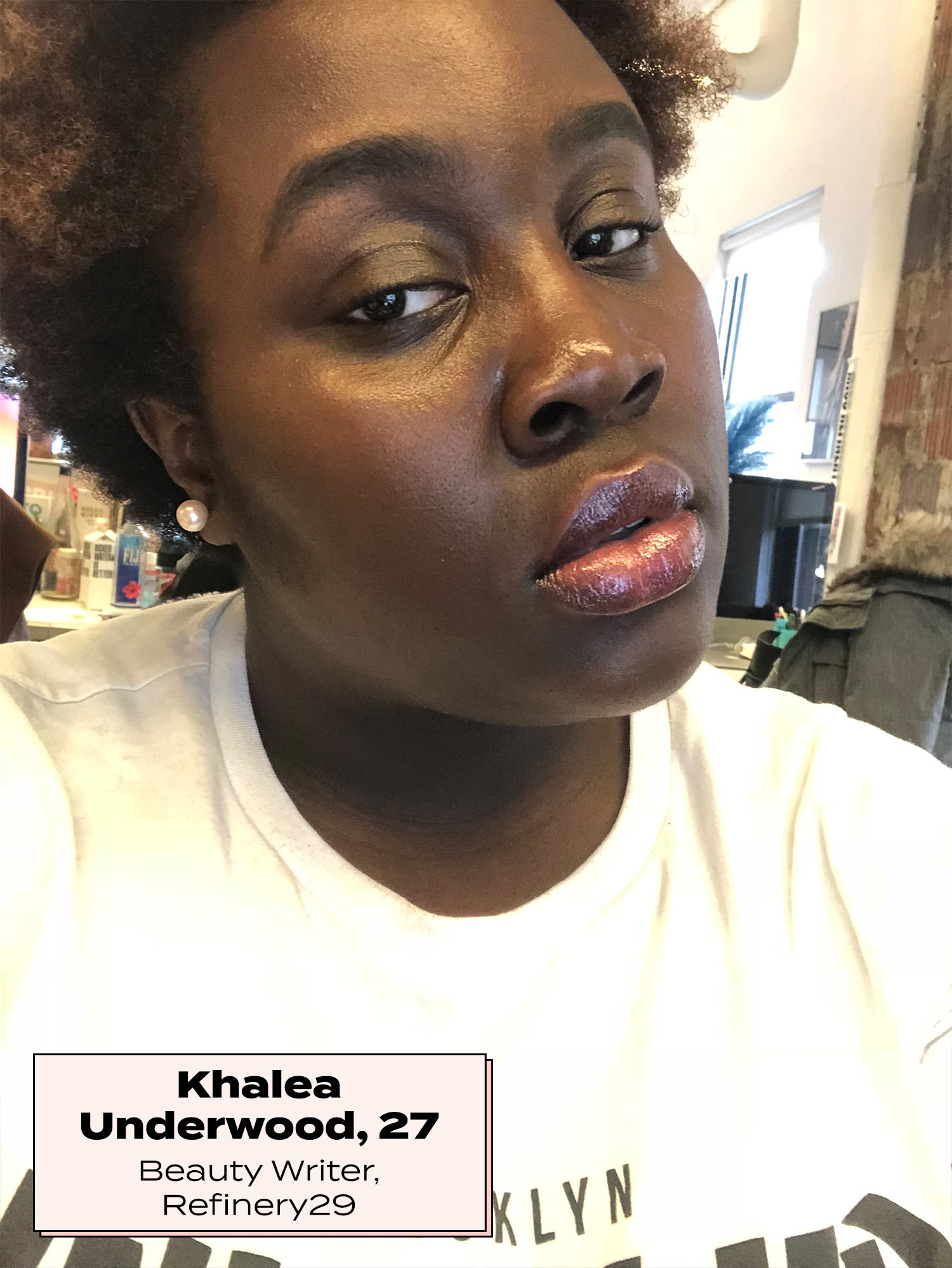 Everyday skin care routine: "I've never been one to get experimental with my skin care, so my routine is pretty simple because I use the same products all year 'round. Urban Skin RX changed my life. I was a tiny bit skeptical at first, because it's one of those Instafamous brands, but the hype is real. I cleanse with their Even Tone Cleansing Bar, which has lots of Kojic and Azelaic acids. I suffer from hyperpigmentation like lots of black girls, and after a few months of using the bar, I really did notice a difference. Next, I'll tone with the Clarifying 5% Gly/Sal Pads. Here's hoping that the USRX crew hires me for a few Insta-ads one of these days… For serums, my favorite is the Skin Brightening Serum by dermHA. Since it's still really cold in New York, I like to use a heavier moisturizer. Right now, I'm really into the Renée Rouleau Hydraboost Rescue Creme — it's thick, but goes on very light."
Most iconic beat between Beyoncé, Kim Kardashian, and Ru Paul: "Oh, come on. You KNOW that I'm going with Bey. There are certain stars who always look the same, no matter how long they Snapchat from the glam chair and take selfies with their makeup artists. Beyoncé gives us something new every time she graces the world with her presence. She doesn't have a 'look,' because she does so many of them. Bible — when she Instagrammed herself in black lipstick and baby hairs, I saw at least three girls in black lipstick and baby hairs that same night. It's the Carter effect. You can't fight it."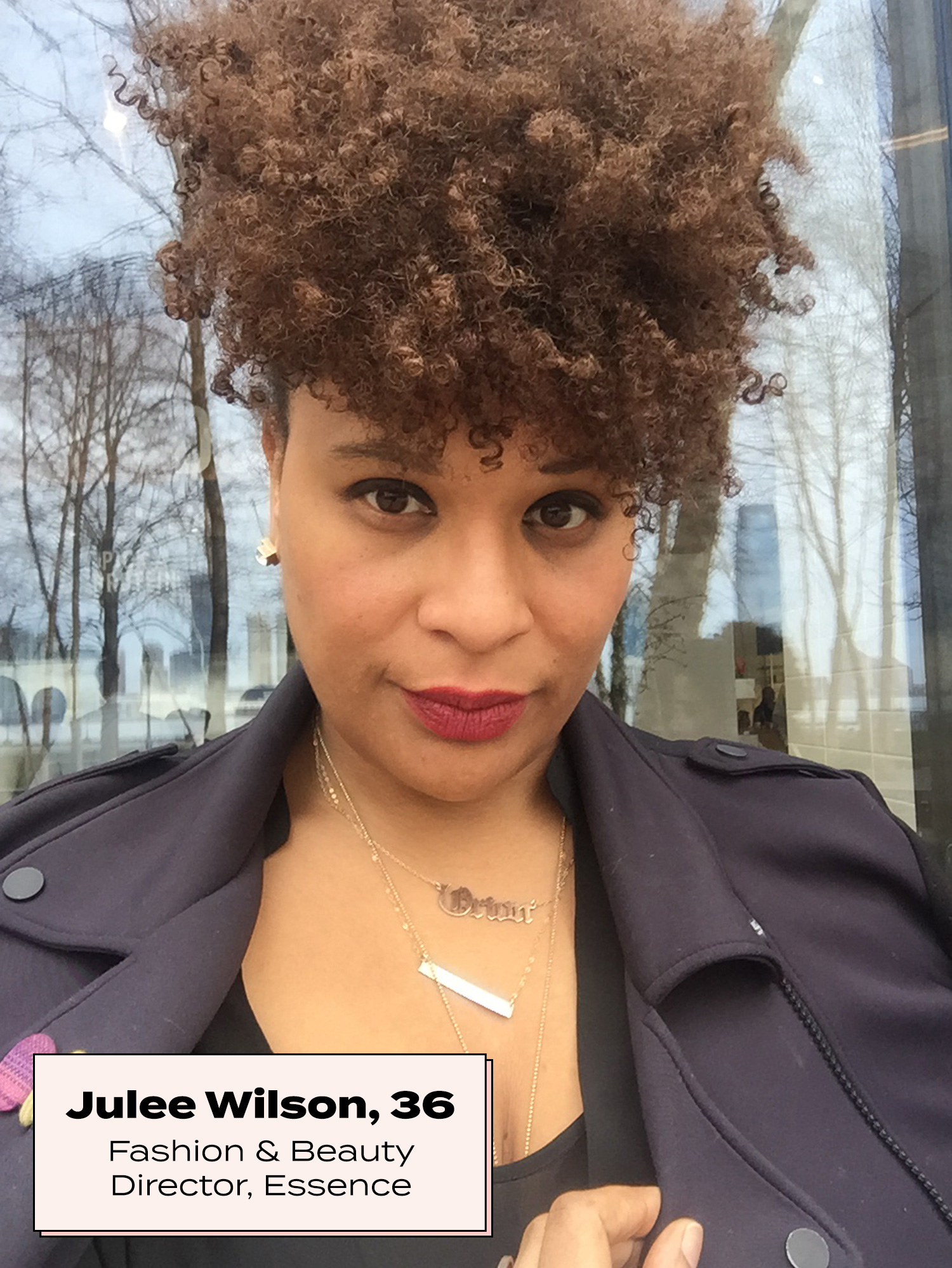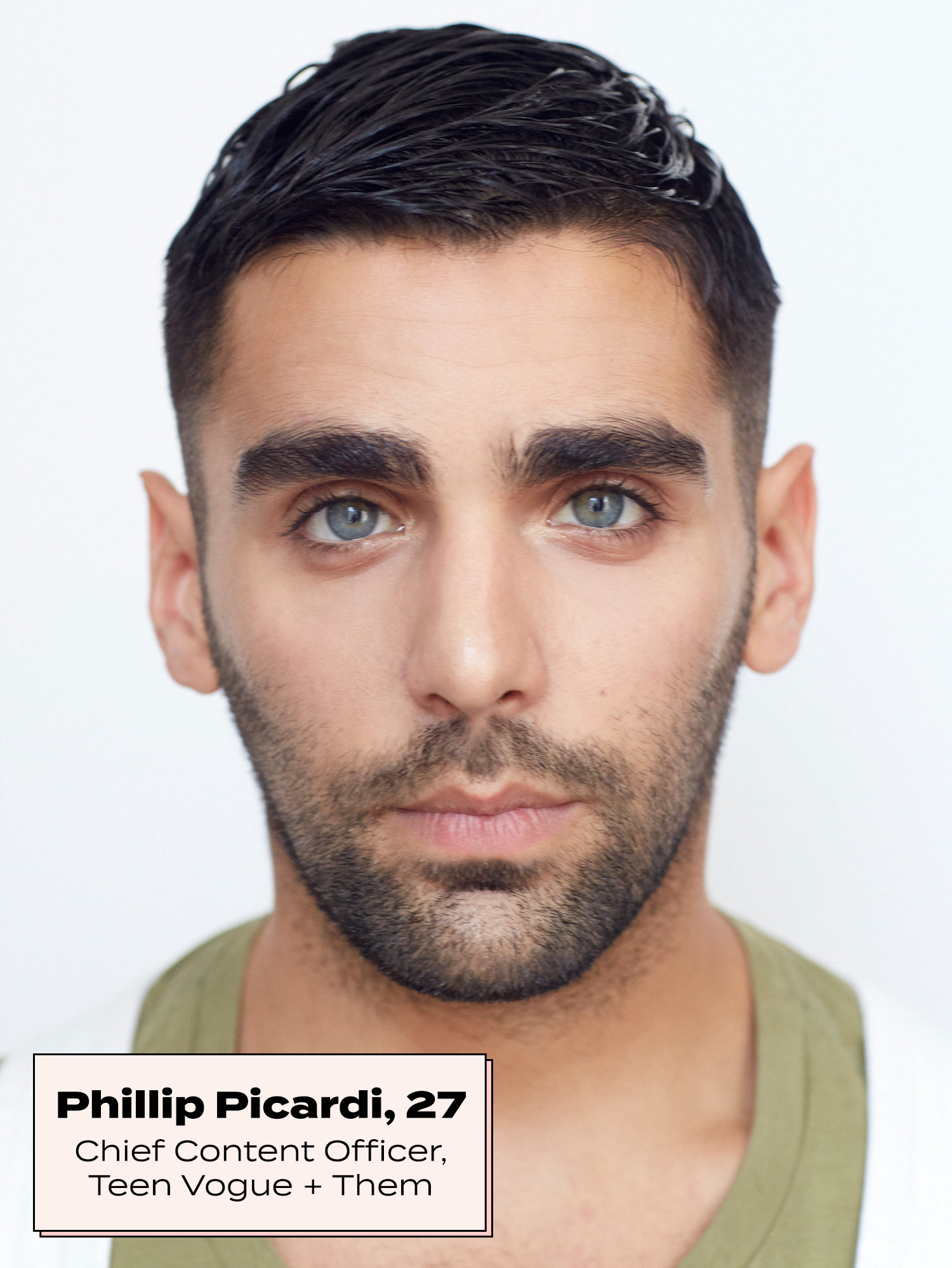 Everyday skin care routine: "I either start my morning with a couple pumps of Consonant's Foaming Face Wash, or sometimes I like to apply a quick mask while I brush my teeth and before the shower (Angela Caglia's Exfoliating Mask or Renée Rouleau's Triple Berry Peel). I like to let my face steam a bit in the shower, and then I hop out and do a few generous sprtizes of one of Herbivore's mists. After that, three drops of Consonant's Hydrextreme Serum (it's a hydrating serum that has an ingredient that's better than hyaluronic acid), and two pumps of Lina Hanson's Global Serum on the neck and all over the face. On days where I'm feeling ~extra~ I will grab my Dr. Jart facial massager to help press the oil into my skin for some extra rejuvenating. A little Tatcha lip balm, and I'm good!

"P.M.: If I'm wearing a full face of makeup including foundation, I start with Koh Gen Do's Spa Water Cleansing Wipes, which are the best makeup wipes in the world, hands down, no questions asked, FIGHT ME – and they don't sting your eyes. Then, I'll use Renée Rouleau's AHA/BHA Cleansing Gel for whatever's left, and to prepare the pores. For toner at night, I love the Sarah Chapman's Liquid Facial Resurfacer as a toner — it burns, in a good way! For eye cream, I've been loving the new [Supremÿa Eyes at Night] by Sisley, which I tap in and then follow up with a little mini-massage using Angela Caglia's rose quartz Eye Rollers. A couple nights a week, I will finish with Chantecaille's genius Retinol+ product, mixed with two drops of Consonant's Hydrextreme serum. Otherwise, I generally finish with Sunday Riley's UFO Clarifying Oil, which is actually good for oily and acne-prone skin."
Most iconic beat between Beyoncé, Kim Kardashian, and Ru Paul: "It's not fair to put people in a competition with Beyoncé. So don't do it. She always wins. And anyone in this [list] who says differently is wrong, sorry!"

Everyday skin care routine: "In the morning, I cleanse my face with Glossier's Milky Jelly Cleanser, then use any given drug-store toner with a cotton ball to get off the excess dirt (I've found this to be a KEY step in keeping my skin pimple-free). I then moisturize with a priming moisturizer to prep my face for makeup; either Glossier's or Cover FX's Mattifying Primer With Anti-Acne Treatment. I've been using the latter more because it helps keep my skin's natural shine/oiliness down on-camera. At night, I cleanse and tone with the same products I use in the morning, then I moisturize my face with coconut oil. About two to three times a week I'll also put on an overnight mask. Currently enjoying Origins Drink Up Intensive Overnight Mask. It doesn't mess up my pillows and it smells delicious!"
Most iconic beat between Beyoncé, Kim Kardashian, and Ru Paul: "I'm going to go with Beyoncé, and not just because I stan lol. I'm really a fan of natural, fresh, timeless-looking makeup, and her main makeup artist Sir John has really done a great job cultivating that beauty look for her in recent years."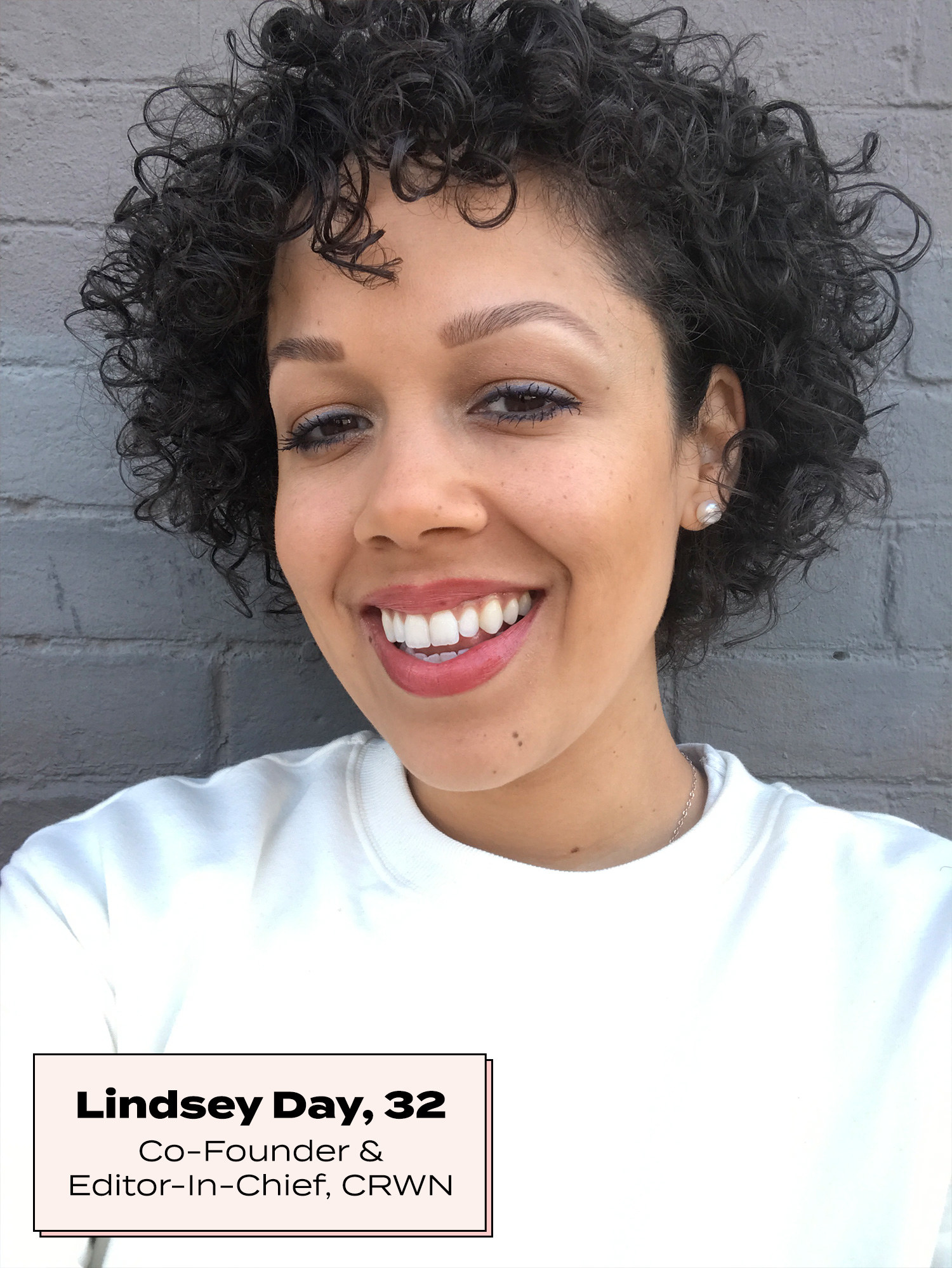 Everyday skin care routine: "First I usually cleanse with a light exfoliator like Marla Rene's Cranberry & Calendula Facial Scrub (2-3x per week) which I rotate with a cleansing oil to keep from drying out my skin; especially in the winter — ya girl's skin gets dry. Next is my favorite skincare product of all, Base Butter's RADIATE: Tea Tree + Lavender Hydrating Face Gel which contains aloe vera gel, shea butter, sweet almond oil, plus some other natural and essential oils that my skin absolutely loves. I usually finish with a couple of drops of jojoba oil, but just started using Leafed Beauty's (also black woman-owned!) rejuvenating facial oil which I am loving. It's also good for gentle makeup remover/cleansing oil. Most of the products I use are created by the hands of black women entrepreneurs, which makes my skin care routine feel like the perfect ritual to start my day! I also like to use Shea Moisture's Coconut & Hibiscus Mud Mask with Sangyi Mushroom every week or two to keep my skin glowing."
Most iconic beat between Beyoncé, Kim Kardashian, and Ru Paul: "I've been Beyhive since like '98 (pre-Beyhive?) so it pains me to say this...but I'm going rogue and rolling with Rihanna on this one. Not only is her makeup consistently flawless, she now owns an ever-expanding beauty product line. And I love that she's using her stature to influence the beauty industry to (finally) start serving black women in a more comprehensive and meaningful way. What's more iconic than that?"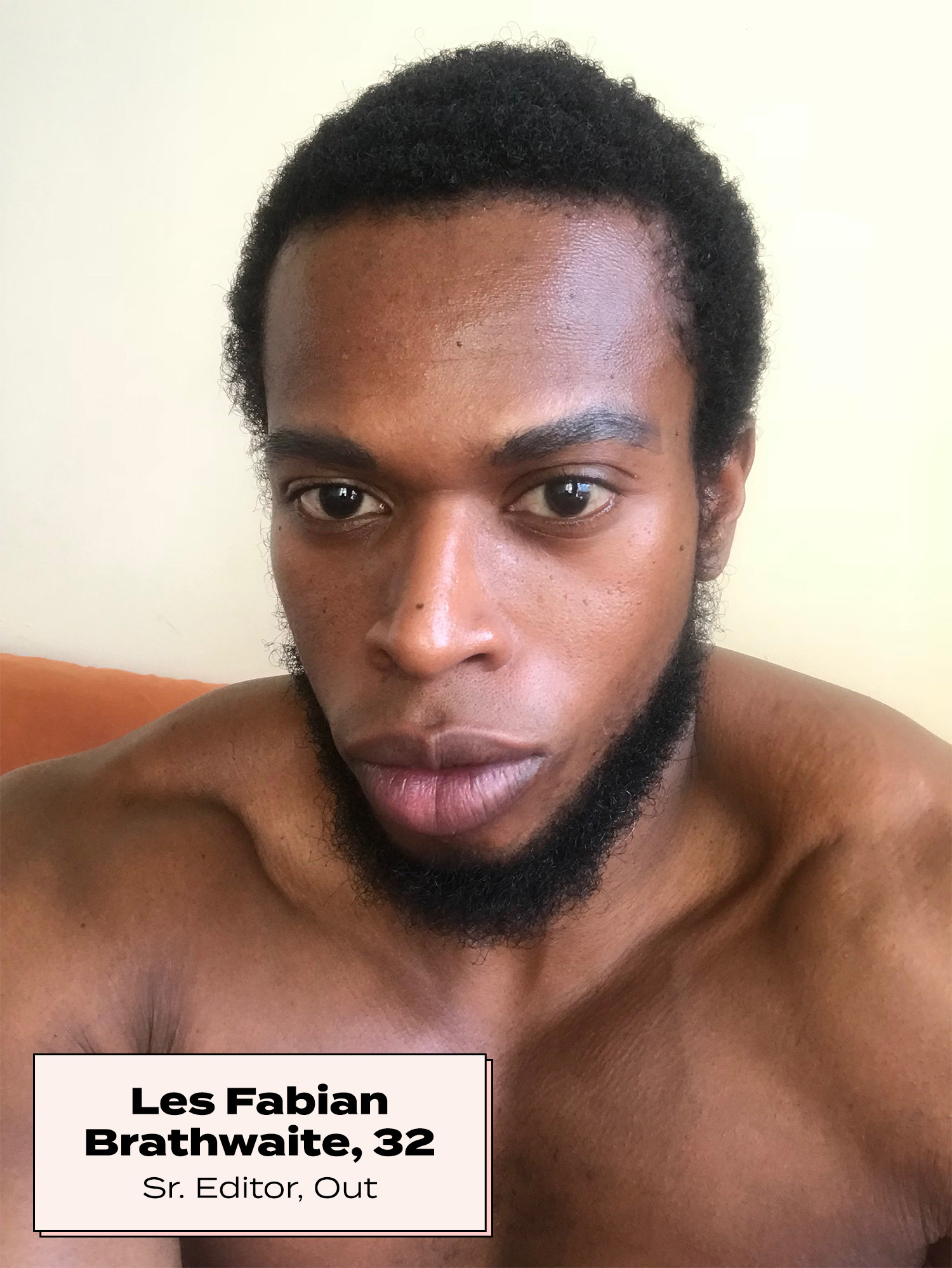 Everyday skin care routine: "I literally live around the corner from this handmade soap store in Bushwick (because gentrification is real AF) called The Fanciful Fox, and I get like 90% of my skin care products from there — mostly from their Gentleman's Essentials line. They're a small local business and their products are all organic and vegan, and considering how much meat I eat, it's really the least I can do.

"So I use The Pretty One Himalayan Pink Salt Body Exfoliator on the rougher areas of my body like my legs, feet, and elbows. I wash with Dapper Body Wash made with cocoa butter, a black gurl's best friend, and one of my favorite scents, patchouli. Every few days I use Black Magic Cleanser Scrub Cake, made with Dead Sea mud, to exfoliate my face, but daily I use Mister Face Wash, with castille soap. [Editor's note: Mister Face Wash was not available on the site at the time of publishing, but here are other face wash alternatives.] Also every few days I use Brisk Tea Tree & Cedarwood Beard Shampoo, though once spring decides to finally land in NYC, I'm probably going to shave it off. If I trim/shave, I use Billy Jealousy Shaved Ice After Shave.
"I've started using Brickell Revitalizing Anti-Aging Cream with hyaluronic acid because mother is firmly in her 30s, and just because black don't crack doesn't mean you can't keep the foundation tight. I let that hang out on my face for a little bit, as I tend to sweat a lot and I don't like to have too much shit on my face at one time. While that's sinking in, I use FF's Chocomint Body Butter, again with cocoa butter (you can never have too much cocoa butter). Then I use Mister Facial Moisturizer, which is both for your face and promoting healthy whisker growth, and then I top that off with Brisk Tea Tree Beard Oil. And finally, about 15 minutes before I head out, I use Kiehl's Facial Fuel sunscreen, which is also not only great for anti-aging, but I feel like black people tend to neglect using sunscreen. I used to never use it because I was like, 'I'm black. It's nature's sunscreen.' But now I know better, and the way things are going we're not going to have an ozone layer in a few years."
Most iconic beat between Beyoncé, Kim Kardashian, and Ru Paul: "I'm going to have to deviate a bit here and go with a fourth choice: Miss Diana Ross, since I feel her beat inspired all of the above — look no further than Mahogany to generally get your entire life. And I never miss an opportunity to give Miss Ross her props."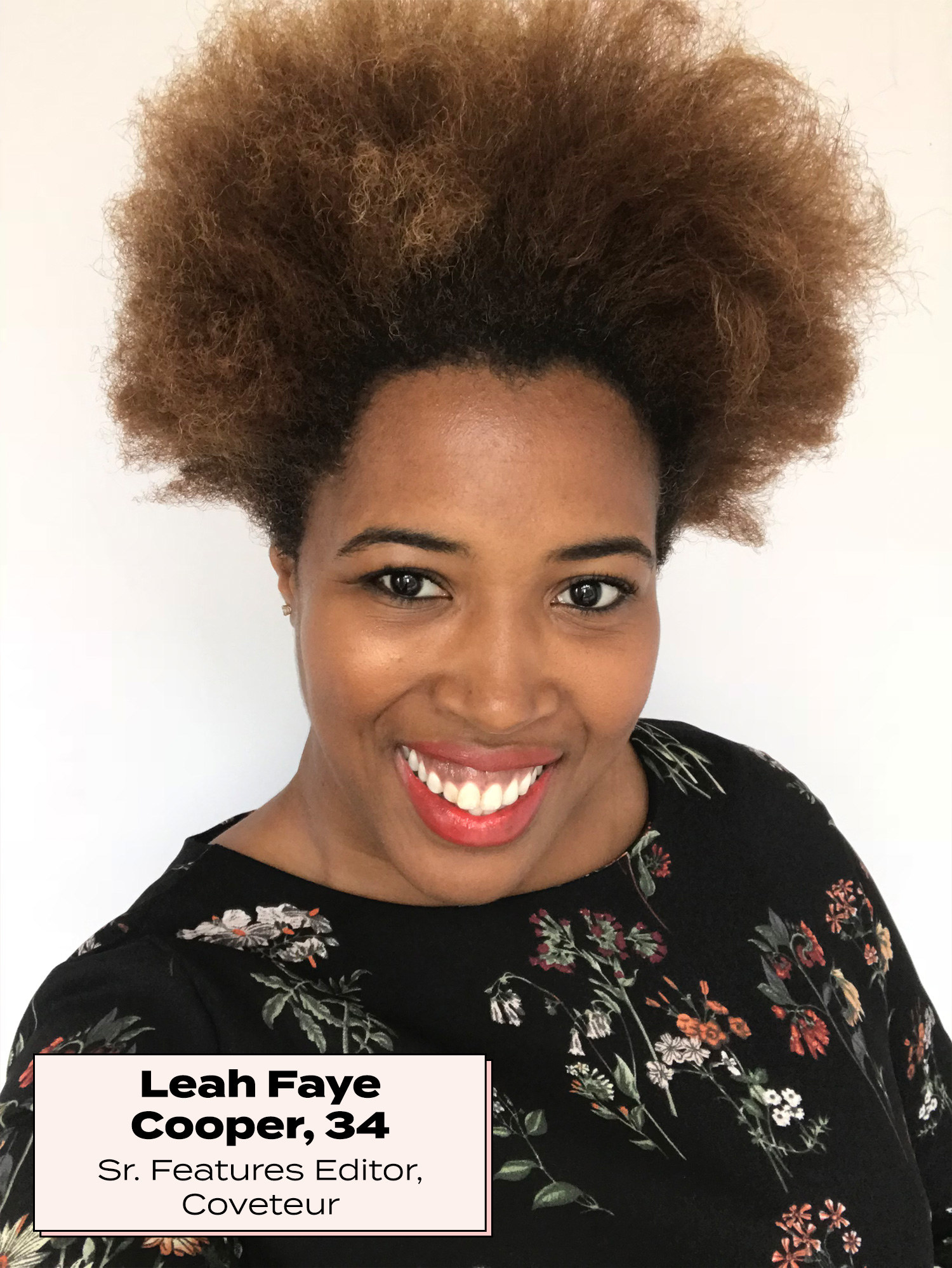 Everyday skin care routine: "It would be a stretch to call my take on skin care a routine. I wash my face with Dove's Sensitive Skin Beauty Bar in the morning and at night, and moisturize with whatever body lotion I happen to be using at the time—usually Lubriderm Daily Moisture with Sunscreen."

Most iconic beat between Beyoncé, Kim Kardashian, and Ru Paul: "Is this a serious question? Ru Paul's face was beat before 'beat' was even a thing! Before makeup for brown and black skin was made en masse, making those contours and smokey eyes even more legendary. RuPaul—always and forever!"