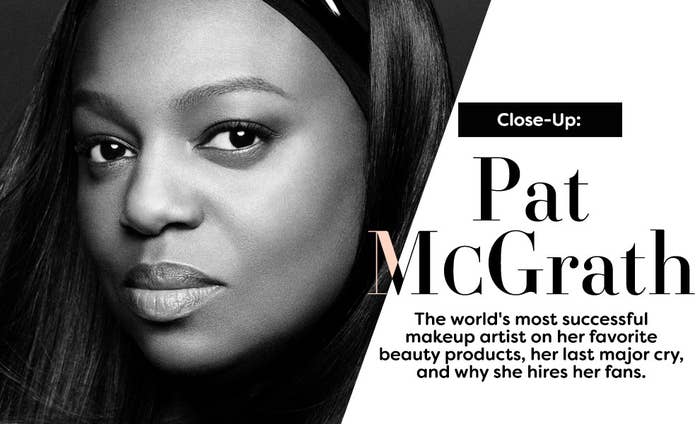 It's hard to imagine a beauty world before the instant gratification of YouTube makeup reviews and Instagram swatches, but such a time did exist and legendary makeup artist Pat McGrath was — and still is — queen. To put it simply, she's the shit, and has inspired everything from the way you do your makeup to the products you buy. Remember in The Devil Wears Prada when Miranda Priestly read Andy to FILTH about how she actually didn't choose "that lumpy blue sweater" because it was selected for her by fashion's most elite? Well, think of Pat McGrath as the selector. Whether you buy your cosmetics from the corner beauty supply, the link in your fave vlogger's bio, or the bougiest of department stores, her legacy and ongoing work as fashion's most sought after makeup artist has trickled down and influenced your choices.

In case you need receipts, Anna Wintour called her "the most influential makeup artist in the world," and Queen Elizabeth II "made her a Member of the Order of the British Empire for services to the fashion and beauty industry." Since the '90s, she's created EVERY cover and lead editorial story for Vogue Italia with legendary photographer Steven Meisel, and after developing Armani and Dolce & Gabbana's makeup lines, McGrath launched her own unlimited collections via her very luxe cosmetics brand, Pat McGrath Labs, last September. (Prior to that, McGrath would spontaneously release limited edition products.)
As/Is discussed makeup, skin care, her last big cry, and more with the icon to kick off its new beauty profile series, Close-Up.

What's your favorite product from Pat McGrath Labs?
That's like asking a mother to choose her favorite child. I LOVE THEM ALL! If I must, at the moment I'm especially loving LuxeTrance in Lavish, Beautiful Creature, and Sedition, and my new MatteTrance Lipsticks are beyond major. They are the most hydrating, lightweight, fully pigmented matte formula I've ever seen!

Your skin is beautiful! What does the world's most famous makeup artist use?
On a day-to-day basis, I use a gentle cream cleanser and an oil-free moisturizer without fragrance or chemical additives. My personal skin care routine is driven by hydration, rest, and nourishment. I love, love, love Lotion P50 by Biologique Recherche, Soothing Bath Oil by ESPA and Revive Morning Bath & Shower Oil by Aromatherapy Associates. For dermatological moments, I visit the iconic Dr. Orentreich.
What beauty product do you splurge on?
My beauty splurge is to travel to luxurious spas all around the world. I am spa-addicted! I love to treat myself to the Bio-Lift Facial at Rescue Spa NYC — so rejuvenating.
The Bio-Lift Facial is one the spa's most requested services, "lauded for its supreme lifting, sculpting, and firming." One session is $200 for 60 minutes at the New York location.
Fair. You wear minimal makeup for someone whose actual legacy is creating fashion's most iconic looks. Why is that?
I live for a good beat, but when you're busy creating makeup, you don't always have time to wear it. When my schedule allows a night out, I love mixing the Mothership Sublime and Subversive palettes for a dramatic eye and Skin Fetish on my cheekbones for a radiant glow.

As a black woman in a predominantly white industry, do you think it's hard for more than one person of color to thrive at a time?
Diversity has come a long way in the beauty world, and although I believe we are more conscious of it than we have ever been, there should be no end to the industry's desire to represent individuals from all walks of life. I am extraordinarily passionate about lifting up muses who do not embrace standard ideals of beauty.
You've always been an advocate for LGBT people, and you've even employed fans who follow you on social media. Tell me more about that and why you've chosen to connect to your fans in such a big way.
That's such a lovely observation, thank you. Honestly, my connection with the LGBTQI community is something intrinsic to who I am as a woman. So many of my inspirations and best friends are part of the LGBTQI community — people both living and dead — so the least I can do now that I am in a position to help is create environments that showcase and celebrate. Pat McGrath Labs will always be a safe space for people of all shapes, sizes, shades, and sexualities. As for partnering and employing my fans, why wouldn't I? They're major! From packaging created with illustrators around the world to hiring people who've participated in my Backstage Master Class, I think I can safely say that I have the most talented fans in the world. I couldn't be more fortunate!

You've talked about your mother a lot throughout your career. How influential was she in your success as a beauty professional?
My mother was, is, and always will be the alpha and omega of my beauty and fashion obsession. Even today I always ask myself what she would say about the products and formulas I am creating.
When was the last time you cried, good or bad, about work and why?
My last really major cry was at my Pat McGrath Labs Mothership Ball to celebrate the launch of my 25 years in the making Unlimited Edition Collection. The MC, the iconic Jack Mizrahi, gave a spontaneous, totally moving speech about what my career has meant to the world and my positive impact on people of color and the LGBTQI community. His words will forever remain in my heart. I was moved beyond words.
Looking back on your life up until this very moment, what are you most proud of?
Creating a brand that celebrates body positivity, gender variance, age inclusion, and racial diversity. Pat McGrath Labs is my baby, my radiant pride and joy — the sequin-drenched culmination of every single thing I have done in my career. Labs would not exist without the 25 years that came before it. Each piece is pulled from the deepest creative recesses of my kit, inspired by my most legendary looks and signature approach to artistry. Watching it come to life is breathtaking.

What lesson as it relates to self-perception or self-love do you want younger generations to learn more quickly than you did?
Be yourself, create, and explore self-expression without caution, and remember that no matter what you are MAJOR!
When do you feel most beautiful?
Every minute of every day.

Pat McGrath Labs LuxeTrance Lipstick in Lavish, Beautiful Creature, and Sedition; available in 31 shades. Get them from Sephora for $38.

Pat McGrath Labs MatteTrance Lipstick; available in 20 shades. Get them from Sephora for $38.

Biologique Recherche Lotion P50. Get it from Rescue Spa for $101.

ESPA Soothing Bath Oil. Get it from ESPA for $53.
Aromatherapy Associates Revive Morning Bath & Shower Oil. Get it from Amazon for $73.

Bio-Lift Facial at Rescue Spa NYC. One session is $200 for 60 minutes.

Pat McGrath Labs Mothership Sublime II Eyeshadow Palette. Get it from
Sephora for $125.
Pat McGrath Labs Mothership III Eyeshadow Subversive Palette. Get it from Sephora for $125.
Skin Fetish; available in two shades. Get it from Pat McGrath Labs for $72.

UPDATE
The Biologique Recherche Lotion P50 was originally mispriced at $28. It is $101 and has been updated.