#BlackSalonProblems shut down the internet last year with hilarious tweets summing up every black woman's experience when she gets her hair done.
The hashtag just resurfaced and black women are bonding by retweeting the oh-so-real hilariousness, and coming up with new tweets to flood our TLs once more.
Like this unfortunate circumstance that happens when the hair isn't included in your style.
And this moment when you just wanna dunk your head in the Atlantic.
*sigh* No greater shame than when you get caught slippin' because you thought it was gonna be a chill day.
One of the very first lies we ever told.
Sticking with your stylist bc she's that fire, even tho she does your enemy's hair too.
That feeling of voicelessness bc you know your stylist will snap if you speak up for yourself ... or your edges.
You'll never know this level of stress and worry unless you've lived it.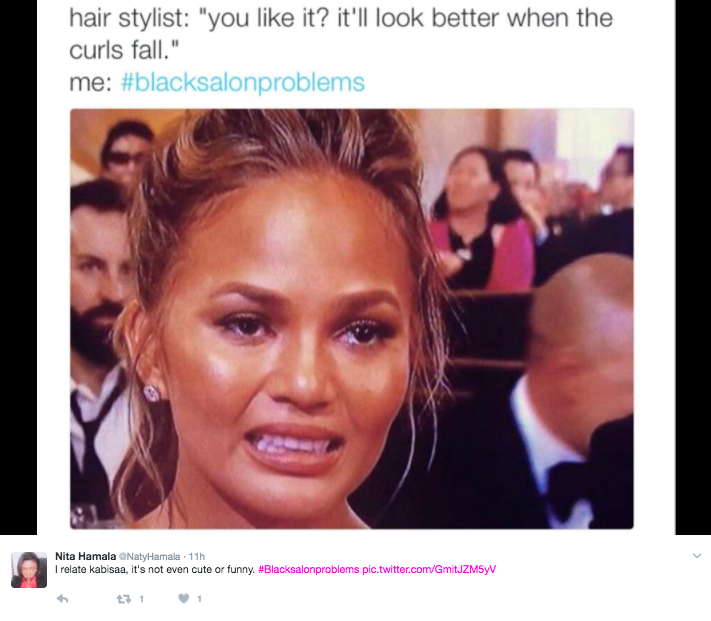 When your hair is already dry but the stylist needs to buy some time.
Conflict: Wanting the hair dresser to stop talking and finish your hair, but also low-key being there for the tea.
Raise your hand if a hairstyle ever added 53 years to your life.
Dryers. Can't live with 'em, can't live without 'em.
What you wanna yell to the top of your lungs when your stylist overbooks.
Trying not to cry when you realize you have about another 45 minutes to go like:
For every ear burn that turned into a brown scab and made us stronger.
The moment you realize you just got played, but your hair hella thick so you can't even be mad.
Still can't shake this tragic memory we'd rather forget.
But it makes for great stories when we meet another black girl who went through it, too.
HERE'S TO BLACK SALONS FOR GETTING OUR HAIR LAID... EVEN IF IT TOOK FOREVER!!!