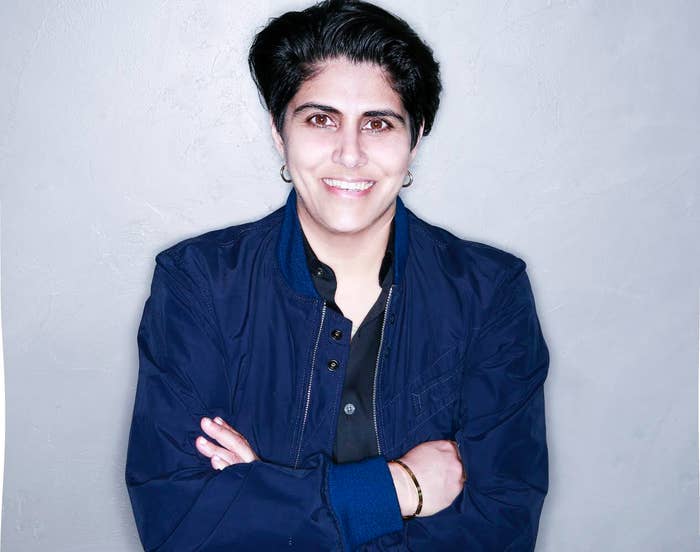 Moj Mahdara came on as the CEO of Beautycon Media just three years ago in 2015. The once private beauty conference for YouTubers only is now a mega event that sells tickets, which range from $49.99 to $1,999.99, by the tens of thousands, and sets up internationally in New York, Los Angeles, London, and Dubai. Everyone's invited, too, whether you're an influencer, a brand, or an enthused beauty consumer. Mahdara is always thinking bigger and taking risks. She revealed to Coveteur that when she was about 25 years old, she convinced the founder of Airstream, Dickey Riegel, to collaborate with companies like Quiksilver. The idea worked, and the collaboration moved 900 units. Since then it's been boss move after boss move, and thanks to her foresight and refusal to follow rules (we asked her to describe her style in one word and she gave us 36), the first-generation Iranian American who opts for a fresh face and fresh Jordans continues to shift culture and broaden what it means to be a CEO and entrepreneur in the beauty, tech, and digital spaces. Get to know a little more about Mahdara.
Age: "40."
Education: "University of Hard Knocks. I did initially enroll at University of California, Irvine, but started a business before I could finish my degree."
Top three favorite beauty brands or products: "R+Co, True Botanicals, La Mer."
Your style in one word: "I really like uniform dressing. For me, that means black jeans and a cool T-shirt, but I'm low-key also kind of a sneakerhead. I have multiple hues of the same Jordan 1's lining my whole closet."

Favorite place to shop for clothes: "Dover Street Market."

Scariest moment in your career: "Every day I wake up and take risks. Being an entrepreneur means being a little scared is part of the daily experience, but the old saying is true: Outside of your comfort zone is where all the magic
happens."

Best business advice you ever received: "Surround yourself with people smarter than you. Always leave a little bit of money on the table; that's how you build relationships. You always want relationships to feel balanced in the give and take."

Worst business advice you ever received: "Any time someone says, 'it's never gonna happen.'"

Tech is a male-dominated space. What is one challenging moment that stands out to you as a woman in a male-dominated space, and how did you handle it? "Most industries are male-dominated when you really think about it. You have to stop caring what other people think, and I don't mean that in the way that what
other people think never matters, but there's a balance in what you should take into account and something to be said for trusting your own instincts about when a situation is right for you, and when it's not right. Right now, the most successful women who are starting business are going where the 'white space' is. They're seeing where there's a need to be filled and filling it in a unique way — a way that no one else can. And it's working really well for them. Bumble, the Wing, and Girlboss are great examples."

Why'd you decide to turn Beautycon, which was once private, into a public-facing event? "Beautycon was [a] built-in partnership with talent who wanted to grow their communities in real life — with brands, with partners, and with their fans, followers, and friends. Also, let's be honest: It's also just fun to throw a huge party every year!"

What's the best business decision you've ever made? "Getting involved in digital when influencers were early to the market, and doubling down on the influencer audience in 2011 vs. trying to stay in a more traditional media lane. I would say
the other good business [decision] I've made is opting to be an entrepreneur — it's opened so many doors for me."

What do you want Beautycon's reputation to be? "A place where people from all walks of life and all stations can come to experience a feeling of community, discovery, and being entertained. We want Beautycon to be a brand that
celebrates the changing conversation in beauty to create something new, dynamic, and exciting for everyone."

What do you want your legacy to be? "A family woman who got lots done, did a bunch of cool stuff, and started a bunch of cool businesses along the way. And, someone who is using my platform to make a positive impact and change culture for the better. A brand builder. An innovator."

What motivates you? "The fear of being mediocre. I am competitive with myself."

Last time you laughed really, really hard: "Every five minutes! All the time. I'm lucky enough to have a tribe who supports me through thick and thin, and laughs with me through the good times, and the hard ones, too. Humor is the great equalizer."

Beautycon New York '18 is Saturday, April 20–Sunday, April 21.