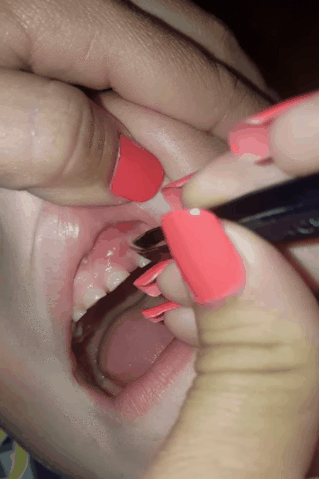 Sara Guidry uploaded two videos to YouTube of her tweezing out finger nail bits from her son Kale's gums. In the description box of the video, Guidry writes that Kale has always kept the family on their toes. "Looking in Kale's mouth I see something white in his gums. I get a tweezer and pull it. It looked like a finger nail," she writes. "I continued to pull 4 more out. I then search his mouth and find another area. I pulled around 27 out of the second spot. YES 27!" Guidry and the dentist "figured out that Kale bites his nails and plays with them in his mouth. He pushes them up towards his pallet. The nail penetrates the skin and goes into a pocket between the baby teeth and permanent teeth."
5.
And this literal, actual weed nail art that we could get into on the right day.
In gif form, for emphasis.
And now we're gonna go lie down.