"We Are Family" by Sister Sledge

"I Will Survive" by Gloria Gaynor

"She Works Hard for the Money" by Donna Summer

"YMCA" by The Village People

You just petitioned for a new class at UChicago. What's the name?

Lagrangian Grunge: How We Can Understand 90s Rock Through Physics

How to Apologize for Your Almost Unbelievable Whiteness: A Personal History

Who Cares About The World's Problems Anyway: How to Get That Goldman Sachs Internship

Dancing Totally Sober: How to Overcome Your Social Anxiety and Live Free

Where is your ideal vacation spot?

Surprise Me! Adventure is best

Saying Mean Things Once in a While

Pick a major that's not Econ!

Public Policy. I will engage and work no matter who is in office!

Sociology. Self changed my life and I want to expand my worldview even further!

Mathematics. The laws of our world in their purest forms!

Romance Languages. I see value in investing in these cultures!

I don't understand the question, and I won't respond to it.

What's your favorite house activity?

Saturday Night Dinner Trip

when i don't get woken up by drunk kids on saturday at 3 am

The Events: Chopped, House Auction, Awkward Woodcoming, EnT Fest, etc

Roasting People in the Lounge

The 80s: The Decade of Decadence
Answer These Questions And We'll Tell You Your Spirit Disco Pope
You got:

Disco Pope Adam XVI
It's fine, it's FINE! Actually, not only is it fine, it is deadass ~ groovy ~because you got Disco Pope Adam XVI! Hailing from the Boogie Wonderland of Bergerini, Italy, your most famous proclamations as Disco Pope include: I) Thou shalt no wash thy quarter-zips, II) Thou shalt snort herbal tea and declareth thines pubpol major, and III) Thou shalt date Aleena. Congrats on this honor - go celebrate by visiting the rock n roll hall of fame and attending guest lectures from your favorite Peruvian novelist!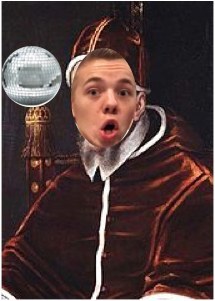 You got:

Disco Pope Deepti XXII
Not to be confused with your namesake succulent, you got Pope Deepti XXII. Straight outta the most holy land of Florida, you're famous for your edgy and sophisticated Papal proclamations including: I) Thou shalt resist peer pressure: do drugs and killeth people and II) Thou shalt get calledeth a fascit by thine sosc prof. As the most salacious disco Pope, will you go in too deep(ti) in the studio 54 glamor of this prom?? Stay tuned!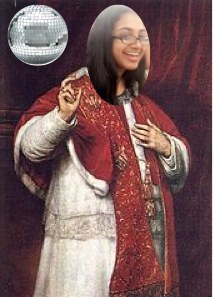 You got:

Disco Pope Defne IV
Wow. Dead. You got the Turkish Taffy herself, Diso Pope Defne IV! No one shakes their groove thing quite like you, a mediterranean finance Pope. Overcoming xenophobic accusations by Crooked Disco Pope Karina III, you rose to the papacy despite rumors of being a vampire. You're best known for your proclamations: I) Thou shalt not eat greasy American food, II) Thou shalt always throw shade at Erick, and III) thou shalt always join a money frat when possible.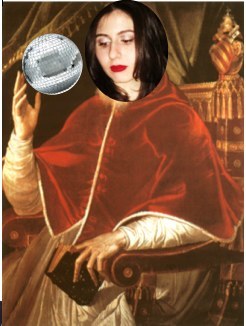 You got:

Disco Pope Neville XX
You got the Minnesotan physics pope dubbed by Disco Pope Emile the Well as "dad, honestly". Your conversion from your punk-rock angst in your youth will inspire young groovers for centuries. Some of your most famous papal proclamations include: I) thou shalt talk about what thou did at Stanford, II) thou shalt do medical physics, whatever that is, and III) if thou has a child thou must "sing to it"
You got:

Disco Pope Brooklyn III
You got the shining star herself, Disco Pope Brooklyn III! From the holy monasteries of Detroit, Michigan, you are a wildly positive Disco Pope, famous for allowing folks to dance like no one is watching after the Evil Grahamites tried to condemn disco as blasphemy. Some of your most famous proclamations include, "thou shalt bow to Pope Ellie IV and I as Roommates Supreme", "thou shalt not leave me at an apple orchard in Indiana", and "thou shalt be an extremely pleasant person at all times, like me"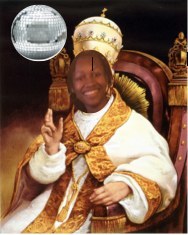 This post was created by a member of BuzzFeed Community, where anyone can post awesome lists and creations.
Learn more
or
post your buzz!