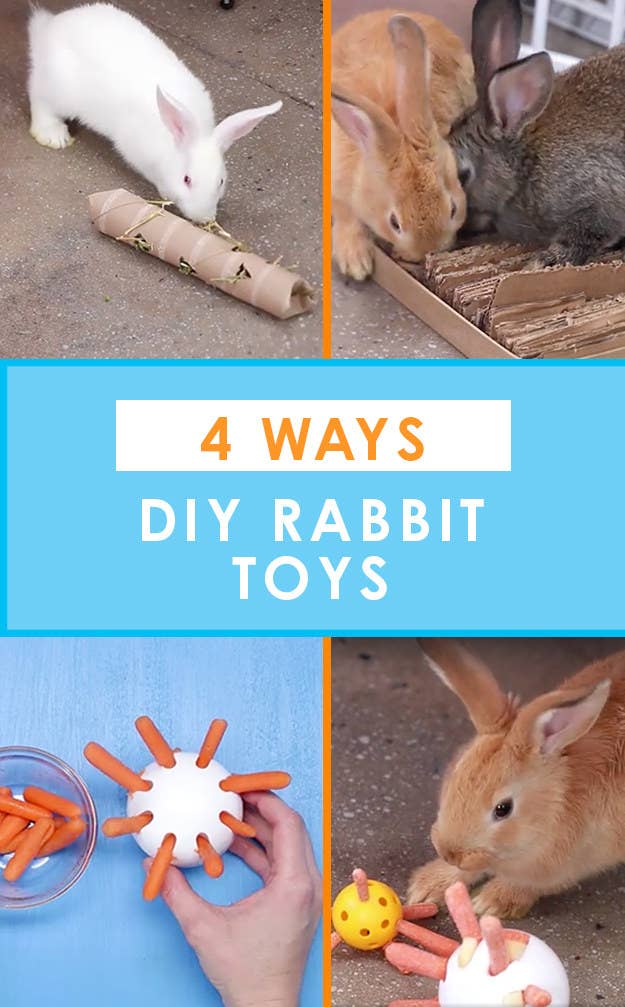 1. PAPER TOWEL TUBES + HAY
2. Seagrass Rope + Clothespins + Veggie Scraps
Basically a $0 bunny buffet...
Tie untreated sisal or seagrass rope between the legs of a chair or table. Use clothespins to hang veggie and/or fruit scraps from your kitchen as a little snack.
Note: Sisal and seagrass are easily chewed and digested, making them the safest ropes available for bunnies.
Someone loves their broccoli!
3. WIFFLE BALL + BABY CARROTS
Remember playing with these in the yard?
Turns out wiffle balls are perfect for turning baby carrots into an interactive meal.
Go ahead—play with your food, girl!
Collect your cardboard boxes...
Set aside the top of a plain shoe box. As you get other cardboard boxes, cut into strips and stack inside of the shoe box top until it's full. Sprinkle with dried oregano, dill, parsley, sage, thyme, mint or rosemary
Want a bunny of your own?
If you're interested in adopting a bunny in New York City, visit the Animal Care Centers of NYC. If you are interested in adopting outside of NYC, visit aspca.org/adopt to find a shelter near you.
K BYE! Watching them play now...