Country music has collected a lot of haters over the years, mostly because of recent pop developments in the genre that have topped the charts, seemingly killing traditional country music. However, Billboard recently surveyed 25,000 US residents from across the country and the results are quite surprising: 42% of Americans are country music fans. That makes country music the most popular music genre in the United States—and all this time you had us thinking that you despised it! 42% isn't a majority, but when you figure in the other five or so genres (Metal, Hip-hop, rap, alternative, R&B, etc.) that split the remaining 68%, it is easy to see that country dominates. Still not convinced? In an NPD Group study, country officially rose above rock in 2012 as Americans' favorite genre because of its ability to transcend generations and appeal to all ages.
Now, neither survey differentiated between traditionalists and contemporaries, so as you can imagine older generations who marked that they were country music fans probably didn't have Florida Georgia Line or Blake Shelton in mind. Many country music fans, the traditionalists, would agree that anything featuring a rap artist or that heavily uses auto-tune is not a "real country song," so what makes a real country song? The "Twang" and steel guitar are strongly associated with what people consider a "real" country song, along with themes like girls, beer, trucks, small towns, and fishing. Optional but suggested: fiddles and banjos. With this I will establish what I believe to be the cardinal rules of country music:
1.No Rapping
2.No featured rappers
3.No auto-tune
4.No EDM (Electronic Dance Music)—Kick drum, claps, synthesizer, bass
5.No Pop—whimsical lyrics, simple melody, 4/4 beat, cliché
Why are these my cardinal rules? All of the things outlawed on this list are attacks on the authenticity of country music, which is what we can all agree, makes "real" country music what it is.
Charming Sam Hunt lived the classic rural, small-town life in Cedartown, Georgia where he began his football career. He went on to play college football at University of Alabama at Birmingham and somewhere along the way just "picked up a guitar" and figured it out. He was noticed by multiple NFL teams, but turned them all down to pursue his dreams of becoming a country singer. If this sounds like a hybrid of Friday Night Lights and High School Musical, it's because it is; the only this missing is his Lyla Garrity/Gabriella Montez. Sam Hunt has a slight twang, but his newest album, Montevallo, (which has this song on it) has traditional country fans up in arms because of its rap/spoken word with little melody to accompany it.
Sam Hunt definitely gets the stamp of disapproval for "real country," for this song, especially. Country music critic Trigger Coroneos describes "Take Your Time" (and Montevallo) as "urban-centric martini-sipping waxed crotch EDM computer-based dance beat compositions molded on an iMac during a Molly binge." Trigger goes on to say that his "song-talking is lame" and the rest of the song is anything but country, but rather belongs in the R&B/pop genre (Hunt recently said in an interview that he is highly influenced by R. Kelly and Usher who are very much pop).
Believe it or not, this song is actually more painful to listen to than "Take Your Time." Jason Farris Brown spent years touring as a professional golfer across the country, but then turned his interests to music and launched his career as Colt Ford. He eventually created his own record company and released several albums under it. Ford is known for his "masterful" incorporation of rap and hip-hop into his "country" sounds. What you really hear, in "Crank It Up," is a spinster, auto-tuned version of a country song…I think? He has the twang for sure, but it sounds almost ironic. Country music is regarded as authentic—the instruments, the emotions, and the vocals. So, as you can imagine, auto-tune is the antithesis of country music because it is so inauthentic.
Zac Alexander Brown, the lead singer of ZBB, is also from Georgia and came from humble beginnings. Unlike the others on this list, Zac Brown Band has stayed pretty true to traditional country/bluegrass until this album, Jekyll + Hyde. Although Zac Brown wanted his band to be considered rock, they have quickly become a country fan-favorite. Their newest album, though it has a couple of country-esque songs, is mostly in tune with their initial rock intentions and has many critics. The album has struggled compared to others that have topped both the Billboard and Country charts, probably because fans were hoping for the Zac Brown Band they've always known. It has the beat of a night-club song that you could fist-pump to all night long, features a lot of electric guitar, and bass drops that would probably sound awesome on some subwoofers.
Trigger has something to say about this song as well, and he's not wrong: "What about the lyrics? They might be the most felonious act of 'Beautiful Drug.' This 'love as a drug' theme has been done thousands upon thousands of times and translated into every language on planet Earth. When you're taking your cues from Ke$ha singles released half a decade ago, that's not "evolution" ladies and gentlemen, that's the audio equivalent of diarrhea." Much like Taylor Swift's recent music, this song just shouldn't be considered country, but the legacy of the Zac Brown Band name will ensure that their music will always be labeled as country (just like our beloved Taylor).
The Band Perry is a trio made up of 3 siblings, Kimberly, Reid, and Neil Perry. They arrived on the music scene in 2010 after signing a record deal in 2009 with Republic Nashville and immediately cranked out a #1 hit (on both Billboard Hot Country Hits and Hot Adult Contemporary Tracks) with "If I Die Young." Even if you live under a rock, I am SURE you've heard that song. The Band Perry sticks to pretty crowd-pleasing music—they ride somewhere in between traditional and contemporary, but by their looks you probably wouldn't guess they're a country band. This new single they've put out sounds quite different than their typical country ballads; in fact it sounds like something a pop artist like Katy Perry could sing. As far as instruments, this has all the elements necessary of a pop song—electric guitars, a prevalent kick drum—but with catchy, repetitive, whimsical lyrics. The melody is simple and could be played with the same 3 or 4 chords, while the beat is peppy. It really feels like they're selling out here—"Live Forever" already has over 6 million listens on Spotify, living up to the label of a "pop[ular]" song.
"Featured rappers" may seem redundant after the original "no rap" rule, but no one would be satisfied if I left this song off the list. People have serious hate for the Cruise Remix. I'm not going to say that it makes my ears bleed, but it definitely hurts me to listen to it. To break it down, FGL broke, what I feel to be, the biggest rule of country music which is no featured rappers (but I suppose this could be part of the new "Bro Country" subgenre? I don't know, it still seems wrong). This has become somewhat common lately because of this song, but I don't care what you say, rap has no place in country. My opinion and the opinions of millions of others mean nothing, though, because Cruise went triple platinum and remained #1 on the charts for longer than any other country song. The future of country music looks to be in grave danger with artists like Florida Georgia Line around. In their defense, they talk about a girl, a truck, and South Georgia all in one sentence—that has to count for something!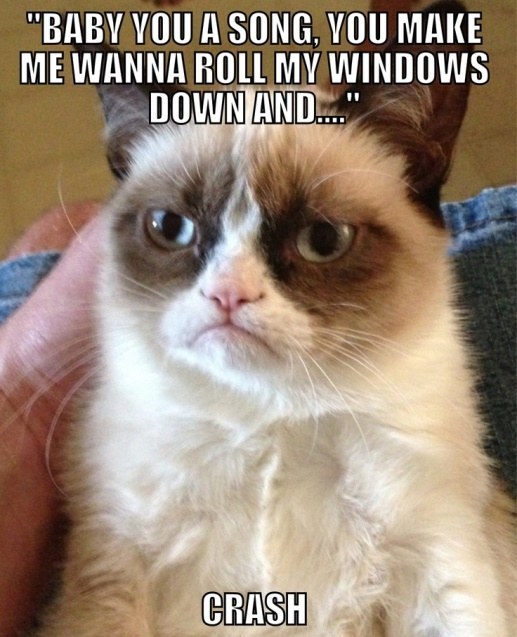 You may disagree with me, or you may even agree with me about these songs' place in country music, but still enjoy them—that's cool, you do you. As for me, I'm going to get in my car, roll my windows down, and cruise to something else.