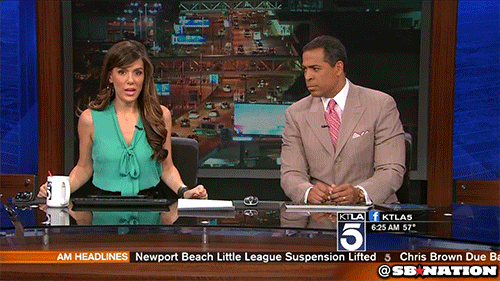 1. "Did you feel it?" = The earthquake.
2. "I should really get a kit." = Earthquake kit, that is.
3. "Well, at least I have a card." = You know, so I can buy pot.
4. "He asked me to read his script..." = I'm going to have to tap out of this relationship if I don't love his writing.
5. "He's a waiter." = An aspiring actor.
6. "His profile pic is a headshot..." = He's an actor. Or an improv comedian. Either way, they used a HEADSHOT as a profile pic.
7. "But would you go to Ikea with them?" = i.e. the Ikea in Burbank, which is a fiery hell pit, and only worth going to with someone you TRULY like.
8. "He lives on the Westside..." = I can't date him, because if anyone lives more than 20 minutes away, this isn't gonna work.
9. "She's on location." = She works in the film/TV industry, and at the moment she's shooting something that's not in L.A.
10. "Are you a Scientologist?" = Well, are you? This is a valid question.
11. "I never thought I'd move to the Valley, but those prices tho." = The Valley, unfairly categorized as a trash heap by '90s movies, actually is affordable to live in now.
12. "Was it built before 1979?" = i.e. Is this place rent controlled or what?
13. "I need a good Instagram." = We need to go to LACMA or the pink wall in WeHo.
14. "It's really foggy today." = READ: Smoggy.
15. "It's raining." = I'm not leaving the house, because no one knows how to drive or behave in the rain. Also, I don't own an umbrella.
16. "We have snow..." = Well, we have the fake snow at the Grove. And the snow that's a short drive away in the mountains.
17. "Do I need a jacket?" = Is it below 75 degrees?
18. "You need to Uber here." = There is literally no parking.
19. "Can you park when it's grey?" = WHY ARE THERE SO MANY PARKING RULES.
20. "Want me to Waze it?" = Chances are this app will eff us over, but what other choice do we have?
21. "KPCC or KCRW?" = Pick your lane, and let me judge you for it.
22. "Want to go to a cemetery screening?" = yeah, we're gonna go watch a movie in a cemetery.
23. "Which Getty have you been to?" = The Villa OR the museum?
24. "The Silverlake Trader Joe's is my worst nightmare." = The parking lot is like some kind of feeding frenzy of crazy people.
25. "I don't go near Hollywood and Highland." = Because that's a dumpster fire of an intersection that's filled with tourists and will take you tens of minutes to drive through.
26. "Runyon's such a scene..." = We can't go hiking there, because everyone is shirtless and talking about P90X.
27. "I'm ordering two Dodger Dogs." = Because just one Dodger Stadium hot dog is never really enough.
28. "I've never been to the Magic Castle." = Do you know someone who can get me in? Because I NEED to go.
29. "Let's get animal style." = As in fries from In-N-Out.