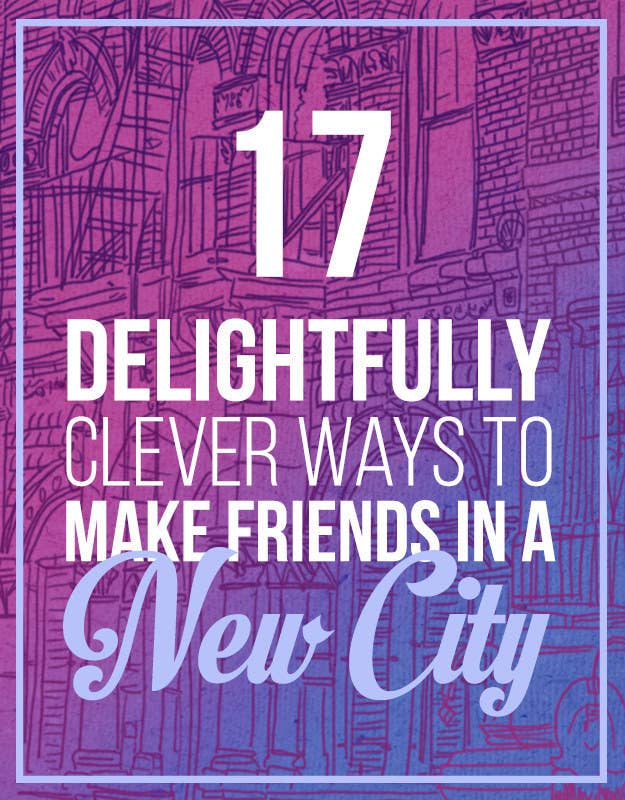 1.
Reach out to friends of friends.
Ask your current friends if they know anyone in your new city. Get ahold of their contact info and reach out! Most people understand that big moves can be daunting and will be willing to meet for dinner or a drink.
4.
Go explore.
It can be scary to go out on your own in a new city, but you're less intimidating when you're alone. Get a good book and wait for people to approach you, or go up to people yourself while you're out and about!
5.
Make an effort with co-workers.
Start grabbing lunch with them as much as possible. You'll get closer over time and start being invited to stuff outside of work.
6.
Look up local teams or running clubs.
Most cities have adult leagues you can sign up for and meet like-minded people. If team sports aren't your thing, think about joining a gym or yoga studio. If you go regularly, you're likely to see familiar faces.
7.
Take a continuing education class.
9.
Ask people on friend dates.
Be forward! Say, "I have a friend-crush on you, would you wanna go for coffee or something sometime?" Mention that you're new to the city and trying to explore.
10.
Meet new people over food with Supper Club.
Eat, drink, and be merry with future BFFs. Download it here.
12.
Go to cultural events.
It's usually affordable and sometimes even FREE. Concerts in the park, art exhibits, and plays are just the beginning. And you'll automatically have things to talk about with the people in attendance.
13.
Open up!
Vulnerability plays a huge part in emotional bonds with friends. Especially early on in the game, open up about yourself when meeting new people. If you keep things surface value, a friendship isn't likely to grow out of it.
14.
If you moved to a big city, check out City Socializer.
It's also a great way to discover places you won't find in the guidebooks. Read more and sign up here.
15.
Do your best to say "YES!"
16.
Volunteer somewhere you're passionate about.
Make friends while making the world a better place? Win, win.
17.
Maintain budding friendships.
Going to coffee with someone ~once~ is probably not going to cement a lifelong friendship. If you're looking for something real, commit! Plan bi-monthly brunch hangouts, or wine Wednesday get-togethers the first of every month.