1.
When cross-country ski coach Justin Wadsworth didn't forget the meaning of sportsmanship and replaced Anton Gafarov's broken ski in the middle of a race.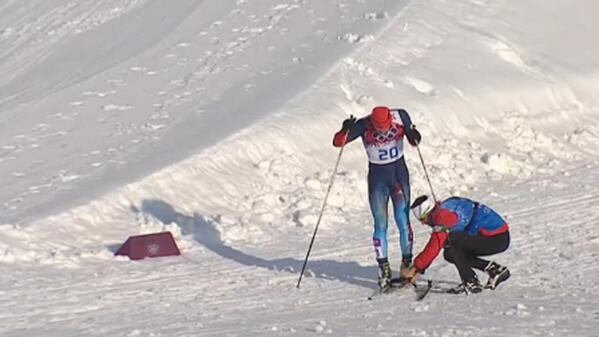 2.
When gold-medalist Dario Cologna waited 28 minutes after crossing the finish line in men's cross-country to shake hands with Roberto Carcelen, who finished last. 3.
When sisters Chloe and Justine Dufour-Lapointe won gold and silver respectively and took the medal stand hand-in-hand. 4.
When Olympic volunteers skied down the half pipe in a heart-shape formation in honor of Sarah Burke, a pioneer of women's freestyle, who died during training in 2012. 5.
When Gus Kenworthy vowed to adopt five stray puppies from Sochi so they could have a proper home.
6.
When the Jamaican bobsled team received a warm welcome at the opening ceremony after financial issues almost kept them from competing. They were able to raise enough funds thanks to donations from the internet and the Olympic committee. 7.
When favorite-to-win Evgeni Plushenko saluted his home crowd after withdrawing from the men's short program due to a back injury. He later retired. 8.
When Alex Bilodeau dedicated his gold medal to his brother Fredrick, who has cerebral palsy. 9.
When Carina Vogt collapsed with emotion after she realized she had just made history by winning the first ever gold medal for women's ski jump. 10.
And when Meghan Duggan watched her gold slip away in women's ice hockey. 11.
When Jeremy Abbott took a nasty fall during men's short program, pulled himself together, and skated the rest of his routine flawlessly. 12.
When Bode Miller was moved to tears after an NBC correspondent repeatedly asked about his brother's recent death. 13.
When Alex Deibold and Trevor Jacobs hugged after they collided at the finish line, knocking Jacobs out of the running. Deibold went on to take bronze. 14.
When Gilmore Junio selflessly gave up his spot on the Olympic team to his teammate Denny Morrison, who didn't qualify because of a freak fall in the trials. Morrison went on to win silver. 15.
When Dominique Gisin and Tina Maze, skiers from two different countries, happily shared the podium after tying for gold in women's alpine, a historic first for the sport. 16.
When Adelina Sotnikova captured Russia's first ever gold in women's free program in a stadium full of her countrymen. 17.
When Sochi was able to poke fun at itself during the closing ceremony.