The First Thing The New NBA Commissioner Needs To Do
...is rein in the tedious and over-the-top recruiting of comically entitled free agents.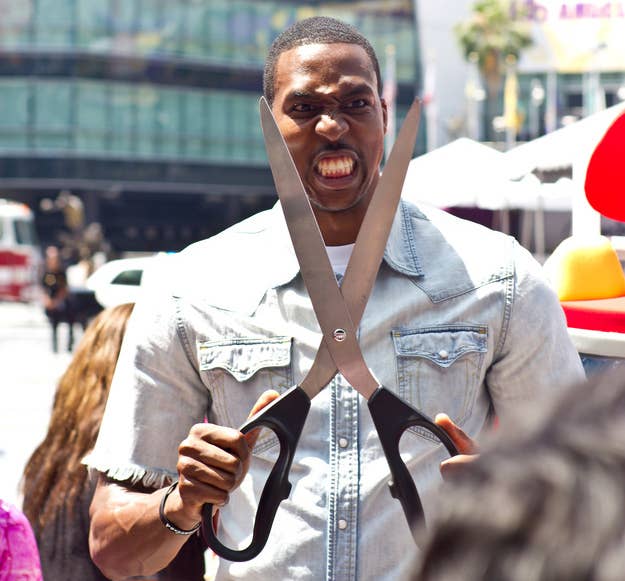 The NBA regular season and playoffs are a continual high whose buzz ends, appropriately, with a trophy celebration, cigars and champagne, and a parade to top it all off. The NBA offseason, though...the NBA offseason is the six Lord of the Rings endings you didn't see coming.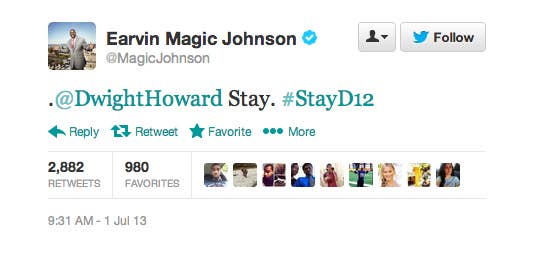 The problem is not the draft, nor the vast majority of the free-agent signings and trades teams make as they re-orient their rosters for the future — the old-fashioned hot stove stuff. The problem is exclusively with the big-ticket guys, the max players. It wasn't always like this, and Dwight Howard perhaps most typifies this transformation. He is, no one disputes, an extremely talented player who will be paid in a way commensurate with his talents, and yet he is everything we now loathe about the NBA Finals coming to an end. Because now, after the all the extracurricular post-championship hoo-hah, all NBA news turns to SOURCES SAY mode. And those sources are usually talking about some absurd demand a big-ticket free agent has made, or some absurd pandering offer a team has made to him. Fans follow this stuff because there's nothing else to follow, but they don't really care. What they care about, in the end, is (a) does this player want to play on my team, and (b) does he make my team better? And Dwight Howard confounds every suitor's fans on both of those queries.
He is 27, young and in his physical prime by any standard, but he's already played nine full seasons, including all 82 games in five of them. His rebounding and defense are historically revered, but his free-throw shooting is laughably atrocious (and getting worse) and he's not particularly fleet. He's the best center in the NBA, but he's been a pain on both teams he played for in the last two years and we're now deep into his second (or, like, tenth, depending on how you count) contract sideshow of the last 12 months. He is both the most-desired and least-beloved free agent of the offseason, and every twist in his courtship has been reported with all the gusto of a true-crime story. In our more naive days, this used to be a closed-door process, but it's now morphed into a sometimes-weeks-long trial that tests the limits of fandom.
Three years ago, LeBron James's ESPN-broadcast "decision" pioneered the extended free-agent-signing process. There was logic behind it; LeBron and other free agents can only be paid a certain amount under the NBA's maximum-salary limits, but he realized he could play teams off each other in terms of the perks they would give him and the degree they'd shape their organizations around his wishes. And he could do it all while keeping himself in the news, raising his public profile and thus his value as an product pitchman.
The egocentrism of the whole thing backfired on LeBron with a certain portion of said public, but this hasn't stopped other players from imitating him. And Dwight Howard's free agency has been the demented idiot's version of The Decision. After a year of back-and-forth leaks from his "camp" about what he wanted from Orlando, he finally helped orchestrate a four-team blockbuster that sent him to Los Angeles, but a rough year with the Lakers has us all back at square one. It's particularly painful given that, because of the collective bargaining agreement, the Lakers can offer Howard a larger contract than anyone else, which gives him an incentive to stay in a situation he otherwise might be unhappy with. Meanwhile, social media has become a place where teams will openly beg campaign for players to sign. Then there are the iPad presentations and promises of TV shows. This is now the typical state of NBA news as soon as the last of the post-championship confetti gets swept.
Most unsettling is that the NBA allows this carnival to pull into town every year. The immediate hope is that commissioner-in-training Adam Silver can develop the influence and savvy to turn things around, so the post-Finals glow lasts a little longer and free agency is more streamlined. A good start would be to enact some kind of stricter contract-negotiating windows. A more powerful step would be to abolish max-deal limits in the next collective bargaining agrement. And even more broadly and ambitiously, the NBA could think about cleaning up a salary cap structure that is arcane even to experts, so that fan attention can once again focus on the question above: which players would make my team better?
If the NBA doesn't pull back now and reassess, the fans might start pulling away one day. After all, it's summer. There's always baseball.