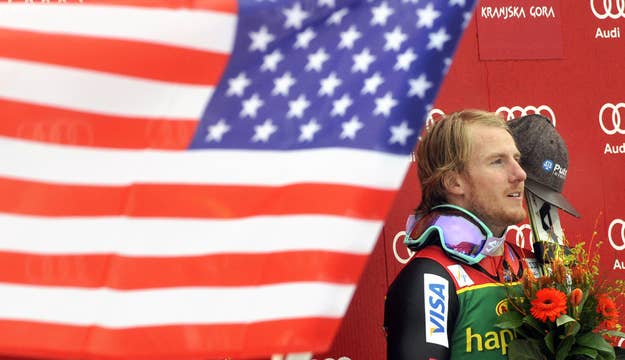 The United States' best hope for a gold medal in men's Alpine skiing says he expects to see an athlete make a prominent gesture of support for LGBT rights at the upcoming Sochi Olympics.
Ted Ligety won gold in Turin in 2006 and is a strong favorite this time around in Sochi, where the Russian government has recently passed multiple anti-LGBT laws and the Russian government and International Olympic Committee are aiming to control protests at the Winter Olympics.
Ligety, though, doubts that will stop all athletes from speaking out.
"I wouldn't be surprised if we see a moment like that. Of the scarier countries in the world to make a political statement, Russia might be one of the worst places to do so. I think it'll be tough. They're obviously trying to dissuade that kind of stuff. I don't know exactly what we'll see, but I'm sure someone will make a statement because it is an issue that so many people feel strongly about," he told BuzzFeed.
Ligety is one of the U.S. Olympic Committee's most high-profile and marketable Olympic veterans. (He's already a member of "Team Kellogg's.") In February, he won three gold medals at the world championships in Austria, the first alpine skier in 45 years to pull off such a feat. The following month, Ligety won his fourth career World Cup title in giant slalom and finished third in the overall standings, his best-ever placing. It's little wonder that the USOC just named him its 2012-13 Olympic SportsMan Of The Year, the first male alpine skier to ever win the award.
Though Ligety himself said he does not plan to make any sort of statement on Russia's anti-LGBT "propaganda" law during competition, his opinion on it is unambiguous.
"I do believe that what they're doing with respect to gay rights is wrong and unfortunate," Ligety said. "I think everyone should have the right to be happy and love who they want to love. That's my belief system. And it's definitely inconsistent to what their government says, but I also don't think I'm in a position to change their policies."