Rescue Workers Find Woman Alive In Bangladesh Factory Rubble
The woman, identified as Reshma, was buried for 17 days and is reportedly in good shape. The death toll has reached over 1,000.
Rescue workers today pulled a survivor from the rubble of last month's deadly factory collapse, 17 days after the incident.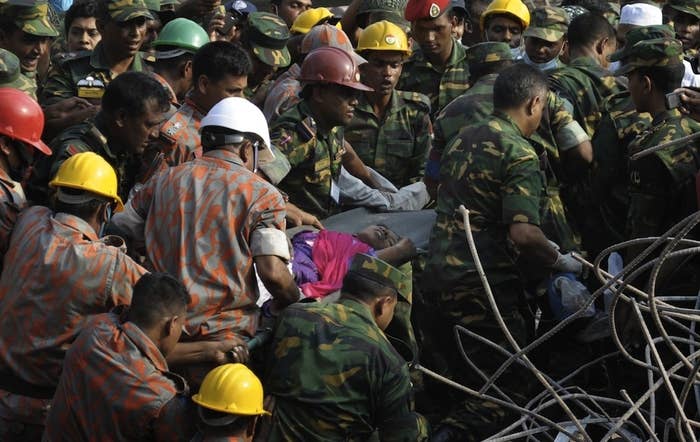 From the Associated Press:
The rescuers discovered the woman Friday afternoon in the wreckage of the basement of the building and ordered the cranes and bulldozers to immediately stop work. They used handsaws to cut through the rubble, as hundreds of people who had been engaged in the grim job of removing decomposing bodies from the site, raised their hands together in prayer.

"Allah, you are the greatest, you can do anything. Please allow us all to rescue the survivor just found," said a man on a loudspeaker leading the supplicants. "We seek apology for our sins. Please pardon us, pardon the person found alive."

When the woman, who soldiers identified as Reshma, was freed after 40 minutes, the crowd erupted in wild cheers.

She was rushed to a military hospital in an ambulance, reportedly in remarkably good shape, despite her ordeal.
The workers say they heard someone shouting "Save me!" and were led to a woman in the basement area who had survived on food and water she discovered after the collapse. Her recovery was broadcast live on Bangladesh TV and she was sent to the hospital, reportedly in good shape.