Composer Stephen Trask, who created Hedwig for off-Broadway with John Cameron Mitchell 20 years ago and co-produced the Broadway cast recording, told BuzzFeed via phone that an album of the NPH-helmed production was originally not in the cards. In fact, the album was recorded in a "DIY, rock 'n' roll" fashion at a studio in Williamsburg as the show gained traction amidst theater-awards season. (On Sunday, Hedwig won four Tonys, including Best Musical Revival and two acting awards for Harris and Hall.)
"The intent was to feel as close as possible to what the show sounded like live," Trask told BuzzFeed. "We really wanted to capture what makes this show special, and what makes this version of these songs my favorite."
Hall, who stars as Yitzhak, told BuzzFeed via email that she recorded all of her vocals in one marathon day. "I loved every minute of the recording process! My absolute favorite moment was recording the track 'When Love Explodes' live with Stephen Trask at the piano! Everyone else was in the control room laughing and giving us the thumbs-up!"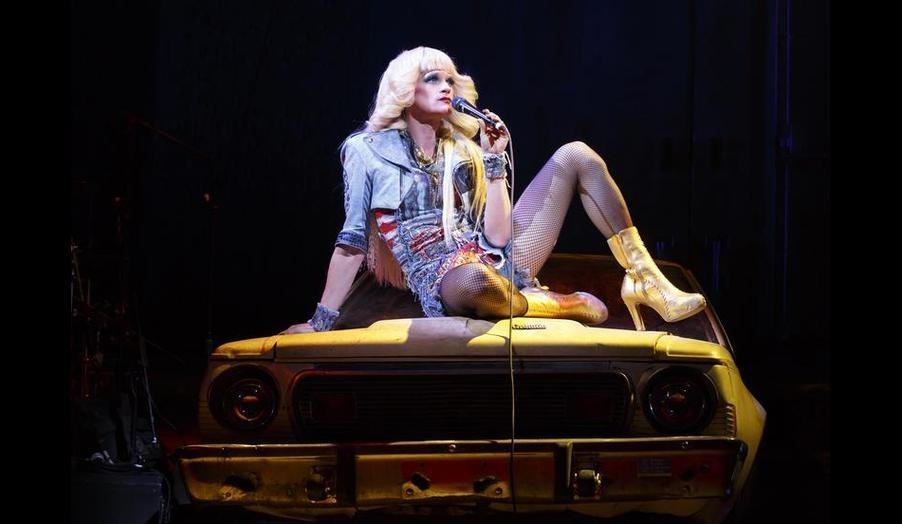 Hedwig and the Angry Inch was first conceived by Trask and Mitchell in 1994 while they were working on another show. Hedwig premiered off-Broadway in 1998 with Mitchell donning the eponymous character's blonde wig and heels (which he did again in the 2001 movie), and when the time came to record the 1999 cast album, Mitchell knew the material inside and out. He had also grown up loving and wanting to sing the '70s glam rock that characterizes much of the show's score, whereas Neil Patrick Harris had not.
So, Trask said, they put together a "cultural immersion" for Harris to study so that he could understand what influenced Hedwig and what would have been a part of her world. It included audio and video of acts like Tina Turner, Mick Jagger, Devo, the Ramones, The Clash, Iggy Pop, and Fugazi, all of whom provided vocal and visual cues for Hedwig. "[Harris] was more than happy [to study]," Trask said. "He's such a detailed performer: the way he gets inside melodic notes or lyrics or acting cues ... every little thing."
Harris' limited engagement is scheduled to end on Aug. 17, and most tickets are already sold out. But Trask believes that this date will not be the end of Hedwig. He hopes Harris will extend his run (a rep for the actor did not immediately return BuzzFeed's request for comment), that they can bring the show to London with Harris, that they can secure another "spectacular" lead for the Broadway run, and that they'll be able to film the show's current incarnation.
But no matter what happens, the new cast recording will carry the former cult classic on. "As far as I'm concerned, this is the definitive version of these songs," Trask said.