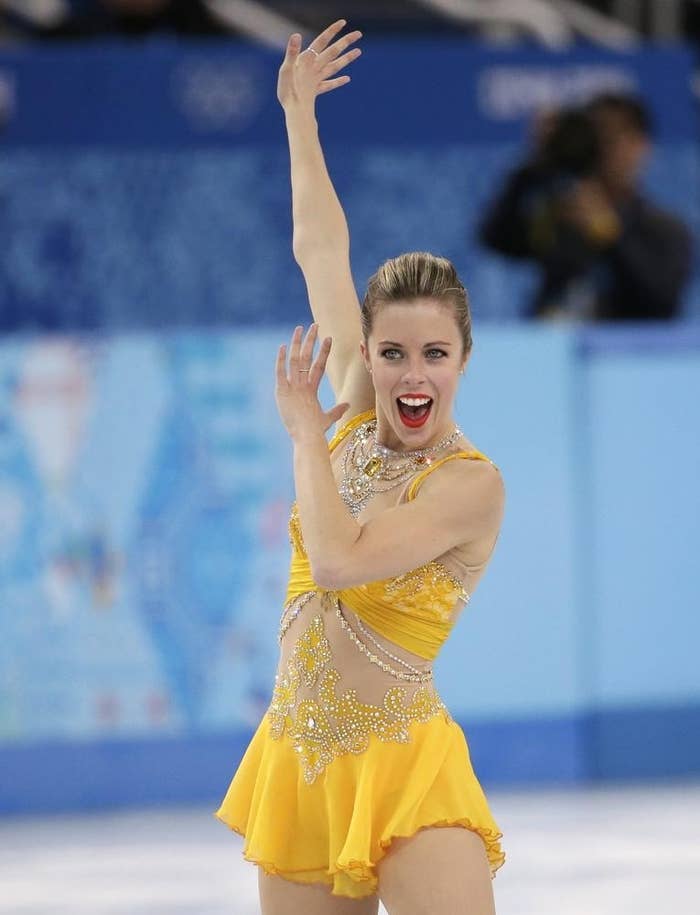 The American skater who ended up in seventh place yesterday is all over the news this morning saying she feels cheated — actually, "gypped" is the word she unfortunately used. Wagner is already known for the face she made when she got a low score during the team competition earlier in the games. Now she's publicly questioning the sport's judging system.
All the stories say Wagner skated two very clean programs, landing all of her jumps, and never falling. It's true that she didn't fall, but she certainly didn't skate cleanly as anyone who knows the sport could see. In the short program she touched her second foot down on her triple toe. In the long program she two-footed and under-rotated the landing of her crucial opening combination.
Before the scores even came in commentator Tara Lipinski noted, "To the audience it may look perfect, but when the judges go back and examine those landings she's going to lose a lot of points."
"A few shaky landings, a few issues here and there, landing on two feet," said Johnny Weir. "But it wasn't a flying endorsement of Ashley Wagner."
Weir used the word endorsement because her selection for the U.S. Olympic team was surprising after a poor performance at Nationals — an unofficial qualifying event for the American team — where she finished fourth and fell twice. But the skating association sent Wagner to the Olympics because she has more experience in the international competitive circuit than skater who finished ahead of her, Mirai Nagasu.
Wagner's skates at the Olympics are certainly a huge personal victory after all that doubt and pressure. Taking her bows after the long program, she was celebrating like she had the skate of her life. And her performances were fun to watch and both good ones — but just because she didn't fall doesn't mean they were great. And it doesn't mean, as she is suggesting, that she deserves to place higher than other skaters who did fall, especially when those other skaters landed more difficult jumps more beautifully than she did. Her remarks are poor sportsmanship — and seem to be a campaign to change the sport to favor those who don't take risks.
"People don't want to watch a sport where you see people fall down and somehow score above someone who goes clean," she told the Los Angeles Times. "It is confusing and we need to make it clear for you."
Dumbing down skating this way to create a fan base would make it boring. We should want just the opposite of what she's suggesting: A sport where someone can fall down and still score above someone who skates clean. Because when Mao Asada falls on a beautiful triple axel, a jump only five or six women have ever landed in competition, but skates the rest of her program beautifully, she is a badass.
And in fact, the current judging system has been criticized because it does sometimes favor those who skate clean, less-difficult programs. When American Evan Lysacek beat Russian Evgeni Plushenko at Vancouver in 2010, Lysacek's perfect program with eight triple jumps was judged more favorably than Plushenko's more-wobbly program with a quad and seven triples — and there was an uproar. That's a far more valid concern about the judging system than Wagner's, which seems to be "I should have placed higher because I didn't fall."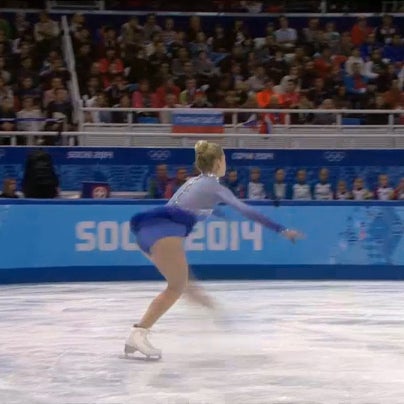 Most people who watch skating don't realize how much more difficult a double axel–triple toe combination is than a triple lutz–double toe, how much faster Gracie Gold and Yulia Lipnitskaya can spin than the others, or how much higher and Kim Yu-Na can jump. But the skaters know, and they're the ones fighting every day of their lives, probably since they were at least 8 years old, for clean landings, beautiful height, and full rotation. Landing a jump consistently on one leg with speed and balance is a lot harder than landing it with a second foot tapping the ice — that battle starts the second you take off the first time you ever attempt that jump and it never ends.
Sometimes your best skate just isn't as good as someone else's decent skate, and that's unfortunate but it's certainly not unfair. But what's more, this obsession with being perfect and NOT FALLING even if it means not attempting more difficult elements is more at risk of destroying the sport than anything else.
Wagner also suggested that Russian skaters — gold medalist Adelina Sotnikova and fifth-place finisher Julia Lipnitskaia — may have benefited from home-ice advantage. But the judges' scores reflected that, with the exception of their falls, both of those skaters completed more beautiful, moving, technically sound performances than Wagner. Ask any other figure skater and they'll agree.
Questioning the judging system is OK — we should always question authority. The system is opaque, and because skating is not just a timed race but a contest of artistry and athleticism, there will always be some subjectivity. The new scoring rules — assigning very specific point values to certain moves — made the whole thing less subjective, it also made it a little homogenous. (And that's another story.)
Which is all a way of saying, please ignore Ashley Wagner's protest from the press room, because if there's a strong argument against figure skating's judging system, it's not the one she is making. And she's not the one to make it right now.