How To Make Weed Chili That Will Get You Stoned
The second and third most exciting ingredients are bison and cinnamon.
American Tex-Mex Herijuana Cinnamon Chili Recipe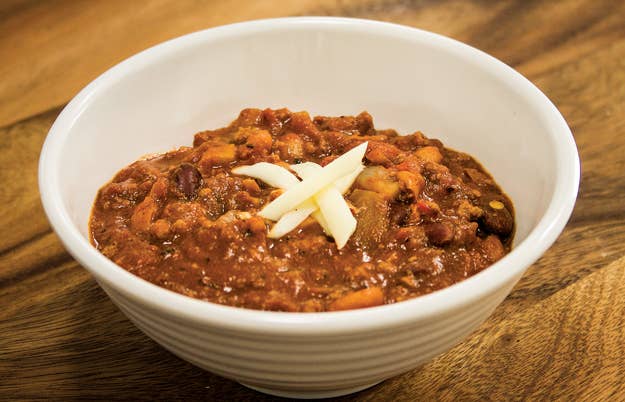 Recipe by Jessica Catalano
Serves 6
INGREDIENTS
10 mini assorted sweet peppers (or 4 large red and yellow bell peppers)
1 large sweet onion
4 garlic cloves
4 tablespoons non-medicated olive oil, divided
1 pound ground bison
1 15-ounce can kidney beans, drained and rinsed
1 15-ounce can pinto beans, drained and rinsed
1 15-ounce can crushed fire roasted tomatoes
1 6-ounce can tomato paste
6 servings of ground marijuana (somewhere between 3 and 12 teaspoons — your choice — see dosing chart below)
2 teaspoons paprika
2 teaspoons chili powder
2 teaspoons Mexican ancho chili powder
2 teaspoons cinnamon
1 2-inch cinnamon stick
1 teaspoon allspice
½ teaspoon cayenne pepper
¼ cup turbinado sugar
Kosher salt and freshly ground pepper, to taste
PROCEDURE
Coarsely chop the mini assorted sweet peppers, sweet onion and garlic. Heat one tablespoon olive oil to a large stock pot over medium heat, and add chopped vegetables. Season with salt and pepper, and sauté the vegetables for 5 minutes. Add the ground bison, season again with salt and pepper, and cook for 5 minutes over high heat, stirring often.
Turn the heat to medium low and add the kidney beans, pinto beans, crushed fire roasted tomatoes and the remaining 3 tablespoons of non-medicated olive oil into the stockpot. Add tomato paste, making sure to scrape the entire can. Add 1 ½ cups of water, then stir all ingredients together until they are well incorporated. Pour the ground up cannabis into the mixture and stir. Finally, add the spices followed by the sugar and give your mixture a few good stirs.
Cover your stockpot with a lid and set the temperature to low and let the chili simmer for 60 minutes. Remove the whole cinnamon stick before serving.
Optional garnish: grated cheddar cheese, and bread or crackers for dipping.