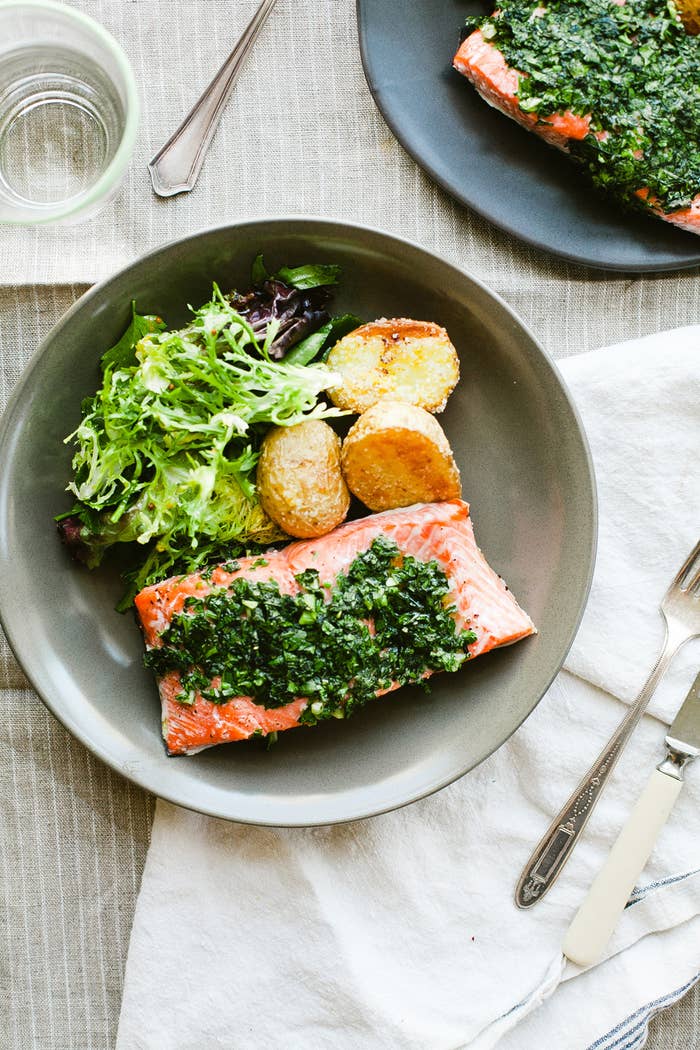 Herb-Roasted Salmon with Fingerling Potatoes
Recipe by Rebekah Peppler
Serves 2
Active cooking time: 10 minutes
Start to finish: 30 minutes
INGREDIENTS
1 lemon, zested and juiced
1½ tablespoons flaky sea salt
2 pounds fingerling potatoes, large potatoes halved lengthwise
3 tablespoons extra-virgin olive oil, divided
Freshly ground black pepper, to taste
Two 6-ounce salmon fillets
Kosher salt, to taste
2 tarragon sprigs, finely chopped
¼ bunch Italian flat-leaf parsley, finely chopped
8 basil leaves, finely chopped
1 garlic clove, finely chopped
Bitter Greens With Citrus Dressing
1 cup frisée (or watercress)
1 cup mixed greens
½ cup Italian flat-leaf parsley, stems removed and leaves left whole
½ orange, zested and juiced
½ lemon, zested and juiced
2 teaspoons whole grain mustard
¼ cup extra virgin olive oil
Kosher salt, to taste
Freshly ground black pepper, to taste
PREPARATION
1. Preheat the oven to 425°F. Blend the lemon zest and sea salt in a small bowl with your fingers. Toss the potatoes on a large baking sheet with black pepper and 2 tablespoons of olive oil and arrange them in a single layer. Roast the potatoes for 25 minutes, then remove the baking sheet from the oven and toss with the lemon-salt mixture. Return to the oven and continue to roast until the potatoes are golden-brown and tender when pierced with a sharp knife, about 5 minutes more. Transfer half the potatoes to a container and reserve for the bean and potato salad in Recipe #3.
2. While the potatoes are roasting, season the salmon fillets with salt and pepper. Mix together the tarragon, parsley, basil, garlic and the remaining tablespoon of olive oil in a medium bowl. Spread the herb mixture over the salmon fillets and place the salmon in a small baking dish. Roast until the fish is flaky and almost cooked through, about 10 minutes. Remove the dish from the oven, cover with aluminum foil and set aside to rest for 10 minutes.
3. Make the citrus dressing: In a small bowl, whisk together the zest and juice from the lemon and orange with the mustard and olive oil. Season with salt and pepper. Add the frisée, mixed greens and parsley leaves to a medium bowl and drizzle half of the dressing over (reserve the rest for the green salad in Recipe #3.) Toss to coat and season with salt and pepper.
4. To serve, place a salmon fillet on each plate and drizzle with lemon juice. Divide the potatoes and dressed salad between the two plates and serve.
TIPS:
The mixed greens in the salad temper the assertive flavor of the frisée. Feel free to substitute in other greens such as watercress or arugula for the frisée.
Store the roasted potatoes (cooled completely) and half the salad dressing in airtight containers in the fridge for the bean and potato salad later in the week. Shake the dressing vigorously before using.