Oreo Cheesecakes In Jars
Adapted from Martha Stewart
Makes 6 six to eight-ounce jars of cheesecake
INGREDIENTS
8 ounces cream cheese at room temperature
1/2 cup sugar
3 large eggs at room temperature
4 ounces sour cream (1/2 cup)
1 tablespoon fresh lemon juice
12 oreos, divided
¼ teaspoon salt
Special equipment:
Electric beater
Six 6-ounce or 8-ounce mason jars
Deep baking dish
Optional: Twine and wooden spoon to tie to gift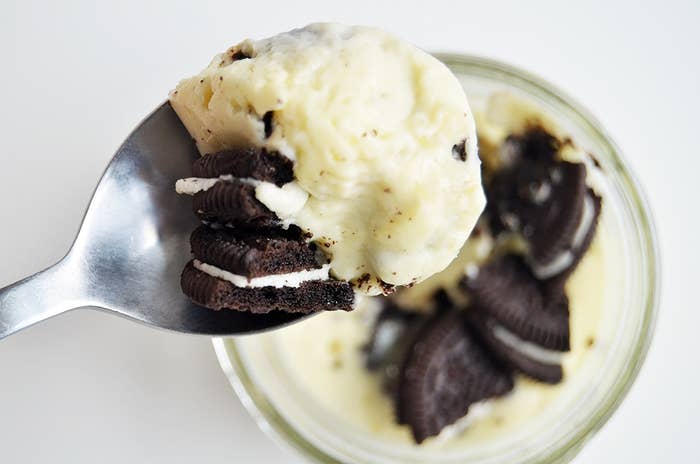 PREPARATION
1. Preheat your oven to 325°F.
2. Using an electric mixer, beat room temperature cream cheese on medium speed until it is smooth. Add the sugar, then beat on medium speed for 3 more minutesReduce speed to low. Add eggs, 1 at a time, beating well after each addition. Raise speed to medium. Add sour cream, lemon juice, and 1/4 teaspoon salt. Beat for 3 more minutes.
3. Put a pot of water on to boil. (You will need enough water to fill the baking dish and reach ½ way up the sides of your jars.)
4. Using your hands, break 8 of the oreos into small pieces, then gently fold the oreo pieces into the batter.
5. Divide batter among the six jars. Fill each jar half full. Put the jars in a deep baking dish, then pour enough boiling water into the dish to reach halfway up the sides of the jars. Cover the dish with foil and cut 8 slits in the foil to vent. Bake at 325°F until they are set in the center, about 25 minutes. Let cool. Refrigerate overnight to set.
6. Make the oreo topping: Put the remaining four oreos in a plastic bag and seal it, then whack at them with the back of a spoon to crush them. Top each cheesecake with a spoonful of oreo crumbs, seal jars, and tie a spoon around each.