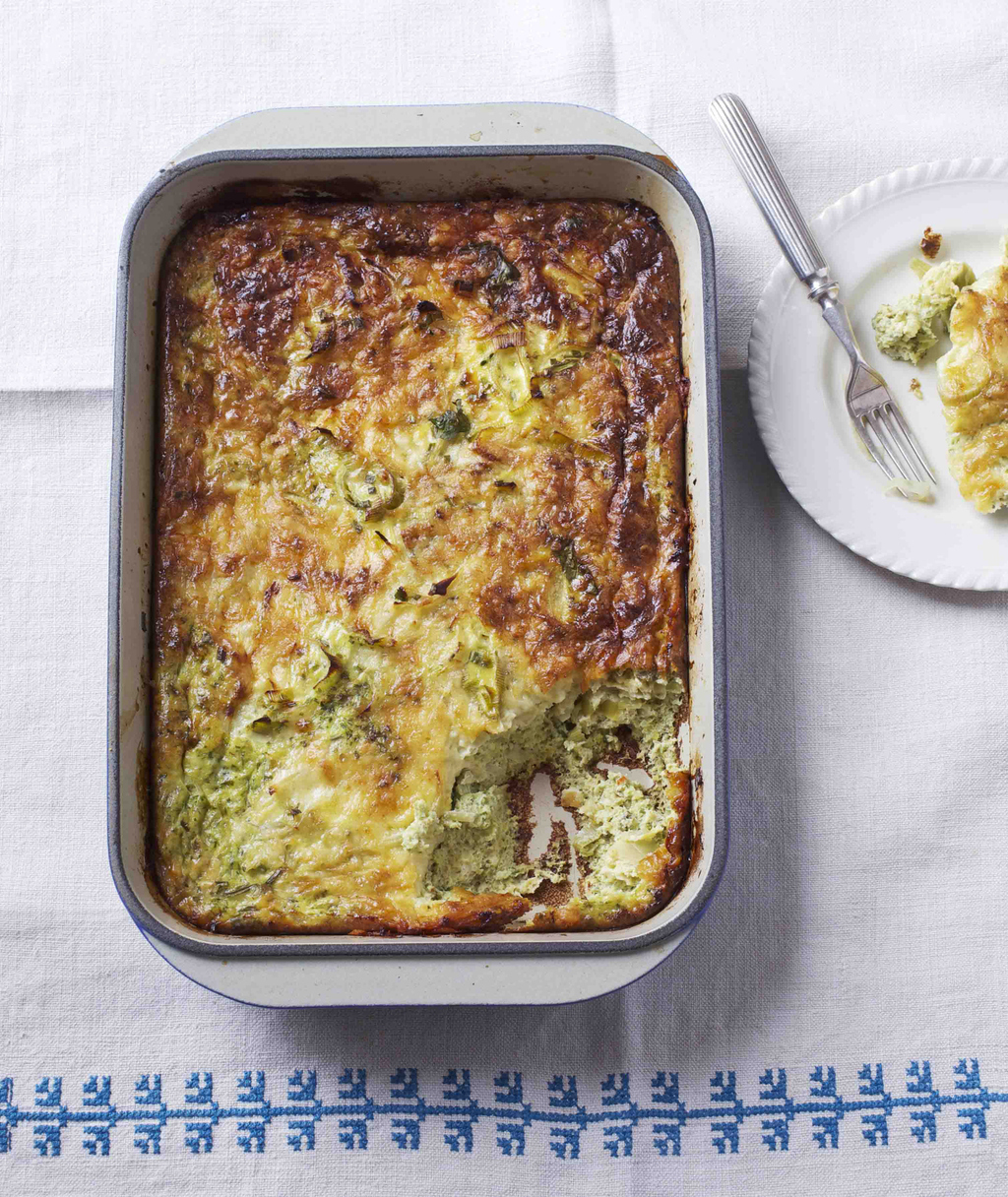 Leek and Pea Pie
From Jewish Traditional Cooking by Ruth Joseph & Simon Round
This delicious quiche-style "pie" (which is made without pastry) has evolved in the Middle East as a wonderful meatless meal.
SERVES 6-8 AS A MAIN COURSE
INGREDIENTS
4–5 leeks, sliced and washed really well
2 large onions, peeled and sliced
1 tablespoon olive oil
½ cup fresh chives, finely chopped
½ cup fresh flat-leaf parsley or coriander, finely chopped
1 vegetable bouillon cube
6 organic free-range eggs, plus 6 organic free-range egg yolks
½ cup milk
½ cup frozen peas
Salt and freshly ground black pepper
1 cup grated cheese of your choice
PREPARATION
Preheat the oven to 350°F. In a large frying pan, gently sweat the leeks and onions in the olive oil until soft but not colored. When they are tender and sweet, add the herbs and crumble in the bouillon cube. (If you wish, you can put the mixture in a food processor at this stage for a smooth texture.) Mix the eggs, egg yolks, milk, and peas together in a mixing bowl. Pour over the vegetable mixture and season to taste.
Pour into a deep 2-quart decorative baking dish and sprinkle with the cheese. Bake in the oven for about 40 minutes until golden and set.
Variation
Add 4–5 sliced, cooked portabello mushrooms to the mixture, or substitute 8 oz. blanched asparagus, cut into 2-inch pieces, for the peas.
Non-dairy alternative
Substitute coconut milk for the cows' milk and omit the cheese topping.