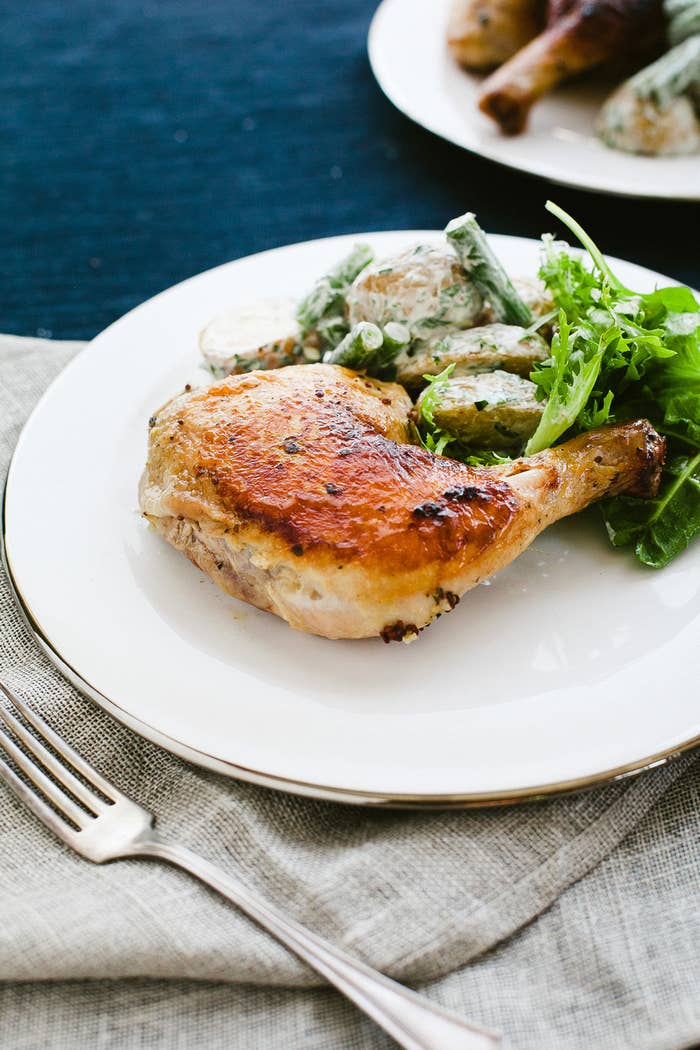 Mustard Brick Chicken with Green Goddess Bean and Fingerling Salad
Recipe by Rebekah Peppler
Makes 2 servings
Active cooking time: 10 minutes
Start-to-finish cook time: 35 minutes
INGREDIENTS
Mustard Brick Chicken
1 small (3 to 4-pound) chicken, halved and rinsed
Kosher salt, to taste
Freshly ground black pepper, to taste
2 tablespoons whole grain mustard
2 garlic cloves, finely chopped
2 tarragon sprigs, finely chopped
1 lemon, juiced
2 tablespoons extra-virgin olive oil
Bean and Fingerling Salad
1 tarragon sprig, finely chopped
¼ bunch Italian flat-leaf parsley, finely chopped
8 basil leaves, finely chopped
1 garlic clove, finely chopped
½ lemon, juiced
3 tablespoons whole milk Greek yogurt
Kosher salt, to taste
Freshly ground black pepper, to taste
1 pound roasted fingerling potatoes (reserved from Recipe #1)
½ pound cooked green beans (reserved from Recipe #2)
Green Salad
1 cup frisée (or watercress)
1 cup mixed greens
½ recipe for Citrus Dressing (reserved from Recipe #1)
1 tablespoon finely chopped basil
PREPARATION
1. Make the chicken: Preheat the oven to 450°F. Pat the chicken dry with paper towels and season with salt and pepper. In a small bowl, stir together the mustard, garlic, tarragon and lemon juice. Spread the mustard mixture over both sides of the chicken.
2. Heat a large, ovenproof skillet (preferably cast iron) over medium-high heat. Add the olive oil and heat until the oil is shimmering. Add the chicken halves, breast side down, and set a large piece of foil on top of the chicken. Top with a foil-wrapped brick or a second heavy, ovenproof skillet and cook, without moving the chicken, until the skin is golden brown, 5 to 7 minutes. Transfer the chicken to the oven and roast until tender and cooked through, 16 to 18 minutes. Remove the chicken from the oven, remove the brick or skillet weighing it down and set the chicken aside to rest, still covered in aluminum foil, for 10 minutes.
3. While the chicken is roasting, make the bean and fingerling salad: In a medium bowl add the tarragon, parsley, basil, garlic, lemon juice and yogurt and mix to combine. Season with salt and pepper. Add the roasted potatoes and cooked green beans and toss to coat.
4. Make the green salad: Add the frisée and mixed greens to a medium bowl. Add the basil to the reserved citronette and whisk well to combine. Drizzle the citronette over the salad and toss to coat. Season with salt and pepper.
5. To serve: Place a chicken half on each plate. Divide the bean-potato salad between the plates and serve.
TIPS:
To halve the chicken, set the chicken, breast side down, on a level work surface. Starting at the tail end, use a kitchen or poultry shears to cut down both sides of the backbone. Open the chicken and use the shears to cut down the middle of the breast plate and split the chicken into 2 halves.
The dressing for the bean and fingerling salad calls for ½ cup herbs total — feel free to mess with the ratios (more basil/less tarragon, more parsley/less basil, etc.) or add any other herbs you have in house to customize the dressing to your taste.