How To Make Festive Blood Orange-Mimosa Jello Shots
These are so fun for a holiday party or New Year's Eve. Equally fun as dinner in front of the TV on the night you finally refuse to go to any holiday parties.
Blood Orange Mimosa Jello Shots
These are inspired by Jaymee Sire, the brilliant blogger behind e is for eat. See her post. We used tangerines because they are easier to find than real blood oranges, and made the prettiest cups. But you could also use navel oranges or actual blood oranges with great results. The cups will just be slightly more difficult to clean out. Adjust food coloring amount accordingly.
ACTIVE TIME: 30 minutes
TOTAL TIME: 4 hours, 30 minutes
Makes 20 Jello Shots
INGREDIENTS
5 tangerines (including the 1 cup of fresh tangerine juice you'll get from them)
1.5 packets unflavored Knox gelatin
1 tablespoon sugar
3/4 cup champagne or sparkling wine
1/4 cup orange liqueur like Triple Sec or Grand Marnier
2-4 drops red food coloring
PREPARATION
Slice tangerines crosswise. Using a reamer or electric juicer, juice the tangerines. Strain the juice until you have 1 cup. (If you don't have enough juice, just add some store-bought orange juice.) Carefully flip the rind inside out and peel the fruit away from the pith (can use a paring knife to make this less messy) to make a clean "cup." Set tangerine cups in cups of a muffin pan.
To make filling: Pour juice into small saucepan and sprinkle with gelatin and sugar. Allow gelatin to soak for about two minutes. Heat over medium, stirring occasionally, until the sugar and gelatin are both dissolved. Let mixture cool to warm. Add champagne and Triple Sec. Add red food coloring until you like the color. Transfer to a container with a spout.
Pour mixture into tangerine cups. Allow to set several hours or overnight.
Turn tangerine cups out onto a cutting board, Jell-O side down. Using a serrated knife, cut each tangerine in half lengthwise and serve.
RECIPE CREDIT: Recipe inspired by E is for Eat
Step 1: Slice 5 tangerines in half.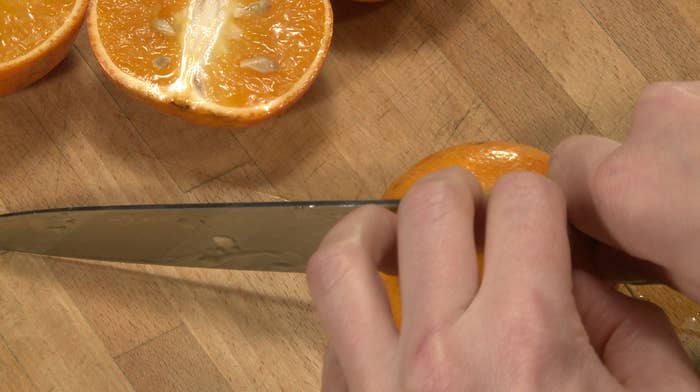 Step 2: Juice the tangerines and save the juice.
You want to get as much juice out as possible.
Step 3: Strain the tangerine juice into a liquid measuring cup until you have 1 cup of juice.
Step 4: Flip the peel of the tangerines inside out so that you can clean it more easily.
Step 5: Using a paring knife, cut and pull the flesh of the tangerine away from the shell to expose a clean pith.
This is actually very satisfying. You'll see.
Step 6: Place the tangerine cups in a muffin tin.
Step 7: Put the fresh squeezed and strained tangerine juice in a saucepan on the stove.
Step 8: Add 1 Tbsp of sugar.
Step 9: Add a packet of Knox unflavored gelatin.
Let the gelatin soak for about 2 minutes.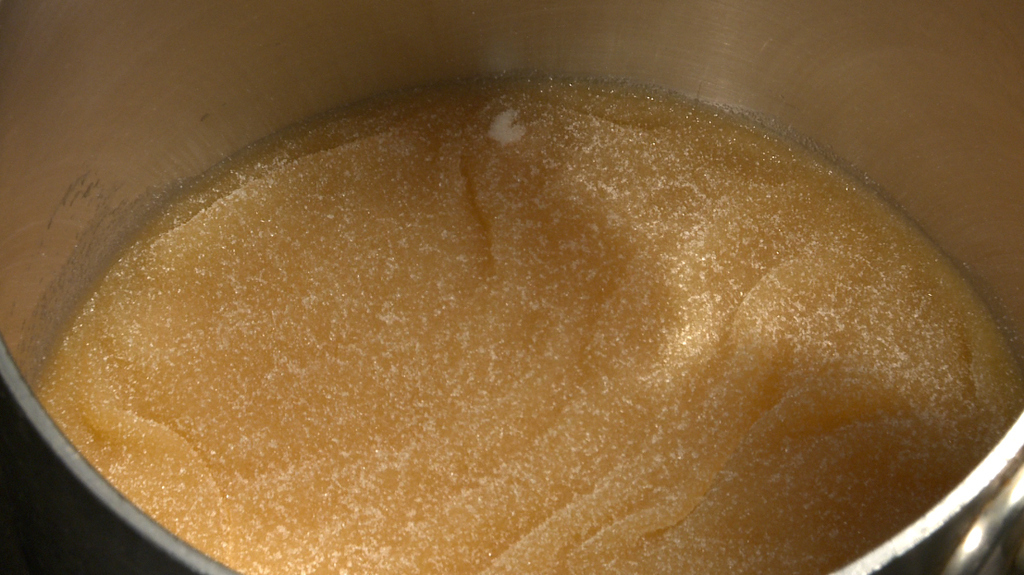 Step 10: Heat the mixture gently and stir occasionally to dissolve the gelatin.
Step 11: Combine 3/4 cup sparkling wine...
...with 1/4 cup orange liqueur like Triple Sec or Grand Marnier.
Step 12: Put it in a container with a spout and add 2-4 drops of red food coloring until it's a color you like.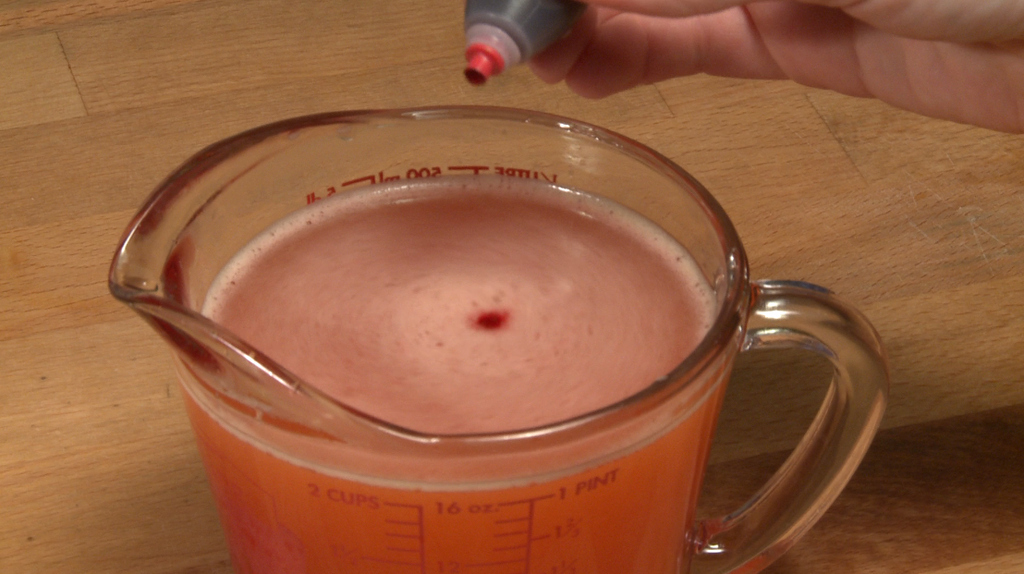 Step 13: Pour the liquid into the tangerine cups in the muffin tin.
Step 14: Admire them.
Step 15: Put them in the fridge for several hours or overning — until they solidify.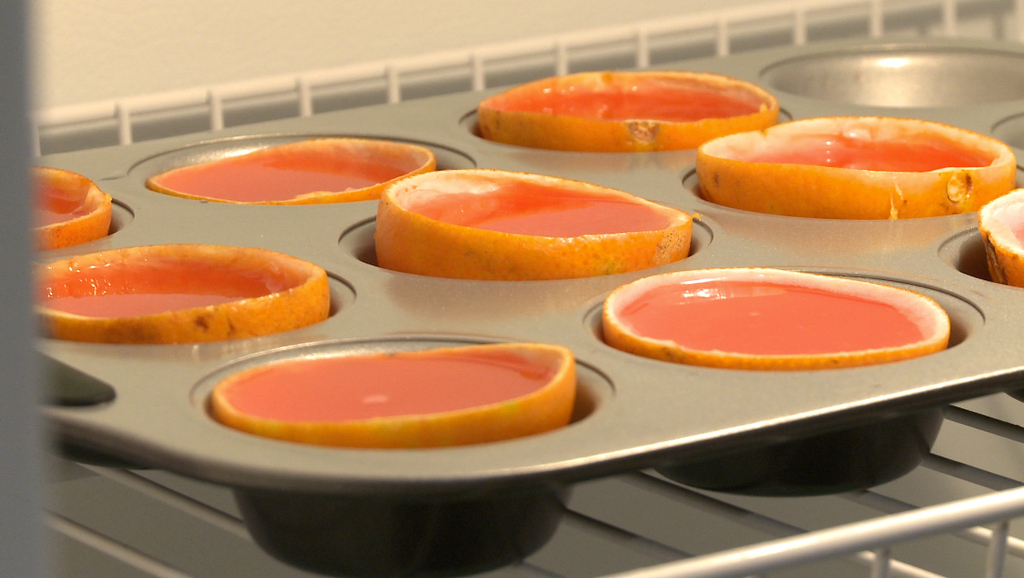 Step 16: Using a serrated knife, slice them in half with the jelly side facing the cutting board.
Step 17: Use scissors to trim the edges and make them look cleaner.
This part is also very satisfying.
Step 18: Put them on a platter so they look beautiful and impressive.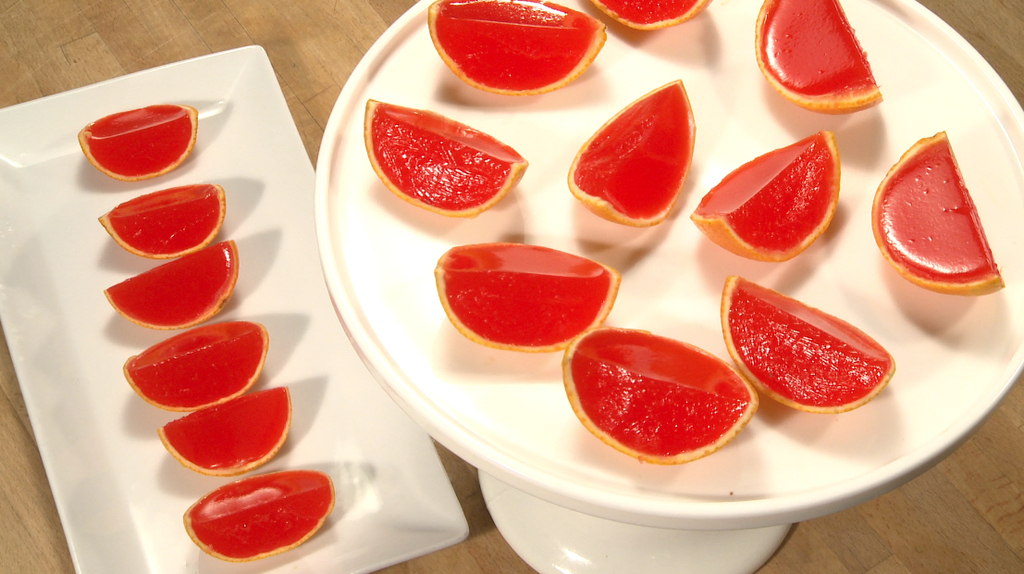 Step 19: Eat all 20 of them because you can't help it because they are so good.