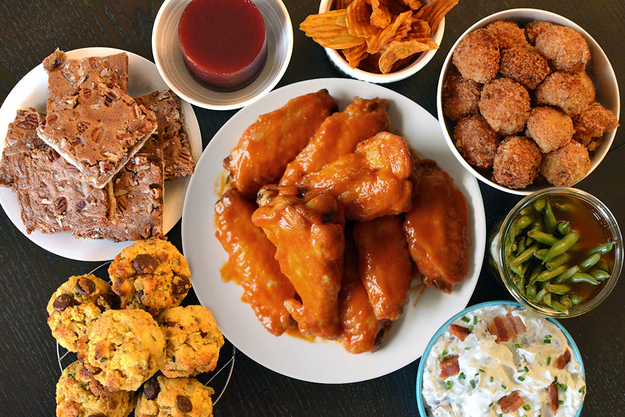 THE MENU
Pictured clockwise from bottom left:
Corn Dog Stuffing Muffins
Bourbon Pecan Pie Bars
Cranberry Tower
Sweet Potato Chips
Deep-Fried Mashed Potato Balls
Smoky Pickled Green Beans
Bacon Dip
Sriracha Turkey Wings
Bacon Dip with Sweet Potato Chips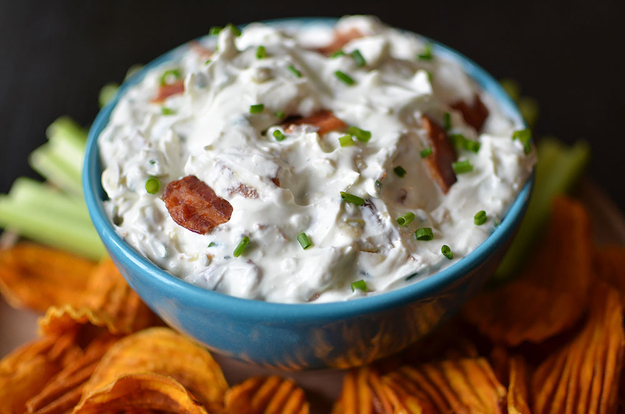 Makes 2 cups
INGREDIENTS
6 slices bacon
7 ounces cream cheese
1 cup sour cream
1 Tbsp. fresh lemon juice
2 tsp. salt
1 cup blue cheese, crumbled
1/4 cup chopped fresh chives
PREPARATION
Preheat the oven to 350°F. Arrange bacon in one layer on a rack set inside of a rimmed baking sheet. Bake until crisp and brown, 15 to 20 minutes.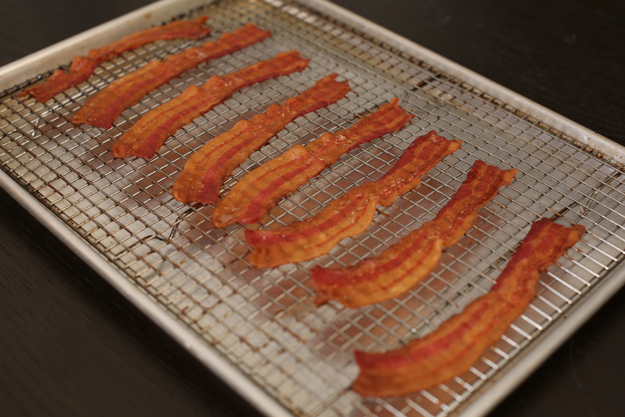 Remove bacon from the oven and drain bacon on paper towels. Spoon 1 teaspoon of the bacon fat that gathered on the baking sheet into a medium bowl (strain the fat first, if necessary). When cool enough to handle, tear bacon into pieces about 1 inch wide.
Add the remaining dip ingredients to the bowl with the bacon fat and stir to blend well. Add the bacon pieces and mix. Cover and refrigerate until chilled, about 1 hour. Serve with store-bought sweet potato chips and celery sticks.
Sriracha Turkey Wings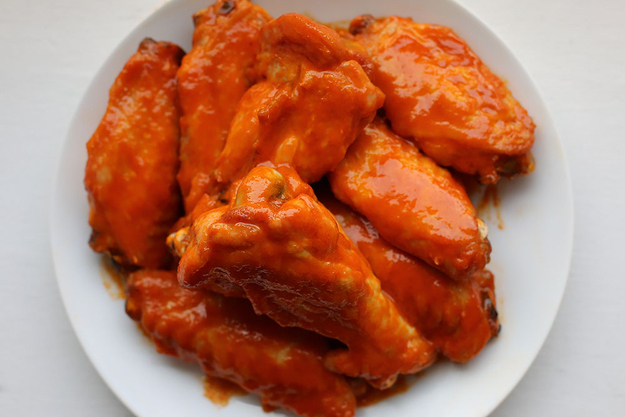 Corn Dog Stuffing Muffins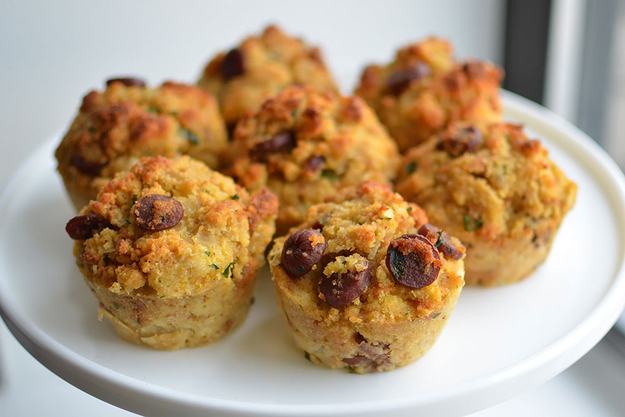 Makes 12
INGREDIENTS
9 cups 1/2-inch cubes purchased cornbread*
4 cups 1/2-inch cubes crustless firm white sandwich bread (from 7 slices)
1/2 cup (1 stick) butter, divided
1 1/2 cups chopped onions
1 1/2 cups hot dogs sliced crosswise (into coins; you'll need about 5 hot dogs)
1/4 cup chopped fresh parsley
1 teaspoon coarse kosher salt
1 teaspoon freshly ground black pepper
4 large eggs, beaten to blend
2 cups low-salt chicken broth
*If you can't find cornbread, buy two 8.5-oz boxes of cornbread muffin mix and bake some.
PREPARATION
Preheat oven to 350°F. Cut off a tablespoon of the stick of butter and use it to generously butter 12 1/3-cup nonstick muffin cups. (Butter very generously otherwise they will be hard to get out.)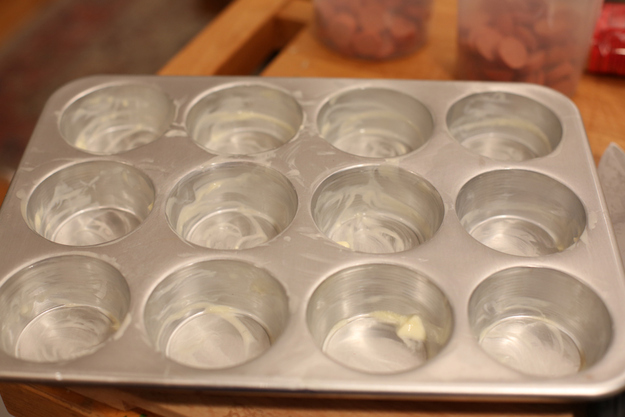 Divide cornbread cubes and white bread cubes between 2 rimmed baking sheets. Bake in oven to dry them out slightly, about 5 minutes. Cool. Transfer bread cubes to large bowl.
Melt butter in a large skillet over medium heat. Add onions and a little salt and cook until soft, stirring often, about 10 minutes. Add hot dog pieces; stir and cook for 1 minute. Turn off the heat. Add parsley, another sprinkle of coarse salt, and 1 teaspoon pepper; stir to blend.
Add hot dog mixture to bread in the large bowl; toss. Add eggs and broth; toss. Let stand 5 minutes; toss again. Spoon about 1/2 cup stuffing mixture into each muffin cup. Press to compact (they will come to the top of the cup rims).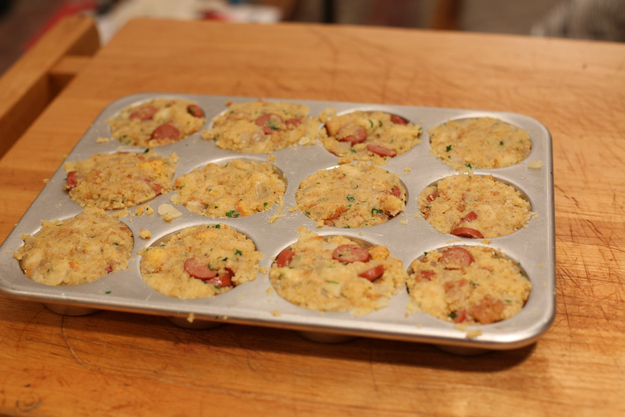 Mound about 1/2 cup remaining stuffing mixture over stuffing in each muffin cup and form it into a rounded "muffin top" to hold shape.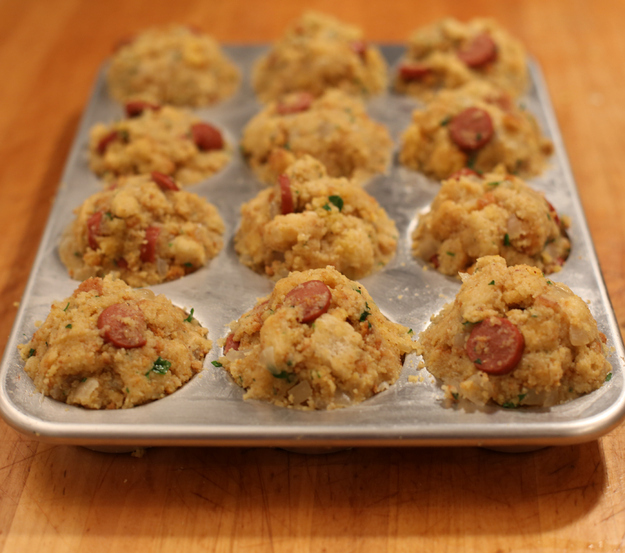 Bake muffins until golden, about 22 minutes. Cool in pan 15 minutes.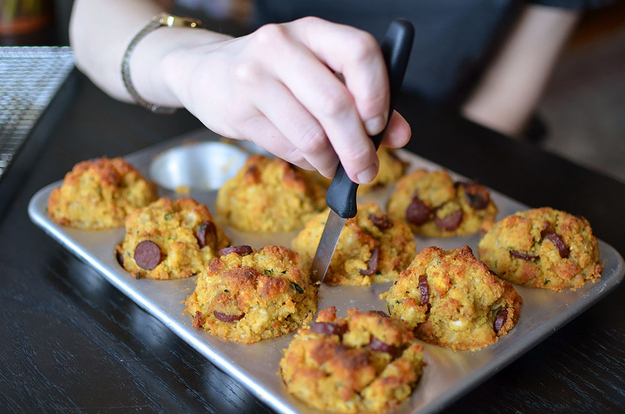 Trace the muffins with a paring knife to loosen if they are hard to get out of the pan. Transfer to rack; cool.
MAKE THEM AHEAD: These muffins can be made 1 day ahead. Cool, cover, and chill them in the fridge. Rewarm uncovered in microwave in 30-second intervals, or covered loosely with foil in 350°F oven, about 15 minutes.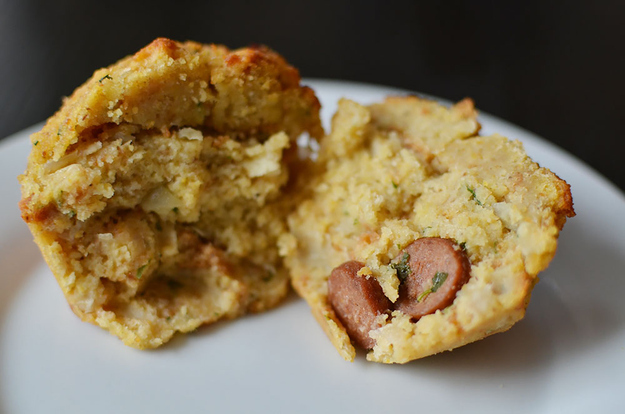 Smoky Pickled Green Beans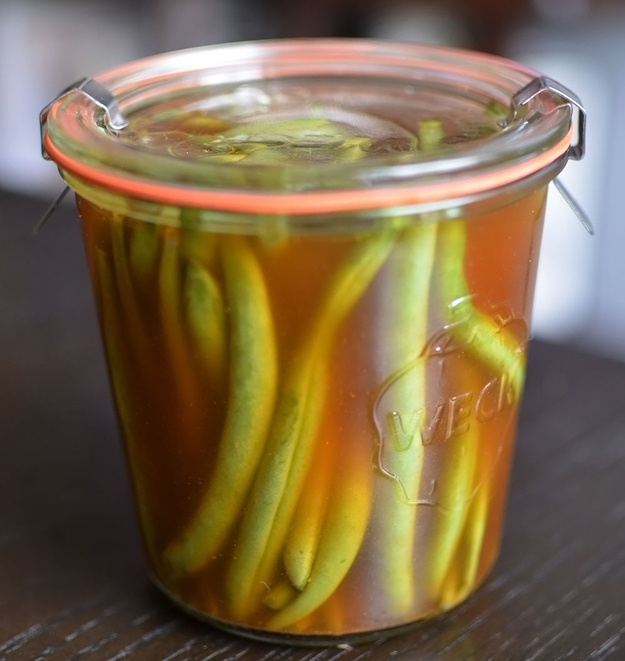 Makes 1 quart pickled green beans
INGREDIENTS
12 ounces green beans (about 60)
2 cups white vinegar
2 Tbsp. sugar
2 Tbsp. salt
1 Tbsp. smoked paprika (pimenton)
1 tsp. whole mustard seed
1 tsp. curry powder
1 tsp. cayenne pepper (or more, if you like it hot)
1 clove of garlic, smashed
Wash the green beans. Put them into a quart container with a lid (or split between smaller containers). In a small non-reactive saucepan, bring all of the brine ingredients to a boil until the salt is completely dissolved, about 1 minute. Pour this mixture into the container with the green beans and add enough water to cover the tops of the green beans (they'll float, so you'll need to weigh them down with something like a small glass bowl). Secure the lid and allow the beans to come to room temperature. Refrigerate for at least 3 days before serving, and up to two months.
Recipe inspired by Rick's Pick's Smokra.
Fried Mashed Potato Balls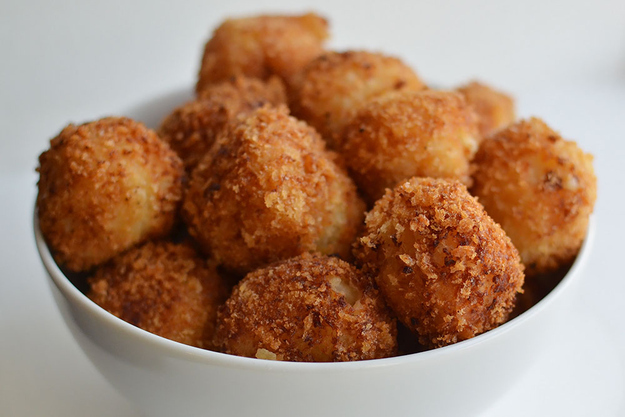 Makes 32 balls
INGREDIENTS
2 1/2 pounds potatoes, peeled and cubed into chunks that are all the same size (about 4 large potatoes, or 5 medium-sized ones; russet work best)
2 ounces cream cheese at room temperature
2 Tbsp. milk
1 Tbsp. butter at room temp
1/4 cup grated Parmesan cheese
2 1/2 tsp. onion soup mix
1/2 tsp. salt
freshly ground pepper
1 egg, lightly beaten
1 1/2 cups panko bread crumbs
Note: You can use instant mashed potatoes, just make sure they are stiff by adding some cream cheese. Day-old mashed potatoes work best.
PREPARATION
Place potatoes in a large saucepan and fill with cold water to cover potatoes by about 1 inch. Bring to a boil. Reduce heat; cover and cook for 15-20 minutes or until the potatoes are just tender. Drain.
In a large bowl, mash the potatoes. Beat in the cream cheese, milk and butter until smooth. Stir in the Parmesan cheese, onion soup mix, salt and pepper. Shape into 1 1/2-inch balls.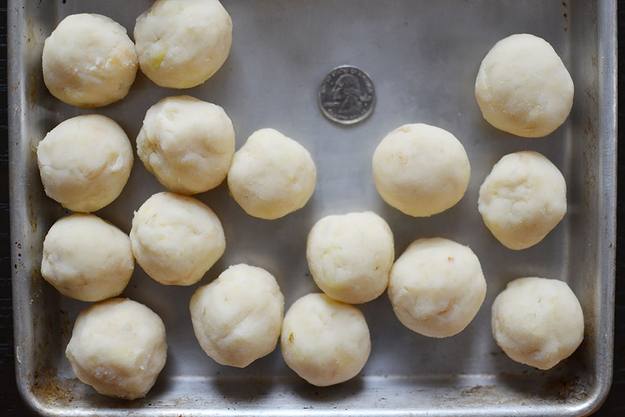 If you want to fry them:
Pour oil into a heavy medium skillet to come halfway up the balls. Heat oil to 350°F.
If you want to bake them:
Preheat oven to 400°F.
Place the egg and panko breadcrumbs in separate shallow bowls. Dip potato balls in egg, then roll in crumbs. Place on ungreased baking sheets.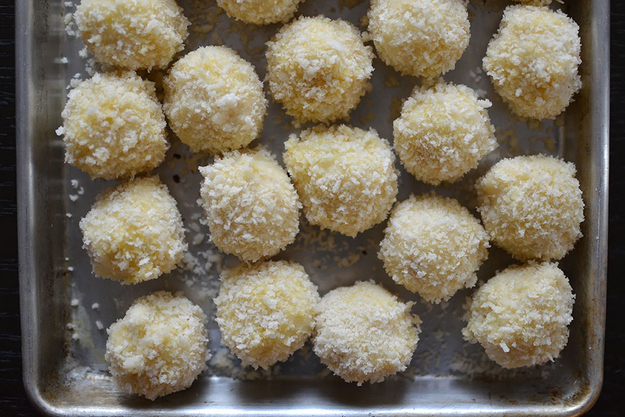 If you want to fry them:
Fry in 350°F oil in batches of 4 (doing more than that at once won't work as well). Fry until one side is golden brown, then flip with a slotted spoon and brown the other side. Remove with a slotted spoon to a paper towl to drain, and sprinkle with a little salt.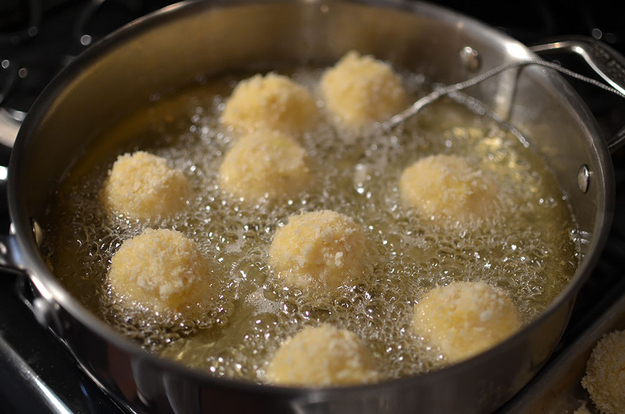 If you want to bake them:
Place on a rack inside a rimmed baking sheet and bake at 400°F for 15-18 minutes or until crisp and golden brown.
Cranberry Tower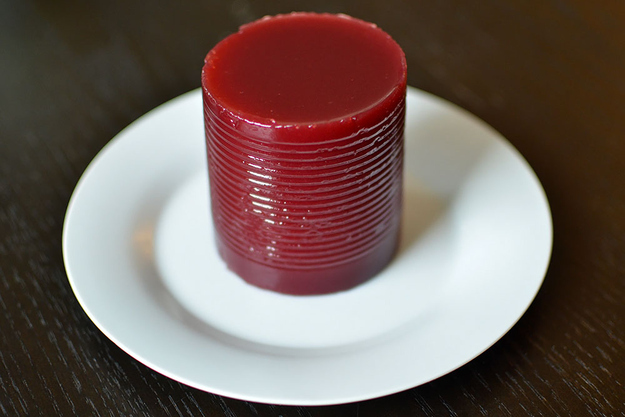 INGREDIENTS
1 14-ounce can jellied cranberry sauce
PREPARATION
Confirm the cranberry sauce is at the correct temperature: fridge temp. Using a can opener, open one end of the can and invert onto a plate. Improper extraction techniques include jiggling or smacking. This is a common mistake.
Instead, open half of the second end of the can to prevent a vacuum, then reveal the contents with respect.
Do not slice cranberry sauce into coins, as this is presumptuous, like chewing someone's food for them.
Cranberry tower should be placed on the Thanksgiving table at the last possible moment.
Bourbon Pecan Pie Bars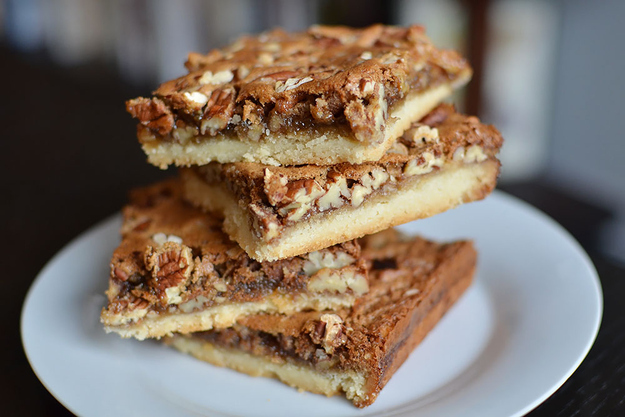 Makes 24 bars
INGREDIENTS
1 cup (2 sticks) unsalted butter, room temperature
1/2 cup confectioners' sugar
2 tsp. salt
2 cups plus 2 Tbsp. all-purpose flour (spooned and leveled)
1/2 tsp. baking powder
2 large eggs
1 1/2 cups packed light brown sugar
1 Tbsp. dark corn syrup
2 cups pecans, coarsely chopped
1 tsp. vanilla extract
2 Tbsp. maple syrup
2 Tbsp. bourbon
PREPARATION
Preheat the oven to 375°F. Using an electric mixer, beat butter, confectioners' sugar, and 1 teaspoon salt until light. Beat in 2 cups flour until the dough comes together. Transfer to a 9-by-13-inch baking sheet with sides. Place a sheet of plastic wrap over the dough and use it to press the dough into an even layer across the baking sheet (this will prevent the dough from sticking to your fingers). Bake 20 to 25 minutes or until edges are golden.
Meanwhile, whisk together remaining 2 tablespoons flour, remaining teaspoon salt, and baking powder. Using an electric mixer, beat eggs, brown sugar, and corn syrup until light. Fold flour mixture into egg mixture, then fold in the pecans.
Pour the mixture over crust.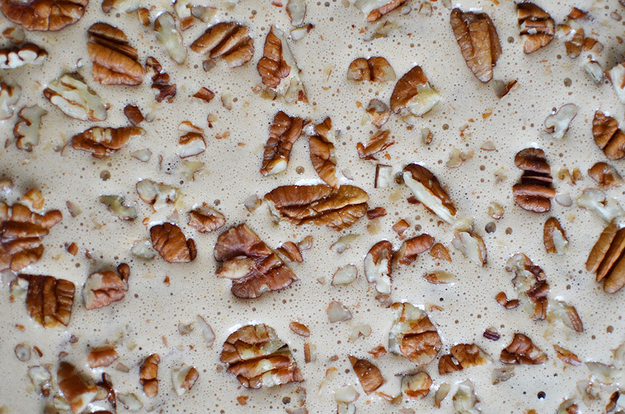 Bake 20 to 25 minutes until set. Run a metal spatula around the edges while still warm, then transfer to a wire rack and cool in pan before cutting into 24 bars.