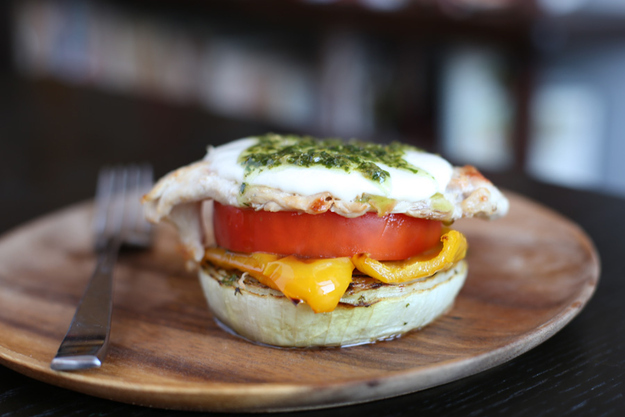 "I cook this for my wife at least once every two weeks — usually on a work night. It takes about 35 minutes to cook and is easy to clean up. The best part of this recipe is you don't have to measure anything out. If you get a larger breast, butterfly it and then pound it out. It makes cooking the chicken so much easier. I have turned this recipe into a Caprese chicken dish: Instead of using pesto I use olive oil and balsamic vinegar; I get rid of the onion and pepper and substitute fresh basil leaves." — Ryan Cox, 30, web marketing manager, Chicago, IL
Chicken-Pesto Stacks
Recipe adapted from Good Housekeeping
Serves 4
ACTIVE TIME: 35 minutes
TOTAL TIME: 35 minutes
INGREDIENTS
3 Tbsps. store-bought pesto
3 Tbsps. water
1 large sweet onion, cut crosswise into 4 slices (don't separate the onion's rings, keep the cross sections intact)
2 medium yellow peppers, cored and cut lengthwise into quarters
4 medium boneless, skinless chicken-breast halves
Kosher salt and pepper
2 tspns olive oil
4 slices fresh mozzarella
1 tomato, cut into 4 slices
PREPARATION
Preheat broiler. In small bowl, mix pesto with water. Grease a small baking sheet with cooking spray or olive oil. Arrange onion "steaks" on pan; brush onions with 2 tablespoons pesto mixture. Place pan in oven 6 inches away from heat source; broil onion 5 minutes.
Arrange peppers on pan with onion; broil 12 to 15 minutes longer or until vegetables are tender, turning vegetables over halfway through cooking.
Meanwhile, with meat mallet, pound chicken (placed between 2 sheets plastic wrap) to an even 1/2-inch thickness. (The goal here is not to "flatten" the chicken, but rather to make it an even thickness throughout so that it cooks evenly.) Season with 1/4 teaspoon each salt and freshly ground black pepper.
In a 12-inch skillet, heat 2 teaspoons oil on medium until hot. (If you get the pan nice and hot, it will help prevent the chicken from sticking.) Add chicken and cook 6 to 8 minutes or until browned on both sides, turning over once. Top chicken in pan with mozzarella slices; cover and cook 2 to 3 minutes or until cheese melts and chicken is no longer pink.
To serve, on each of 4 dinner plates, place 1 slice onion, 2 slices pepper, 1 slice tomato, and 1 piece chicken and mozzarella; drizzle with pesto mixture.