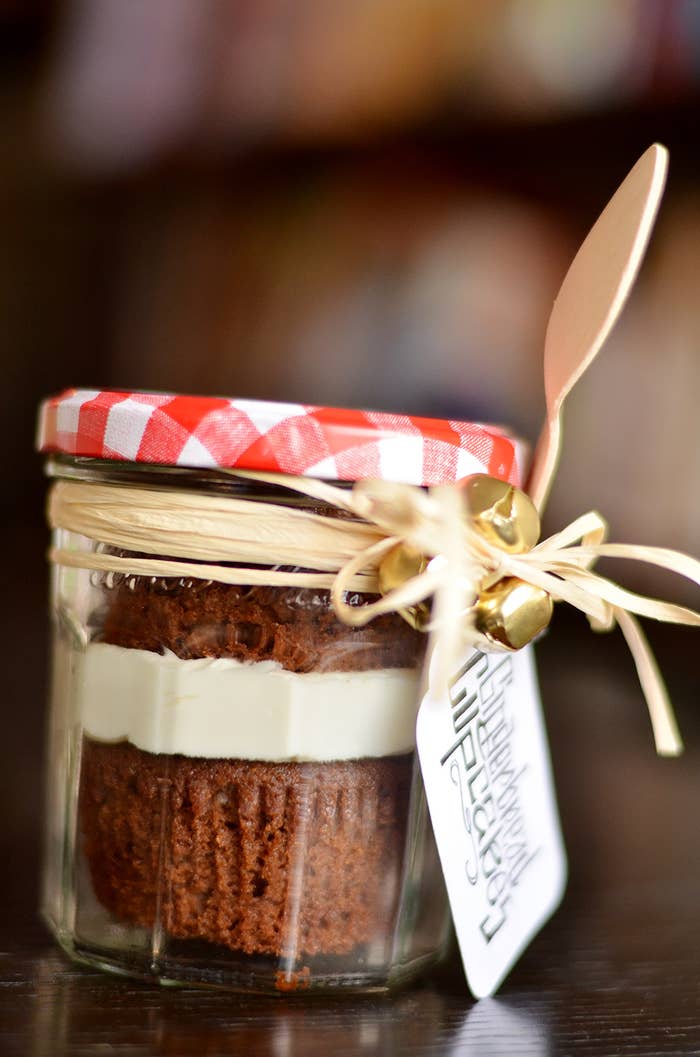 Gingerbread Cupcakes with Cream Cheese Frosting
Adapted from King Arthur Flour
Makes 12 cupcakes, enough to give six 13-oz jam jars (pictured here)
INGREDIENTS
For cupcakes
1 3/4 cups (206g) all-purpose flour
1 teaspoon baking soda
2 teaspoons ground cinnamon
2 teaspoons ground ginger
1/4 teaspoon ground cloves
1/4 teaspoon ground nutmeg
1/4 teaspoon salt
1/2 cup (8 tablespoons) unsalted butter, melted
1/2 cup (106g) packed dark brown sugar
1/2 cup (170g) molasses
1 large egg
1/2 cup (113g) water
1/3 cup finely chopped crystalized ginger
For frosting
8 ounces unsalted butter, softened
8 ounces cream cheese, softened
2 cups powdered sugar
1 teaspoon vanilla extract
For gift assembly
Twine and a plastic or wooden spoon
Special equipment
Plastic Ziploc bag
Electric mixer
PREPARATION
For cupcakes
1. Preheat the oven to 350°F.
2. Line a 12-cup muffin tin with paper cups and lightly grease the cups.
3. To make the cupcakes: Combine the flour, baking soda, cinnamon, ginger, cloves, nutmeg, and salt. Sift and set aside.
4. Whisk together the melted butter, brown sugar, molasses, and egg.
4) Add 1/4 cup of the water to the melted butter mixture. Then add half the dry mixture to the butter mixture and stir. Add the remaining water and dry mixture, stirring just to combine.
5. Fold in the crystalized ginger.
6. Divide the batter evenly among the cups, filling 3/4 of the way full, and bake for 22 to 24 minutes, until a toothpick inserted in the center of one cupcake comes out clean.
7. Cool cupcakes for 30 minutes before frosting.
For frosting:
In a large bowl, combine butter and cream cheese and beat on low with an electric mixer. Add the powdered sugar a cup at a time beating on low until smooth and creamy. Beat in the vanilla extract last.
To assemble each gift:
1. Take the paper cup wrapper off of two cooled cupcakes.
2. Transfer the frosting to a large Ziploc bag. Seal the bag then cut off a corner and use as a pastry bag.
3. Place one cupcake in the jar and cover with frosting from piping bag. Repeat.
4. Seal the jar and tie a wooden spoon to it with twine.