Always be a little wary of cookbooks with the author's face on the cover.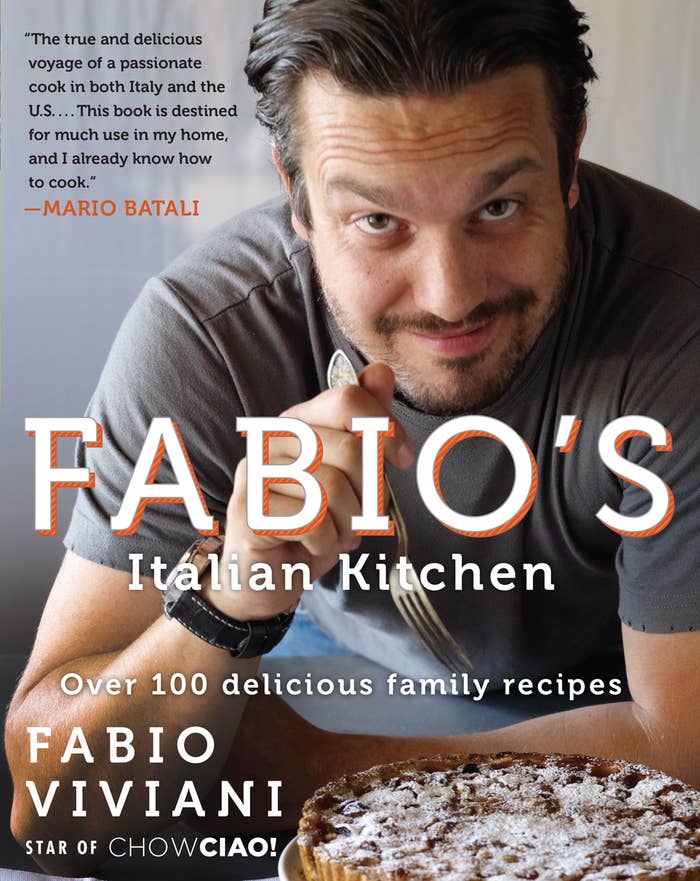 The problem with a face cover is that it suggests that the author could be too busy developing a cookware line and taping a reality show to make sure his cookbook's recipes work. But no profit-seeking publishing house would let a handsome "Top Chef fan favorite" named Fabio make a cookbook without his face on the cover. (Also there's a decades old idiom telling us not to judge books that way.) So let's move on. Viviani is ridiculous and funny on air, as you might already know from his Yahoo! video series "Chow Ciao." His charm doesn't translate perfectly in print (you might cringe when he ends a recipe by writing "Boom!"). But this collection of his family recipes is surprisingly appealing. It's basic Italian food and it works. (One great choice was using photographer Matt Armendariz, who makes even the grandma's meatloaf look fresh.)
The three recipes below are cool for different reasons: the pappardelle because it includes a super-simple way to make "meatballs," the drunken spaghetti because it's boiled in A BOTTLE OF WINE, and the pesto gnocchi pesto because it's pesto gnocchi. Go forth and conquer — just pretend the cover of the book you're cooking out of is the big bowl of pasta you're about to enjoy.
1.
Pesto Gnocchi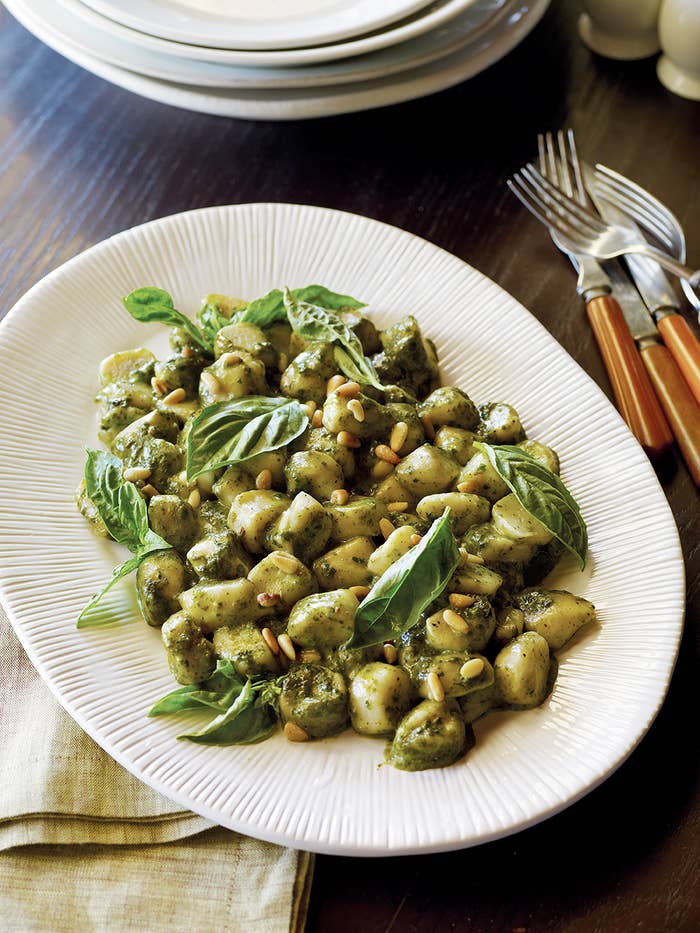 PESTO GNOCCHI
Recipe by Fabio Viviani
Serves 4
INGREDIENTS
1 recipe Potato-Ricotta Gnocchi (recipe below)
1 cup pesto sauce (recipe below)
1/4 cup vegetable or chicken stock
2 tbsp. heavy cream
20 basil leaves, preferably small
2 tbsp. pine nuts
PREPARATION
Bring a pot of salted water to a boil and start cooking the gnocchi.
While they are cooking, combine the pesto, stock, and cream in a saucepan over medium heat. Don't overheat it or the pesto will turn brown. (Still good to eat, but not good to look at anymore.)
When the first gnocchi rise to the top of the pot, remove all the gnocchi with a slotted spoon and place them in the pan with the suce.
When they are all in, toss them once or twice to coat and turn the heat off immediately.
Transfer the gnocchi to a platter and top them with the basil leaves and pine nuts to serve.
CHUNKY BASIL PESTO
Makes 4 cups
Anyone with at least one finger can make pesto, and if for some reason you're not equipped with fingers, you can press the food processor button with your elbow. That's how easy this is. If you want to season a pasta, add a bit more oil so it's more liquid. If you want to use it as a topping or a spread, make it nice and thick. And if you have a date, ease up on the garlic.
INGREDIENTS
3–4 cups basil leaves, packed
2 cups extra-virgin olive oil
1 cup pine nuts
5 cloves garlic
Salt and pepper
1½ cups Parmesan cheese or Romano cheese, grated
PREPARATION
In a food processor, combine the basil leaves, olive oil, pine nuts, garlic, salt, and pepper and process until just mixed but still chunky.
Add the Parmesan or Romano and pulse to combine. Do not over-process. Store in the fridge in an airtight container or jar, topped with a layer of olive oil.
POTATO-RICOTTA GNOCCHI
Serves 6
Gnocchi for a chef is bragging rights. You go anywhere and the chef is like, "Oh, I make the best gnocchi in town." Guys, get over it. The best gnocchi is my grandma's gnocchi. It's like a small pillow from heaven that's going to burst in your mouth. You will probably cry once you try my grandma's gnocchi. Make sure you plan ahead to make these the day before so the potato mixture can cool overnight.
INGREDIENTS
6 medium potatoes (russet or any other baking potato)
1 1/2 a whole nutmeg, grated
1 tbsp. salt, plus pepper to taste
1 egg yolk
1 cup ricotta cheese
1 cup semolina flour
2 cups flour
PREPARATION
Preheat the oven to 425˚F.
Bake the potatoes for an hour until they are crispy on the outside and fluffy on the inside. Cool for a couple of hours, remove the insides with a spoon, and mash them, using a potato ricer or a fork, until they are very smooth.
Place the potatoes in a bowl and add the nutmeg, the salt, a pinch of pepper, the egg yolk, and the ricotta. Mix together to combine and let rest overnight in the refrigerator, uncovered.
The next day, spread the semolina flour in an even layer on a baking sheet or tray.
Then place the potato mixture in the bowl of a stand mixer and, us¬ing the paddle attachment, add the flour on low–medium speed. Once the mixture has come together, remove it from the bowl and cut it into fist-size balls.
Roll each ball in the palms of your hands and then form it into a cigar shape. Cut each of these tubes into 1-inch pieces. Place them on the bed of semolina flour on your tray and put the tray in the fridge for 10–20 minutes to set.
To cook the gnocchi, drop them into salted boiling water. When the first few rise to the top of the pot, remove all the gnocchi with a slotted spoon.
NOTE: The potatoes have to be cold. Hot potatoes create steam, steam absorbs flour, and flour makes gnocchi chewy. Hello! Cold potatoes will absorb just enough flour for you to be able to cut and shape them.
2.
Drunken Spaghetti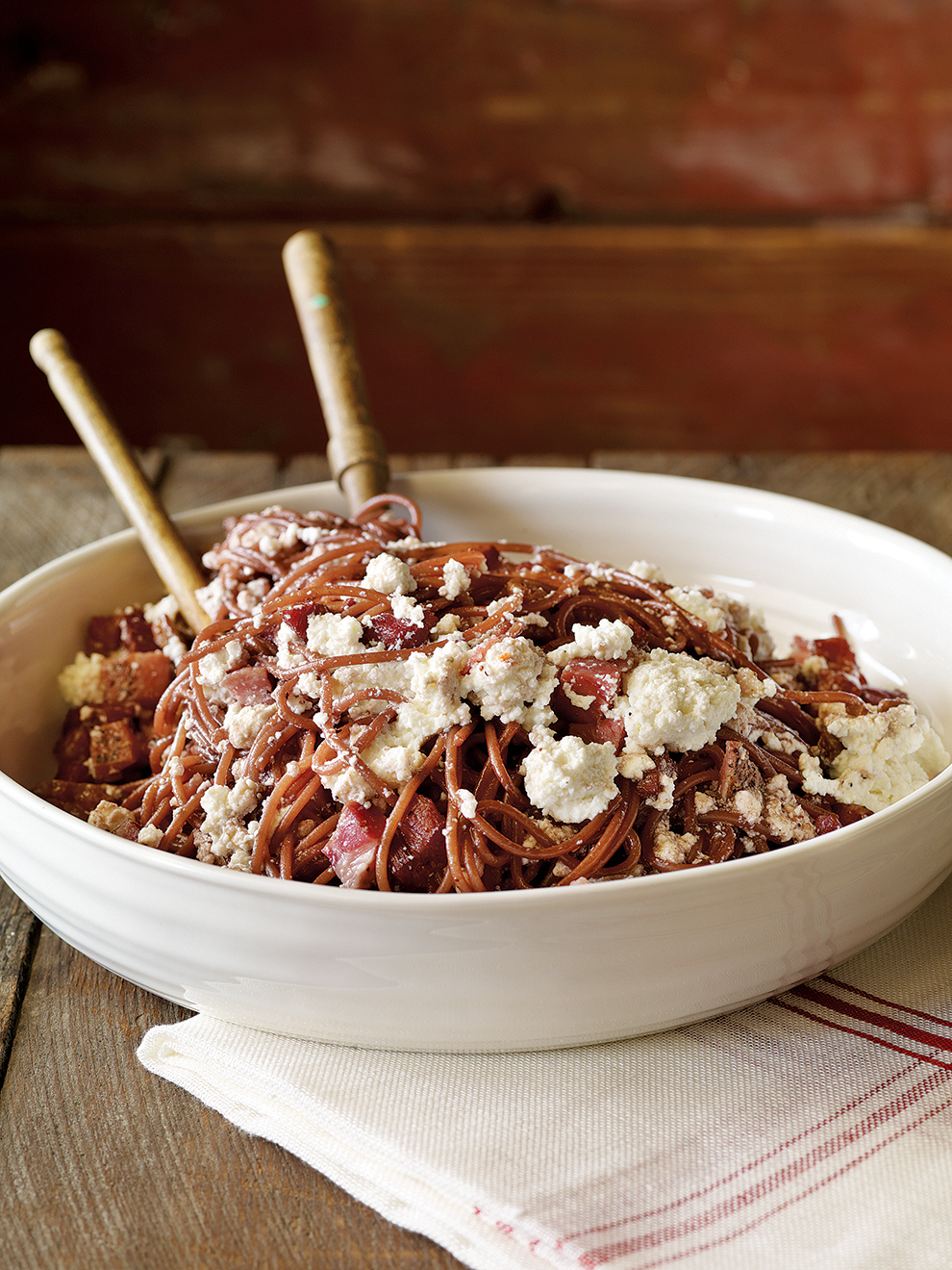 DRUNKEN SPAGHETTI
Recipe by Fabio Viviani
Serves 2
In Italy we feel bad throwing away even old wine, so we color our pasta water with it to get a little aroma of wine and a dramatic presentation. The flavor of the wine is in the water but you're not going to feel it, and you give leftover wine a last chance to be useful. The more wine you use, the redder the spaghetti will be—and this dish is all about the presentation, so you can use up to a whole bottle depending on how much you have around. You can also always buy an inexpensive bottle just for the recipe.
INGREDIENTS
2 quarts water
1 bottle red wine (old or leftover is fine)
1 lb. dry spaghetti
½ lb. pancetta, diced
2 tbsp. butter
½ cup ricotta cheese
½ cup walnuts, chopped
Shaved Pecorino cheese to top
PREPARATION
Bring the water and the wine to a boil in a large pot. Cook the pasta in it until the pasta is al dente. Drain, reserving a few tablespoons of the cooking liquid.
In a sauté pan large enough to hold the pasta, cook the pancetta in the butter until its fat has been rendered.
Add the spaghetti and about 1 tablespoon of the reserved cooking liquid to the sauté pan. Once the liquid has reduced, remove the pasta from the heat.
Add the ricotta and walnuts and mix with tongs. Top with the Pecorino and serve.
3.
Pappardelle with Meatball Pearls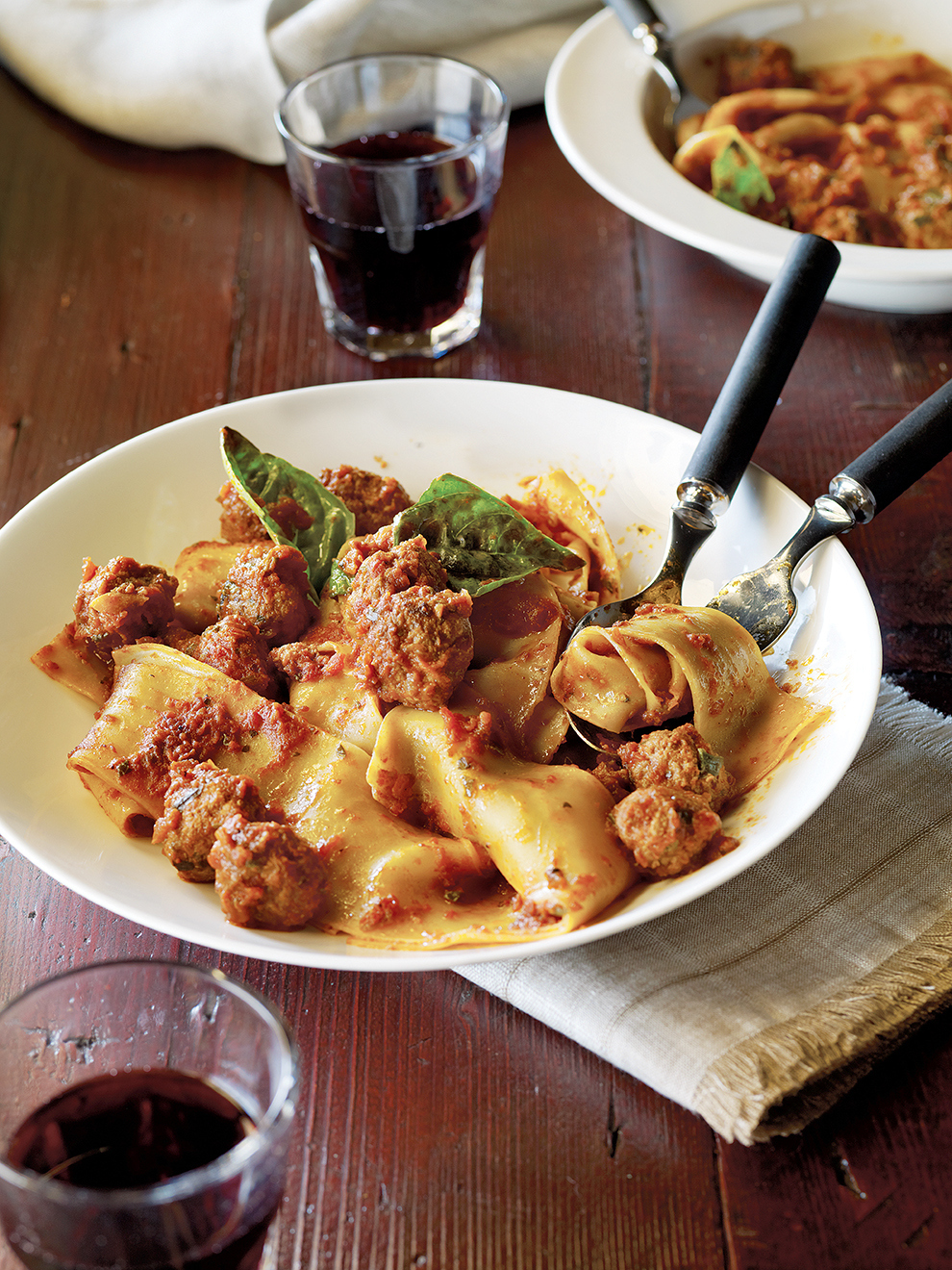 PAPPARDELLE WITH MEATBALL PEARLS
Recipe by Fabio Viviani
Serves 4–6 as an appetizer
Italians are not lazy when it comes to food. They cook for hours, they celebrate, they prep, they chop, they braise, they roast, they do a bunch of things that require a lot of time. But when you are feeling lazy and you have a little pasta left over and you want meatballs but you don't really want to work for your meatballs, all you have to do is make this.
INGREDIENTS
6 Italian sausages
2 cups Fabio's Tomato Sauce (recipe below)
1 cup beef stock or chicken stock
1 pound fresh pappardelle pasta
A handful of fresh basil
2 tbsp. extra-virgin olive oil
PREPARATION
Pull the meat out of the sausage casings in tiny bits.
Combine the tomato sauce and the stock in a saucepan and cook over medium heat for about 5 minutes, or until it bubbles. Add the sausage bits to the pot and continue cooking for another 10–12 minutes, until the sausage is fully cooked and the sauce has reduced and thickened. Remove from heat.
Cook the pasta in salted boiling water for 3–5 minutes, depending on the thickness (don't freak out, just taste it!).
Toss the pasta in the sauce, then add the basil and the extra-virgin oil. Boom!
FABIO'S TOMATO SAUCE WITH OIL AND GARLIC
Makes 2 cups
INGREDIENTS
6 cloves garlic
8 tbsp. extra-virgin olive oil
1 28-oz. can of whole plum tomatoes (packed only in tomato juice)
Salt and pepper
10 basil leaves
PREPARATION
Smash the garlic with the back of a knife. Place the garlic and 5 tablespoons of olive oil in a saucepan and cook over medium heat until the garlic is golden brown. Add the tomatoes and generous pinches of salt and pepper.
Cook over medium-high heat until the sauce is thick and no longer watery, about 10–15 minutes. Add the remaining 3 tablespoons of olive oil and turn the heat to high. Stir, crushing the tomatoes with the back of a wooden spoon. Cook until the oil turns red, then turn off the heat and add the basil at the very end.
Recipes and photos courtesy of FABIO'S ITALIAN KITCHEN by Fabio Viviani. Copyright © 2013, VF Legacy, LLC. Published by Hyperion in April 2013.