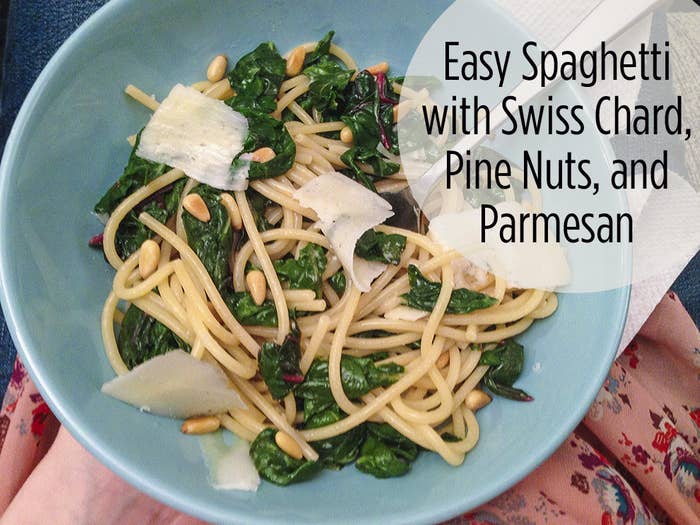 Cook pasta. Toast nuts. Saute Greens. Add a little butter and cheese. The end.
Easy Spaghetti With Swiss Chard, Pine Nuts, And Parmesan
Serves 4
INGREDIENTS
kosher salt
2 Tbsp. pine nuts
1 bunch Swiss chard or kale
1 lb dried spaghetti
1 Tbsp butter
Freshly grated Parmesan cheese
PREPARATION
1. Put some water on to boil for the pasta and put a spoonful of salt in it.
2. Put a big sauté pan (big enough that you'd sauté the Swiss chard in it later) over medium heat the put a handful of pine nuts in it and let them toast in the dry pan, shaking the pan occasionally, until golden brown, about 4 mins.
3. Meanwhile, slice the chard leaves away from their center ribs and chop up the leaves.
4. When the pasta water starts to boil, put the pasta in and cook it until al dente.
5. Once the pine nuts are done toasting, take them out of the pan, add a little oil to the same pan and sauté the chard for 2-3 minutes just until bright green and wilted.
6. Drain the cooked pasta and add it to the chard in the saute pan with a tablespoon of butter and a little starchy pasta water and bunch of grated Parmesan. Add the pine nuts. Shave more Parmesan over and eat.*
*This dish could be improved by a number of things: sauteeing shallots or garlic in the pan before you add the chard; a little lemon zest or juice and white wine added to the chard before you add the pasta; red pepper flakes. I skipped those things bc was very hungry in a hurry but you don't have to.