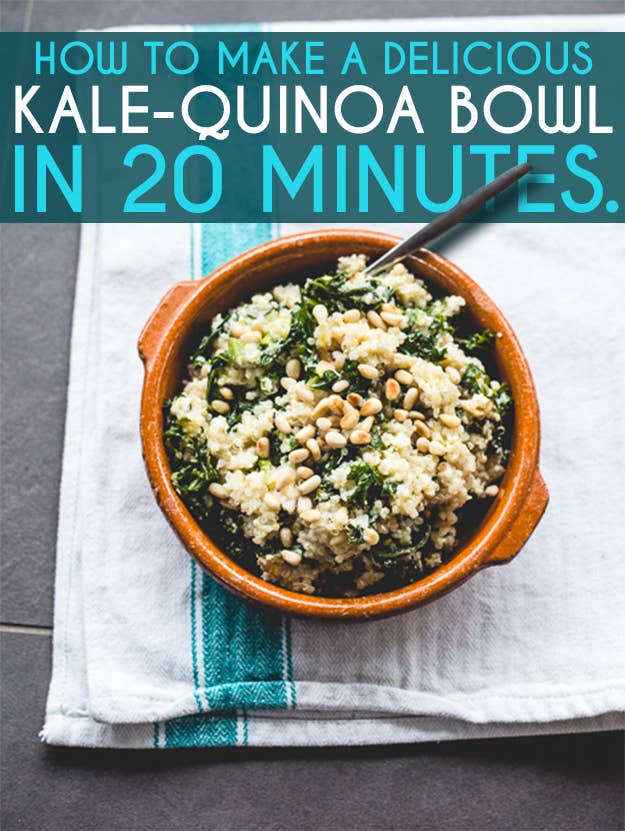 My mom first made this food52 recipe for me when I was home from my freshman year of college. I had been living mostly off pretzels, cookies, and cheap alcohol. It tasted like real food! I've made it more times than I can count, but with a few budget-friendly changes: I use feta instead of goat cheese, normal lemon instead of meyer, and I don't have walnut oil, so I use olive oil. Also, I usually use almonds instead of pine nuts since pine nuts are $$. And I love a handful of dried cranberries in there. —Brette Warshaw
You will need: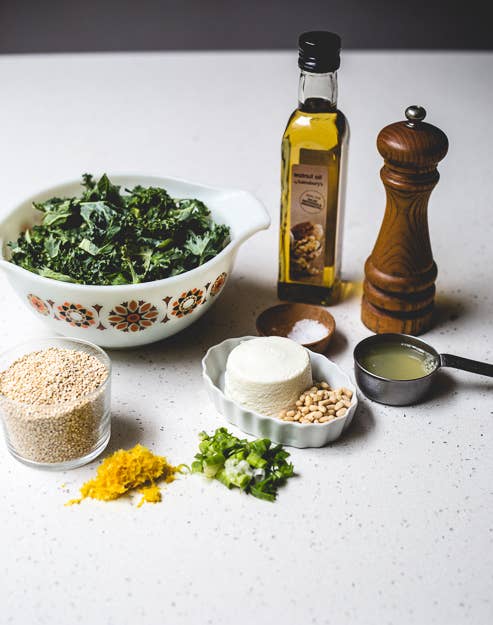 Serves 2-3:
2 cups water
1 cup quinoa
1 bunch kale (any kind will work), washed and chopped into 1" pieces
1 lemon, zested and juiced
2 scallions, minced
1 tablespoon olive oil
3 tablespoons toasted pine nuts or toasted chopped almonds
1/4 cup crumbled goat cheese or feta cheese
salt and pepper
optional: hand full of dried cranberries (not pictured)
*to toast the nuts, put them in a saute pan (no oil) over low heat, stirring occasionally, until golden brown, about 3-4 minutes.
1.
Bring 2 cups water to boil in a covered pot with a large pinch of salt.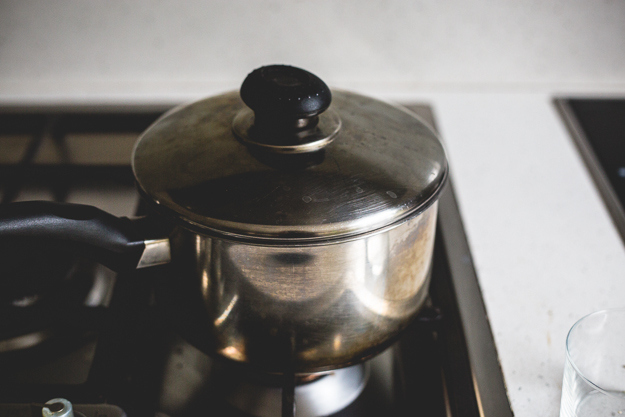 2.
Add quinoa, lower heat to simmer, cover, and simmer 10 minutes.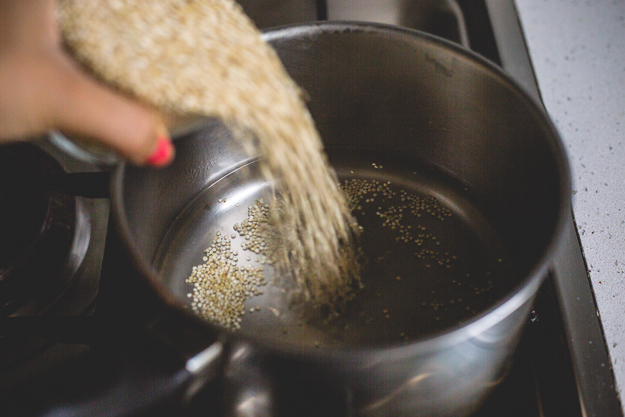 3.
After 8-10 minutes, when there's still some water left, add the chopped kale...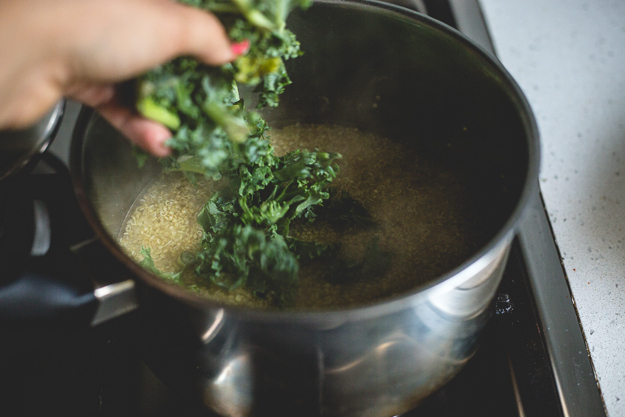 4.
Cover, let simmer for 5 minutes, then turn off the heat and let it sit for 5 minutes covered.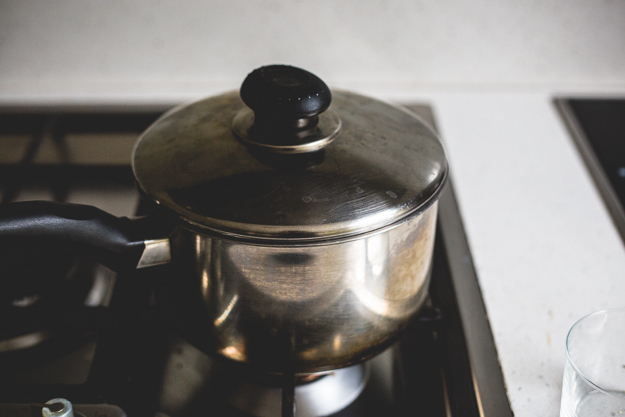 5.
Combine half of lemon juice with zest, scallions, olive oil, nuts, and cheese.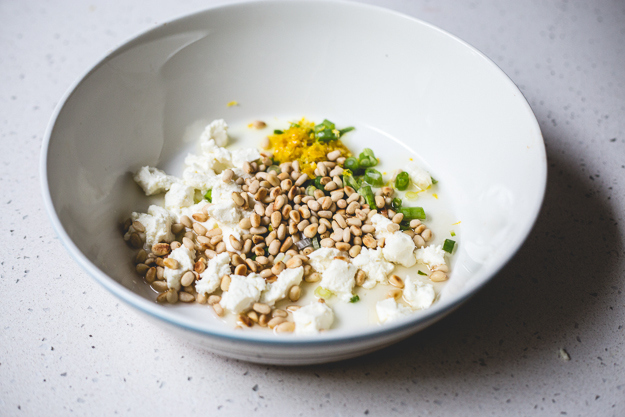 6.
Put quinoa kale mixture in a bowl.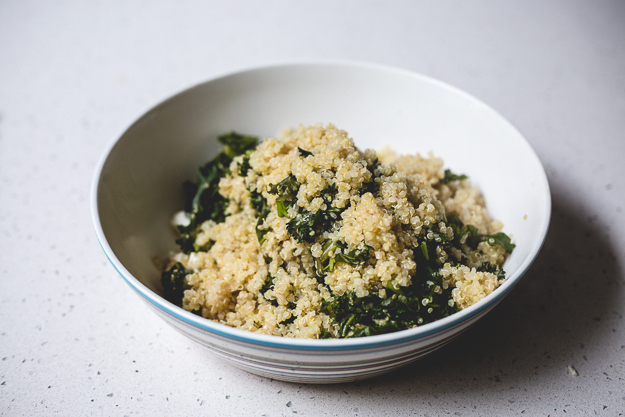 7.
Add the other stuff to the kale-quinoa.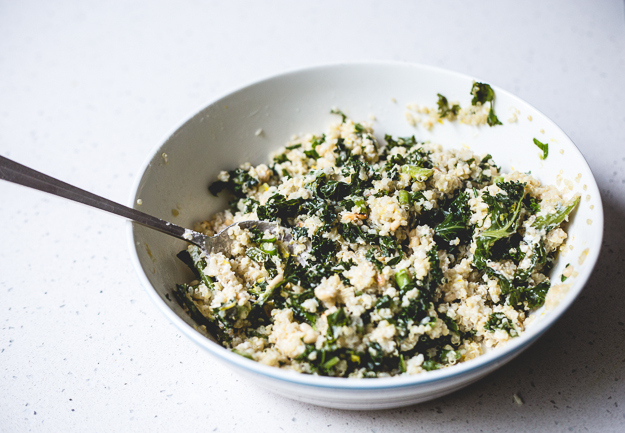 8.
EAT.