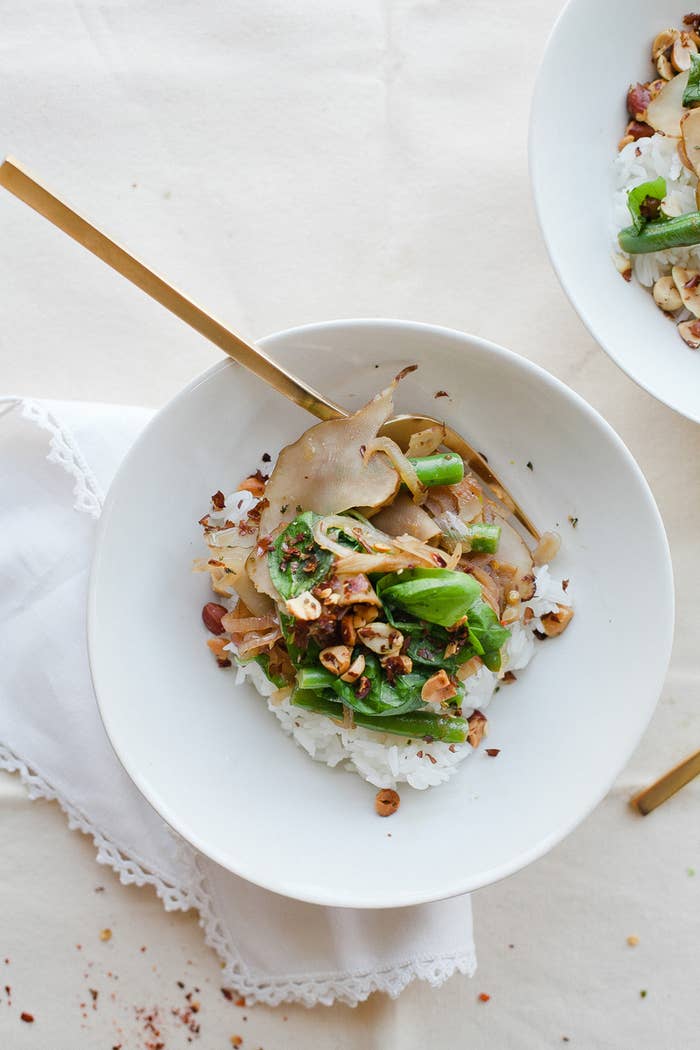 Sunchoke Stir-Fry with Basil-Lime Peanuts
Recipe by Rebekah Peppler
Makes 2 servings
Active cooking time: 15 minutes
Start-to-finish cook time: 40 minutes
INGREDIENTS
Basil-Lime Peanuts
¾ cup unsalted shelled peanuts
½ teaspoon peanut or canola oil
6 basil leaves, finely chopped
½ lime, zested
¼ teaspoon flaky sea salt
Sunchoke Stir-Fry
½ cup basmati rice
1 cup water
Juice of 1 lime
1 tablespoon low-sodium soy sauce
2 tablespoons peanut or canola oil, divided
¾ cup water
1 pound green beans, cut into 2-inch pieces
2 teaspoons grated ginger (grated on a microplane)
2 garlic cloves, finely chopped
3 medium shallots or 1 small red onion, thinly sliced
½ teaspoon red pepper flakes
5 to 6 medium sunchokes, scrubbed and very thinly sliced
8 to 10 basil leaves, torn
Kosher salt, to taste
PREPARATION
1. Make the basil-lime peanuts: Preheat the oven to 400°F. In a medium bowl toss the peanuts, peanut or canola oil, basil and lime zest to combine. Spread the peanuts onto a baking sheet and sprinkle with the sea salt. Transfer to the oven and roast until the peanuts are golden and fragrant, 5-7 minutes. Remove from the oven and set aside to cool completely. Roughly chop the peanuts.
Meanwhile, make the rice: Combine rice and water in a medium saucepan over medium heat. Season with salt and bring to a boil. Cover the pan, reduce the heat to low and simmer for 20 minutes. Remove the pan from the heat and set aside, covered, for 10 minutes.
3. While the rice is resting, make the stir fry: In a small bowl add the lime juice, soy sauce, and 1 tablespoon of the peanut or canola oil. Set aside. Heat a large wok or skillet* over medium-high heat. Add the water and bring to a boil. Add the green beans and cover the pan with a lid or aluminum foil. Steam the green beans until crisp-tender, about 4 minutes, then drain the beans through a colander and run them under cold water to stop the cooking process. Set the beans aside, reserving half for the Green Goddess Bean and Fingerling Salad later in the week.
*Try not to use a cast iron or aluminum pan, since that will cause the sunchokes to turn gray.
4. Wipe the wok dry and return it to high heat. Drizzle in the remaining tablespoon of the peanut or canola oil and tip and tilt the pan to coat it. Heat until the oil is shimmering. Add the ginger, garlic, shallots and red pepper flakes. Stir-fry for 20 to 30 seconds, or until fragrant. Add the sunchokes and cook, stirring frequently, until they start to brown, 3 to 5 minutes. Reduce the heat to medium and add half the cooked green beans and the lime-soy mixture and toss to coat. Add the basil and cook for 30 seconds. Remove the pan from the heat, season with salt if needed. To serve, spoon some of the rice into two serving bowls and top with the vegetables. Sprinkle with the basil-lime peanuts and serve.
TIPS:
The key to a successful stir-fry is to have all the ingredients prepped and ready to go before you start cooking.
Sunchokes don't need to be peeled before using. Simply scrub briskly with a vegetable brush to clean before cooking.
While steaming the green beans may seem like an extra step, it keeps the rest of the vegetables from overcooking. Plus, this recipe makes enough green beans for the bean and potato salad in Recipe #3, saving you time later in the week. To store, transfer the beans to an airtight container. Refrigerate until ready to use.