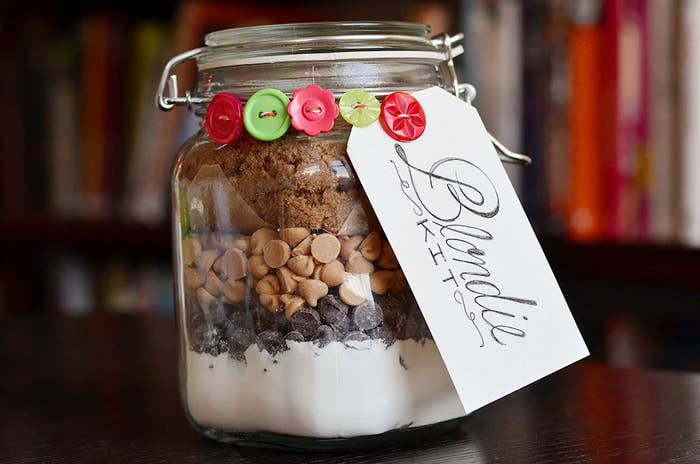 Blondie Kit
Adapted from Smitten Kitchen via How To Cook Everything
INGREDIENTS
Blondie Mix
1 cup all-purpose flour
Pinch of salt
½ cup bittersweet or semisweet chocolate chips
½ cup peanut butter chips
1 cup brown sugar
For Gift Assembly
Parchment paper, plastic wrap, or sealable plastic bag
Printed or written blondie baking instructions (see below)
HOW TO PREPARE THE GIFT
Combine flour and salt in bottom of jar. Carefully top with a layer of chocolate chips, then with a layer of peanut butter chips. (Try to sprinkle the chips around the perimeter of the jar to create a layered look.) Wrap brown sugar in plastic bag, plastic wrap, or parchment paper to keep it separate, then place it on top.
Directions to include with the gift:
How To Make Chocolate-Peanut Butter Blondies
Makes 8 blondies
You will need:
Blondie Mix from gift
1 stick butter, melted
1 large egg
1 teaspoon vanilla extract or 1/2 teaspoon almond extract
Pinch salt
Special equipment:
8"x8" baking pan
Electric mixer
Preparation
1. Preheat oven to 350°F
2. Butter an 8"x8" baking pan.
3. Carefully lift brown sugar (top layer) out of the jar.
4. Pour as many of the chocolate and peanut butter chips as you can into a bowl, then, in a separate bowl, dump the remaining flour mixture from the jar. It's OK if there are some chips in the flour and some flour in the chips, just separate as best you can.
5. Combine melted butter and brown sugar and beat with electric mixer until smooth.
6. Add egg and beat 1 minute more.
7. Add vanilla and beat just to combine.
8. Add dry ingredients to butter-egg mixture and fold in with a spatula until just combined. Don't overmix. Add chocolate and peanut butter chips fold until just combined.
9. Pour batter into greased baking pan. Bake at 350°F 20-25 minutes, or until set in the middle.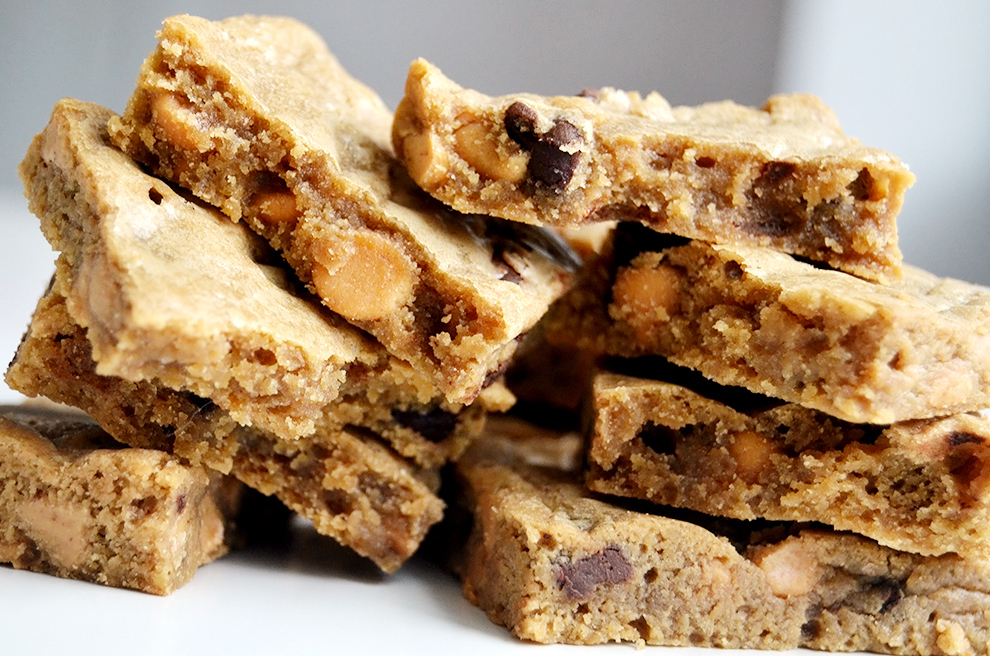 Download a PDF of directions to include with this gift.