1.
Tiny Eggs Benedict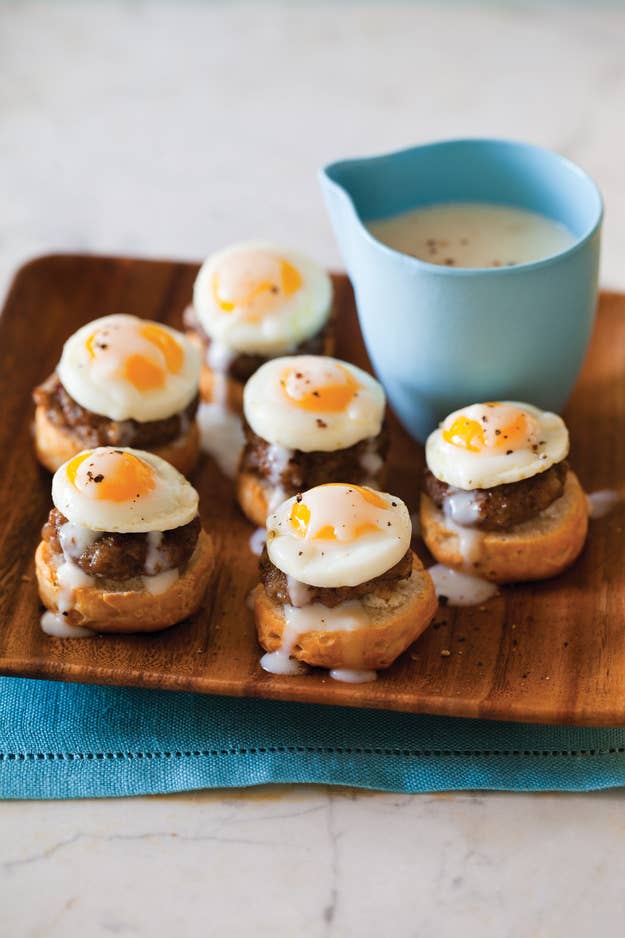 Itty-Bitty Country-Style Eggs Benedict
Makes 16
Ingredients
Biscuit dough, 1 (16-ounce) can store-bought or homemade
1/2 pound breakfast sausage
3 tablespoons vegetable oil, divided
16 quail eggs, plus 1 or 2 chicken egg whites*
Roasted Garlic Cheese Sauce
2 teaspoons unsalted butter
1 head roasted garlic, mashed
2 teaspoons all-purpose flour
3/4 cup milk (whole or low fat)
2 ounces sharp white cheddar cheese, grated
Salt and pepper, to taste
* Quail eggs tend to have a high yolk-to-white ratio. Adding 1 or 2 chicken egg whites to the quail eggs and cooking them all together will ensure that you have enough whites between the yolks to form perfect sunny-side-up eggs.
1. Preheat oven and bake biscuits according to package instructions. Cut sausage into 16 coins. Warm 1 tablespoon of the oil in a medium skillet over medium heat. Add sausages and cook for 4 to 5 minutes on each side; remove from heat.
2. Gently crack quail eggs into a small bowl and pour in chicken egg whites. Heat the remaining 2 tablespoons of oil in a large ovenproof skillet over medium heat. Carefully pour eggs into skillet and cook for 3 minutes. Reduce oven temperature to 350°F and place skillet in the oven. Bake for 3 to 5 minutes, or until whites have set. Gently transfer eggs in a single sheet from the skillet to a cutting board. Use a 1 1/2-inch circle cutter to cut eggs into 16 rounds, centering the cutter around a yolk so that each cut round looks like a little fried egg.
3. For the cheese sauce, melt butter in a small saucepan over medium heat. Add garlic and flour and whisk for 3 minutes. Add milk and whisk until no lumps remain and the mixture begins to thicken. Stir in cheese and season with salt and pepper. Simmer for 2 minutes more, or until sauce is smooth and creamy.
4. Slice each biscuit in half. Place a sausage coin over each biscuit half and top with a sunny-side-up quail egg and a drizzle of cheese sauce. Serve warm.
2.
Tiny Tacos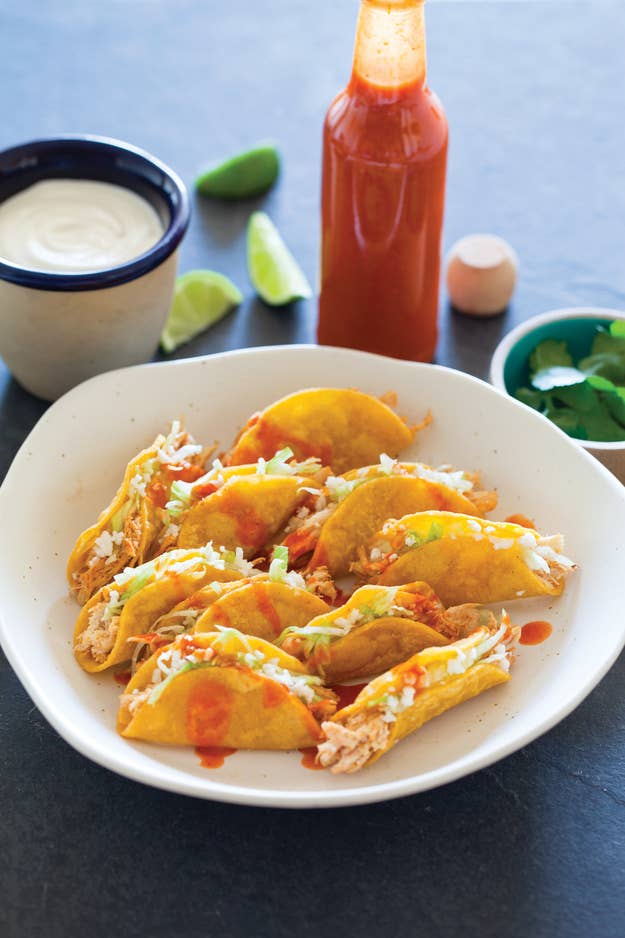 3.
Tiny Chicken N Waffles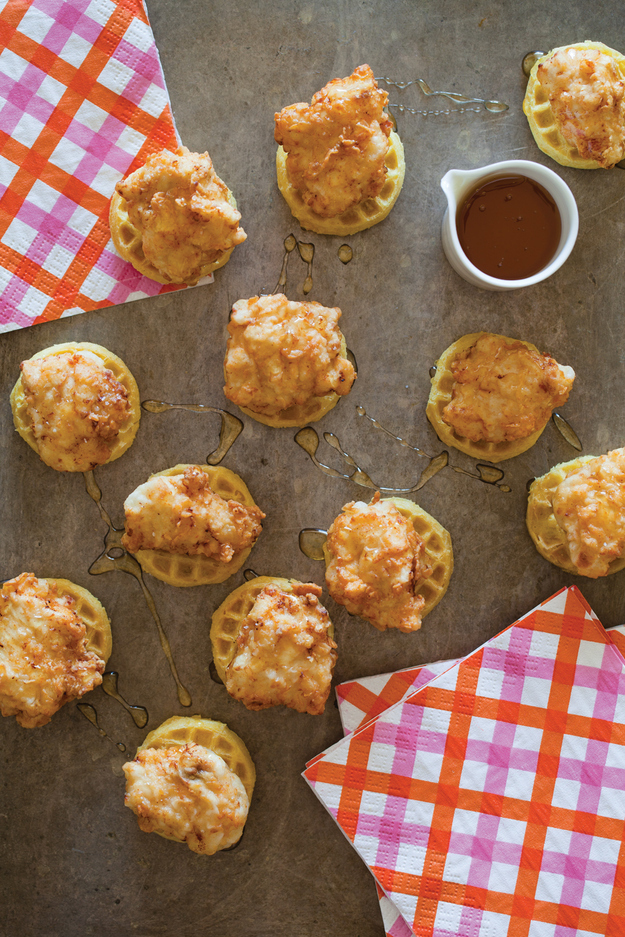 4.
Tiny Fried Pockets of Mac N Cheese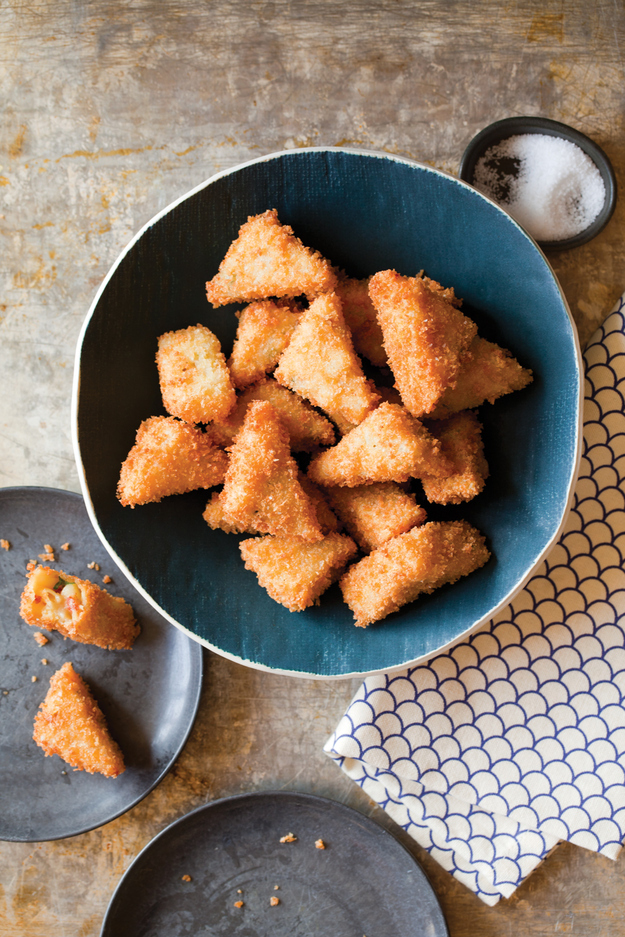 5.
Tiny Meatloaf On a Stick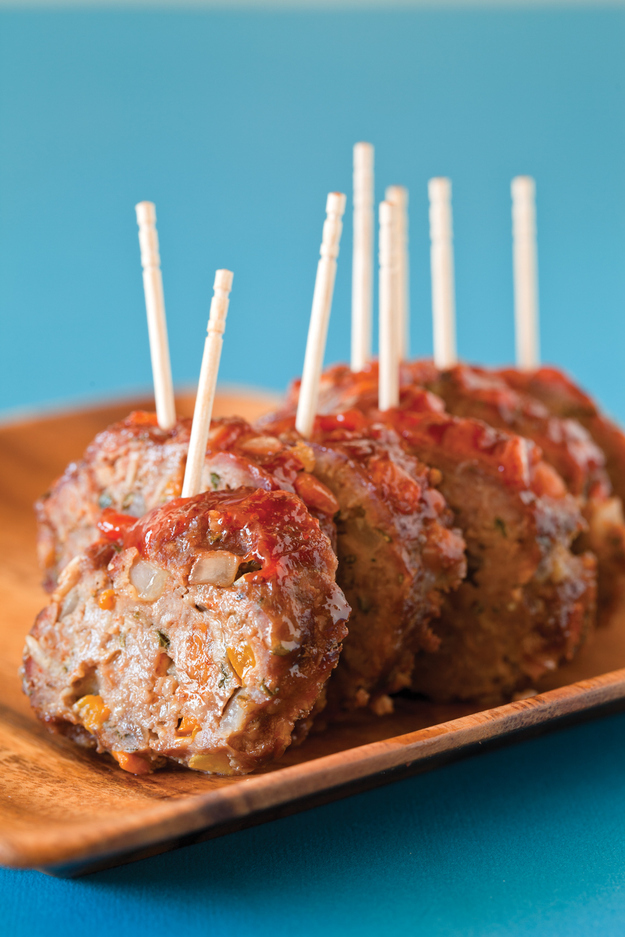 6.
Tiny Banh Mi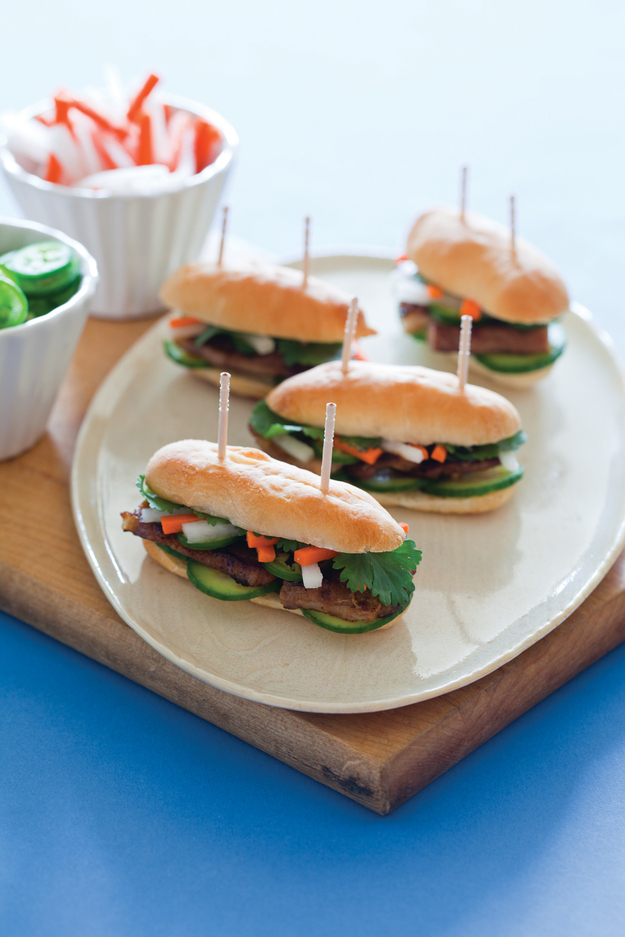 7.
Tiny Pop Tarts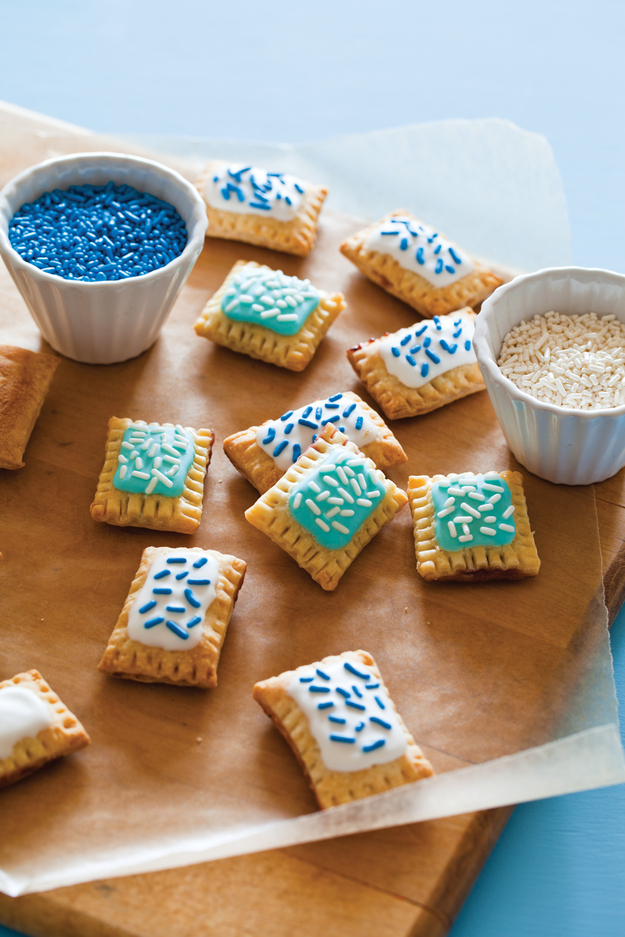 8.
Tiny Bloody Marys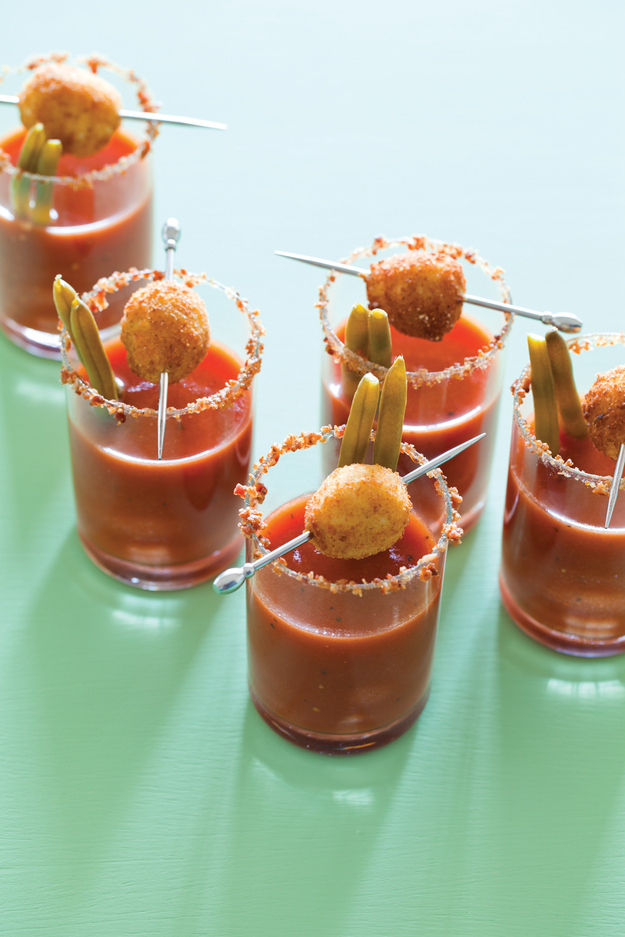 Itty-Bitty Bloody Marys
Makes 12
Ingredients
2 1/2 cups soju (Korean rice wine)
2 1/2 cups tomato juice
1/4 cup Worcestershire sauce
3 tablespoons Sriracha hot sauce
2 limes, zested and juiced
21/2 teaspoons black pepper
Garnishes
1/4 cup honey
1/2 cup crumbled bacon
24 pickled green beans
12 hard-boiled, breaded, and fried quail eggs
12 toothpicks
1. Place first 6 ingredients into a large pitcher over ice. Stir until well mixed. Set aside to chill.
2. Pour honey onto a small, shallow plate and spread it around. Rim each glass with a thin layer of honey followed by the crumbled bacon. Place 2 green beans into each glass and pour in chilled liquid. Skewer quail eggs onto toothpicks and place over each cocktail. Serve.