1.
BINTJE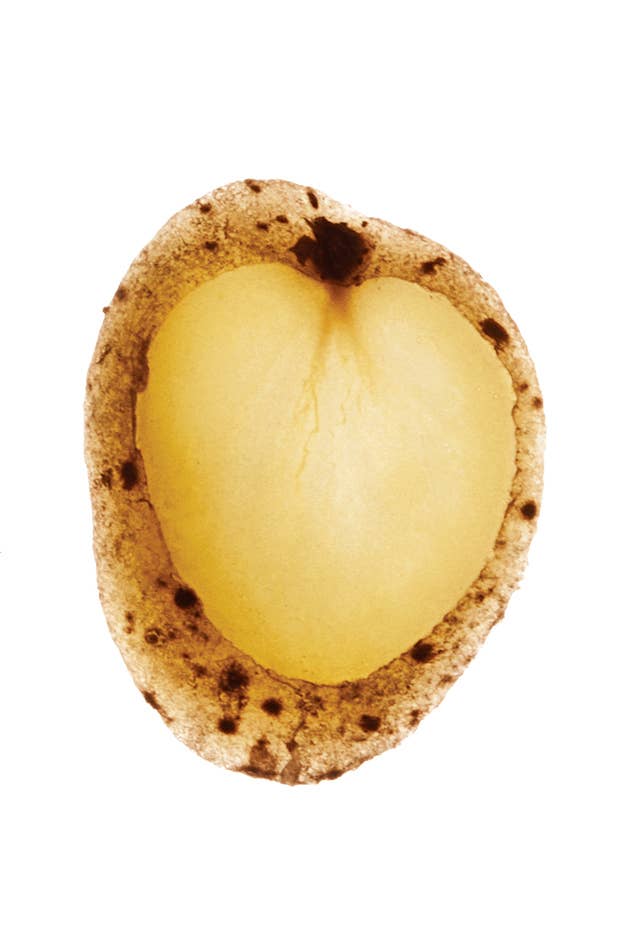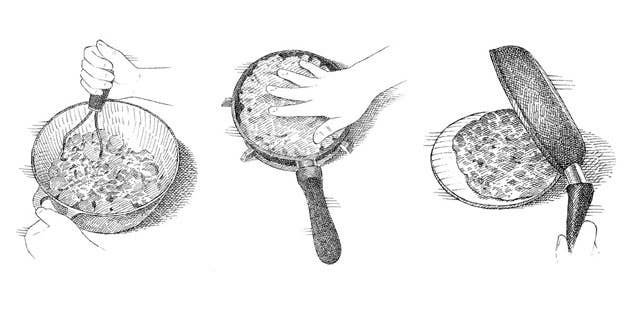 Yvon de Tassigny's Pan-Fried Mashed Potatoes
This is adapted from a dish the chef serves at his newfangled Brooklyn steakhouse St. Anselm.
INGREDIENTS
2 ½ pounds Bintje potatoes, peeled
Pinch of fresh rosemary
1 scallion, chopped
½ teaspoon minced garlic
2 tablespoons extra-virgin olive oil
8 tablespoons (1 stick) unsalted butter
Salt and freshly ground black pepper to taste
1 tablespoon rendered bacon or duck fat
½ teaspoon white truffle oil (optional for white-truffle-oil haters)
Handful of chopped parsley
PREPARATION
Cut the potatoes into even pieces or slices, and rinse under cold water. Boil potatoes in a pot of water until fork-tender, and drain. Return potatoes to the pot, and dry over low heat for a couple of minutes. Fold in the rosemary, scallion, garlic, olive oil, and butter; season with salt and pepper; and mash the potatoes, then let cool to room temperature.
In an 8-inch pan, heat the bacon or duck fat. Add the mashed potatoes almost to the lip of the pan, and press down gently with your hand to form a pancake of sorts.
Cook over medium-high heat until a crust forms on the bottom, about 5 to 10 minutes. Flip the potatoes in a pan or invert onto a plate and slide them back into the pan to cook the other side until a crust forms. Plate the potatoes, and sprinkle with truff le oil, if using, and parsley. Serves 4.
2.
SPIGARELLO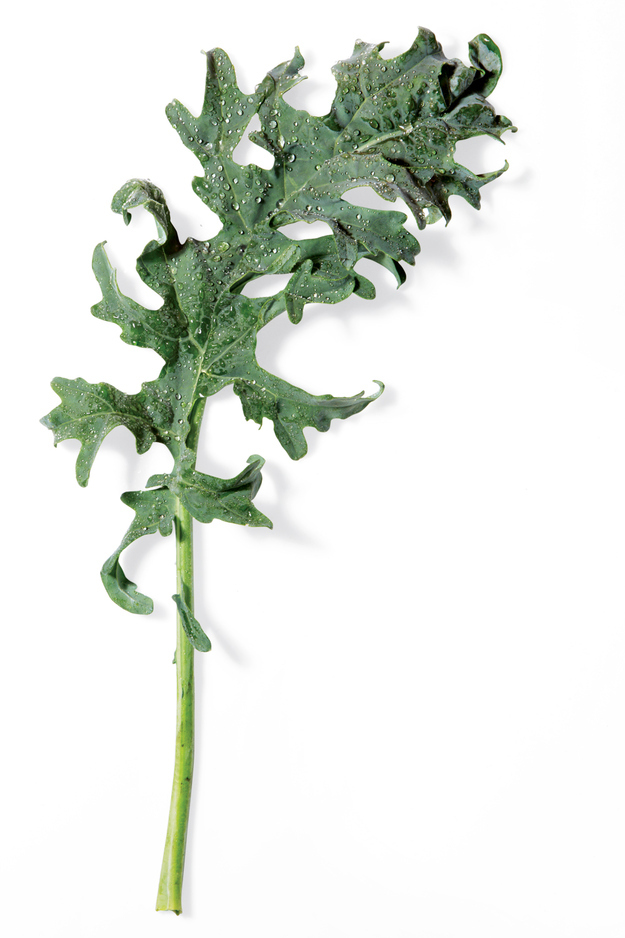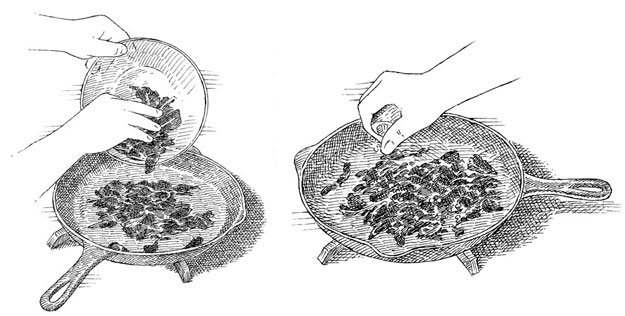 Bret Macris's Sautéed Spigarello with Chile Flakes and Honey
Spigarello has a cult following in California, where Bret Macris, now the chef at Brooklyn restaurant Rose Water, came across it in the Campanile kitchen where he used to work.
2 bunches Spigarello
1 tablespoon extra-virgin olive oil
1 teaspoon minced shallot
1 teaspoon minced garlic
Pinch of chile flakes
Salt and freshly ground black pepper to taste
Lemon juice to taste
1 tablespoon honey
Coarse sea salt to finish
Cut off the lower stems of the Spigarello leaves. (If the leaves are large and the stems tough throughout, remove them completely, as you might from kale.) Blanch the leaves and drain them in a colander, or dry them on paper towels or in a salad spinner. Heat olive oil in a large sauté pan over medium-high heat. Just before the oil starts to smoke, add the Spigarello and cook until slightly brown around the edges and a little crisp. Add the shallot, garlic, and chile flakes. Lower heat to medium or medium-low and cook, but don't brown the shallot and garlic. Season with salt and pepper and a squeeze of lemon juice. Plate the Spigarello, drizzle with honey, and sprinkle a little sea salt over the top. Serves 4.
3.
KABOCHA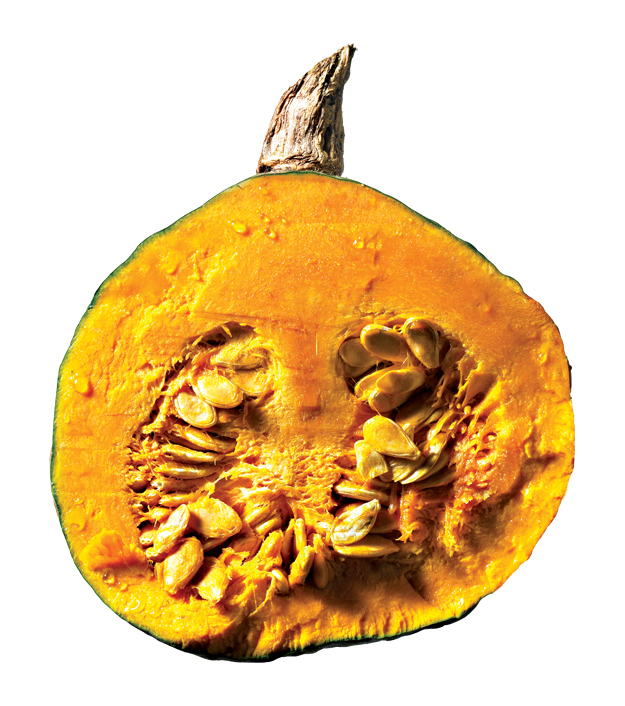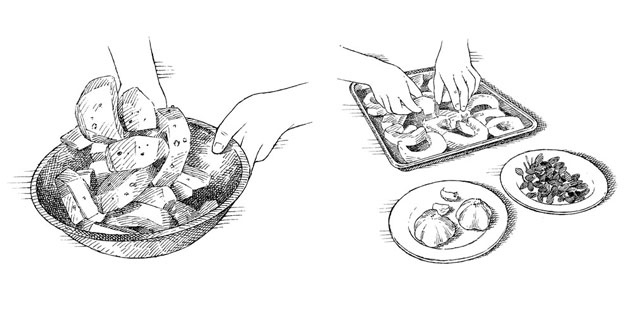 Mathieu Palombino's Roasted Kabocha Squash
Motorino and Bowery Diner chef-owner Mathieu Palombino plays up kabocha's sweetness by roasting the dry-textured flesh, then garnishing it with a sticky balsamic reduction and shavings of salty cheese. Once you manage to peel off the plant's tough skin with a sharp, sturdy knife, the recipe couldn't be simpler.
1 kabocha squash (2.5 to 3 pounds)
1 garlic clove, chopped
½ cup extra-virgin olive oil
Salt and freshly ground black pepper
2 cups balsamic vinegar, reduced to . cup
2 ounces Parmigiano-Reggiano cheese
½ bunch fresh oregano
Preheat oven to 400 degrees. Split the squash lengthwise; remove seeds and skin. Slice the squash into ½-inch-thick pieces. Place them in a large bowl. Add the garlic and half the olive oil, and season with salt and pepper. Toss until well coated. Arrange squash on a baking sheet so that the pieces aren't touching, and roast them for about 20 to 30 minutes or until lightly browned on top and well browned on bottom. Let cool for about 15 minutes, then arrange on a plate. Drizzle with balsamic reduction, and shave the Parmigiano-Reggiano on top. Garnish with a few oregano leaves and drizzle with the remaining olive oil. Serves 4 to 6 as an appetizer or side.
4.
CARDOONS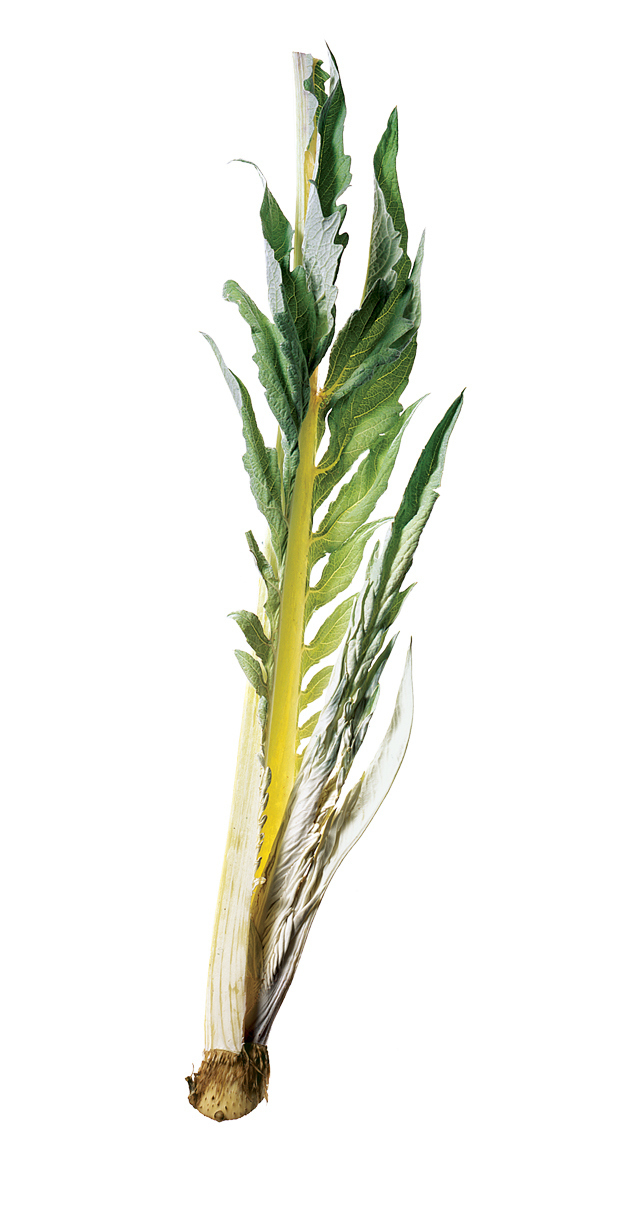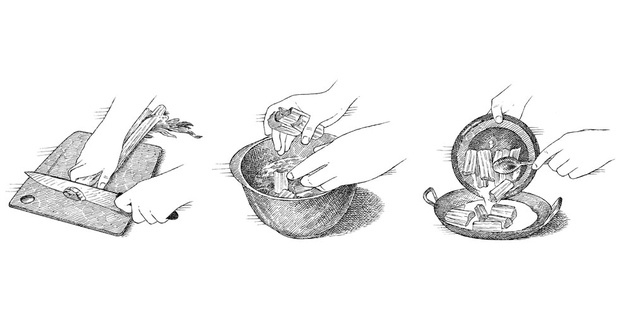 Anna Klinger's Cardoons with Fonduta
Here cardoons are cloaked under a creamy fonduta in this classic Piedmontese recipe from Al di Là's Anna Klinger.
1 large bunch cardoons
Juice of half a lemon
1 tablespoon, plus a pinch salt
4 cups milk
8 tablespoons (1 stick) butter (or truffle
butter, optional)
4 ounces (1/4 cup) flour
6 ounces Fontina cheese, grated
1/2 cup Parmesan cheese, grated
Slice the cardoons across the base and trim the tips, removing leaves and any brown edges. Discard any hollow stalks, retaining only the firm pale-green ones. With a vegetable peeler, peel the stalks, removing the tough strings. Cut crosswise into 2-inch pieces, and place in a bowl of cold water along with the lemon juice. Leave to soak overnight or for at least 6 hours in the refrigerator. Drain and place in a large pot with fresh cold water with a pinch of salt. Bring to a boil and simmer until tender (depending on the cardoons, this might take anywhere from a half hour to an hour), then drain. While the cardoons are cooking, preheat the oven to 375 degrees and make the sauce: In a saucepot, add the salt to the milk and gently heat. In a 4-quart saucepot, melt the butter over low heat. Slowly sprinkle f lour into the melted butter, stirring constantly with a wooden spoon to avoid lumps. When the mixture is smooth and shiny, begin to add the warm milk a little at a time, again stirring constantly. Continue to heat and stir until mixture is almost at a boil. Add the grated Fontina and allow it to melt into the sauce. Place the cardoons in a bowl and strain the sauce into the bowl, mixing well with the cardoons. Arrange cardoons in a buttered gratin dish. Sprinkle with grated Parmesan and bake until golden brown, about a half hour. Serves 4.
5.
CROSNES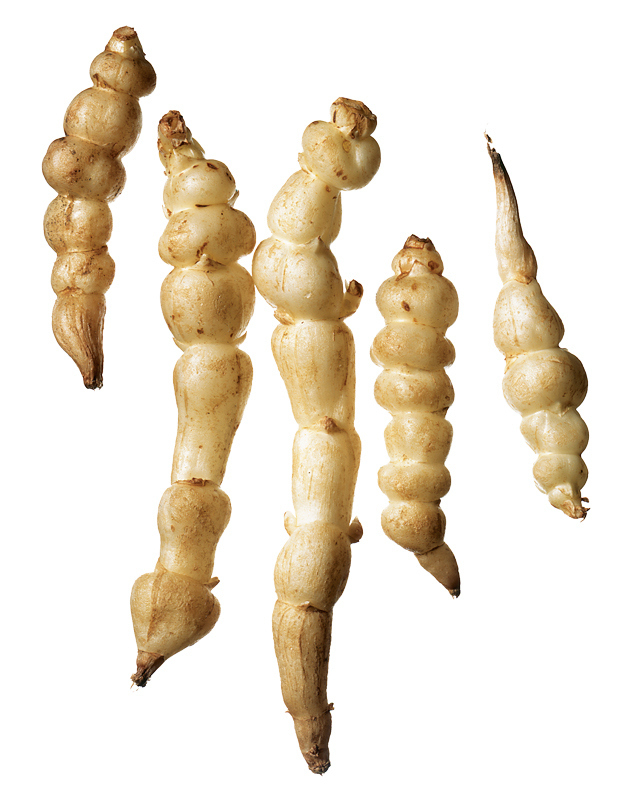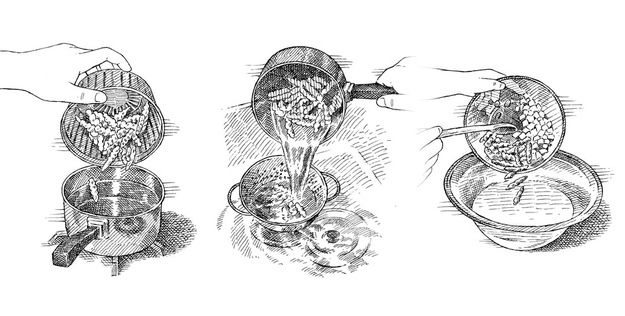 Anita Lo's Chilled Coconut-Fruit Soup with Mint and Crosnes
You can have crosnes simply sautéed in butter or pickled, but this unusual, tropics-inspired dessert soup from Annisa's Anita Lo is especially inventive.
1 (14-ounce) can unsweetened coconut milk
2 ½ cups milk
½ cup sugar, or to taste
Pinch of salt
½ cup crosnes, cleaned and, if large, cut into bite-size pieces
2 cups fruit like pineapple, mango, or even avocado, diced
4 large mint leaves, chopped
Place coconut milk, milk, sugar, and salt in a pot and bring to a boil. Remove to a bowl and chill. In a small pot, place crosnes in cold water and bring to a boil, then drain. Mix the fruit and the crosnes with the coconut-milk mixture. Divide among 4 bowls and garnish with mint. Serves 4.
6.
SUNCHOKES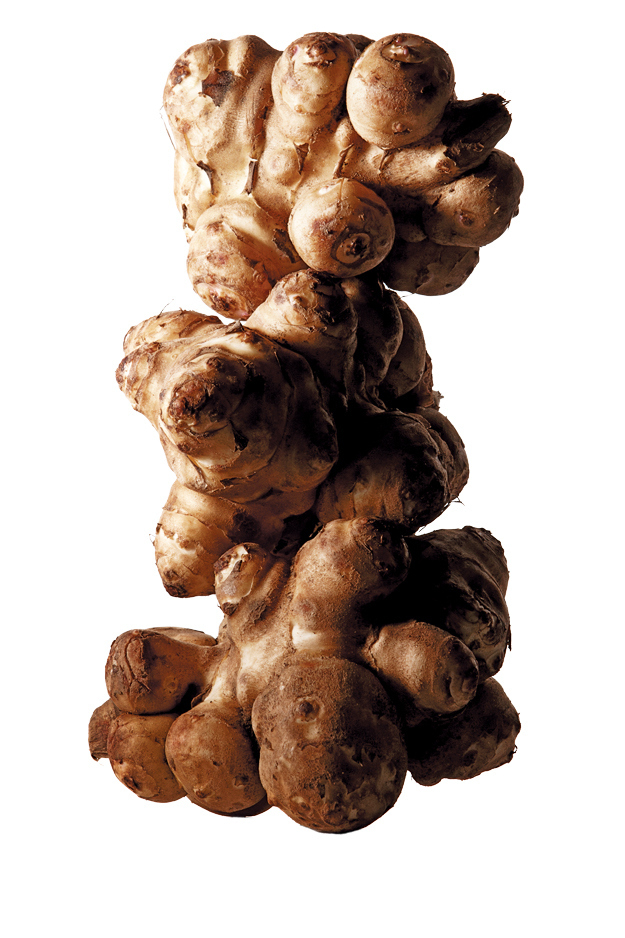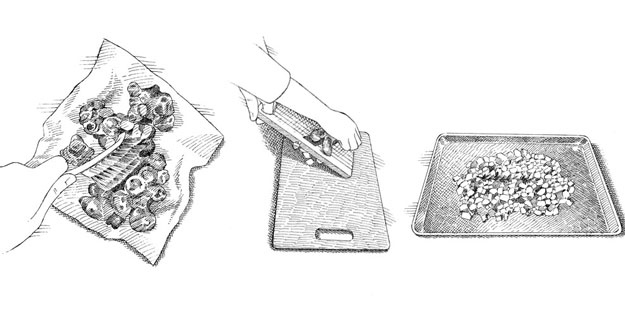 Shaunna Sargent's Sunchokes and Pears
Betto chef Shaunna Sargent exploits sunchokes' crunchiness to delicious effect in this refreshing autumn salad, where it is paired with pears and hazelnuts, and garnished with a garlicky sunchoke purée.
FOR PUREE
4 medium sunchokes (or enough to yield 2 cups cut into ½ -inch slices)
2 shallots, thinly sliced
2 garlic cloves, smashed
2 sprigs thyme
Salt and freshly ground pepper
1/3 cup plus 2 tablespoons olive oil
1 cup whole milk
FOR SALAD
2 large sunchokes, scrubbed well
2 large, ripe Bosc pears
½ cup hazelnuts, toasted and roughly chopped
2 tablespoons grated pecorino cheese
Juice of half a lemon
2 tablespoons white wine vinegar
2 tablespoons olive oil, plus more to finish
1 tablespoon chopped tarragon
Salt and freshly ground black pepper
FOR PURÉE: Preheat oven to 350 degrees. Scrub the sunchokes well, and cut into ¼-inch slices. In a medium-size bowl, toss together sunchokes, shallots, garlic, thyme, salt and pepper, and 2 tablespoons olive oil. Lay out on a baking sheet and roast until sunchokes are slightly golden brown and tender to touch, about 15 to 20 minutes. Remove thyme. Place everything in a small pot and cover with milk, bring
to a simmer, and cook an additional 20 minutes. Transfer to a blender and blend until very smooth. Finish with ⅓ cup olive oil. Let cool.
FOR SALAD: Slice sunchokes and pears on a mandoline to about the thickness of a quarter. Add the hazelnuts, pecorino, lemon juice, vinegar, 2 tablespoons olive oil, tarragon, and salt and pepper and toss together.
TO PLATE: Spoon about ¼ cup of purée onto each plate, arrange salad delicately on top and around, and drizzle with a little more purée. Finish with more pepper and olive oil. Serves 4.
7.
SECKEL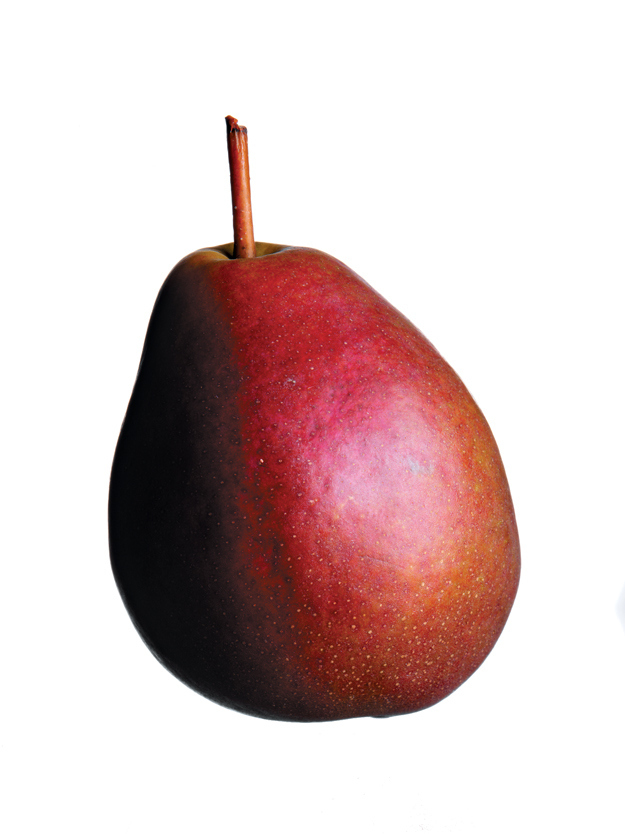 Ilene Rosen's Maple Butter–Baked Seckel Pears
City Bakery alum Ilene Rosen, now the chef/co-owner of 606 R&D in Brooklyn, likes to slice seckels in half and bake them—stem, seeds, and all—with maple syrup and butter for a simple fall dessert that's even better paired with creamy Camembert from Old Chatham Sheepherding Company.
6 to 10 medium to larger-size Seckel pears, stems on
4 tablespoons unsalted butter
3 tablespoons maple syrup (preferably grade B or dark amber)
Salt and freshly ground black pepper
Preheat oven to 400 degrees. Cut pears in half lengthwise. Brown butter in a small saucepan, and combine in a bowl with the maple syrup. Mix well. Toss pears in bowl to coat with mixture, and sprinkle with salt and pepper. Place pears on a baking sheet, cut side down, and bake 20 minutes, until pears are soft and cut side is very soft and caramelized. Let cool brief ly before serving. Serves 4 to 6.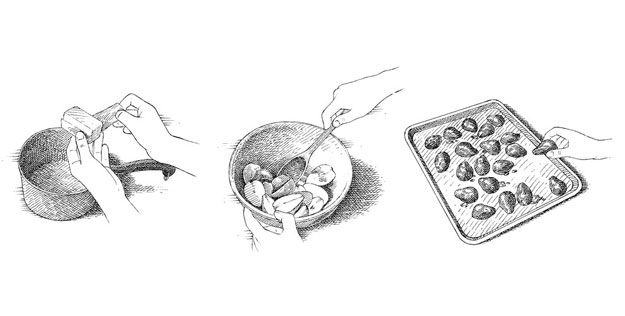 All of these recipes and photos come from the new cookbook, In Season.