1.
Here is the most adorable lamb cake. Her fleece is made of white chocolate curls.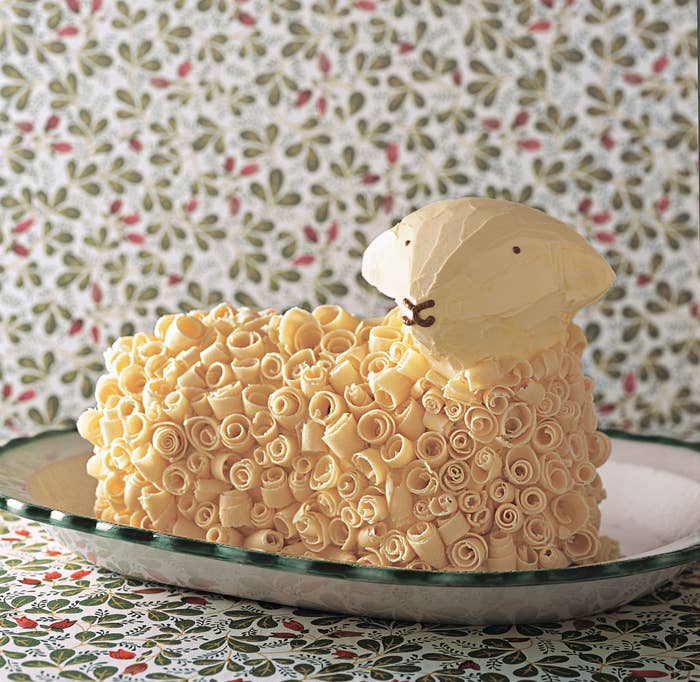 See? Doesn't this look simple?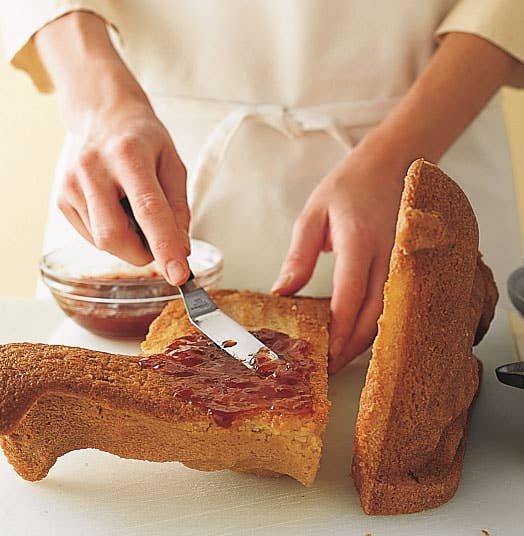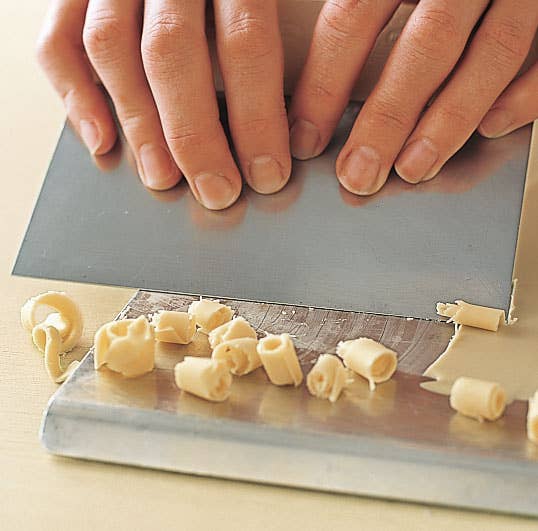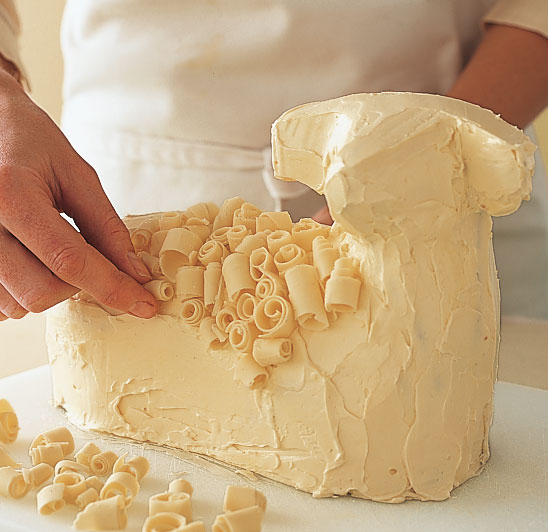 Lamb Cake Recipe
Serves 8 to 10
You will need an eight-cup-capacity 3-D lamb cake pan from Nordic Ware.
INGREDIENTS
Unsalted butter, room temperature, for molds
2 cups plus 2 tablespoons all-purpose flour, plus more for molds
1 2/3 cups sugar
1 1/2 teaspoons baking soda
3/4 teaspoon baking powder
3/4 teaspoon salt
1 large whole egg plus 1 large egg yolk
3/4 cup warm water
1 cup buttermilk
1/2 cup canola or safflower oil
1 teaspoon pure vanilla extract
1/2 cup seedless blackberry or raspberry jam
2 recipes Swiss Meringue Buttercream (white chocolate variation, recipe below)
Gel-paste food coloring in brown and yellow
1 pound white chocolate, chopped
PREPARATION
1. Preheat oven to 350 degrees. Butter both halves of an 8-cup lamb-shaped cake mold. Dust with flour, tapping out excess.
2. Whisk together flour, sugar, baking soda, baking powder, and salt in a medium bowl. Add whole egg, yolk, the water, buttermilk, oil, and vanilla. With an electric mixer on medium speed, beat until smooth.
3. Divide batter between halves of molds. Bake until a cake tester comes out clean, 35 to 40 minutes. Transfer molds to wire racks to cool 30 minutes. Turn out cakes onto racks to cool completely.
4. With a serrated knife, trim flat side of each half. Trim excess from edges, if necessary. Cover flat side of 1 cake with jam. Turn halves upright; stick together.
5. Tint 1/2 cup buttercream brown. Tint remaining buttercream pale yellow to match color of white chocolate. Spread a thin layer of pale yellow buttercream over cake to form a crumb coat. Refrigerate until frosting is firm, about 30 minutes. Spread a second layer of buttercream over cake, smoothing around head with an offset spatula.
6. Melt white chocolate, stirring, in a heatproof bowl set over (not in) a pan of simmering water. Turn off heat; let cool slightly. Spread one-quarter of the chocolate over back of a rimmed baking sheet. Refrigerate until just starting to set, about 15 minutes. Holding a bench scraper at a 45-degree angle, scrape chocolate into 1/2-inch-wide curls. (If chocolate breaks, let it stand to warm slightly. If chocolate is too soft, refrigerate until just starting to set.) As you work, transfer curls to a rimmed baking sheet. Refrigerate curls until firm. Repeat with remaining chocolate. Store at room temperature in an airtight container, between layers of parchment, up to 3 days.
7. Cover frosted cake, except for head, with chocolate curls. Fill a pastry bag fitted with a small plain round tip, such as #2, with brown buttercream; pipe eyes and mouth. Cake can be refrigerated up to 2 days; let stand at room temperature 20 minutes before serving.
2.
Lion Cake with a mane of flowers is better than any other lion cake.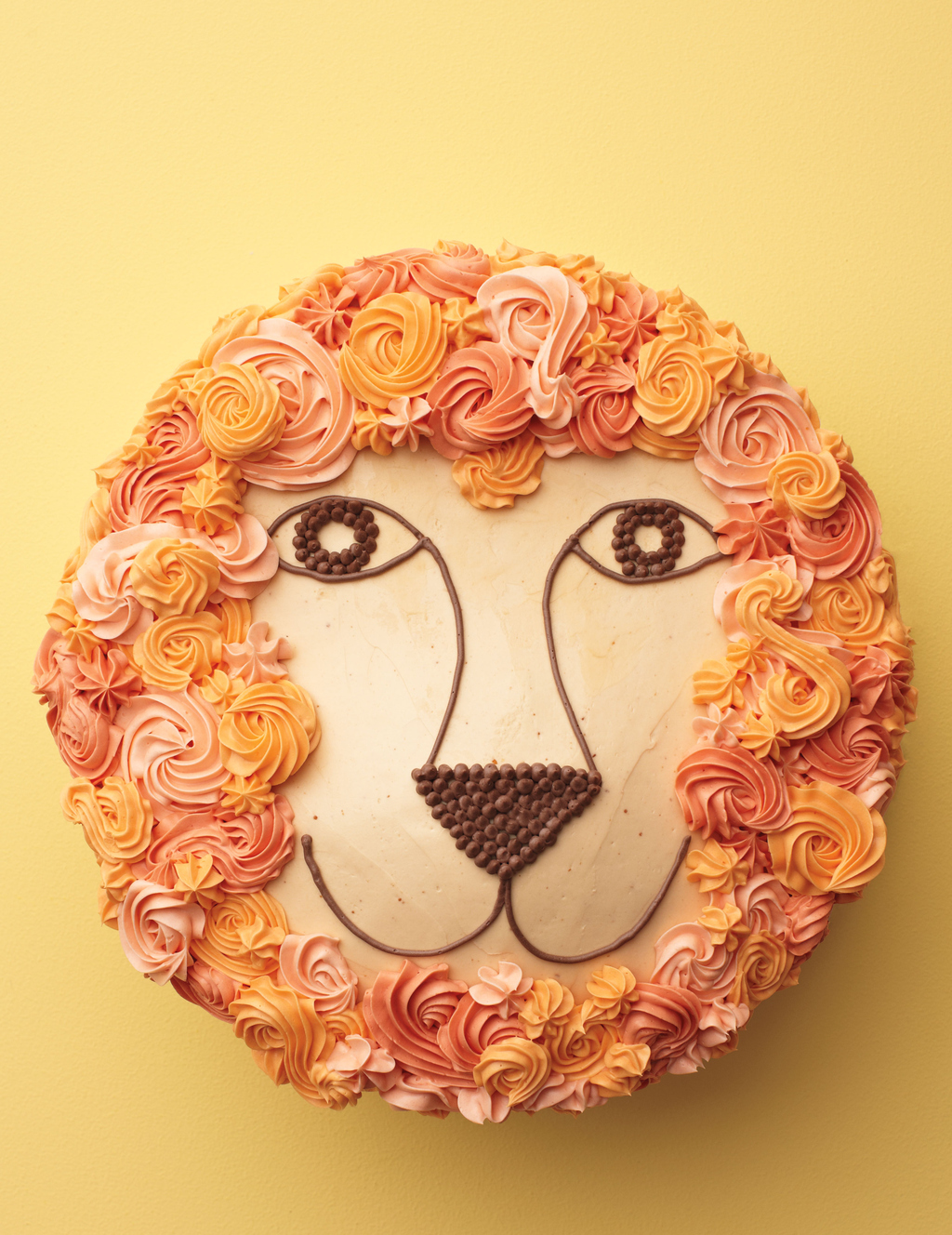 3.
This wonderful giraffe's spots are made of toasted coconut flakes.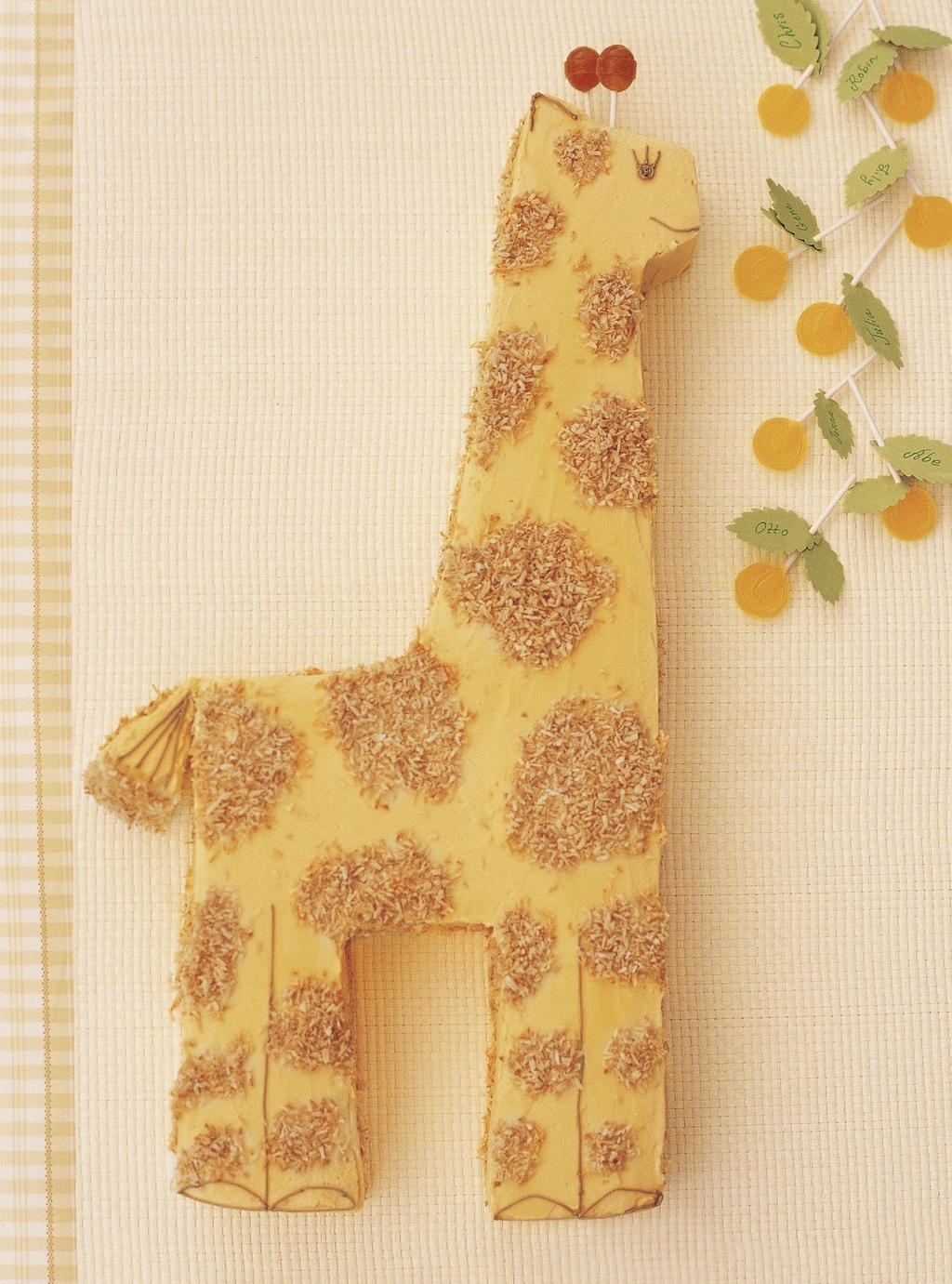 4.
Spooky Centipede Cake is for weirdos (er, advanced palate people) who love black licorice.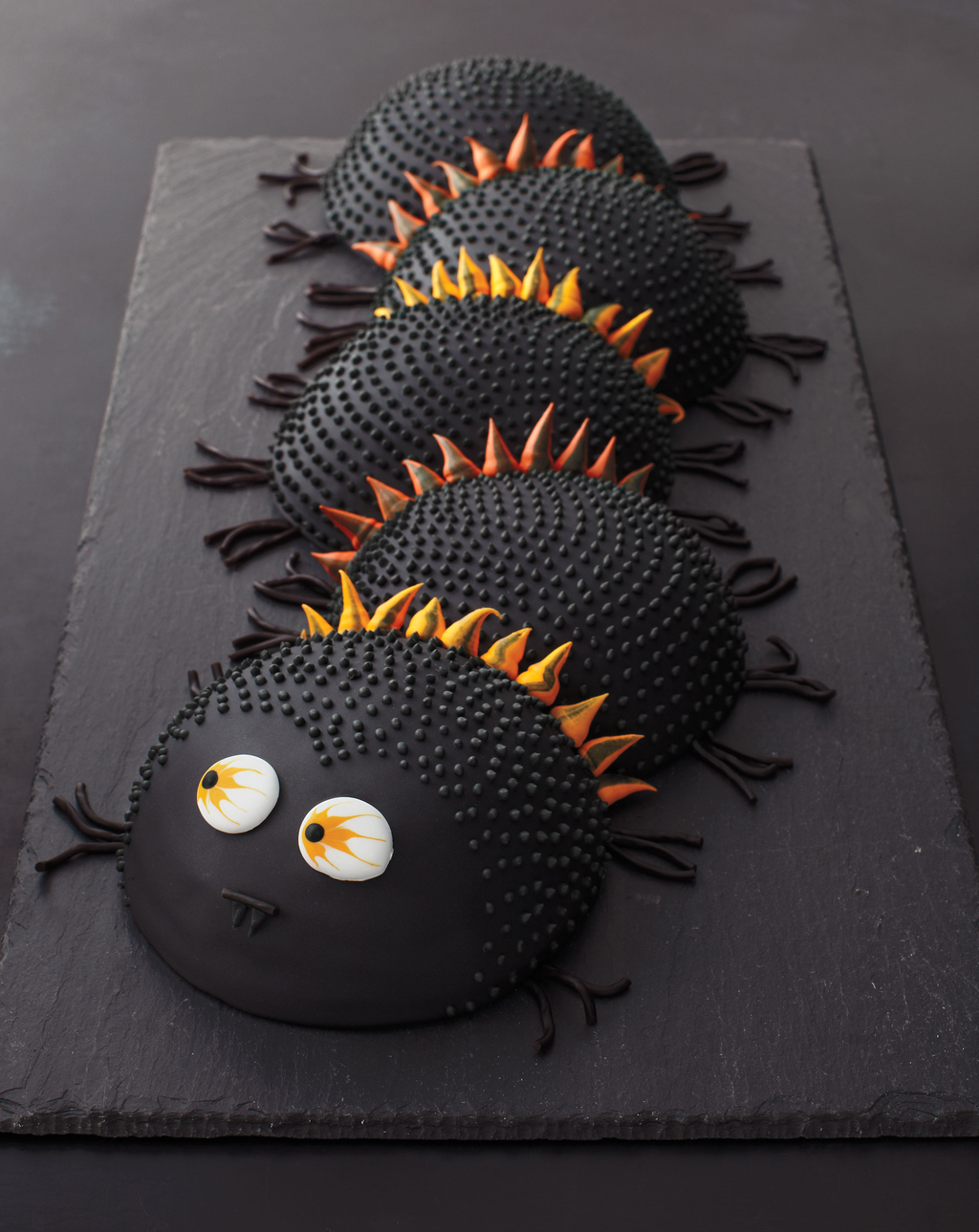 5.
Pastel blue buttercream fins! The best.
6.
Mother Hen resting on a nest of "wispy golden spun sugar." Of course.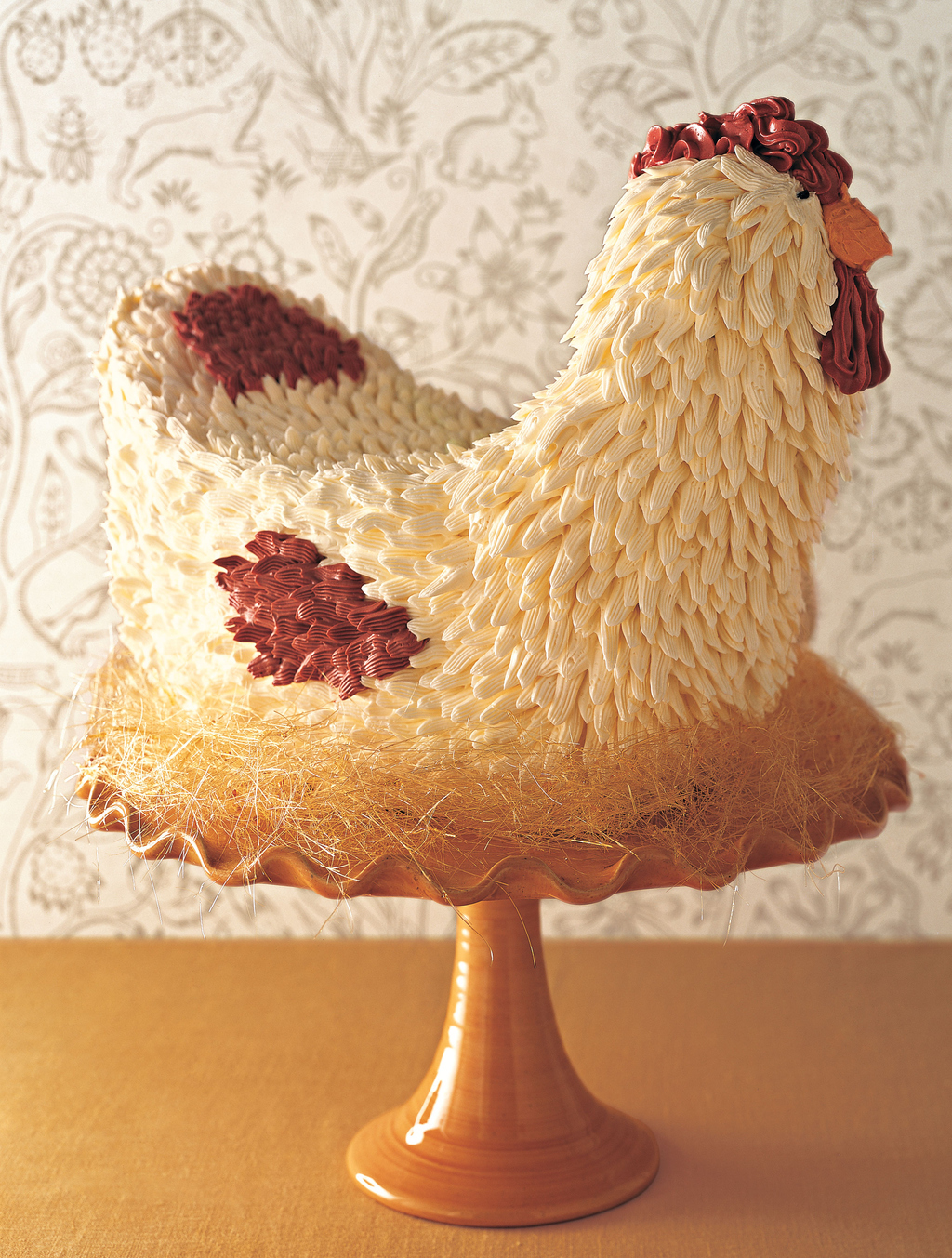 7.
Not really an animal cake but MARZIPAN PENGUINS?! Thank you Martha, this is nuts.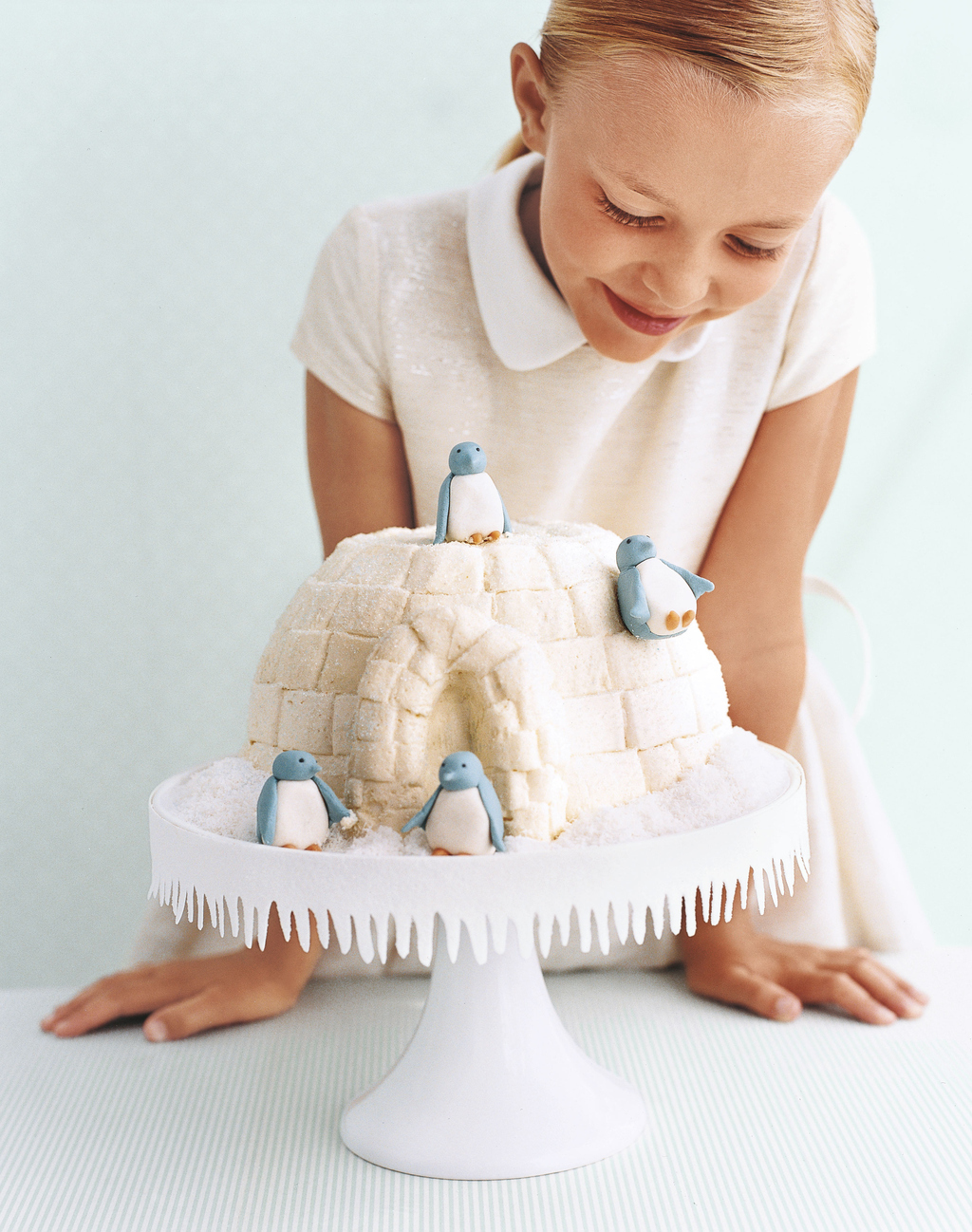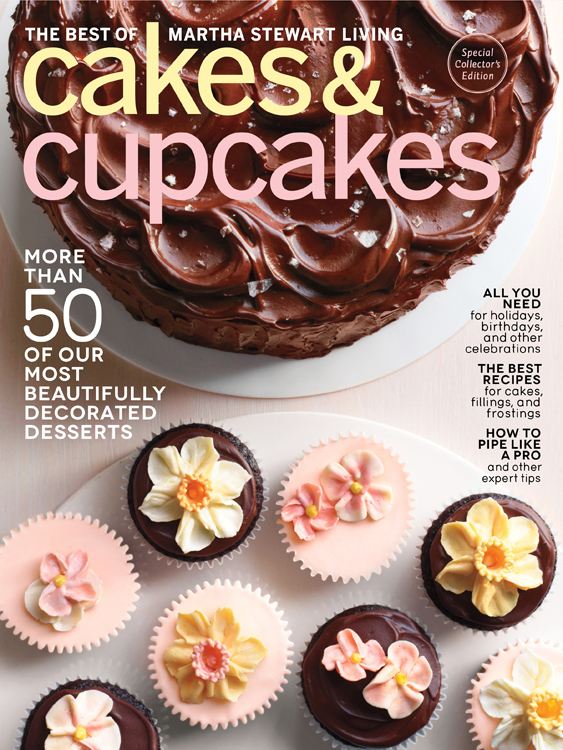 Find recipes for these cakes in The Martha Stewart Living Cakes and Cupcakes issue, available on newsstands as of February 3 and until May 6, 2013. It's also available on the iPad (with extra videos, which is probably essential for some of this glorious insanity).