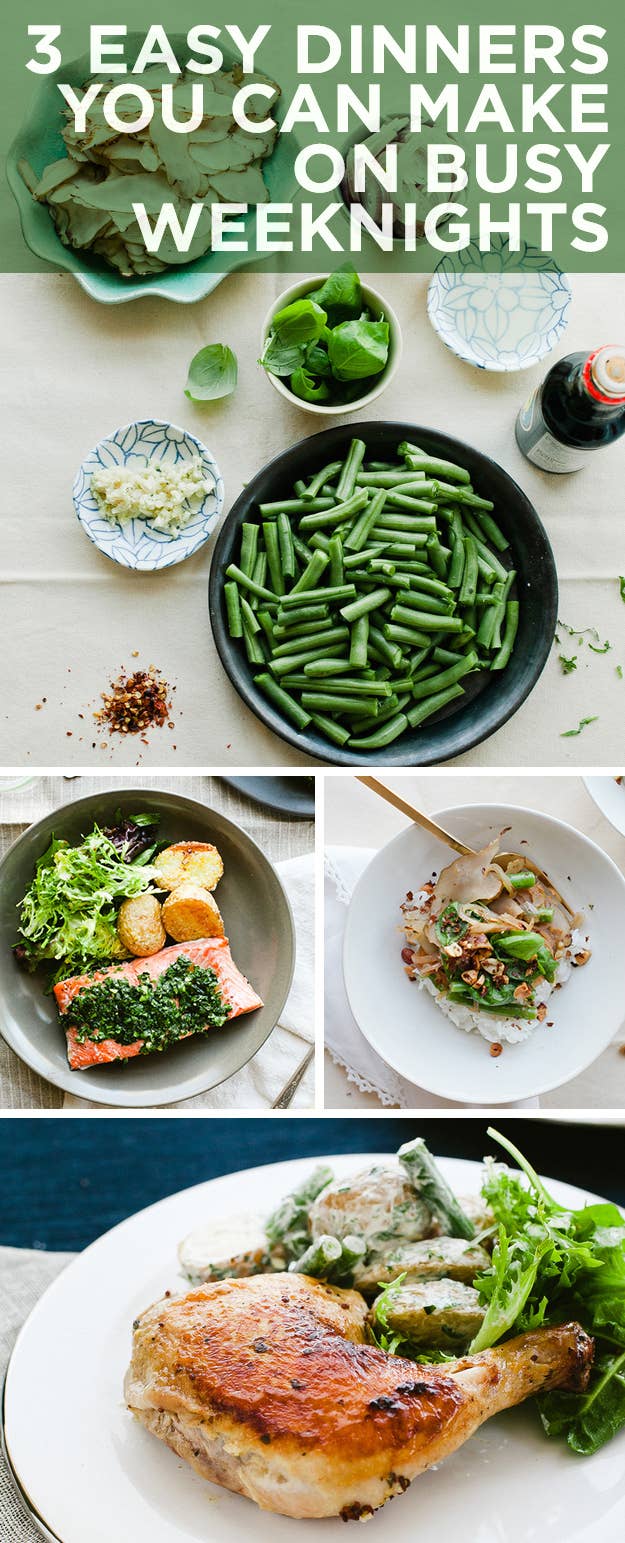 Okay, here's the plan.
Shop for all the ingredients in these recipes at the same time (you'll find a grocery list at the bottom of this post) — because who has time for the miserable, stupid grocery store twice in a week?
The three herbs you're going to buy (tarragon, Italian flat-leaf parsley, and basil) are used in all three recipes — sometimes together, sometimes separately. Any leftover herbs should be muddled together with a bit of sugar and gin (and a cucumber slice, if you have it handy) and served over ice with a splash of soda water any (or every) night.
Click each recipe to go to the full ingredients, instructions, and step-by-step photos.
To ensure fresh flavor, make the salmon first this week (within one or two days of your shopping trip). The recipe yields enough potatoes and enough salad dressing for both this dinner and for Recipe #3, so make sure to set aside half of each.
This is filling enough as a vegetarian dish, but feel free to add cubed chicken, shrimp or tofu if you're looking for added protein. The recipe yields enough steamed green beans for both this dish and for Recipe #3's Green Goddess Bean and Fingerling Salad — so make sure you set some aside.
Roasting half a chicken under a brick rules because it delivers the comfort of a whole roast chicken without the long cook time. It also ensures extra crispy skin and makes portioning the dish for two very simple. This recipe uses up the extra potatoes, green beans and citrus dressing made earlier in the week, making prep even easier and ensuring that nothing goes to waste.
Grocery List
Pantry (you will probably have a lot of these ingredients already)
Flaky sea salt
Kosher salt
Black pepper
Extra-virgin olive oil
1 small bottle peanut or canola oil
1 small bottle low-sodium soy sauce
1 small jar whole grain mustard
1 jar red pepper flakes
½ cup basmati rice
¾ cup unsalted shelled peanuts
Protein
Two 6-ounce salmon fillets
1 small (5-pound) chicken, butterflied
Produce
2 cups frisée lettuce (or watercress)
2 cups mixed greens
1 bunch tarragon
1 bunch Italian flat-leaf parsley
1 bunch basil leaves
1 orange
4 lemons
1 lime
1 head garlic
One 1-inch piece ginger
3 medium shallots or 1 small red onion
6 medium sunchokes*
1 pound green beans
2 pounds fingerling potatoes
Dairy
1 small container whole-milk Greek yogurt
*Sunchokes (aka Jerusalem artichokes) are a member of the sunflower family and look like a cross between a potato and a ginger root. If you can't find them, try another firm root vegetable like parsnips, turnips, or radishes.