A new Breakfast for Dinner cookbook from the husband-and-wife duo behind Love And Olive Oil capitalizes on everyone's current obsession with bacon stuff, waffle-shaped stuff, and a poached egg on top. That's all well and good because there are few meals that aren't improved by breakfast foods. But the best part of this book is actually the dessert section. (Second best, the drinks section, including a guide to infusing bacon into bourbon for a Bacon Old Fashioned.) Here are a few examples.
1.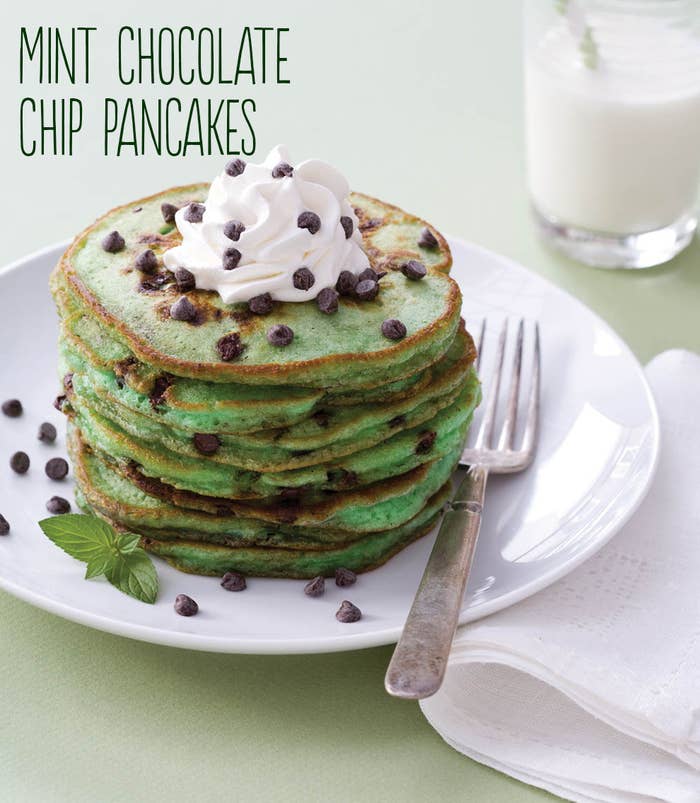 Mint Chocolate Chip Pancakes
Recipe from Breakfast for Dinner
makes 12 pancakes (3 to 4 servings)
total time: 30 minutes
INGREDIENTS
1 1/3 cup all-purpose flour
1 tablespoon granulated sugar
1 teaspoon baking powder
1/2 teaspoon baking soda
1/2 teaspoon salt
1 cup buttermilk
1 large egg
2 tablespoons butter, melted
and cooled to lukewarm,
plus more for cooking
1/2 teaspoon pure vanilla extract
1/2 teaspoon pure mint extract*
3 to 4 drops green food coloring (optional)
3/4 cup mini semisweet chocolate chips, plus more for topping
Whipped cream, for serving
Vanilla ice cream, for serving
Store-bought sauce is fine (or find homemade hot fudge sauce recipe on page 149 of Breakfast for Dinner), for serving
*Mint and peppermint extracts are similar but not identical in flavor. Mint extract typically contains both peppermint and spearmint, whereas pure peppermint is popular in holiday treats like candy canes. Use whichever minty extract you prefer.
PREPARATION
1. Sift together flour, sugar, baking powder, baking soda, and salt into a bowl.
2. Whisk together buttermilk, egg, butter, extracts, and food coloring (if using) in a small bowl. Add to dry ingredients and stir until incorporated. Stir in chocolate chips.
3. Heat a large nonstick skillet or griddle over medium heat. Add 1/2 tablespoon butter; it should sizzle and melt almost immediately. Ladle 1/4 cup of pancake batter into skillet for each pancake, taking care not to let the pancakes run together. Cook for 1 to 2 minutes, until bottom is golden brown and edges begin to bubble, then carefully flip and cook for 1 to 2 minutes more. Transfer to plates. Repeat with remaining batter.
4. Serve warm with whipped cream, vanilla ice cream, hot fudge sauce, and more chocolate chips, if desired.
More Pancakes Inspired by Ice Creams
-Candy Cane Pancakes: Replace mint extract with peppermint extract. Add 1/4 cup finely chopped candy canes along with or in place of chocolate chips. Use red food coloring instead of green.
-Almond Chip Pancakes: Replace mint extract with almond extract. Add 1/4 cup chopped almonds to batter. Omit food coloring.
-Plain Old Chocolate Chip Pancakes: Omit mint extract and increase vanilla extract to 1 teaspoon; omit food coloring.
2.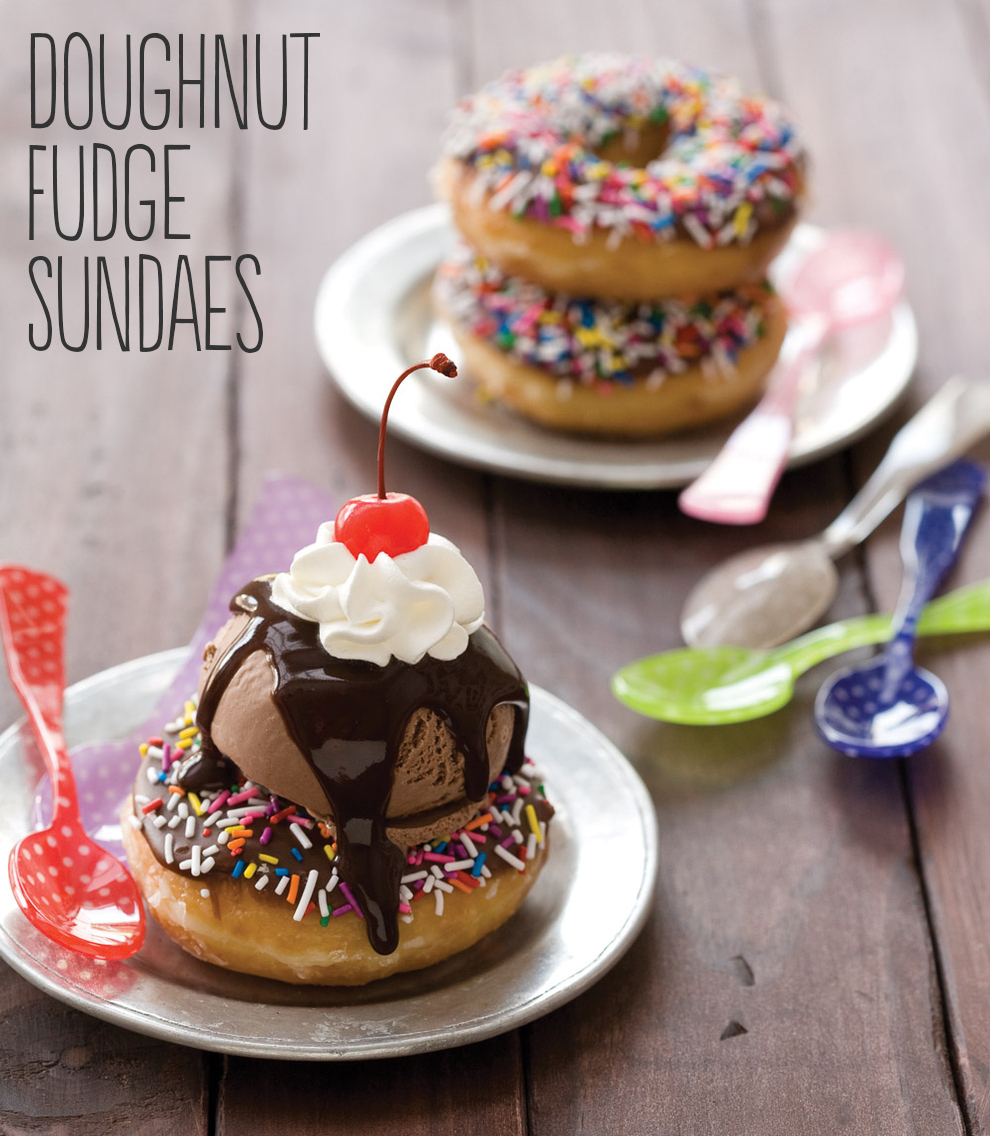 Doughnut Fudge Sundaes
Recipe from of Breakfast for Dinner
makes 2 sundaes
total time: 2 minutes
INGREDIENTS
2 maple or chocolate glazed doughnuts (with sprinkles!)
2 large scoops vanilla, chocolate,
or mocha ice cream*
1/4 cup Chocolate Maple
Fudge Sauce**
Sprinkles, nuts, or other additional toppings, as desired
Whipped cream, for topping
2 maraschino cherries
*Store-bought is fine, or see page 111 of Breakfast for Dinner for homemade mocha ice cream recipe.
**Store-bought chocolate sauce can be used, or use the chocolate maple sauce on page 149 of Breakfast for Dinner.
PREPARATION
1. Place each doughnut in a serving dish and top with a scoop of ice cream.
2. Warm fudge sauce in the microwave for 5 to 10 seconds on high power, then generously drizzle over
ice cream. Garnish with toppings, a dollop of whipped cream, and a cherry on top.
Additional toppings include rainbow sprinkles, mini semisweet or white chocolate chips, toffee baking bits, caramel sauce, melted strawberry jam, chopped nuts, or even crumbled bits of candied bacon.
3.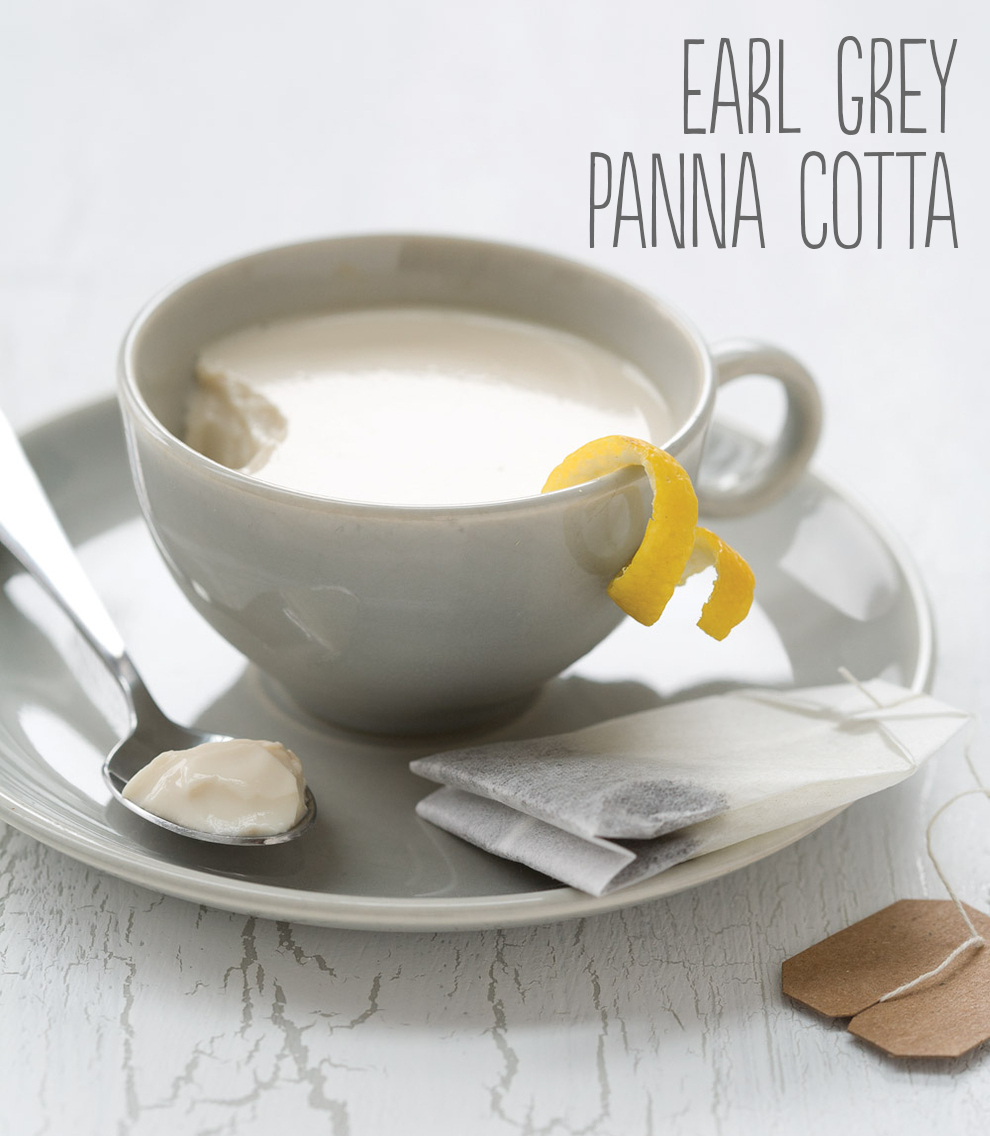 Earl Grey Panna Cotta
Recipe from Breakfast for Dinner
makes 6 servings
active time: 15 minutes H total time: 4 hours
INGREDIENTS
1 packet unflavored gelatin
2 cups half-and-half
1/3 cup granulated sugar
2 bags Earl Grey tea
Peel from 1 lemon*
*Use a vegetable peeler to remove large strips of the lemon peel.
PREPARATION
1. In a small bowl, sprinkle gelatin over 1/4 cup cold water; let sit until softened, about 5 minutes.
2. Heat half-and-half and sugar in a medium saucepan over medium
heat until sugar is dissolved and mixture just starts to steam (do not let
it boil); remove from heat. Submerge tea bags and lemon peel in mixture; cover and steep for 5 minutes.
3. Remove lemon peel and tea bags, squeezing out any remaining liquid from the bags before discarding.
4. Stir gelatin into warm tea mixture until dissolved (if tea mixture has sat for more than 5 minutes, warm over medium heat until liquid just starts to steam again and then stir in gelatin). Pour into teacups or ramekins; chill uncovered until set, at least 4 hours.