Last night was the Fourth Annual NYC Latke Festival in Brooklyn.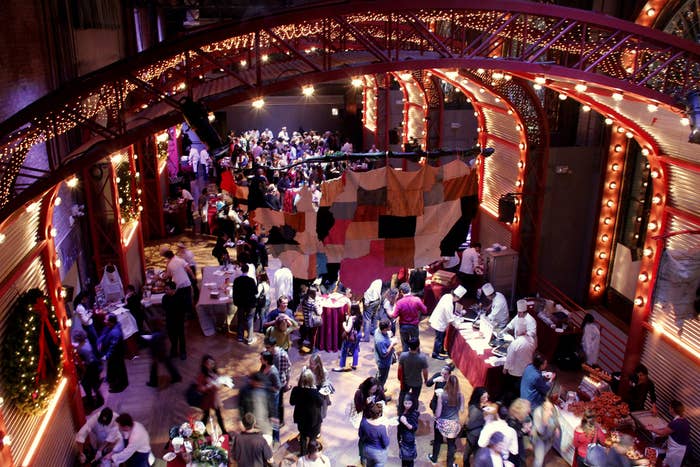 Everyone who attended got to eat latkes and vote for a winner.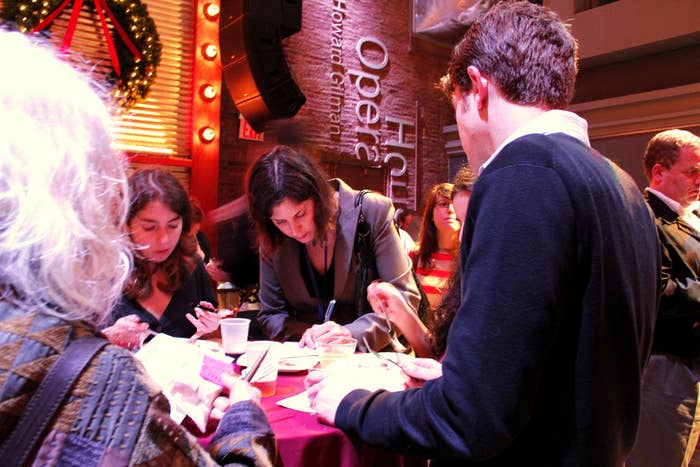 This is the latke that won the people's choice award. It is a yucca and sweet potato latke with apple plantain sorbet, queso fresco, pickled onion, cilantro and spicy green hot sauce.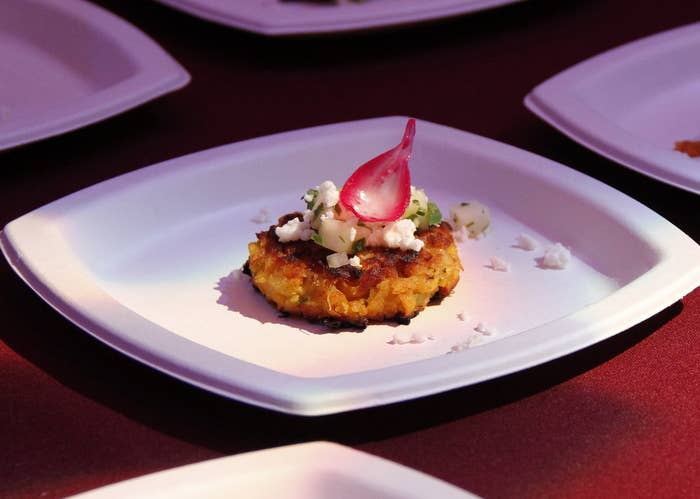 It was made by Gramercy Tavern sous chef Micah Fredman.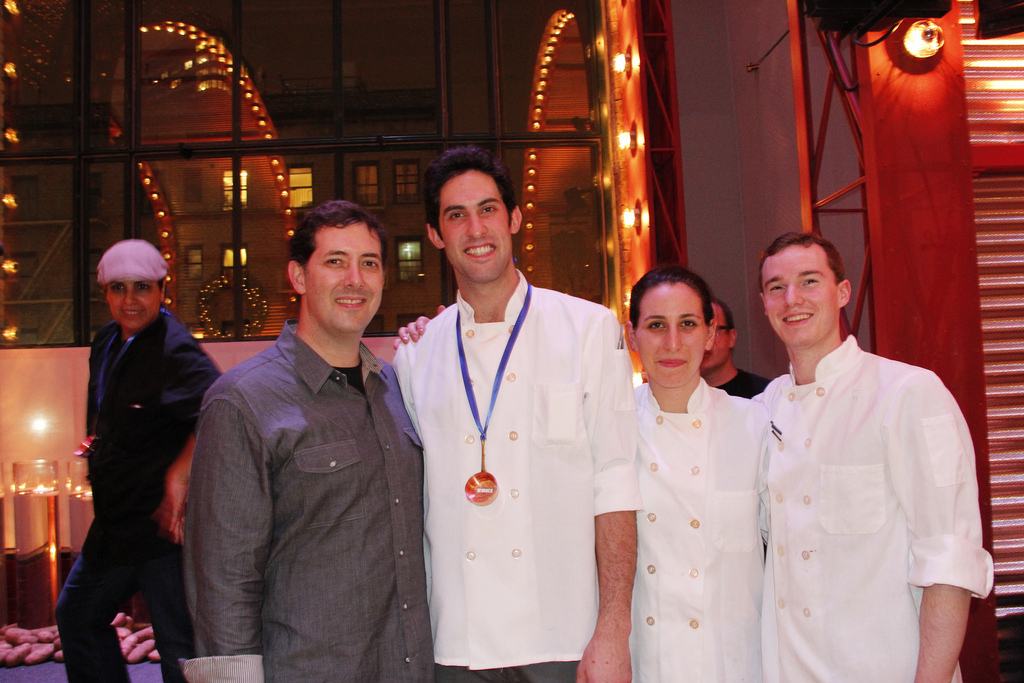 This is the latke that won the judge's award. It is a Potato, Yam and Carrot Latke with Honey, Preserved Lemons and Yogurt Sauce.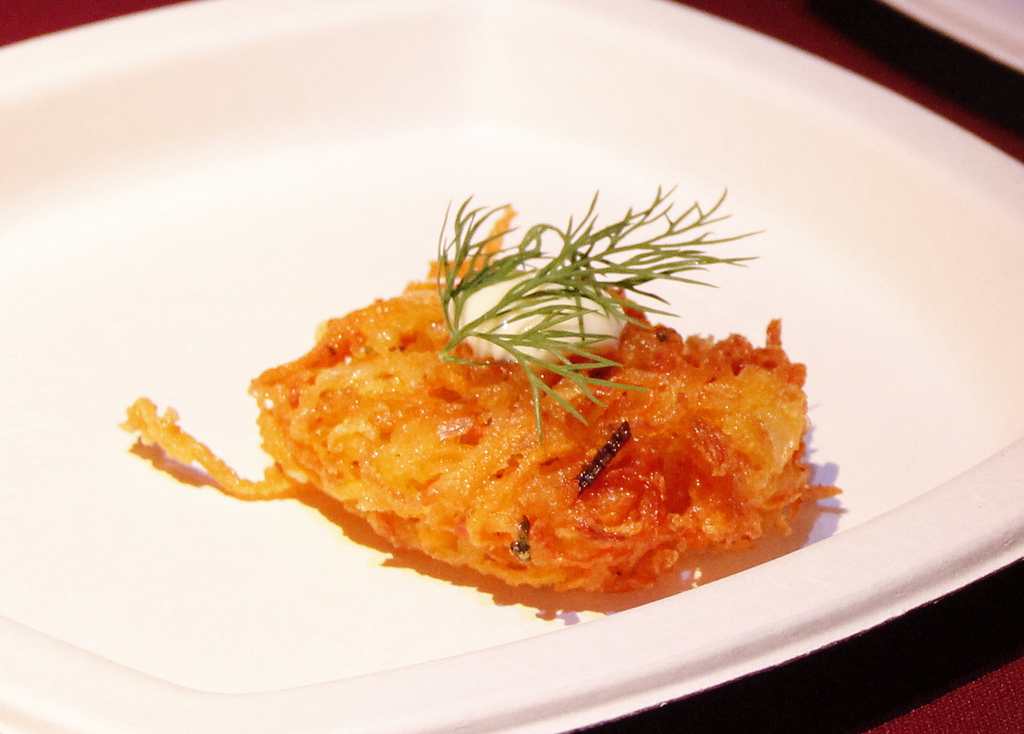 Maybe you'd like to see all of the other fancy latkes ...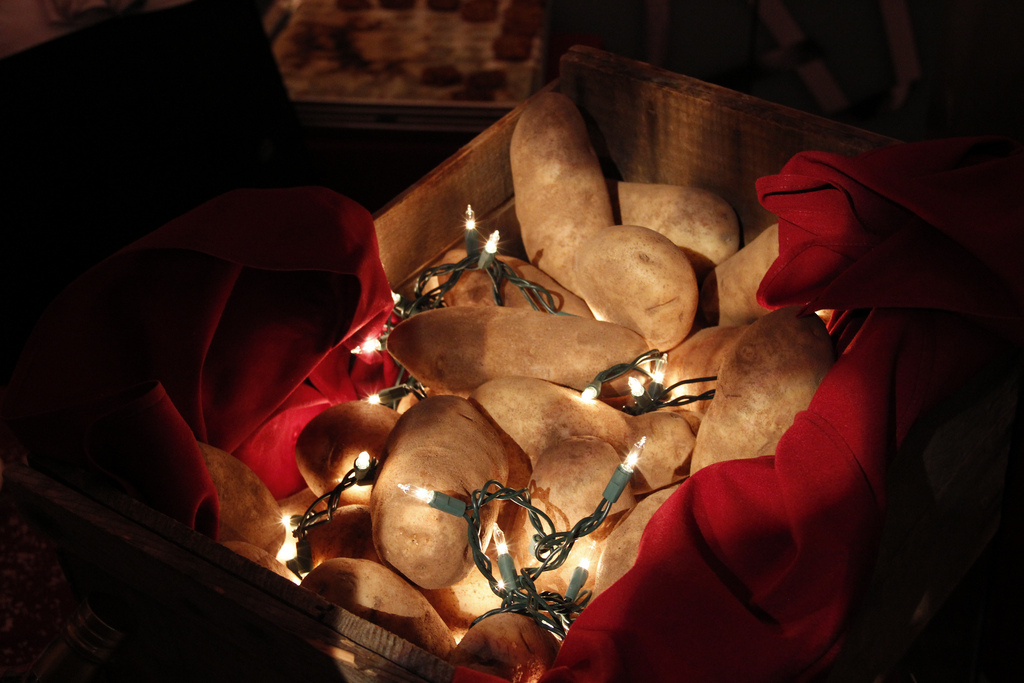 Here's one with House Smoked Salmon, Salmon Roe, and Chive Créme Fraiche.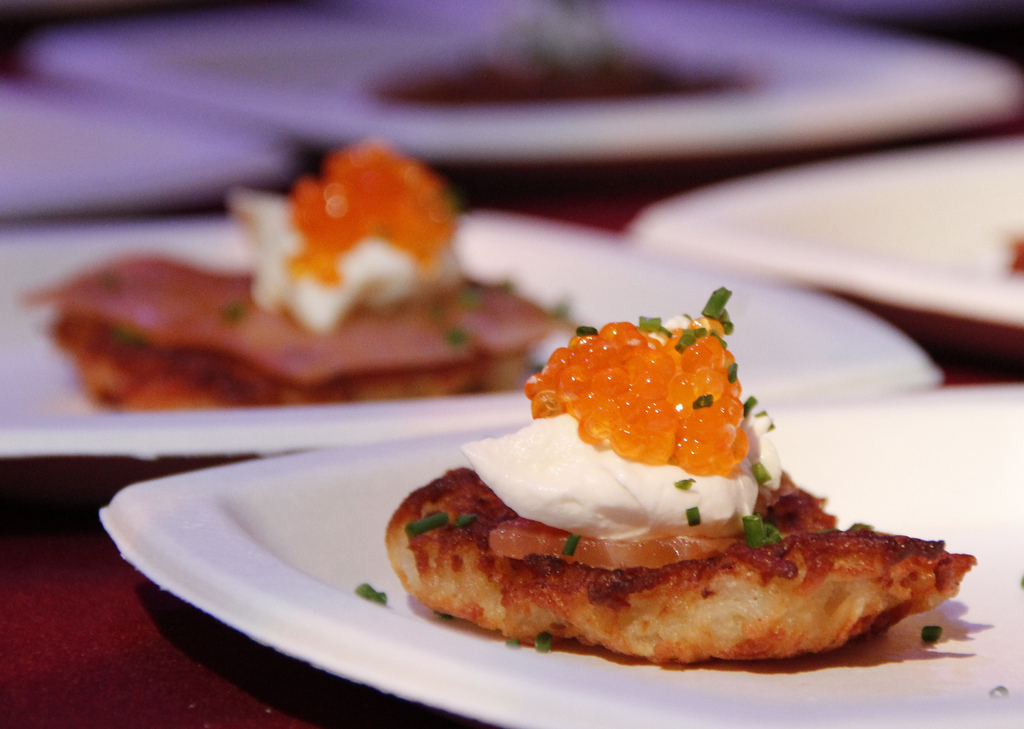 This one has Vanilla Applesauce and Schmaltzy Onions.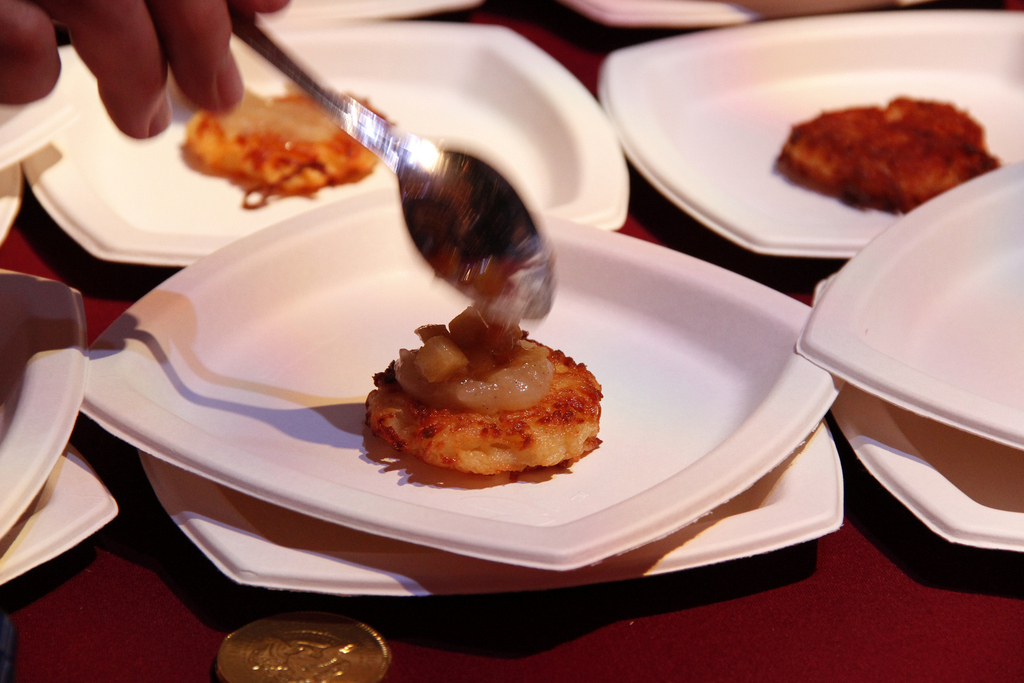 Here's an Indian Spiced Latke with Spicy Cauliflower Chutney & Crushed Cashew Nuts.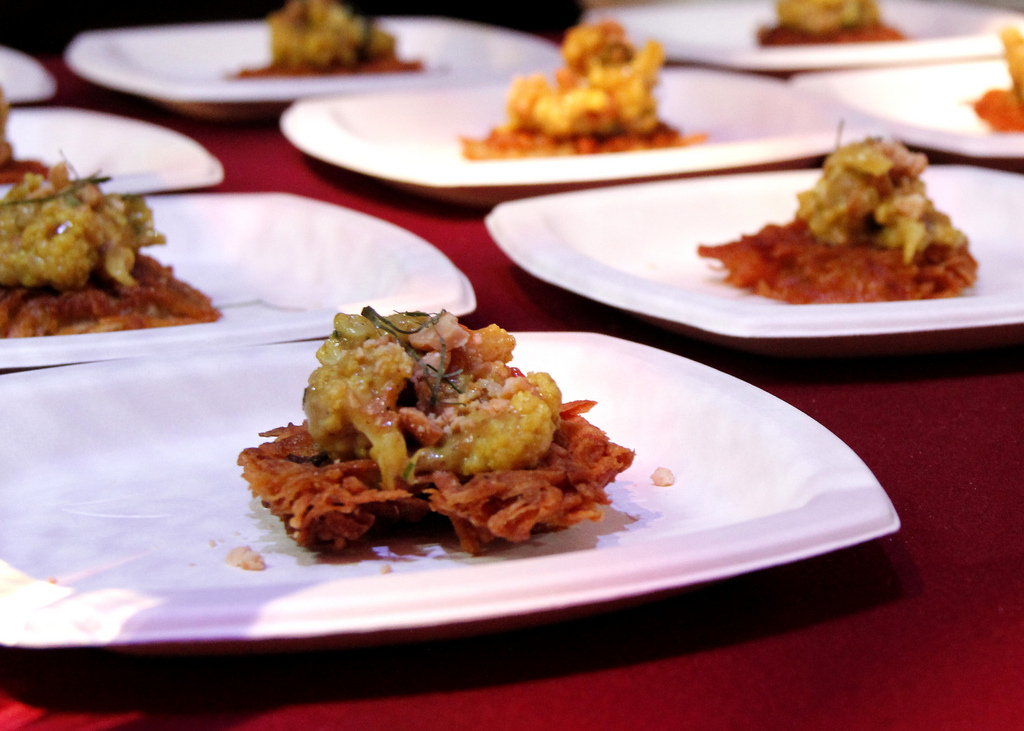 This latke has a truffle on it! There's also apple and fontina cheese.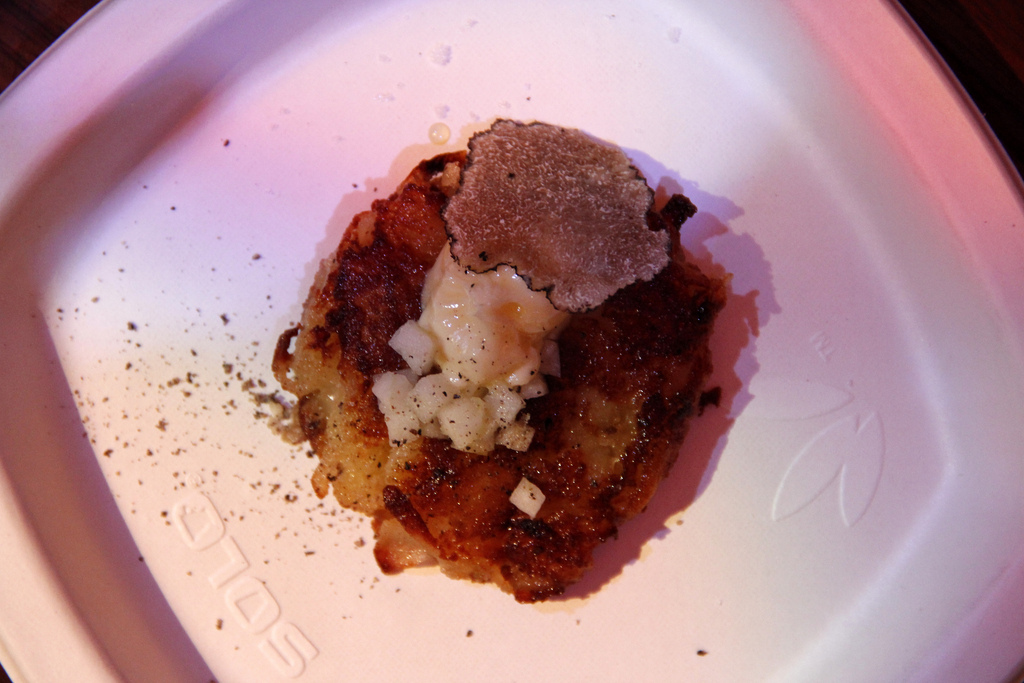 These fancy guys are topped with Juniper-Spiced Venison and Fuji Apple-Huckleberry Jam.
WOAH: Potato and Mountain Yam Latke with Beef Short Ribs topped with Brussels sprout, Apple, Caraway Kimchi, topped with Housemade Sour Cream.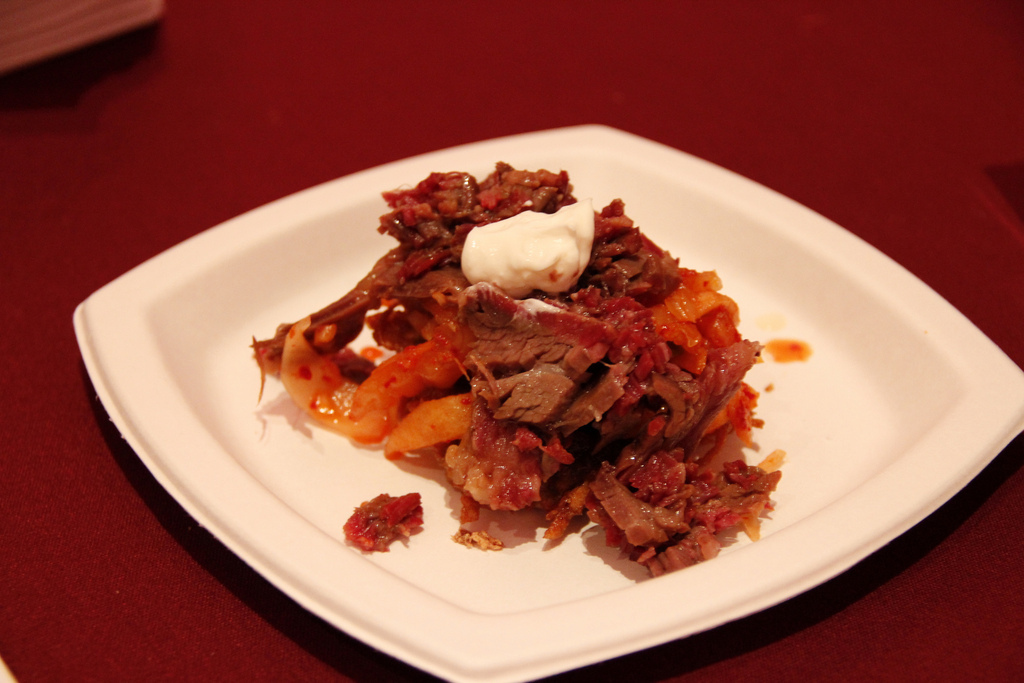 This one is drowning a little bit in a Porcini Mushroom Sauce and Cranberry-Apple Sauce.
Short Rib Latke with Calvados Smoked Crème Fraîche and a Baked Sour Apple Chip.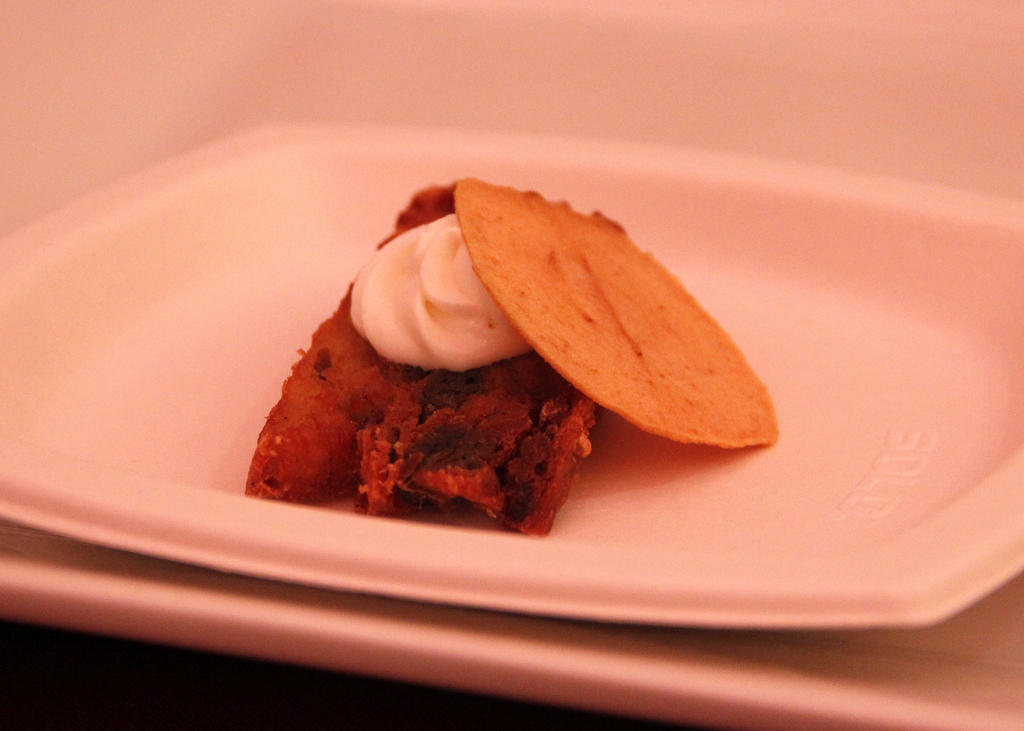 A very locavore latke made of potato and celery root with Hudson Valley Duck Confit, Huckleberry, and Crispy Kale.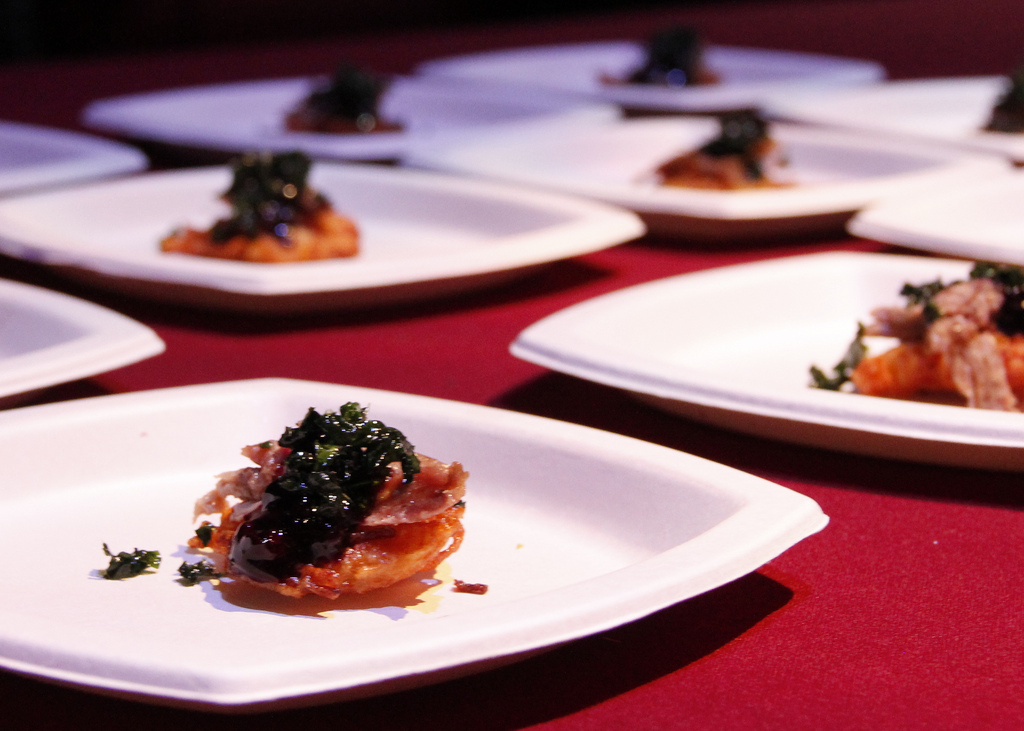 OH HEY Daikon! This is a Potato, Apple, Daikon Latke with Seasoned Ricotta & Smoked Crab. Yum.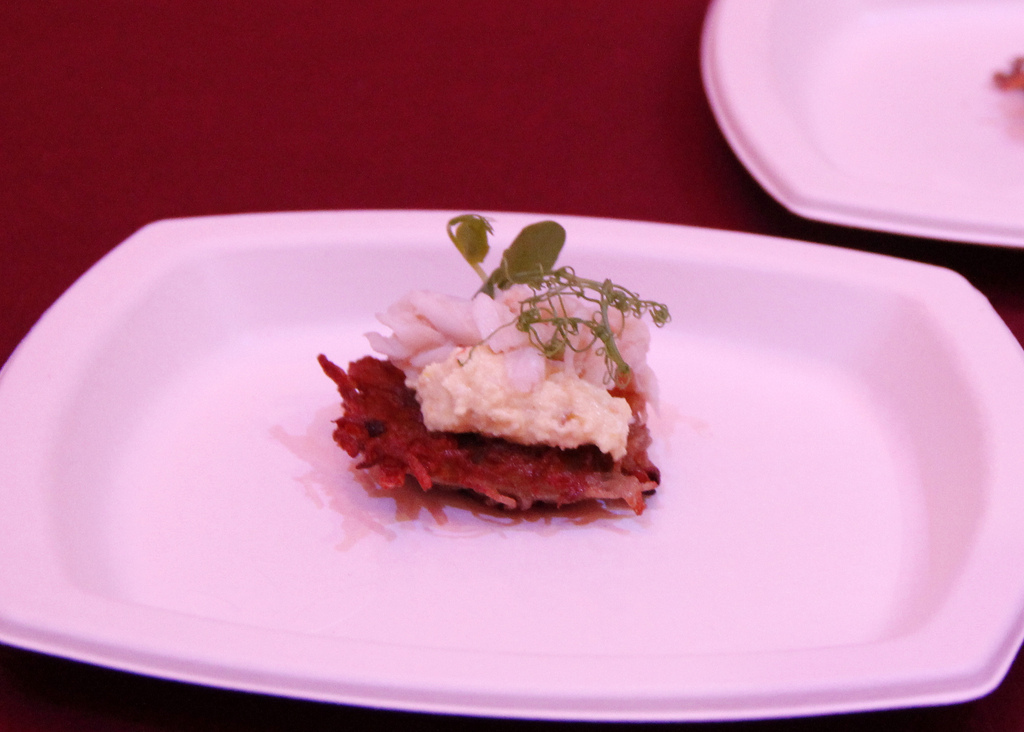 Latkes with "Lots of Sauces" including a Lox Sauce made from sour cream, diced lox, and fresh chives.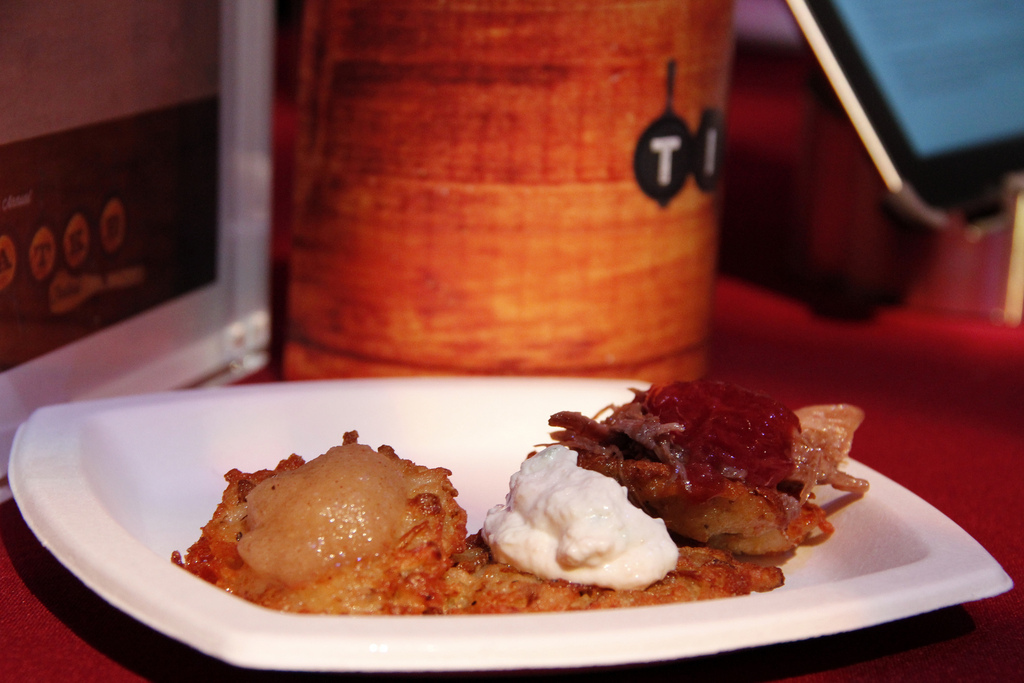 Comparably laid back latke: Deviled Egg and Red onion, Parsley and Black Olive Relish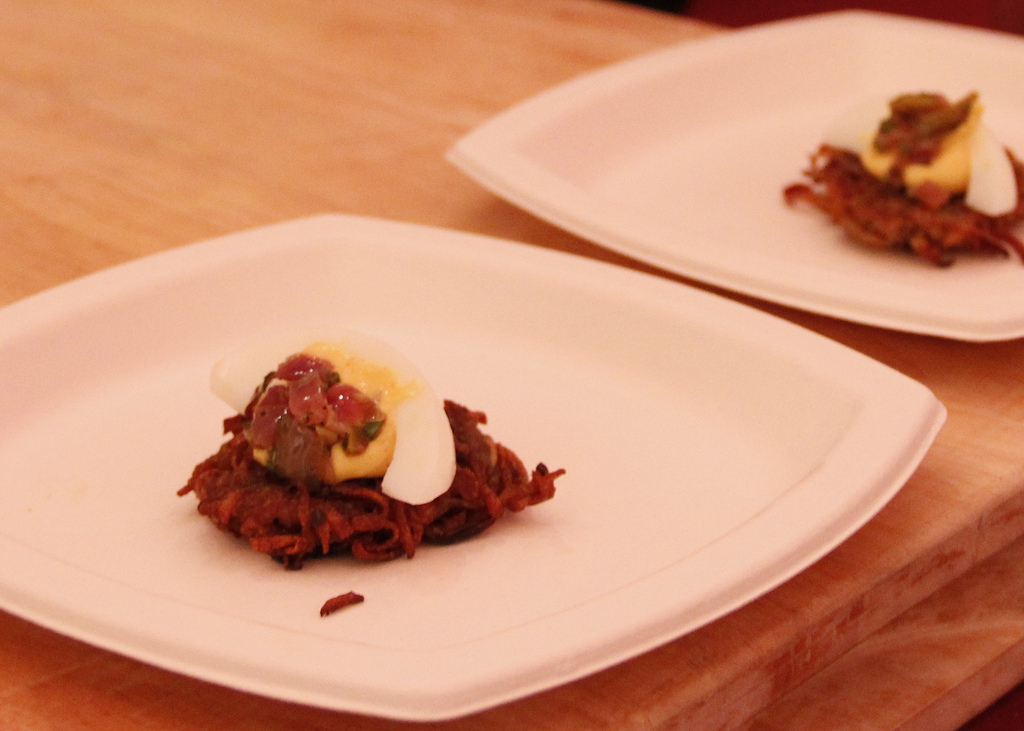 Ahem: A duo of Potato Latke with Balsamic Lemon Crème Fraiche, Fresh Shaved Black Truffles and Micro Green Salad.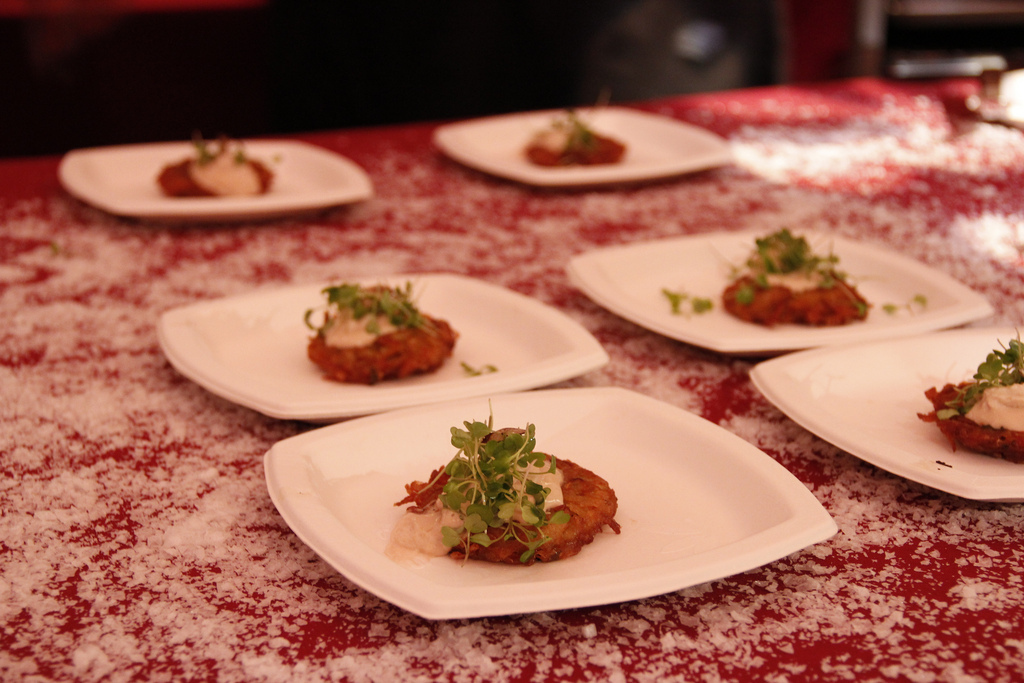 "The Spud Maccabee" with Pickled Fennel Jam, Butternut Squash, and Crème Fraîche.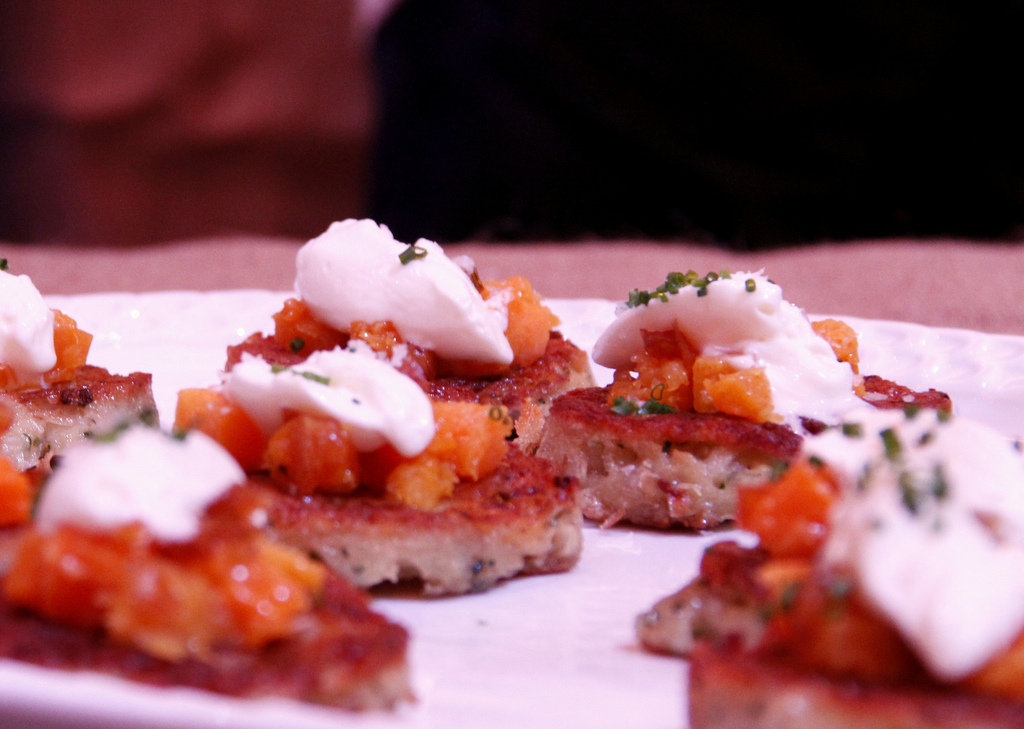 Maybe you'd like some Goose Confit, Roasted Squash, and Apples on your fried potatoes.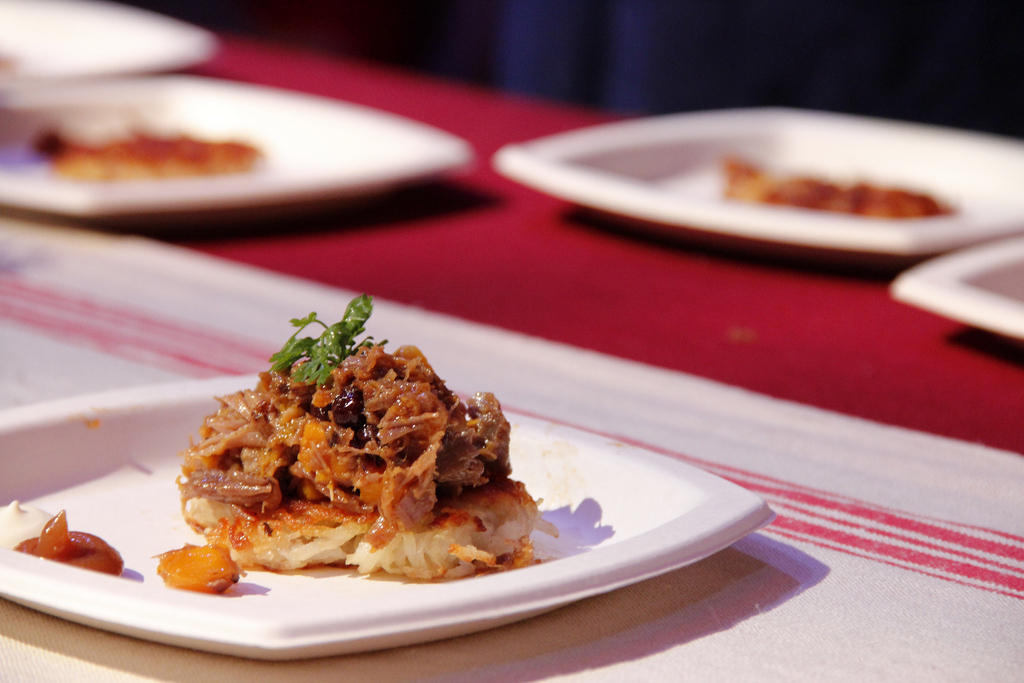 And here is a Menorah made out of bread.