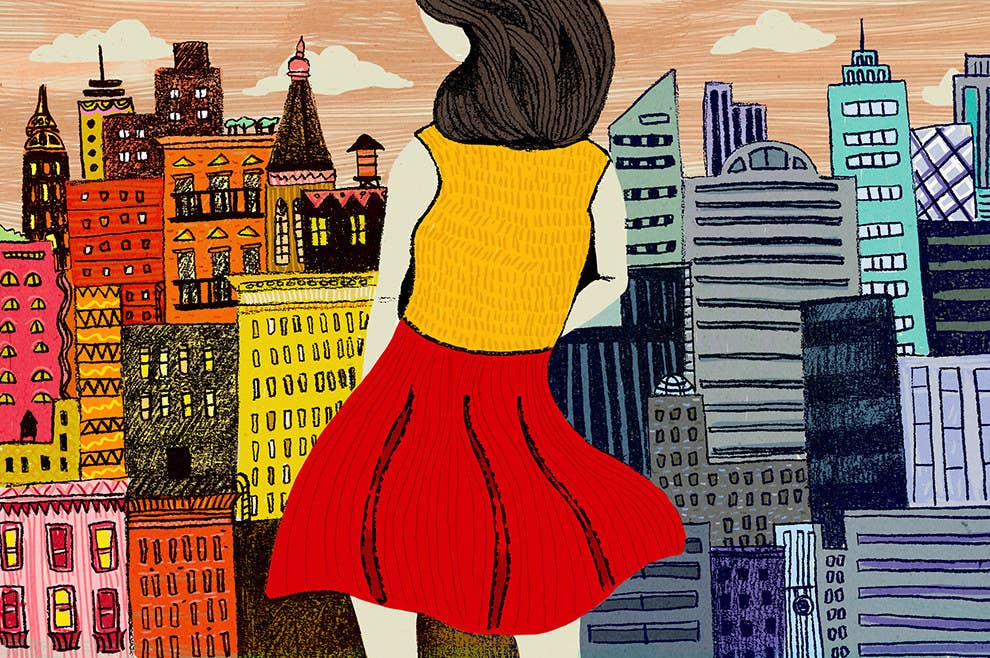 Walking to a Long Island Rail Road station by myself on the sunny, unseasonably warm October morning after closing on my new condo, I cried, just a little. It was a visceral reaction, and I embraced it. In a state of semi-disbelief, I was proud to finally own a tiny slice of New York City, the gorgeous, strange, magical, dirty, inspiring metropolis I've always called home — much as I assume my parents had felt 20 years earlier; and my grandparents had in the 1930s, when they bought the six-family Brooklyn building (for a cool $8,000, mind you) my mother and I would spend our childhoods in; and my great-grandparents had in the 1950s, when they bought their Brooklyn house after arriving in America only one year prior.
When I announced on Facebook that I had purchased my first home, it was understandably met with various forms of "How?" by my peers. The New York real estate game is comically intense; Brooklyn has become the least affordable housing market in the United States. I've never made a salary close to six figures, and I come from a working-class, Sunday coupon–collecting family, but I've been fortunate enough to spend the majority of my adult years living in my parents' home on the Brooklyn–Queens border, just a few blocks from my new apartment. I've been working since I was 15, and my mom always advised me to save as much as I could stand. I listened, even when that meant living at home instead of on the NYU campus ("Where are you going?" "When will you be home?" "Shouldn't you be studying?") for four torturous, thrifty years.
Becoming a homeowner was simply something that I was going to do; there was no "might" or "maybe" in the equation, just a shaky sense of the timeline. Three generations of my family had done it with the bare minimum of expendable income, so there was no question I could as well, especially without children of my own to worry about. I won't say that I was inspired by them or that I owed it to my family; I'm not that sentimental. I just didn't want to be a renter for the rest of my life, and I didn't intend on leaving New York in the long term.
So I started putting my savings in an account I labeled "Emmy's House Fund" when I was 20; in my LiveJournal (lol) at the time, I wrote, "I WILL be a homeowner by 30." I missed the deadline by a few years — I'll blame that on a year spent in London, which put a dent in my savings — and I'd envisioned a house with two floors and a sprawling, grassy yard, instead of a two-bedroom condo with an outdoor concrete slab shared by four units. But I'll get there someday.

Amid the throes of the Great Williamsburg Revival of the early '00s, I'd felt simultaneously resentful and in awe of the transformation of this neighborhood — one my family felt was so unsafe in the '80s that they were hesitant to even drive through it. More than a decade later, I now harbor similar feelings about the gentrification of Bushwick, Williamsburg's friendly, cheaper neighbor, where my parents and I all grew up.
It's tough to get excited about (mostly white) young people with extra cash moving in, staking a claim to a neighborhood whose history and culture they didn't create, with little self-awareness that their choices might eventually push out families who've worked hard to carve out a life, who didn't come here on a quest of self-discovery, who have no plan B. This is especially difficult to come to grips with when some of the people being pushed out are your friends and your family, and their home is your home.
And this is not, of course, ignoring the reality that I come from a working-class white family made up mostly of Italian immigrants and first-generation Americans, while the displacement that comes with gentrification often disproportionately affects lower-income people of color. In the blocks surrounding where I grew up, where vibrant Puerto Rican and Dominican cultures once thrived, salsa and merengue music booming during front-stoop barbecues, an air of sterilization has set in. I also often wonder what has happened to the younger, but now elderly, friends of my grandparents who never owned their homes.
I've found myself living inside the quintessential gentrification dilemma.
It's also impossible, however, to ignore the beauty in the metamorphosis of warehouse-laden, desolate, high-crime neighborhoods into not only safer and more livable, but electric destinations — including the supposedly seventh-coolest in the world (how are these calculations made, again?) — where Beyoncé has been spotted eating pizza and episodes of Girls are filmed. Every day there seems to be a charming new shop, studio, or DIY space that of course I'm going to take advantage of (and ignore swelling feelings of alienation over) as a thirtysomething who has to walk only a few blocks to get there. I've found myself living inside the quintessential gentrification dilemma; and in New York, as with everything in this city, the extremity of it all borders on ludicrous.
There's a pride specific to native New Yorkers who still live in the city — an elusive, dying breed — that veers into the irrational and the obnoxious. It's a pride we enjoy basking in, if not least to strengthen the bonds with fellow indigenous New Yorkers. It's a pride that cringes at articles and videos about what New Yorkers "are really like," because New Yorkers are some of the kindest, funniest, most sincere people we know; and no, a real New Yorker wouldn't ignore you if you asked for directions, we'd ask you to repeat the directions back to us so we were certain you knew where you were going.
And few things can fire us up like ruminating on the gentrifiers who've stripped our turf of its character, shaping it into the greenscreen version of the city they imagined it would be before they'd even set foot here. They slap mission statements on neighborhoods and leave us with a watered-down, expensive knockoff of what was once our gritty (but somehow still marvelously cozy) home.
Several of my hometown friends have bemoaned the struggle, for instance, of striking up conversation with strangers in New Brooklyn bars — gangly boys slumped over books, or pairs in conversations too pretentious to ease our way into. At our old local haunts, accents (New York, European, Latino) mingle easily, and the atmosphere has always been more family reunion than art gallery opening. Over the past decade or so, it's felt easy to blame the deterioration of that friendly, breezy culture on "those new people." Hyper-nostalgia regularly creeps its way into discussions with old friends as a way of validating our complicated feelings.
Being mistaken for a gentrifier myself has been especially dismaying. My grandma was hospitalized in Bushwick shortly before she died in 2003. One evening, taking a break from visiting her, I stopped into a bodega to grab a snack. The lady behind the counter, a petite Latina woman probably in her sixties, with thinning gray hair and a warm smile, asked me, "Are you new to the neighborhood?"
I knew she was just trying to make friendly conversation, and to her credit, in pink tights and blue legwarmers and carrying a band tote bag, I imagined neon arrows reading "hipster" flashing wildly above me as I walked through the door. "No, I'm just visiting my grandma at the hospital next door," I said, smiling through clenched teeth. "I was actually born there, too."
I began to recognize it for what a lot of it really is: nostalgia, not for the grittiness of decades past, but for experiencing the city as someone young and carefree.
And so, with each new bar or restaurant or gallery that popped up in Brooklyn, it became a point of pride to make it known that I was there first — it was my city, my borough, and yes, while we're walking to the new farm-to-table restaurant off the L train that got really great Yelp reviews I will point out the corner where I used to wait with my mom for the B13 bus I rode to elementary school. The cooler my neighborhood got, the cooler it felt to be from there — even as I started to age out of the demographic that all this coolness was intended to appeal to most. I would pepper friendly conversation with comments about what it used to be like in the "old days," just to make sure you couldn't forget that I'd been part of this wonderful, awful city long before you got here to experience the sanitized version.
Eventually, I woke up. Over the past few years, I've stopped feeling so territorial, so immature, so angry for the wrong reasons at the wrong people. It's futile to resent people who pack up everything in pursuit of their dreams in this city; they don't want to see longtime residents displaced, either. And that deep, soul-encompassing longing for the Old New York? I began to recognize it for what a lot of it really is: nostalgia, not for the grittiness of outer-borough neighborhoods in decades past, but for experiencing the city as someone young and carefree.
I realized that big cities evolve, and 1960s New York was not 1990s New York was not 2015 New York; it's irrational to expect any other reality if you choose to stick around in one for more than a handful of years. Neighborhoods mutate to cater to new inhabitants, or else they simply won't survive. Of course, I would love to enjoy all the perks of this fresh new version of home without having the people who built this city — who are this city — suddenly struggling to stay afloat. But gentrification is complicated, and I can't pretend that these two Brooklyns can ever seamlessly coexist.

When the New York Times profiled Ridgewood, Queens, in 2014, declaring it the next frontier for Brooklyn gentrifiers priced out of Bushwick and Greenpoint, many of my longtime neighborhood friends went into immediate "they've found out about us" panic: Rents would skyrocket, a Starbucks and a Whole Foods would appear, and mustachioed Midwestern bartenders slinging artisanal cocktails would replace the fluorescent-lit, themeless sports bars that served us amaretto sours as underage drinkers. But by that point, I was the asshole who couldn't wait for it to happen.
Finally, I thought, we'd be on the map! No longer would I have to answer misguided questions about what it was like to live in Ridgewood, New Jersey! I could actually walk to brunch, and more than one bar with a wine list, instead of worrying if the L train was running! All this from the comfort of my parents' two-family home, where I still lived at the time, paying way below market as their second-floor tenant. I didn't see any reason to resist the impending influx of cool, hip transplants who would eventually make my quaint (but boring) neighborhood hip and cool, too.
At an intimate Lauryn Hill show in Williamsburg earlier this year, someone who had been smoking a very fragrant joint was yanked out of the crowd by a bouncer thrice his size. "This never would've happened in the old New York," my high school friend Rafael said to me. Well, I mean, maybe it would have, but I understand what he was getting at. At some grimy basement show in non-gentrified Brooklyn, probably, possibly, this wouldn't have happened.
I nodded along, but it's difficult to lament the dissipation of the city that shaped you when you're part of the culture fueling the escalating rents, justifying the higher cost of living, embracing every incarnation of its constantly shifting form. Yes, I have abandoned the tacky local bar in favor of $12 drinks in once-barren pockets of the borough; I order vegan pizza from the place that opened a year ago instead of from the same, family-owned pizzeria my parents have been going to for 20 years; I've skipped the trusty corner bodega and stopped at the new organic grocery store for kombucha instead.
I actually love that more people are flocking to my neighborhood, and so I have fewer excuses to leave it.
Ridgewood's gentrification journey — one, it may be important to note, less fraught with racial tension than it has been elsewhere, as much of Ridgewood has always been a predominantly white (though also significantly Latino) community — in reality has been slow and subtle. It's uncertain at what rate this change will continue. What is certain is that I actually love that more people are flocking to my neighborhood, and so I have fewer excuses to leave it. Do I believe I should feel guilty about this? Yes. Do I actually feel guilty? No.
Being able to enjoy the neighborhood I've poured my entire life savings into — the place that also happens to be the only one I've ever considered home — is validating and comforting. I'd be kidding myself to say otherwise. (Although Bushwick and Ridgewood are technically in different boroughs, I live a five-minute drive from the house I grew up in, and consider the two areas to be the same neighborhood, official borders notwithstanding.)
Gentrification has been good to my family. In the mid-'00s, after my grandma passed, my parents sold her house in Bushwick (to a Brooklyn-born Latino family), and they've seen the market value of their own home soar over the past decade. Yet a tiny voice pops in from time to time to remind me that my hope that the cost of living here will increase — mildly to moderately — so maybe one day I can sell my apartment and buy the dream house with the sprawling yard, is a betrayal of the most selfish variety. The voice says that I'm a traitor to my upbringing and to the hardworking people close to me, both metaphorically and geographically, who've found themselves worrying about comfortably making rent each month in their own hometown. I fear I'll never be able to silence it completely, but I also know I shouldn't apologize for wanting a good, stable life in a flourishing neighborhood. As my acceptance of that grows, the voice might wane.
When the weather is nice, my parents have weekend stoop sales, and with each weekend they've seen a few extra dollars, as more new, young people are likely to be strolling down their block, interested in the kitschy wares they've collected over the years. They love chatting up the latest neighbors, discovering their backstories, and offering extra deals to the warm ones who'll stick around to humor them with some friendly conversation. It's a good reminder that while there is beauty in solidly planted roots, there can be just as much in the direction you grow.