It's melty cheese dip INSIDE a loaf of bread. What more can you ask for???
Jalapeño Popper Dip Bread Bowl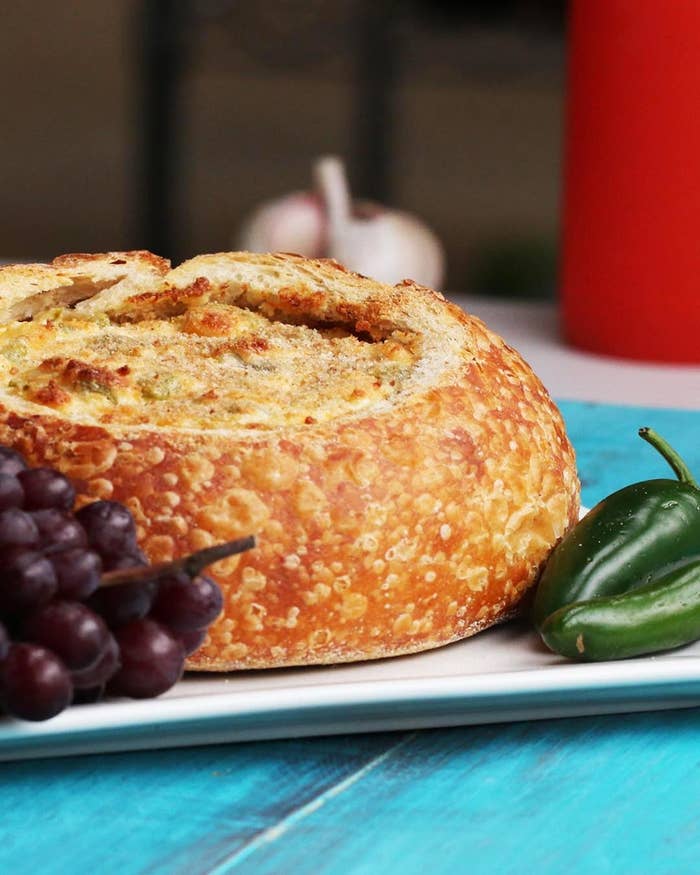 INGREDIENTS:
Servings: 12–16
4 oz (1 can) diced jalapeño peppers
4 oz (1 can) chopped green chiles
1 cup parmesan cheese, grated
1 cup cheddar cheese, shredded
1 cup mayonnaise
¼ cup seasoned bread crumbs
1 round loaf sourdough bread
2 Tbsp. minced garlic
4 Tbsp. butter, melted
PREPARATION:
1. Preheat oven to 350ºF/175ºC.
2. In a large bowl mix together the cream cheese, chilies, jalapeños, parmesan cheese, cheddar cheese, and mayonnaise.
3. Take the round loaf of sourdough, slice off the top and set it aside.
4. With a butter knife cut the circumference within the bread bowl and use a spoon to pull the cylinder of bread out of the loaf, set this aside with the top.
5. Spoon the jalapeño mixture into the bread bowl so that it is filled to the top, sprinkle breadcrumbs over top.
6. Place the bread bowl into the oven for 30-35 minutes or until breadcrumbs and bread bowl have browned.
8. Slice the bread cylinder into 2 or 3 pieces.
9. Mix melted butter and minced garlic in a small bowl and evenly distribute over bread slices and the top of the bread bowl.
7. When there are 15 minutes remaining on the bread bowl place garlic bread slices into the oven alongside it.
8. Remove bowl and garlic bread slices from oven.
9. Use garlic bread to dip!
Inspired by: http://allrecipes.com/recipe/203218/insanely-amazing-jalapeno-cheese-dip/ AND http://www.tasteofhome.com/recipes/jalapeno-popper-dip