We Have An Exclusive Discount For Blume And I'm So Excited To Get My Period?!
You lucky readers get 15% off with our ~exclusive code~ 💃!!!!
We hope you love the products we recommend! All of them were independently selected by our editors. Just so you know, BuzzFeed may collect a share of sales or other compensation from the links on this page if you decide to shop from them. Oh, and FYI — prices are accurate and items in stock as of time of publication.
Friends! Foes! Everyone in between! Do we have some good news for YOU. You can now get 15% off at Blume with our ~exclusive code~ BUZZFEED15!
You have two options: you can build a custom box that'll deliver a monthly supply of organic tampons, pads, and more right to your door, OR buy their amazing products individually! It's a win, win.
Building your box is a FANTASTIC deal — with our BUZZFEED15 code, you'll get a monthly supply of high-quality tampons and pads for only $9.35+ per month (originally $11/month)!!!!
First, you simply pick which product you prefer to use: tampons or pads — or maybe you like to use both! I usually go with the ~flow~ and use either so I went with tampons *and* pads.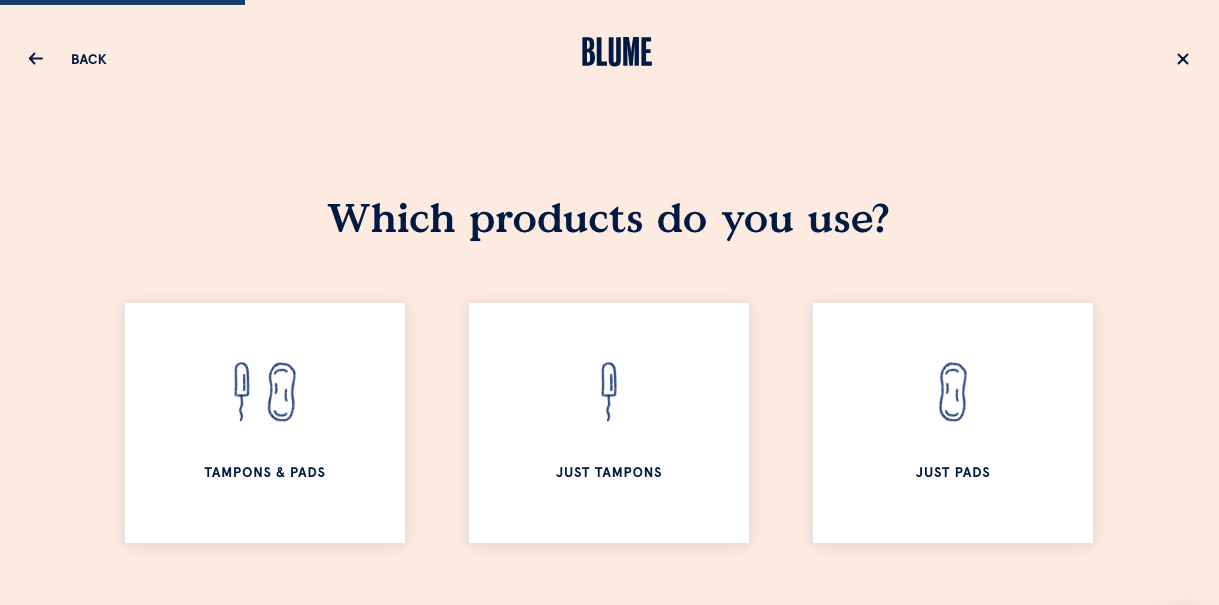 Next! You'll pick your ~base~ aka which style/thickness you prefer. Because I picked both tamps and pads, my choice was between super tampons and overnight pads, or just good 'ol regular. I like to play things SUPER safe so I went straight for the former.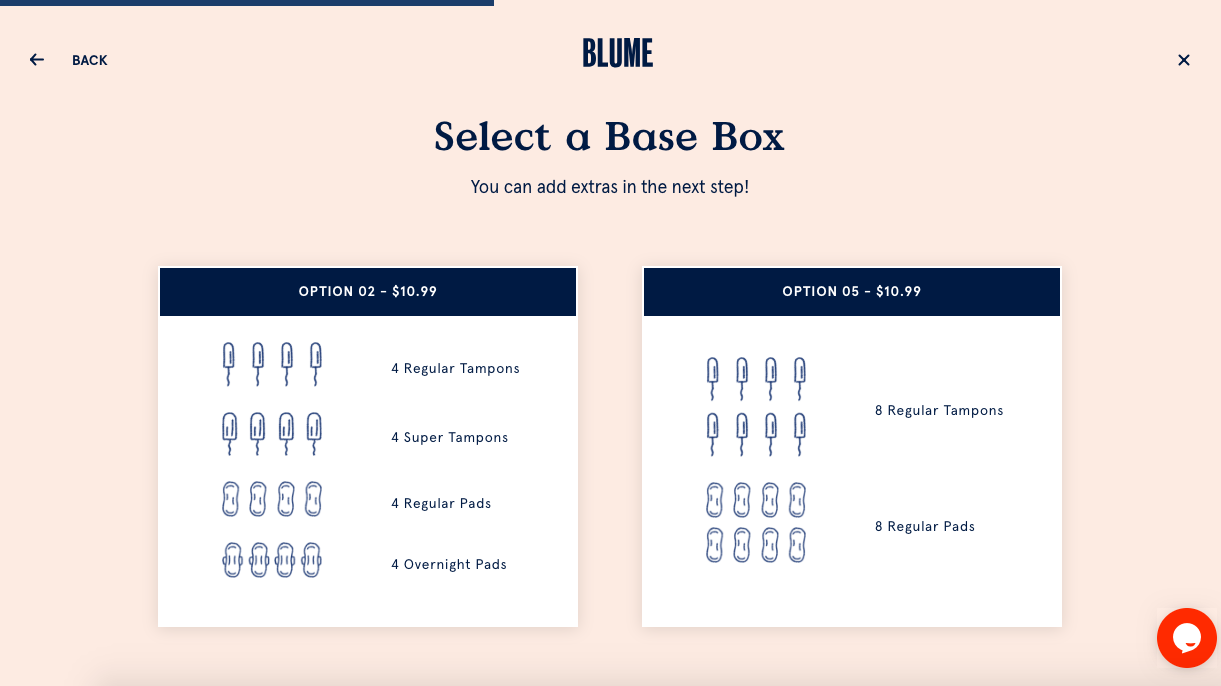 THEN! You can add some extras, because you and I both know you'll need them. This is not a game people, do not leave yourself open to public restroom tampons!!! I threw in some liners, because tbh I'm tired of adding more and more underwear to the....~period collection~. You know what I'm talking about.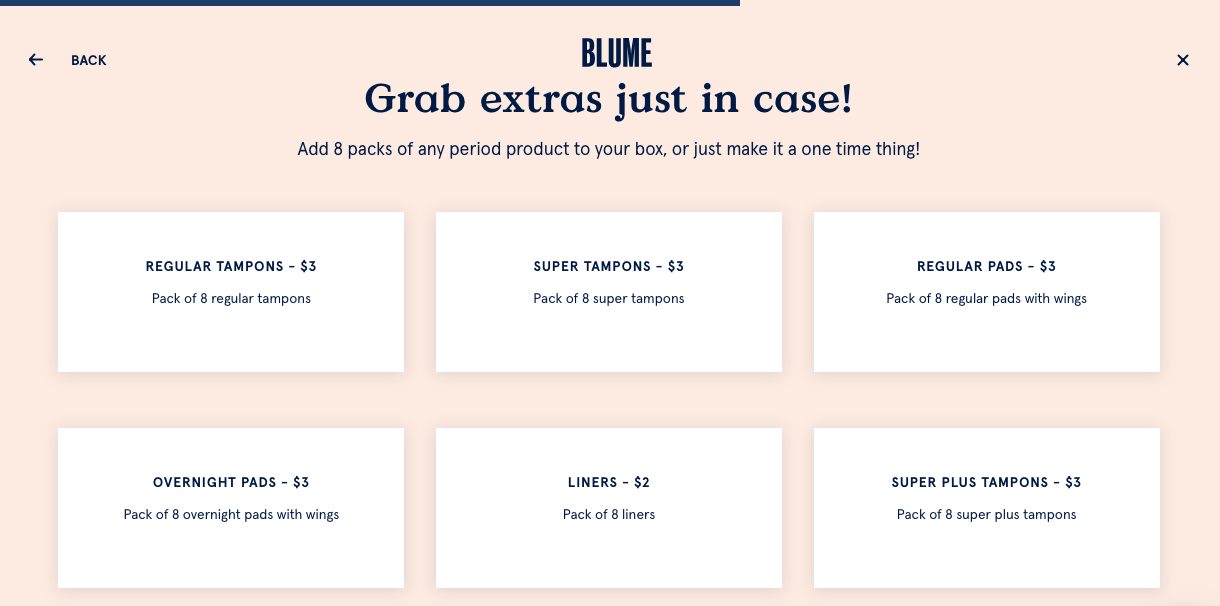 Last chance to *boost* your box! You can treat yourself to a much-deserved self-care bundle, enjoy a surprise dessert (usually 🍫), or soothe cramps with an essential oil blend and tea. All wise choices, but I picked the "PMS Bundle" to put an end to trying to sleep in the downward dog position. I'm already...well-stocked on chocolate.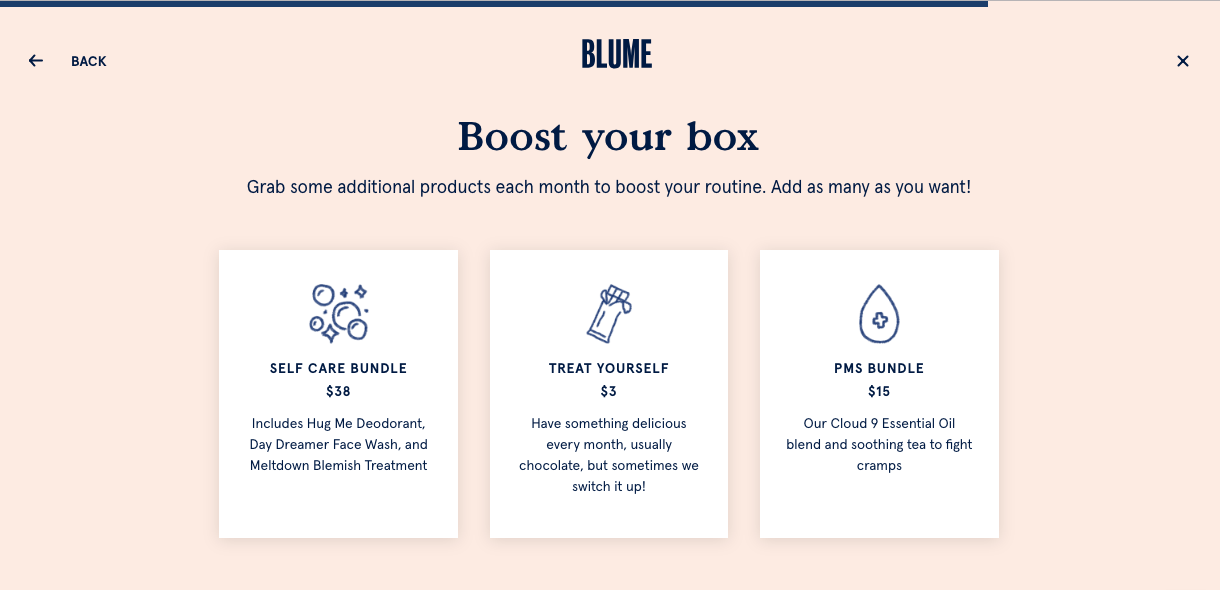 That's it! Your custom box will be all set, for only $9.35+ per month (originally $11/month) ✨. Want to buy their products individually? GOOD NEWS: you can!
Shall we explore all our options?? OBVIOUSLY. Let's begin:
1.
An essential oil roll, because this'll help you stop, drop, and *roll* the next time you're overwhelmed by cramps. Its natural blend of jojoba, peppermint, and vitamin E work together to soothe bloating and cramping, and can even ease headaches! Feel free to still stay in bed all day with a tub of ice cream. You deserve it.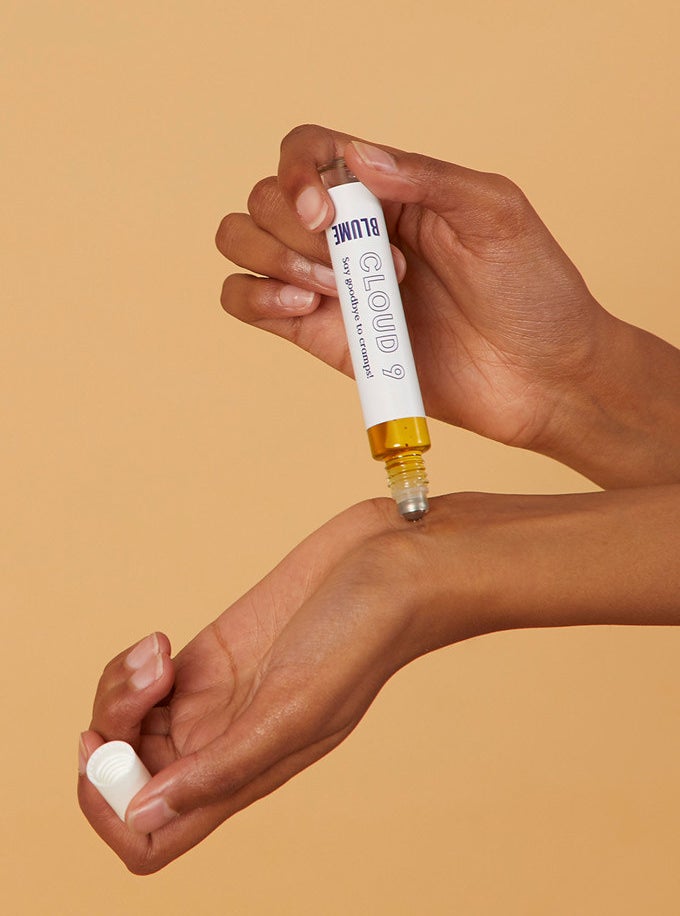 2.
A gentle face wash that'll basically take care of everything before you can work yourself into a lather over breakouts. Its formula of moor and soothing plant extracts (i.e. jojoba, chamomile, lavender, and geranium) moisturizes, deep-cleanses, and helps to reduce redness and acne. Not all heroes wear capes, indeed.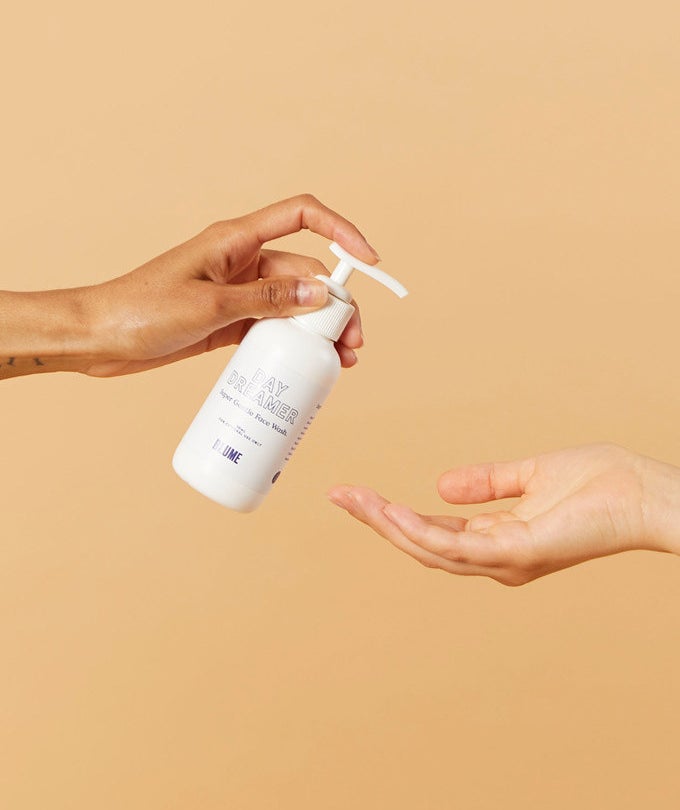 3.
A set of organic tampons so you actually know what you're putting in your body (no pun intended). They're made of 100% organic cotton with a soft outer layer and an absorbent and ~leak-proof~ inner layer. Aka ZERO accidents are happening on their watch.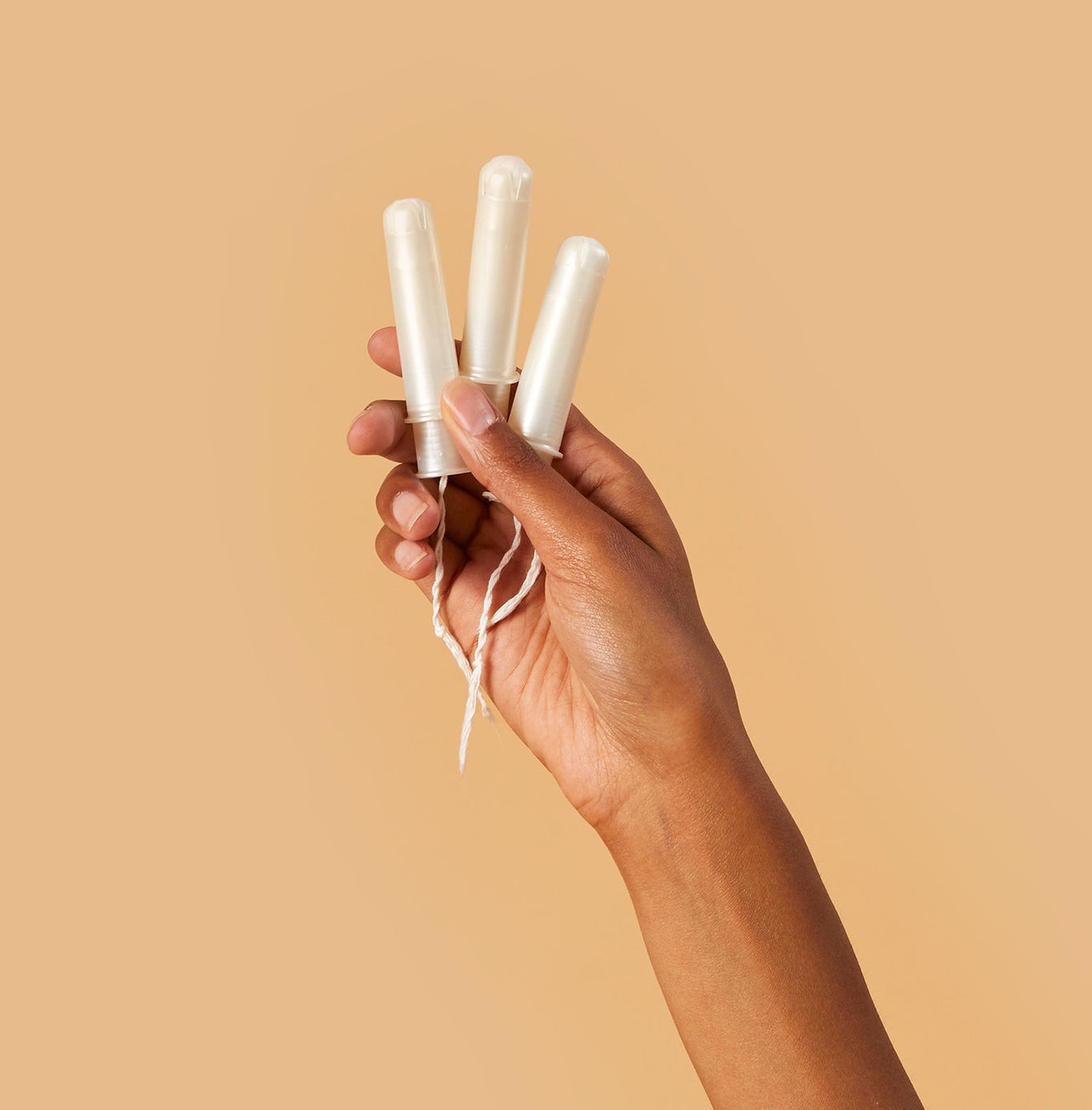 4.
An acne spot treatment for zapping pesky breakouts the minute they arrive. Its powerful blend of black cumin seed, blue tansy, and tea tree leaf oils go straight to the source to reduce inflammation and prevent scarring. I suppose you could say this really will ~drop~ the mic.
5.
A pack of organic pads, because these are SO much more comfortable than the glorified diapers our moms used to give us. Not only are they breathable, comfortable, and absorbent, but they'll actually mold to the shape of *your* body so you can still wear whatever the heck you want. No more designated thick period pants.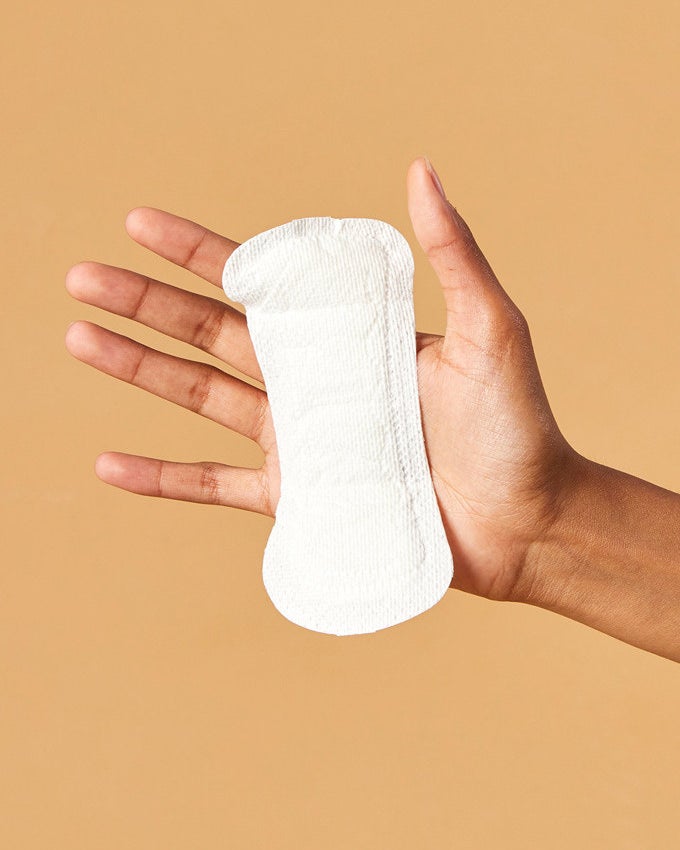 6.
A natural deodorant that'll FINALLY allow you to go ~au natural~ without worrying about reapplying every three seconds. Its secret weapon, probiotics, keeps you nice and fresh for a full 24 hours. Aka this is the ePITome of organic deodorants.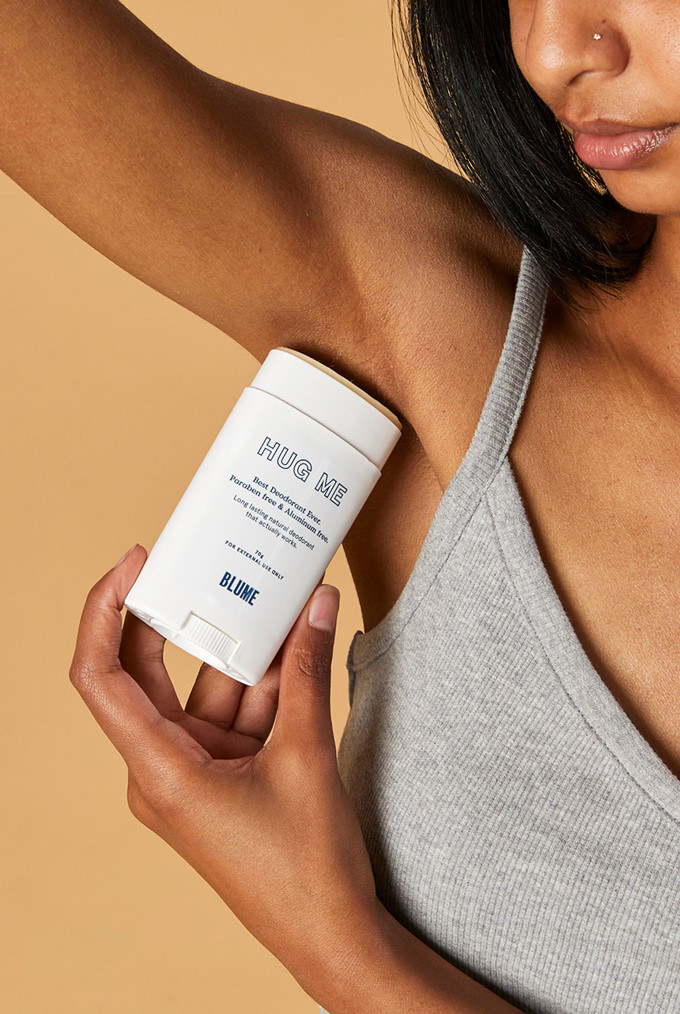 That's it, folks! Tl;dr: everything is 15% off when you use BUZZFEED15 at checkout! Build a monthly custom box for cheap or shop individually!
Shopping for something specific? Check out BuzzFeed Reviews to find the best things for every budget!