1.
An oh-so-chic adjustable mini belted pack (aka ~fanny pack~) you can wear around your waist or shoulder for a lightweight bag alternative when you're on the move. Psst — a lot of reviewers mention this is an excellent alternative to the popular Lululemon one! 

2.
Essence's Lash Princess mascara, because TBH, we've all wasted too many years and too much money looking for the ~holy grail~ mascara. This one is less than $5, gives you instant length, and is DELIGHTFULLY sweatproof.
Hello, that is my face above, because I bought into the hype of all the 5-star reviews and now I will never look back!! Putting it on is like giving my eyelashes butterfly wings. It doesn't get clumpy, it stays put no matter how much you sweat, and you can apply it on very lightly if you don't want it to look so dramatic, or continue applying for longer lashes each time.
Promising review: "Saw this product on TikTok and thought it would be expensive looking at the results they got. I am beyond amazed with how my lashes look after about two coats. For around $5 you couldn't ask for a better mascara! I will be buying this same one when I run out. I was not expecting to like it as much as I do! No complaints." —Kd
Get it from Amazon for $4.99.
3.
An undetectable mouse jiggler for folks working at home who need to stay "active" on Gchat, Teams, or Slack and sometimes want to dash out to use the bathroom or walk the dog without doing the whole "BRB, BACK IN A BIT!!" song and dance every time they dare to get up from their desk. 

Promising review: "Like everyone else, I stumbled upon this product because of a TikTok I saw. Setup was extremely easy and I'm pleased to say that my Teams green light is on all the time now. Workers of the world, unite." —Amazon Customer
Get it from Amazon for $29.99 (available in eight styles). 
4.
A copy of Burn After Writing, a guided journal that tens of thousands of reviewers swear by — through a series of questions and thought experiments, it encourages people to take time away from their screens to explore their feelings, both new and old, so they can embrace meaningful ones and try to let others go. 

Promising review: "I first saw this book on TikTok and decided to look more into it. I purchased four total because I know some people holding onto things that are difficult to let go of. It's a great way to look at things from a different perspective and truly hold yourself accountable to different things in your life. I love what it stands for and I look forward to when I burn mine after I'm done. Self love, self care, and meditation for a better state of mind tomorrow is always the goal. I definitely recommend it to those susceptible to change and the willingness to try things different. You're so much more than what's been done to you and someone's inability to see your worth does not decrease your value. Choose you for a change." —Brent Helm
Get it from Amazon for $7.32.  
5.
A set of exfoliating gloves for the bath or shower you can use to ~deep clean~ all over your body, letting you get extra specific about the exfoliation pressure because you're using your own hands to do it. These also come in three different textures — light, moderate, and heavy — so you can get one to best match your skin sensitivity. 
Evridwear is a small business that specializes in gloves for work, personal care, and weather use. 
Promising review: "This is one of my favorite purchases. Not gonna lie, TikTok made me buy this. So I buy it and I'm still a little nervous because it's literally a glove. But nah, I used it with liquid body soap and I've never felt so clean in my whole life. I got out of the shower feeling like a freshly birthed baby. My skin had never felt so clean and I questioned how I went 32 years without this." —Brittney
Get a pair from Amazon for $6.99+ (available in three textures, various colors, and as sets of two or three). 
6.
A set of affordable, highly popular wireless Bluetooth earbuds that reviewers say are similar in quality to AirPods, except arguably better — these are completely waterproof (like, you can fully take them in the shower) and come with several silicone earbuds to get the best fit possible.
These come with a wireless charging case that provides up to 14 hours of charge (with the earbuds able to play for four-plus hours with each full charge). 
Promising review: "Best decision! These are the greatest headphones ever! I saw them on TikTok months ago and added them to my wishlist. I got a new phone that doesn't have the headphone port so I decided it was time to finally buy them. They are amazing and I probably won't ever take them out of my ears! 😂" —Kate Arnold
Get it from Amazon $23.99+ (available in five colors).

7.
A plug-in color-shifting mushroom light for anyone whose little cottagecore heart could use an extra dose of cozy to calm them down. 
Check out a TikTok of the mushroom nightlight in action. 
Promising review: "I LOVE this night-light. It's in my bathroom and is a lovely addition. It turns off the second the lights go on, which is nice because I don't have to worry about accidentally leaving it on. Super cute and the little itty-bitty lighting element does a good job lighting, just enough so I don't have to turn the main lights on in the middle of the night." —1Thand

Get it from Amazon for $5.97. 
8.
A ridiculously charming octopus-shaped blackhead remover you can use to gently scrub as part of your skin routine or in the shower to remove excess sebum to exfoliate pores and pull out blackheads, whiteheads, and other miscellaneous gunk from the day that you'd rather evict. 
Promising review: "I saw this on TikTok, it works great so far." —MarMarManuel
*Another* promising review: "After just two days of use, this adorable little octopus has done wonders for me, smells great too. Here's how I used it: I wore down the stick just a little to where the texture from the salt is visible, scrubbed around on my face so there was plenty of product, then I used my fingers to gently massage all the gunk away. Rinse, pat dry, and enjoy the softness. Highly recommended for people with sensitive skin like myself." —LuckLocust
Get it from Amazon for $12.50. 
9.
A bottle of Elizavecca Hair Treatment, an Olaplex-like repairing mask infused with collagen ingredients and protein extracts that will help restore hair health and reduce shedding. All you gotta do is apply it on wet hair after a shampoo, wait five minutes, and rinse it out.
This is designed to work on all hair types, with reviewers with 2b–4c curls mentioning it worked for them! 
Promising review: "I have tried everything on the market to fix my damaged, bleached hair that keeps breaking off. I stumbled across this hair treatment on TikTok. I had never heard of it before but decided to give it a try. I used it for the first time yesterday and I couldn't believe how amazing it made my hair feel and look. It's sooo soft, shiny, bouncy and nourished. My bleached rat's nest now looks and feels like hair again. Even my boyfriend noticed a huge difference in my hair. I'm going to buy a lot more of this product. I've been really frustrated about my hair for years now because of all the damage. Now I can finally relax and enjoy my new hair." —Eline
Check out BuzzFeed's full review of the Elizavecca hair treatment for more deets!
Get a bottle from Amazon for $7.29.
10.
A heatless curling rod headband that you can wrap your hair into before you go to bed at night, then wake up in the morning with big lustrous curls (and no heat damage from your frenemy the curling iron!). 

Each set comes with a curling rod, two hair scrunchies, a claw hair clip, and two duckbill hair clips to set it in place. These are designed to work with all hair types, but work best if you roll them with damp hair! 
Promising review: "Before purchasing, I'd seen a lot of reviews and tutorials on TikTok showing the results. My hair is thick, coarse, and naturally wavy, so I figured this might be a good alternative to rollers that are time-consuming to put in, difficult to sleep in, and ultimately not worth it. And MAN was I right to be hopeful. Wrap pieces of damp hair around it before bed, the tighter the wrap, the tighter the curl. Easy to sleep in since there's nothing on the back of your head, and my curls are BOUNCY the next morning. My only complaint is that it doesn't help give any top-volume, but nothing some teasing can't fix. 10/10. I'll never go back to a curling iron." —Mariah
Get it from Amazon for $6.99+ (available in six colors). 
11.
A cloud-shaped magnetic key holder for an absurdly cute storage option for keys that will prettttyyy much guarantee you never lose them again. 
Promising review: "So, yes, TikTok made me buy this, but so far I really like it. It's obviously very adorable and offers a charming spot to keep my keys that works with my entryway. I'm really surprised by how strong the hold is for such a small object — I carry my car fob and a few keys and so far it's holding strong. I hung it with Command strips to avoid any potential damage to the wall and I will say make sure it's level as the hold is not so good on an angle (but that was from the original in-hand testing). Definitely recommend and for the price, I'm very tempted to get one for my at-work office." —D. Carter 
Get it from Amazon for $6.98. 
12.
A Michael Scott/Prison Mike reversible dishwasher magnet so you always know whether the dishes in there are clean and need to be put away, or whether they're dirty and here to SCARE YOU STRAIGHT.
Check out a TikTok of the Michael Scott dishwasher magnet in action. 

Promising review: "My whole family is a fan of The Office, so when I was searching for a magnet we could use on our dishwasher, this was the hands-down winner. Does it go with my farmhouse decor? Nope, not at all. But it does get the attention of two teenage boys. Had I gone with something a bit more my decor style, I can guarantee you it would not be as useful. I mean, we all would much rather see Prison Mike staring back at us than suit and tie Michael Scott, right? And there is only one way for that to happen...clean out the dishwasher!" —R. Funk

Get it from Amazon for $8.99.
13.
A portable Chill-O-Matic Instant Beverage Cooler, aka every finicky cold bevvie drinker's DREAM. This gadget can take a 12-ounce can of seltzer, soda, or beer at room temperature and make it ice cold in just one minute. A lot of people who complain that their fridge doesn't make drinks "cold enough" also swear by this for an extra icy kick.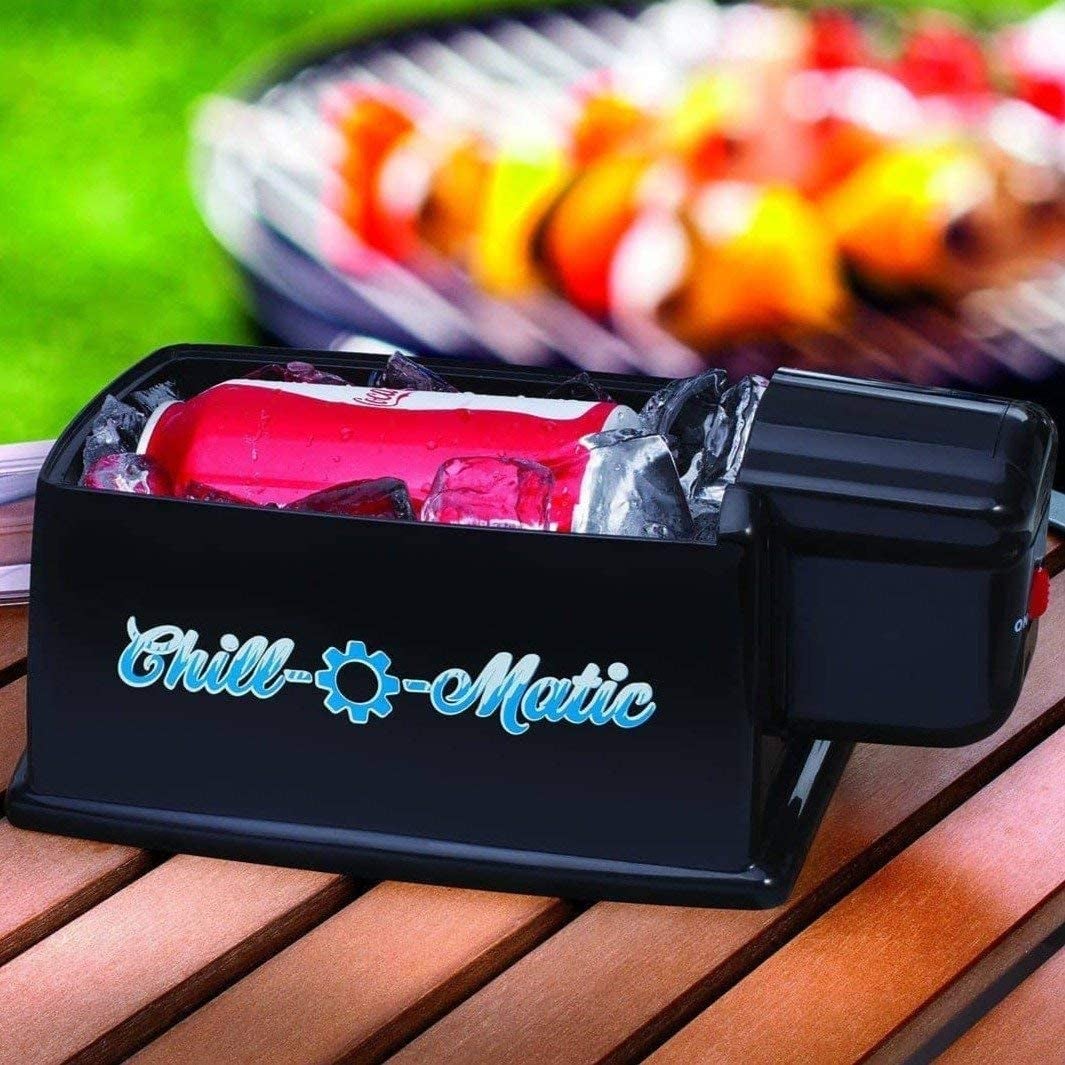 Chill-O-Matic is a small business that specializes in beverage accessories. 
Check out a TikTok of the Chill-O-Matic in action. 

Promising review: "I was so afraid of wasting money. But I didn't. I love my sodas cold. But sometimes there's not a cold one available, and waiting 30-40 min for one to get cold in the freezer is not always ideal. This will get your room temp can to fridge cold in 90 seconds. I let it run double that to get almost freezer cold. I wish it had a power cord. But I do appreciate the portability that the batteries provide. I can't wait to try it out on vacationing, as access to cold sodas isn't always available. All you need is a literally a little bit of ice." —G. Massey
Get it from Amazon for $29.99.