1.
A vacuum-free space-saving compression bag so easy to use that all you have to do is stick your clothes inside, zip up the bag, roll the bag, and watch all the excess air get squished out of them until your clothes magically shrink. Yes, maybe it's only a weekend trip, but some of us need OPTIONS!! 
HELLO, I AM OBSESSED WITH THESE. Despite all the rave reviews I was definitely skeptical of space-saving bags that didn't require a vacuum, and even as they were actively squishing my clothes into oblivion I still couldn't quite believe it. I had easily two suitcases worth of clothes I wanted to pack for a three-week trip to London, and I managed to neatly pack the entirety of my wardrobe in one roller carry-on bag. Truly all I had to do was put my clothes in the bag, push them to the bottom, and then sit on it to get the air out before sealing it up. I had tons of extra bags and make a habit of taking them with me in case other people joining me on trips need them to be able to pack souvenirs on the way home. I'm never taking a long trip without these again — these are worth every damn penny. 
Get a set of eight from Amazon for $14.97. 

2.
Plus a set of packing cubes to not only save space, but keep everything nice and organized, so you can just plop your "pants cube" or your "socks and underwear cube" directly into the drawers when you reach your destination. 
Promising review: "I found out about the packing cubes on TikTok from a woman that travels all over. She mentioned these travel cubes and knew I had to get them. I travel and usually stay in one spot for more than a month so packing gets tricky. I can now pack more neatly and have more room for all the clothes I travel with." —Magen Vaughn

Get a six-piece set from Amazon for $17.99+ (available in 12 colors).
3.
A hanging cosmetic bag whose motto is "No beauty product left behind!!" This easy-to-clean, clear-pocketed compact bag fans out so you have all your beloved makeup and skincare organized and at your disposal, converting any hotel bathroom into home sweet home.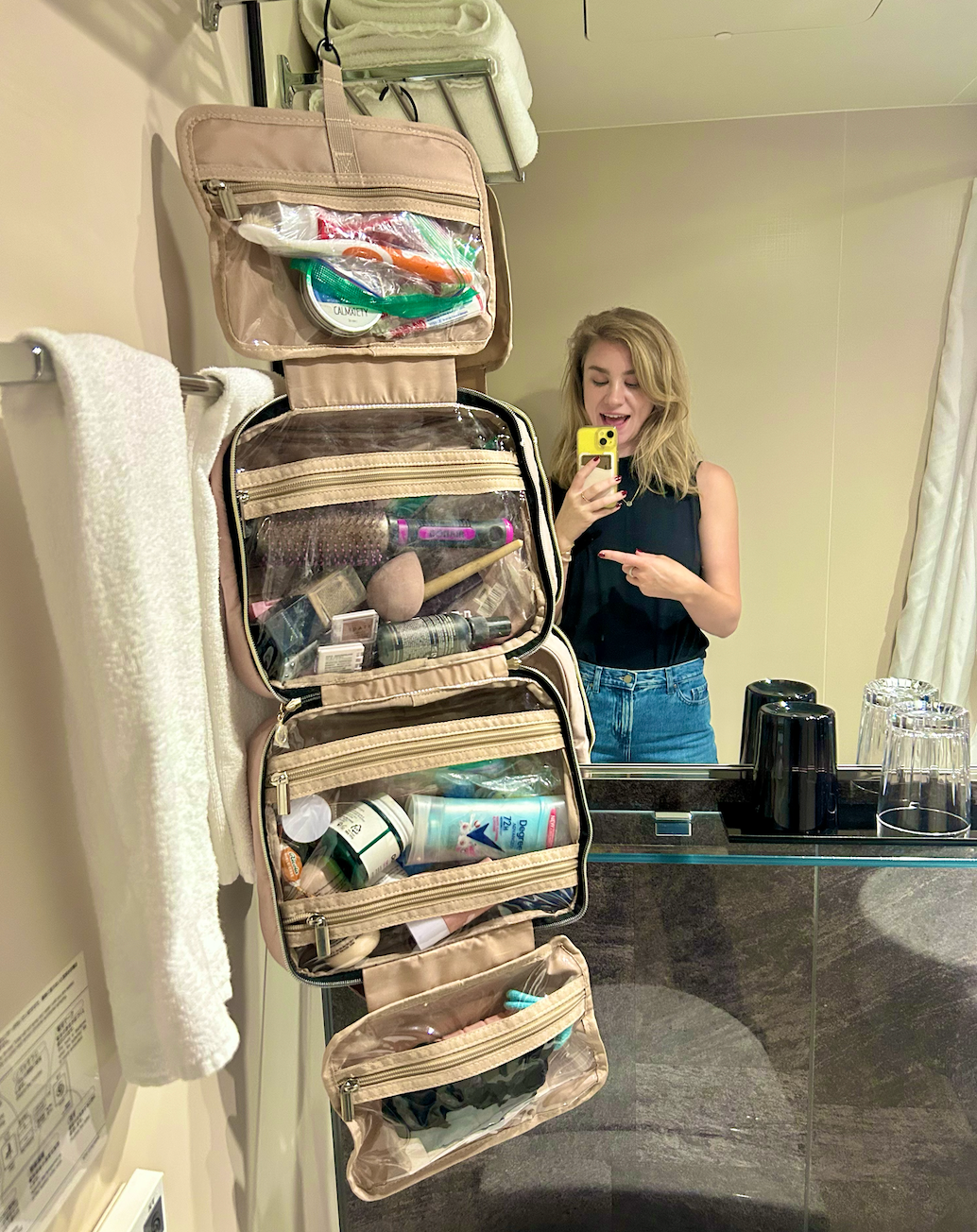 I will scream this thing's virtues on every corner of this earth. I used this on an eight-day international trip. It fit a veritable arsenal of products — all of my skincare, makeup, hair supplies, toothbrush, toothpaste, and deodorant were wedged in the different pockets, and still compacted easily and went right into my carryon backpack. It made setting up at the hotel a two-second process of hanging it up and having all my products instantly accessible to me and easy to put away. I cannot imagine traveling without it, especially now that I've used it on a multi-city trip where it was so handy to fold back up and take through multiple hotels. At one point, I forgot to properly close a lotion, and it exploded a bit, and the bag was super easy to clean from the inside! 
Get it from Amazon for $22.99+ (available in two sizes and 12 colors). 

4.
A folding pill organizer with conveniently visible pill windows for easy access. Each has six small compartments for little pills, plus a large compartment for capsules and vitamins, making it ideal for trips where you might need a lil' emergency pharmacy in your backpack but don't want to take up space. 

Promising review: "If you travel, I suggest buying several of these! They organize pills very well and always stay shut and are easy to pack. I also use one for my jewelry when I travel. They stay closed with a strong magnet and fit into a corner of your luggage very easily. I also used a label maker and labeled the individual spaces with the name of the supplement to help organize my partner!" —Anna Zucker

Get it from Amazon for $6.79. 
5.
A hands-free (rotating!) phone mount designed for use on all airlines — not only can you mount it to the tray table of an airplane seat, but to the arm of a chair or any flat surface, so you'll be able to stream content easy as pie wherever you roam. Reviewers have used it on everything from their car dashboards to carry-on handles to office desks to bedside tables. 
Perilogics is a small business creating hyper-functional tool holsters and bags for carrying your stuff on the go. 
Promising review: "I bought this nifty gadget about six months ago for a multi-leg, ultra long-haul trip and it more than held up the entire duration. I was able to finagle it to fit the tray tables on different planes and like others, I find the height just nice when clamped onto a stowed tray table. It also works on my roller carry-on handle during layovers." —Earendil
Get it from Amazon for $12.97.
6.
A fully waterproof tricked out travel backpack complete with *deep breath* two laptop sleeves, a shoe compartment, a secret anti-theft pocket, a USB charging port, and a "wet bag" to keep sweaty clothes or liquids away from your tech. Oh, and it's cute as a BUTTON to boot. Who gave this backpack the right to flex on other backpacks this hard??? 

Promising review: "I recently took a cross-country flight with my three kids. I really didn't want to worry about checked bags getting lost so maximizing our carry-ons was a priority. This backpack fit an unfathomable amount of stuff! Lots of zippers and compartments for everything from shoes to laptops/iPads, easy access compartments for cell phones and boarding passes, I fit tons of neatly folded clothes. The best part was that fully loaded it easily slid under the seat." —Kindle Customer

Get it from Amazon for $26.99+ (available in three sizes and 33 styles). 
7.
Plus an elegant, minimalist-style anti-theft backpack designed so cleverly that even the most notorious pickpockets will be like, "Oh damn. Flex." The main compartment is actually in the back, so nobody will even be able to *see* the zippers to try and steal from it. And because this bag is an overachiever, it also water-resistant and *super* comfy, with adjustable shoulder straps. 
Promising review: "I cannot say enough amazing things about this backpack. It's surprisingly spacious for how small the bag is, which makes it portable/practical and comfortable. This backpack lasted an entire trip through a number of airports and layovers, and all across our trip through Europe. It was amazing. Because the main zipper sat against my back, I never worried about getting my items stolen. But I also had the luxury of having the two front zippers that were also surprisingly spacious to hold non-precious items such as water bottles or cheap sunglasses." —H. Bradshaw

Get it from Amazon for $26.99+ (available in two sizes and seven colors).
8.
A 3-in-1 foldable magnetic wireless charger you'll honestly be mad you didn't know about before now?? It folds out from a small square into a rectangular charging pad with a spot for your iPhone, AirPods, *and* Apple Watch to charge all at the same time. Travelers and busy humans swear by it alike, because it saves soooo much space in their bags. 

Check out a TikTok of the foldable 3-in-1 charger in action. 

Promising review: "I use this product to charge my iPhone 13, AirPods, and Apple Watch. Prior to this 3-in-1 compact purchase, I have purchased three different kinds of 3-in-1 chargers. I frequently travel between school and home with carry-on bags on airlines and all of the previous stand version chargers doesn't fit well in my bags or I am always worried I would break. This is compact and folds so well that I can fit in my carry-on or in any zipper pockets without having to worry about breaking anything. Charger works really well and it is the best compact one you can find in market. Love it and been using it for two months now and no issues!!" —SBREDDY
Get it from Amazon for $39.99 (available in nine colors). 
9.
Plus a slim profile phone power bank for an easy, highly portable way to get a quick charge on your phone — especially great for long days out and about, or on trips where you're have zero time to go back to the hotel and charge. This bb may be small, but can fully charge an iPhone up to *three* times. 
Promising review: "I like the solid and sleek construction. Fits easily in my pocket. Most importantly it works! Fast charging, enough capacity to charge my phone many times over several days, and withstands plenty of me dropping it and yanking the cord out awkwardly and accidentally." —Joe Hull
Get it from Amazon for $12.59+ (available in two colors).

10.
A set of Sea Bands, which target an acupressure point on your wrists meant to help reduce nausea — a must-have for anyone who gets motion sick on long car rides, cruises, buses, and trains. 
Promising review: "These were awesome! My entire family suffers from motion sickness, especially carsickness. My little one gets sick in the car on a regular car ride through the city. So I knew that a long road trip was going to be a disaster. I was amazed at how well these bands worked for everyone! Not one single person complained about being sick for 12 hours in the car. I have suffered for decades and now I know better. I will never travel without mine again!" —1SmartCookie
Get a set of two from Amazon for $8.21.
11.
An oh-so-chic adjustable mini belted pack (aka ~fanny pack~) you can wear around your waist or shoulder for a lightweight bag alternative when you're on the move. A lot of reviewers mention how genuinely *stunned* they are by how much this little bag can secretly carry. 

Promising review: "TikTok told me this compared to Lululemon, and it's true, it is. Love this little bag! And the price — you can't beat it." —Jolie
BuzzFeeder Elizabeth Lilly also owns this — she packed it as her only bag for a trip to busy trip to Iceland, and not only did it hold a ton and keep her hands free, it easily fit around her waist over her outerwear. 

Get it from Amazon for $16.98 (available in 31 colors). 
12.
A roomy duffel bag that's just as handy on a weekend trip as it is on a trip to the gym — this durable, water-resistant duffel comes with long handles for easy maneuvering, a side panel to hook it to a roll-on suitcase, and even has compartments to separate dry clothes from wet/dirty clothes. 

Promising review: "I recently went camping and was able to pack a lot into this bag. It zipped up easily. I love the color, it's almost a 'neutral pink' and not too 'look at me, I'm Barbie in the woods!' The shoulder strap was comfortable, the handles were comfortable, too. It was snowing while unloading from the truck to the cabin and despite this bag getting wet (and VERY cold) everything inside was very dry." —Smile Saurus

Get it from Amazon for $21.49+ (available in five colors).
13.
An easy adhesive phone card holder to keep all your credit cards and cash on your person, because if there's ONE thing you know you'll never lose, it's your phone. (Listen, it's your sworn civic duty to the public to Instagram story every hour on vacation!!) 

Wallaroo Wallets is a small business that specializes in uniquely-designed minimalist wallets. 
I've used these wallets for four years now, and they are worth every penny! Mine last about six months at a time before they get dingy enough to replace, and easily hold three cards and a five dollar bill. I've never had any issues with them un-sticking off the phone case, and they're super easy to pull off. It makes my life so much easier not to carry a wallet around, plus I never lose my ID! 
Promising review: "The Wallaroo phone wallet is a must have for any cell phone owner. The quality of the leather and design of the wallet is superb. I recently went on vacation and purchased my Walleroo before my trip. It was so convenient to carry my ID, credit card and hotel key and not have to carry my actual wallet. This is a great product that I highly recommend." —Todd Smithson

Get it from Amazon $14.95 (available in 14 colors).