1.
A set of fast-acting Keurig cleaner pods you can simply put through a cycle on the machine to get rid of all the crusted-on grinds and residue that are *definitely* affecting the taste of your coffee, even if you haven't noticed over time.
Promising review: "I had no idea that cleaning a Keurig was a thing. I bought these because I saw them on TikTok, believe it or not. I wanted to give it a go because my Keurig isn't that old and I didn't think it would do anything. IT WORKS SO WELL! My Keurig wasn't as nasty as some I've seen, lucky. I would highly recommend, keeps everything running correctly and clean." —Lauren
Get a set of six from Amazon for $9.95.
2.
Essence's Lash Princess mascara, because TBH, we've all wasted too many years and too much money looking for the ~holy grail~ mascara. This one is less than $5, gives you instant length, and is DELIGHTFULLY sweatproof for the summer. 
Hello, that is my face above, because I bought into the hype of all the 5-star reviews and now I will never look back!! Putting it on is like giving my eyelashes butterfly wings. It doesn't get clumpy, it stays put ALL the livelong day no matter how much you sweat, and you can apply it on very lightly if you don't want it to look so dramatic, or continue applying for longer lashes each time.
Promising review: "This mascara is the bomb! You can't go wrong with this, especially with the price. Believe it or not I saw it on TikTok and had to try it. I am very pleased with it. I use makeup remover to remove it at night. I haven't had any problems with smudging. I also love the look that it gives my eyelashes. I apply one coat to each eye and then apply another to each eye. So, give it a try! I think you will like it!" —Happy Shopper
Get it from Amazon for $4.99.
3.
A fast-acting ChomChom pet hair remover roller that is deeply beloved by pet owners — it's like a sticky lint roller, but specifically designed to pick up pet hair. It not only locks it in, but also stashes it inside the roller itself so you don't end up making matters worse by just shoving the hair around (instead of getting rid of it properly). 

Promising review: "My cat sheds and I saw this on TikTok and very much thought of it as an impulsive purchase at first for its price tag. But no, this is a very very necessary item in my day to day life. Does it pick up every single hair leaving everything completely hairless, not really, it can be difficult to pick up hair from difficult crevices/corners and hair that's trapped within woven fabrics/upholsteries — HOWEVER — it does a wayyy wayyy better dang job than a lint roller or other products that rival this. My mother picked up something from a competitor and it did not clean up the hair as well as this did. I keep getting these for my pet-having friends as gifts because it's truly a holy grail product. I like that it picks up human hair too because as a long hair haver I can shed about as much as my cat does. It's a durable product too, I've had mine for about a year now and it still works like it used to and it's fairly easy to clean the inside." —Connie
Get it from Amazon for $28.95 (get this price by clipping the $3 off coupon on the product page). 
4.
An AirPod cleaning pen to gently dig into the nooks and crannies of your charger and speakers to restore your sound quality to top notch again (listen, Taylor Swift did not record the 10-minute version of "All Too Well" for you to disrespect it by blotting it out with too much earwax!!). 

Promising review: "Saw these on a TikTok video and took a chance. I ordered three for different family members and boy am I glad I did! This product is fantastic! It does exactly what it says it will do. The brush is phenomenal in cleaning out the little grates on the speakers of my phone and AirPods. There is a picker that you can use to get big chunky ear wax out of your ear pieces and the long skinny wand thing reaches down into my charging case and gets all the junk out of there. This is a win-win-win!" —JMilwaukee

Get it from Amazon for $8.99+ (available in two colors). 
5.
A slim magnetic stove shelf that quickly and securely fastens right on the top of your stove so you have easy, immediate access to tools and seasonings and anything you need to get your inner Food Network on while you're listening to podcasts and vibing.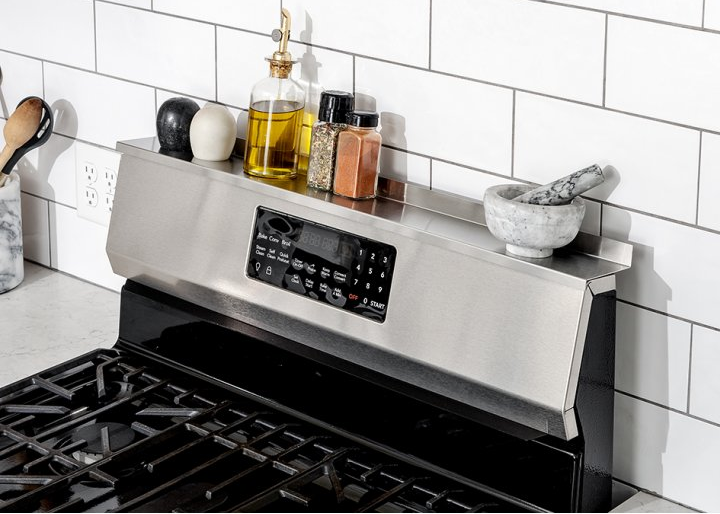 StoveShelf is a US-based small business that specializes in stove shelves for various sizes of stoves. 

Check out a Tiktok of the StoveShelf in action.
Promising review: "There was no set up...Take it out of the box and place it on the stove. The magnets are very strong keeping the shelf fixed in place. The magnets are raised allowing air flow underneath preventing the shelf from heating up. Sizing was perfect. I love it!" —Amazon Customer
Get it from Amazon for $39.99 (available in three sizes and in six finishes). 
6.
E.l.f.'s Poreless Putty Primer, a lightweight base primer that reviewers swear by for reducing the appearance of pores and helping their makeup apply more smoothly and evenly. 
LOL, allow me to be the one to shout to GRAB THIS WHILE YOU CAN. Every time I've run out of it I've gotten mad at myself because thanks to TikTok, it's constantly out of stock. Now is finally our chance!
Promising review: "Highly recommend. Learned about it as several influencers used it on TikTok. Tried it and it's my favorite. Better than all the expensive brands I had tried before. Smooth application and does an excellent job! Excellent." —Binnyx1
Get it from Amazon for $9.85. 
7.
A painless, mint-flavored teeth-whitening pen that gets results from the very first use, lightening up years' worth of stains from coffee, tea, wine, or just...you know. Existing as a human with teeth.
Promising review: "I have to say, I was skeptical about this product from all the TikTok hype about it but after trying it out, it really does work. I've used whitening strips before but those usually hurt my sensitive teeth and I hate the taste of some of the other gels on the market but this one was super easy and didn't hurt my teeth at all and didn't taste much different than my regular toothpaste, since I got the mint-flavored one. I used it for a few weeks before my brother's wedding and it worked like a charm. I noticed visible results in only a couple of days and was able to keep using it until I reached my desired shade of white. 10/10 would recommend for anyone with sensitive teeth and tastes!" —Victoria Bravo
Get a two-pack from Amazon for $14.99 (clip the $5 off coupon on the product page for this price). 
8.
An adorable wireless portable charger so you can text in the group chat with reckless abandon during all your adventures without worrying about your phone croaking right before it's time to summon an Uber.

Check out a TikTok of the portable charger in action.  
Promising review: "The holy grail of portable chargers!!! I was traveling to Disney for vacation and knowing me, I would drain my battery with just taking pictures alone. I wanted a portable battery but didn't want a carry a cord either, so I was excited when I found this little baby! It does exactly as described, pretty pink color, and I get one full charge of battery for my iPhone 11. Get it, you will not be disappointed!" —Meghan Doble
Get it from Amazon for $29.75+ (clip the 15% off coupon on the product page for this price; available in six colors). 

9.
A set of affordable, highly popular wireless Bluetooth earbuds that make *excellent* AirPod dupes, except arguably better — these are completely waterproof (like, you can fully take them in the shower) and come with several silicone earbuds to get the best fit possible.
These come with a wireless charging case that provides up to 14 hours of charge (with the earbuds able to play for four-plus hours with each full charge). 
Promising review: "You can't beat these for the price. Now I understand what all the TikTok fuss was about. If I had to be picky, I wish it had better noise cancelation. The sound on these is fantastic. Just make sure to choose the correct earbuds." —Arturo Carabes
Get it from Amazon $18.99+ (clip the 20% off coupon on the product page for this price; available in five colors).
10.
A reviewer-beloved veggie chopper to make you feel like a golden god in your kitchen — this gadget lets you julienne, chop, spiralize, and slice vegetables in an instant and has a built-in storage container to hold the chopped veggies so you can pour them into a pan or dish without any mess. 
Check out a TikTok of the veggie chopper in action. 
Promising review: "Makes life so much easier. I can't imagine chopping onions or bell peppers by hand anymore, and it does so much more. We used to have a Prepworks chopper which was a similar idea, but you had to press so hard to chop, and it broke after not too long. This one requires very little effort to cut through the food and it has a generous container." —Amazon Customer
Get it from Amazon for $32.99. 
11.
A Bissell multipurpose carpet and upholstery cleaner with a *MAJOR* fan following of parents and pet owners — this compact, super portable powerhouse uses warm water and a special formula to make stains from grass, mud, pet accidents, food, and all your other home-related shenanigans look like they never even happened. 

Each cleaner comes with a trial size of Bissell's Spot & Stain Formula, which is also available on Amazon for $16.99! 
Promising review: "I wish I had taken photos since I was amazed at the results honestly. I bought my car about a year ago and it had stains all over the seats — I didn't want to pay $300+ for them to be cleaned since I'm a college student so I just waited. My sister saw a TikTok video or something about this machine and while I was doubtful that it would work since some of these stains have been there for who knows how long I finally bought it cause I spilt a blue slushee over my car seats. Lo and behold I now have a car with no stains whatsoever! I wish I had gotten it sooner!! I wish I would've taken before and after pics but I'll try and upload some of how it looks now at some point! But 15/10 recommend!!" —jovana montoya
Get it from Amazon for $123.59.  
12.
A foaming garbage disposal cleaner you can plop into your sink, run a little water on, and let its blue magic fizz its way up to the top while clearing out all the gunk from your culinary adventures in one go.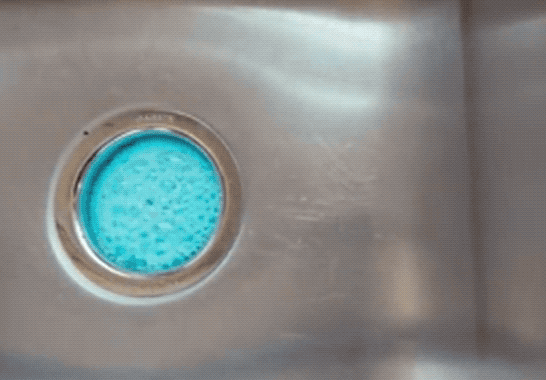 Promising review: "I don't know what it is about these, but putting one down my sink and watching the foamy bubbles come up is SO satisfying. Really scratches an itch that I didn't even realize I had. I read about these in some article about popular products on TikTok and wanted to try them because my garbage disposal had not been smelling super lately. They did not disappoint! Super easy to use and leaves the disposal smelling fresh." —Liz R. 
Get a four-pack from Amazon for $3.78.
13.
A jar of internet-beloved The Pink Stuff, which tackles so many darn things that it'll be the BFF of every room in your house. Need to paint over a stain on the wall? Get it off with The Pink Stuff. Think you need to replace that caked-over grimy pan? Put The Pink Stuff to the test. About to hire cleaners to tackle whatever the heck is going on in your tub? 1-800-The-Pink-Stuff, baby!!
A lot of people compare it to the Magic Eraser in paste form, so even your weirdest, most stubborn stains will meet their match.
Promising review: "The Pink Stuff is definitely worth all the hype it has been receiving. I had seen it in some TikTok compilations and decided to give it a try. The very first thing I cleaned was the inside of my bathtub and wow! It really made my bathtub shine. Before I was using Kaboom, and that didn't clean as well as The Pink Stuff did. I was seriously shocked. The next thing I decided to use it on was some caked on grease on my hood vent. Just like the bathtub I was shocked that it was able to get it all off. All you do is apply the paste with a sponge or cloth to whatever you're cleaning, and then rinse it with warm water. I found with stubborn spots add a little warm water on the paste (if you have a spray bottle I'd recommend filling that with warm water and mist the paste), scrub the spot a little longer, and then rinse. It worked with no issue. I'm definitely interested in to looking at their other cleaning products. I would highly recommend giving The Pink Stuff a try yourself!" —JMURR
Get it from Amazon for $5.97.