1.
A "flossing toothbrush" with two layers of bristles — regular firm bristles, and longer ones that are ten times thinner to clean deep in between your teeth and gums to mimic flossing. Reviewers love how deep the clean feels, and also how soft it is on sensitive teeth!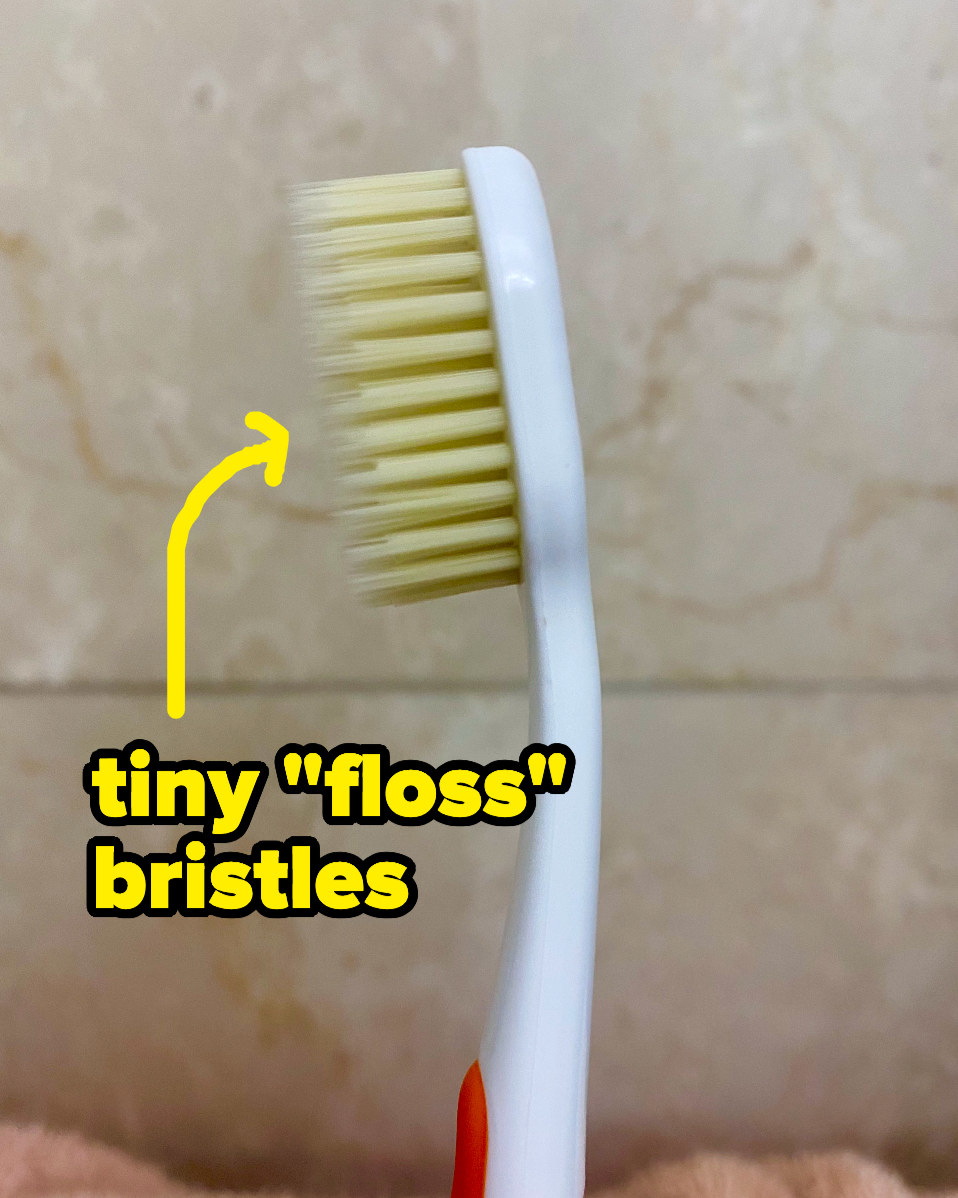 Mouthwatchers is a small business established by Ronald Plotka, DDS, that specializes in antimicrobial toothbrushes designed to get deeper cleans even patients with "great" dental hygiene might miss with traditional brush and floss routines. 
I personally bought this a few months ago and love it! I use an electric toothbrush usually, but I feel like I'm getting a much more satisfying clean from these?? Especially because I tend to get yellow stains between my teeth no matter *how* much I floss, and these bristles seem to actually target that a lot more effectively. I've switched to using this in the morning and the electric one at night and definitely see a difference in that area in particular. 
Promising review: "This was another one of my TikTok purchases! I was skeptical but my kids hate flossing their teeth so thought this might help in between making them floss. They work amazing! My kids said they could see and feel a different on the first use and I agree! They are definitely with a try! I would suggest not pushing too hard, those tiny bristles really get in there and if you push too hard you nights be sore like I was. It felt like after going to a dental cleaning." —Amy N. 
Get a two-pack from Amazon for $9.90. 

2.
A jar of internet-beloved The Pink Stuff, which tackles so many darn things that it'll be the BFF of every room in your house. Need to paint over a stain on the wall? Get it off with The Pink Stuff. Think you need to replace that caked-over grimy pan? Put The Pink Stuff to the test. About to hire cleaners to tackle whatever the heck is going on in your tub? 1-800-The-Pink-Stuff, baby!!
A lot of people compare it to the Magic Eraser in paste form, so even your weirdest, most stubborn stains will meet their match.
Promising review: "Found this product on TikTok. I don't think I've ever seen value like I do this product! Literally use it on EVERYTHING!! Kids and teens have dirt, grime, and grease on their walls? This will make it look like a new paint job. Baseboards need some love? A pea-size amount of this makes them look brand-new. Need a shoe cleaner? PERFECT for sneakers. I could name a million more uses, but I can ASSURE you this is worth every penny. What's more? You need such LITTLE of this product, it will last a VERY long time. Thank you, TikTok!!!" —Rachel in CLT
Get it from Amazon for $5.97.
3.
COSRX Snail Mucin 96% Power Repairing Essence, a lightweight hydrating face serum designed for *all* skin types reviewers use for healing acne scars, fading dark spots, and smoothing fine lines. Users with sensitive skin especially appreciate how gentle it is compared to competitors, and a lot of them mentioned seeing results within the first few uses! 
4.
A no-scrub weekly shower cleaner you can quite literally "set and forget" to maintain its cleanliness over time — once you apply it after a shower, you just have to wait 8–12 hours and it'll quietly tackle the soap scum, grime, oils, mold, and mildew stains without any elbow grease from you.
Promising review: "I have well water. Something in my well water reacts with copper plumbing and turns my shower tiles blue. Since my bathroom color scheme isn't on the blue spectrum, this is problematic. The well water also causes the shower glass to film up quickly. I've tried dozens and dozens of cleaners and scrubbed till my arms ached trying to get ahead of the blue and scumminess. My ambition in life is NOT to be a full time bathroom scrubber! I saw this stuff on a professional house cleaner's TikTok (sorry, don't remember which one) and thought 'what the heck, might as well give it a try.' Oh my goodness, the first day after my shower I sprayed this stuff all over and walked away. The next morning there was a NOTICEABLE reduction in the blue and the glass looked clearer too. Day two, sprayed again and walked away. The next morning the blue was gone except for a few spots on the floor tile and the glass looked amazing. Day three I sprayed the remaining spots and the next morning the shower practically looked new. NO SCRUBBING AT ALL!!!! This is my new favorite shower cleaner. The ONLY con I have is that it makes me sneeze while I'm spraying from inside the shower, but I can live with that." —L. J. Petillo
Get it from Amazon for $19.54.

5.
Peach Slices Acne Spot Dots, a hydrocolloid sticker that you can apply straight onto a zit to flatten it, reduce redness, and even suck the gunk out of individual trouble spots overnight. Personally *love* to see a problem magically disappear while I'm snoozing. 

Peach & Lily is a skincare brand founded by celebrity esthetician Alicia Yoon that specializes in toxin-free, vegan beauty products made with recyclable packaging. The company plants a tree with each order, and a portion of its proceeds have gone to to Restore NYC since 2016. 
Check out a TikTok of the acne spot dots in action. 

Promising review: "This brand is so affordable and works just the same as the more expensive brands. I go through them so quickly so this is a plus! I'm generally a picker at my zits, but if I can get to one of these dots in time I save my face a lot of irritation and pain. I wear them at night and sometimes during the day, only takes about two to get rid of those pesky whiteheads, sometimes more for a big zit. They really suck everything out." —Savannah Wilson
Get a pack of 30 from Amazon for $4.99. 
6.
Plus Rescue Balm Post-Blemish Recovery Cream, which basically puts post-acne healing on turbo mode to help with redness and uneven texture overnight instead of waiting it out for days and covering it up with concealer. No offense to acne but nobody has time for that!! 
Promising review: "Love this stuff. Found this on TikTok and so glad I did." —Stephanie G. 
Another promising review: "This gentle exfoliant is an excellent, successful product. It actually works, especially on cystic spots. Use it at night before bed, when your body is in repair and restore mode, and you'll be so happy with the improvement of your skin in the morning. Fades scars quickly, too." —sisdisco
Get it from Amazon for $12.99. 
7.
A set of affordable, highly popular wireless Bluetooth earbuds that reviewers compare to AirPods, except arguably better — these are completely waterproof (like, you can fully take them in the shower) and come with several silicone earbuds to get the best fit possible.
These come with a wireless charging case that provides up to 14 hours of charge (with the earbuds able to play for four-plus hours with each full charge). 
Promising review: "Best decision! These are the greatest headphones ever! I saw them on TikTok months ago and added them to my wishlist. I got a new phone that doesn't have the headphone port so I decided it was time to finally buy them. They are amazing and I probably won't ever take them out of my ears! 😂" —Kate Arnold
Get it from Amazon for $23.99+ (get this price by clipping the 15% off coupon on the product page; available in five colors).

8.
Essence's Lash Princess mascara, because TBH, we've all wasted too many years and too much money looking for the ~holy grail~ mascara. This one is less than $5, gives you instant length, and is DELIGHTFULLY sweatproof.
Hello, that is my face above, because I bought into the hype of all the 5-star reviews and now I will never look back!! Putting it on is like giving my eyelashes butterfly wings. It doesn't get clumpy, it stays put no matter how much you sweat, and you can apply it on very lightly if you don't want it to look so dramatic, or continue applying for longer lashes each time.
Promising review: "Saw this product on TikTok and thought it would be expensive looking at the results they got. I am beyond amazed with how my lashes look after about two coats. For around $5 you couldn't ask for a better mascara! I will be buying this same one when I run out. I was not expecting to like it as much as I do! No complaints." —Kd
Get it from Amazon for $4.99.
9.
A portable car vacuum so the next time you explore the great outdoors or enjoy a particularly messy snack you don't have to coexist with the evidence until the next time you do a deep car clean. With this easy peasy gadget, you can scoop it all up and leave your interiors looking brand spanking new. 
Promising review: "This vacuum is great and worth the price!! I sometimes have my friend's dog in my car who sheds a lot and this vacuum is amazing. Saw it on TikTok and am glad I bought it." —ivy lopes

"This was the perfect solution for a busy mom as myself. I have three little ones and everyday there is a mess of sone sort in the backseat. It saves time and money to not have to go to a car wash place and keep feeding the machine. It's simple to use and a great size. Wish the auction was a little better but for the price and quality I can't complain. It's a must!" —Amazon Customer
Get it from Amazon for $29.99+ (available in three colors).
10.
A set of fast-acting Keurig cleaner pods you can simply put through a cycle on the machine to get rid of all the crusted-on grinds and residue that are *definitely* affecting the taste of your coffee, even if you haven't noticed over time.
Promising review: "I had no idea that cleaning a Keurig was a thing. I bought these because I saw them on TikTok, believe it or not. I wanted to give it a go because my Keurig isn't that old and I didn't think it would do anything. IT WORKS SO WELL! My Keurig wasn't as nasty as some I've seen, lucky. I would highly recommend, keeps everything running correctly and clean." —Lauren
Get a set of six from Amazon for $9.95.
11.
An undetectable mouse jiggler for folks working at home who need to stay "active" on Gchat, Teams, or Slack and sometimes want to dash out to use the bathroom or walk the dog without doing the whole "BRB, BACK IN A BIT!!" song and dance every time they dare to get up from their desk. 

Promising review: "Like everyone else, I stumbled upon this product because of a TikTok I saw. Setup was extremely easy and I'm pleased to say that my Teams green light is on all the time now. Workers of the world, unite." —Amazon Customer
Get it from Amazon for $29.99 (available in six styles). 
12.
E.l.f.'s Poreless Putty Primer, a lightweight base primer that reviewers swear by for reducing the appearance of pores and helping their makeup apply more smoothly and evenly. 
LOL, allow me to be the one to shout to GRAB THIS WHILE YOU CAN. Every time I've run out of it I've gotten mad at myself because thanks to TikTok, it's constantly out of stock. Now is finally our chance!
Promising review: "Highly recommend. Learned about it as several influencers used it on TikTok. Tried it and it's my favorite. Better than all the expensive brands I had tried before. Smooth application and does an excellent job! Excellent." —Binnyx1
Get it from Amazon for $9.