We hope you love the products we recommend! All of them were independently selected by our editors. Some may have been sent as samples, but all opinions and reviews are our own. Just so you know, BuzzFeed may collect a share of sales or other compensation from the links on this page if you decide to shop from them. Oh, and FYI — prices are accurate and items in stock as of time of publication.
1.
A set of affordable, highly popular wireless Bluetooth earbuds that make *excellent* AirPod dupes, except arguably better — these are completely waterproof (like, you can fully take them in the shower) and come with several silicone earbuds to get the best fit possible.
5-star reviews: 197,060+
These come with a wireless charging case that provides up to 14 hours of charge (with the earbuds able to play for four-plus hours with each full charge). 
Promising review: "Best decision! These are the greatest headphones ever! I saw them on TikTok months ago and added them to my wishlist. I got a new phone that doesn't have the headphone port so I decided it was time to finally buy them. They are amazing and I probably won't ever take them out of my ears! 😂" —Katlyn D Arnold
Get it from Amazon $22.09+ (clip the "15% off coupon" on the product page for this price; available in five colors).
2.
Essence's Lash Princess mascara, because TBH, we've all wasted too many years and too much money looking for the ~holy grail~ mascara. This one is less than $5, gives you instant length, and is DELIGHTFULLY sweatproof in hotter temps. 
5-star reviews: 175,690+
Hello, that is my face above, because I bought into the hype of all the 5-star reviews and now I will never look back!! Putting it on is like giving my eyelashes butterfly wings. It doesn't get clumpy, it stays put ALL the livelong day no matter how much you sweat, and you can apply it on very lightly if you don't want it to look so dramatic, or continue applying for longer lashes each time.
Promising review: "Saw this product on TikTok and thought it would be expensive looking at the results they got. I am beyond amazed with how my lashes look after about two coats. For around $5 you couldn't ask for a better mascara! I will be buying this same one when I run out. I was not expecting to like it as much as I do! No complaints." —Kd
Get it from Amazon for $4.99.
3.
A dual hair dryer and brush to dry your hair as you style it and give your 'do an incredible amount of volume and shine, without the cost of a pricey blowout. Bonus: this gizmo *significantly* cuts down on drying time, and unlike other hair dryers, this one can be held closer to the roots and scalp for a higher volume and lift and helps you curl hair at the end while it dries.
5-star reviews: 235,946+
It comes with three heat settings and is designed to work on all hair textures — reviewers with 2a–4c hair mentioned it working for them. 
Promising review: "OH MY LANTA. PURCHASE THIS NOW. YOU WILL NOT REGRET IT. I found this on TikTok and saw the gal's review and had to buy it. I have thick hair and this dries my hair in less than 15 minutes. PLUS I don't have to fuss with a straightener or a curling iron if I don't want to!! It leaves my hair so soft and shiny and gives it SO MUCH VOLUME! I recommend this to ANYONE I talk to about it. Seriously my favorite styling tool. Seriously so in love." —Sydney
Get it from Amazon for $31.99+ (available in two styles).
4.
A set of extra soft cooling bed sheets so many reviewers with insomnia, night sweats, and overheating issues swear by that you might never consider buying another set of sheets again. Reviewers also are obsessed with how well these sheets wash and maintain quality over time. Bonus? These come in so many colors it's basically *impossible* not to find one to match your room's aesthetic. 

5-star reviews: 220,234+
Sets come with a flat sheet, fitted sheet, and two pillowcases (with only one pillowcase included in the Twin size). 
Promising review: "These are the real deal!! I found them from a TikTok and my husband actually said after the first night, 'Let's just replace all of our sheets with these, they're so comfortable!' It's a beautiful blue and white pattern. They wash well and breathe at night — I am always hot but these stayed cool. Definitely buying more!" —Julia Monroe
Get it from Amazon for $34.97+ (available in sizes Twin—California King and 41 colors). 
5.
And a set of game-changing cooling "hotel" pillows that a whole bunch of reviewers say helped them get the best sleep of their lives. These are filled with a soft down alternative designed to be extra breathable and to help regulate temperature for relief from night sweats and overheating. A lot of reviewers also swear by them for helping with neck pain because of the "bounce back" nature of the filling. 

5-star reviews: 130,070+
Bonus: these are fully machine washable! 
Promising review: "After looking for pillows everywhere in stores and not being satisfied, I decided to trust a TikTok that I saw featuring these pillows and checked out the reviews here and saw the hype. Decided to trust this hype and order two of my own, and they are SERIOUSLY THE BEST PILLOWS EVER! Trust the reviews. Took two minutes to fluff up to use and both my fiancé and I are having the best sleeps now." —Ellen

Get a two-pack from Amazon for $25.79 (clip the 40% off coupon on the product page for this price). 
6.
*Plus* a set of satin pillowcases that not only have a cooling effect, but are soft on your skin and create less friction for your hair so that it won't get as tangled while you sleep. Reviewers also swear by these for helping clear up their acne, and love how easy these are to wash while still maintaining their quality. 
5-star reviews: 178,400+
Promising review: "My hair has never been better! I got this because of TikTok, and it has done wonders for my hair. My hair isn't frizzy or dull-looking when I get up in the morning." —Aaron Key
Another promising review: "I had trouble falling asleep every night; I had 'hot' issues and I had very badly knotted hair issues. I decided that the last two issues might be improved with a different pillowcase. I researched for hours and hours and decided to give these a try based on the Amazon reviews. I figured that if this many people thought enough of these to not only buy them but take the time to write a review, the pillowcases had to be good. And I must tell you that they exceeded all of my expectations. They are amazing. My head is no longer hot and my hair looks exactly the same before and after a night's sleep. I cannot believe that a pillowcase can make that much of a difference but it does. I have washed and dried them in the dryer just the same as any pillowcase and they came out good as new. The standard size fits my standard pillows perfectly. And they are very reasonably priced. What more could I want (except the secret to falling asleep)? I have been back for more and I highly recommend them!" —Vern Dewitt
Get a set of two from Amazon for $9.99+ (available in 22 colors and four sizes).
7.
An EasyWring microfiber spin mop, aka the MVP of CleanTok. This mop is machine washable and has an automatic wringer so there are no hands involved, is designed to reach into deep corners for a thorough clean, and is made with a fabric so effective that — gasp — you don't even need chemical cleaners. You can just get the dirt and grime up with water.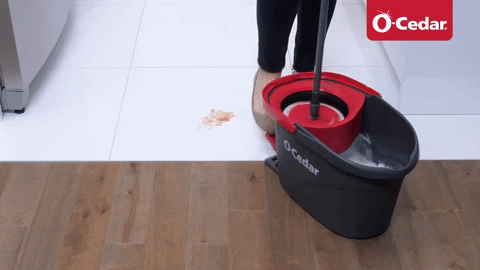 5-star reviews: 106,577+
Promising review: "I had had it with my broken basic mop and bucket. I tried to just get a dollar store Swiffer to get us by, but that wasn't cutting it at all. With three boys and a dog that makes his rounds on all the furniture and every exposed corner, I had to do something. After seeing a TikTok where a woman demonstrated this mop to clean her walls, and hearing my boss raving about it, I decided to click the Amazon button. Let me tell you, I HATE cleaning, I HATE mopping, but I LOVE for things to be clean. I was able to mop the entire house TWICE (Because it was that dirty. Please don't judge.) within an hour. A few days later I mopped the entire house again within 10 minutes because they weren't quite as dirty. On another positive note, my boys love the spinner and think it's a toy! So, every time I get the bucket out my 10-year-old and 4-year-old ask to mop the house because they think it's fun. MAJOR BONUS!" —Molly
Get it from Amazon for $34.97. 
8.
A teensy mini waffle maker that will churn out adorably-sized, perfectly cooked-through waffles in mere minutes. Psst — if you're waffling on the waffles, you can also use it for hash browns, paninis, biscuits, and even (gasp) PIZZA. If you can dream it, you can mini waffle it.
5-star reviews: 167,213+
Promising review: "Saw it on TikTok and had to get it! I love waffles but I don't always remember to buy them so I love being able to make them super easily with this mini waffle maker. It's so easy and convenient for me because I didn't want anything that would take up too much time and space. It's perfect. I also used the waffle recipe provided by Dash and its great!" —Ken

Get it from Amazon for $12.69+ (available in 23 colors).
9.
A portable car vacuum so the next time you explore the great outdoors or enjoy a particularly messy snack, you don't have to coexist with the evidence until the next time you do a deep car clean. With this easy peasy gadget, you can scoop it all up and leave your interiors looking brand spanking new. 
5-star reviews: 122,480+
Here's what BuzzFeeder Stephanie Hope has to say about it: "When I tell you that I use this product often, I mean it. It's so easy to plug in, vacuum dirt from the floor or seat, and put it away. It comes with three different attachments and an extra filter! My tip is to use the brush attachment for everything as it will kick dirt off the carpet fibers, making it easier to suction."

Promising review: "So I saw this product recommended by a TikTok user, so of course i bought it! This car vacuum works wonderfully. The cord is super long — I drive an '08 Prius and I still had cord left after I swept in the trunk! The vacuum has a bristle suction piece, a long narrow one, and a hose like a regular sweeper would have. It comes with one filter inside the vacuum and an additional one with a small brush to help clean it. It also came with the bag which everything fits in and a nice car air freshener! I love this product, it works very well." —Ken
Get it from Amazon for $22.99 (clip the $12 off coupon on the product page for this price; available in two colors).
10.
A cult-favorite Carhartt beanie, because if you know, you KNOW — when it comes to coziness, warmth, and aesthetic, this beanie has no competition. TBH, you can't blame reviewers for buying one and immediately coming back for it in multiple colors. 

5-star reviews: 112,662+
Promising review: "Saw this hat on TikTok and decided to place my order!  It can get very cold where I live especially during morning time when I'm walking my dog. I need to keep my ears warm! The material is so soft and there are many color options." —MHF
Get it from Amazon for $16.99 (available in 25 colors). 
11.
A set of itty-bitty dermaplaning razors you can use to take care of those lil' unibrow hairs that keep dodging your tweezers or work whatever face fuzzies you might want to take care of in a gentle way. This tool also helps soften skin by gently exfoliating as you use it!
5-star reviews: 114,741+
Promising review: "I saw these on TikTok and was skeptical but they work so well. I use them for any facial peach fuzz and to shape my eyebrows and they're perfect." —Megan Kopicko

Another promising review: "I bought these blades to try at home dermaplaning. I was nervous at first, but it's almost impossible to cut yourself with these and it took the peach fuzz right off my face. In fact, as I was staring at my face in a magnifying mirror and removing the fuzz, I noticed my nose hair was a little out of control. I even used one of these in my nose (that's right) and it worked great! I will be keeping a few of these on-hand at all times." —TKB 
Get a set of three from Amazon for $5.67.
Reviews have been edited for length and/or clarity.