1.
Essence's Lash Princess mascara, because TBH, we've all wasted too many years and too much money looking for the ~holy grail~ mascara. This one is less than $5, gives you instant length, and is DELIGHTFULLY sweatproof — reviewers call it out as an excellent dupe for Too Faced's "Better Than Sex" and Benefit's "They're Real." 
Hello, that is my face above, because I bought into the hype of all the 5-star reviews and now I will never look back!! Putting it on is like giving my eyelashes butterfly wings. It doesn't get clumpy, it stays put ALL the livelong day no matter how much you sweat, and you can apply it on very lightly if you don't want it to look so dramatic, or continue applying for longer lashes each time.
Promising review: "Saw this product on TikTok and thought it would be expensive looking at the results they got. I am beyond amazed with how my lashes look after about two coats. For around $5 you couldn't ask for a better mascara! I will be buying this same one when I run out. I was not expecting to like it as much as I do! No complaints." —Kd
Promising review: "I used L'Oréal mascara for years and every year it gets more expensive! This mascara is just as good, if not better, and it's A LOT cheaper. I highly recommend it!" —Leslie Onesto
Get it from Amazon for $4.99.
2.
COSRX Snail Mucin 96% Power Repairing Essence, a lightweight hydrating face serum designed for *all* skin types reviewers swear by for healing acne scars, fading dark spots, and smoothing fine lines. Users with sensitive skin especially appreciate how gentle it is compared to competitors, and a lot of them mentioned seeing results within the first few uses! 
Promising review: "My skin dries out severely during the winter all the time, and I have to constantly use Vaseline to keep it moisturized (normal cream doesn't work on me). Imagine my surprise when my SO tried to put snail goo on me, eww!! I resisted for weeks refusing to use this product as she constantly vouched for its abilities. After a month I finally gave in, and boy it is amazing! My hands feel more moisturized than ever for longer and it doesn't leave a disgusting greasy feel as Vaseline. Take it from a once non-believer, you have to try this. Even if it doesn't work for you, you paid a fraction of what you would've paid for any other name-brand moisturizers." —Kyoko Ozaki
Get it from Amazon for $12.50. 
3.
A "flossing toothbrush" with two layers of bristles — regular firm bristles, and longer ones that are 10 times thinner to clean deep in between your teeth and gums to mimic flossing. Reviewers love how deep the clean feels, and also how soft it is on sensitive teeth!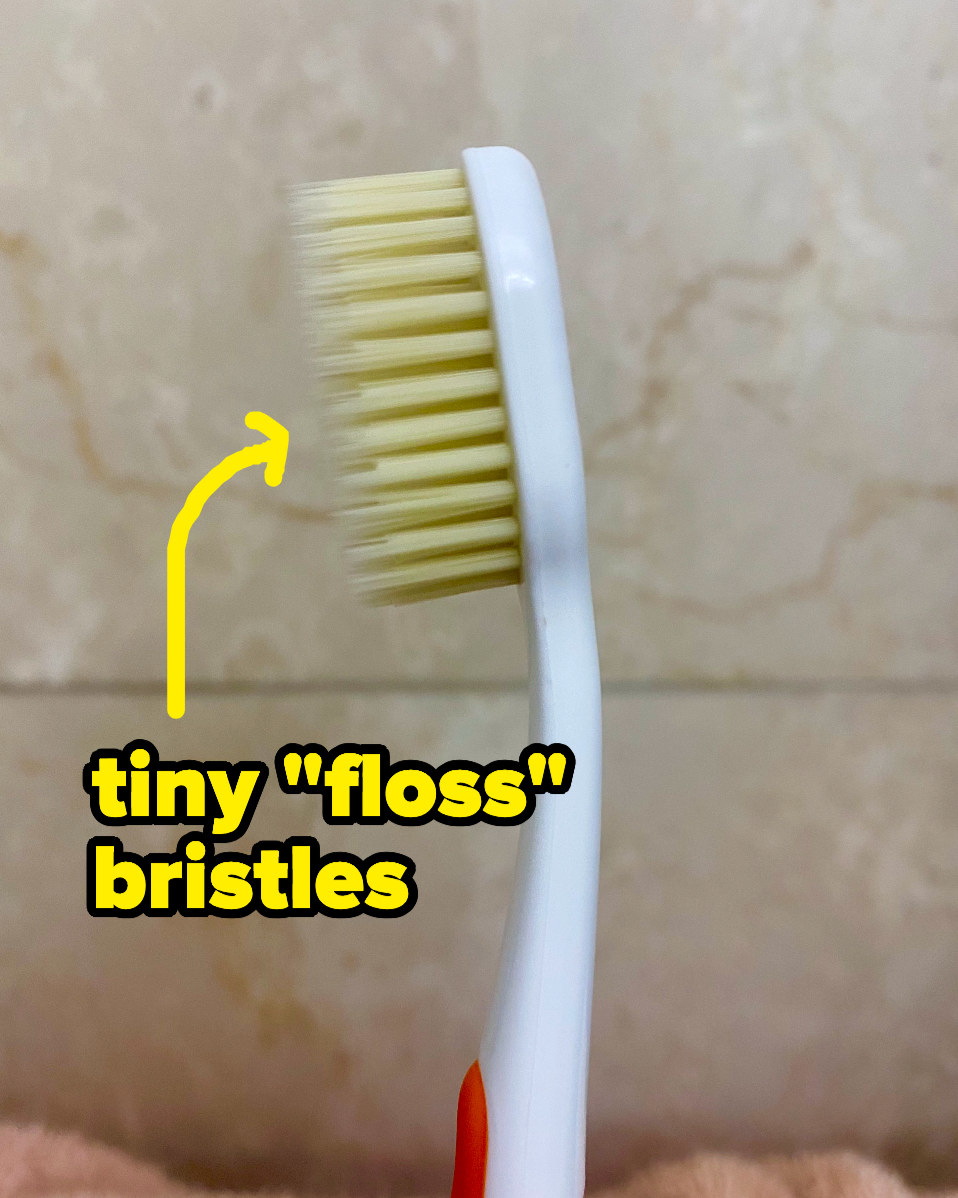 Mouthwatchers is a small business established by Ronald Plotka, DDS, that specializes in antimicrobial toothbrushes designed to get deeper cleans even patients with "great" dental hygiene might miss with traditional brush and floss routines. 
I personally bought this a few months ago and love it! I use an electric toothbrush usually, but I feel like I'm getting a much more satisfying clean from these?? Especially because I tend to get yellow stains between my teeth no matter *how* much I floss, and these bristles seem to actually target that a lot more effectively. I've switched to using this in the morning and the electric one at night and definitely see a difference in that area in particular. 
Promising review: "A thorough cleaning. This toothbrush cleans my teeth better than my expensive electric one. You actually feel the bristles scrubbing between your gums!" —Shiva H. 
Get a two-pack from Amazon for $9.99. 
4.
A set of affordable, highly popular wireless Bluetooth earbuds that make *excellent* AirPod dupes, except arguably better — these are completely waterproof (like, you can fully take them in the shower) and come with several silicone earbuds to get the best fit possible.
These come with a wireless charging case that provides up to 14 hours of charge (with the earbuds able to play for four-plus hours with each full charge). 
Promising review: "Best decision! These are the greatest headphones ever! I saw them on TikTok months ago and added them to my wishlist. I got a new phone that doesn't have the headphone port so I decided it was time to finally buy them. They are amazing and I probably won't ever take them out of my ears! 😂" —Katlyn D Arnold
Another promising review: "AMAZING AirPod dupe for a fraction of the price. I hate the Apple headphones because they never stay in my ears. These have amazing sound quality and are super discreet. My husband now wants a pair after using mine!" —shelby zuccarini
Get it from Amazon $19.99+ (clip the $5 off coupon on the product page for this price; available in five colors).

5.
A painless, mint-flavored teeth-whitening pen reviewers swear by as an alternative to pricey professional treatments and strips. This gets results from the very first use, lightening up years' worth of stains from coffee, tea, wine, or just, you know, existing as a human with teeth.
Promising review: "This product actually works! Very affordable too. There are a lot of expensive teeth whitening products out there, but why spend extra money when you don't have too? Definitely worth trying!" —Mona L Cureton
Get a two-pack from Amazon for $15.99 (clip the $4 off coupon on the product page for this price). 
6.
Peach Slices Acne Spot Dots, a hydrocolloid sticker that you can apply straight onto a zit to flatten it, reduce redness, and even suck the gunk out of individual trouble spots overnight. Personally *love* to see a problem magically disappear while I'm snoozing. 

Peach & Lily is a skincare brand founded by celebrity esthetician Alicia Yoon that specializes in toxin-free, vegan beauty products made with recyclable packaging. The company plants a tree with each order, and a portion of its proceeds have gone to to Restore NYC since 2016. 
Check out a TikTok of the acne spot dots in action. 

Promising review: "This brand is so affordable and works just the same as the more expensive brands. I go through them so quickly so this is a plus! I'm generally a picker at my zits, but if I can get to one of these dots in time I save my face a lot of irritation and pain. I wear them at night and sometimes during the day, only takes about two to get rid of those pesky whiteheads, sometimes more for a big zit. They really suck everything out." —Savannah Wilson
Get a pack of 30 from Amazon for $4.99. 
7.
An illuminating moisturizer designed to enhance your skin's natural glow ✨ — perfect for anyone who wants a lightweight alternative to foundation or just a lil' extra shimmer in their lives.
Promising review: "I can't believe how long this has been around! I tried Glossier's Futuredew and realized it felt sort of too oily (and too expensive) for me. This product is SUCH an amazing duplicate that is slightly better! It's not oily, but provides lightweight shimmer that I mix with my sunscreen for extra sun protection with some highlight effects. I love this! Does not make my super sensitive skin break out or feel oily like the Futuredew did." —e_whospends_money
Get it from Amazon for $12.97+ (available in four shades).
8.
A bottle of Elizavecca Hair Treatment, an Olaplex dupe repairing mask infused with collagen ingredients and protein extracts that will help restore hair health and reduce shedding. All you gotta do is apply it on wet hair after a shampoo, wait five minutes, and rinse it out.
This is designed to work on all hair types, with reviewers with 2b to 4c curls mentioning it worked for them! 
Promising review: "Like many others, I tried this as a replacement for Olaplex. Honestly, Olaplex never had a great effect on my hair and certainly wasn't worth the price. This did an unreal job on my hair!! I was skeptical (tried a little bit first because I was petrified it would burn off my hair and I would end up bald!) but, lo and behold, it was magic! My hair is so strong, silky, and healthy looking after just one use. Plus you can't beat the price! Have already ordered another box. I should also add I have curly/wavy hair that's been colored to a light brown. Buy it!!" —BB
Check out BuzzFeed's full review of the Elizavecca hair treatment for more deets!

Get a bottle from Amazon for $7.62.
9.
A plush blanket reviewers swear by as the ultimate Barefoot Dreams dupe, matching the quality, ridiculous softness, and durability without the big ole yikes of a price tag. 

Promising review: "I saw this blanket suggested as a Barefoot Dreams dupe. Being a sucker for soft cozy blankets, I thought I would get one and compare it to my Barefoot Dreams blanket. Not only did it compare, I actually prefer this blanket. If they are both laying there, I choose this one!" —CC

Get it from Amazon for $29.99+ (available in 16 styles and two sizes). 
10.
A loungewear set so soft and decadent that you'll just declare it your new uniform, with the couch as your throne. (Psst — LOTS of reviewers mention these are a great Skims dupe!) 
Promising review: "No joke, these are pretty much exactly the same as my Skims lounge set for half the price. The pants graze the tops of my feet even when I wear them high-waisted at my belly button, so I think they're plenty long. The robe is like wearing a blanket, but still looks put together. Anyway, I'm back here to buy a second color because I loved them so much!" —Jenna
Get the three-piece set from Amazon for $51.99 (available in women's sizes S–XL and in 29 colors).
11.
A simple tennis bracelet to add a touch of sophistication to any outfit without the "!!!!!" of the price of name brand versions like Swarovski. 

Promising review: "Soooo pretty. It's 100% a Swarovski dupe for so cheap. Looks exactly like the photo and I wear it every day." —Trysten Walters

Get it from Amazon for $15.45 (available in five styles and three sizes). 
12.
A buildable Glimmer Glow Stick lipstick with a sheer, subtle glitter and a unique rosy tint formulated with ~pH technology~ so it will adapt to your own personalized shade — aka the ultimate Winkylux dupe. 

Check out a TikTok of the Glimmer Glow lipstick in action. 
Promising review: "I have the Winkylux version of this pH color changing lip balm and I enjoy it, however! This lip balm is legit one third of the price and just as good. Just as moisturizing. It's a balm so it not super long lasting, but the color actually stains a bit which I fully enjoy. All in all exceeded my expectations and will be purchasing again!" —Tracy Medina

Get it from Amazon for $3.99. 
13.
E.l.f.'s Poreless Putty Primer, a lightweight base primer that reviewers swear as a Tatcha Silk Primer dupe — this helps reduce the appearance of pores and lets you apply makeup more smoothly and evenly. 
LOL, allow me to be the one to shout to GRAB THIS WHILE YOU CAN. Every time I've run out of it I've gotten mad at myself because thanks to TikTok, it's constantly out of stock. Now is finally our chance!
Promising review: "Finally able to get my hands on this and it absolutely lives up to the hype! This is an amazing primer and really does visibly smooth and blur pores. I use my beauty blender to apply it and a little goes a long way. It's a perfect dupe for the Tatcha Silk Canvas Primer at a fraction of the cost." —Rebecca
Get it from Amazon for $9.99.