1.
A set of TikTok-famous Globbles, which are about to be your new favorite stress-relieving fidget toy. These colorful balls are squishy, stretchy, and stick to pretty much any flat surface you throw them at *without* leaving any messy residue. TikTokers are having a blast tossing these at walls and ceilings to see the satisfying way they glom onto them. 

Promising review: "Bought a six-pack for my neurodivergent family. We are all either ADHD or autistic. I struggle with compulsive hair pulling and bought these to help keep my hands busy. They are the perfect size, more satisfying than a stress ball, clean easily, fun to hurl at the wall or ceiling, and so far have lasted very well. I did test the durability of one and did break one when I pulled it as hard as I could — the inside looks something like shaving cream and didn't smell or anything. But if you have a kid who is an aggressive chewer, perhaps keep an eye on them." —Amazon Customer

Get a set of six from Amazon for $11.99. 
2.
A ridiculously popular "cat dancer" toy so both you and your furry friend can shake off the stress of the day by chasing after it — and, of course, chronicling the absurd shenanigans for Instagram.
In fact, if you are looking for an immediate LOL, please head straight to the review images of this little gizmo — pages and pages of kitty cats losing their marbles. It is goodness and absurdity and light.
Promising review: "I have a whole room filled with cat toys that my cat is not interested in. It's funny how the least expensive cat toy I have makes him go crazy. He plays with this until he's panting like a dog and I have never seen him jump so high. I'm certain this toy will help him lose his belly. He loves it! I highly recommend it!" —Kwoo
Get it from Amazon for $3.90.
3.
A dimmable sad duck nightlight because sometimes you just have to look at this emotionally deflated creature on your desk and be like, "Welp. At least I'm doing better than that little dude."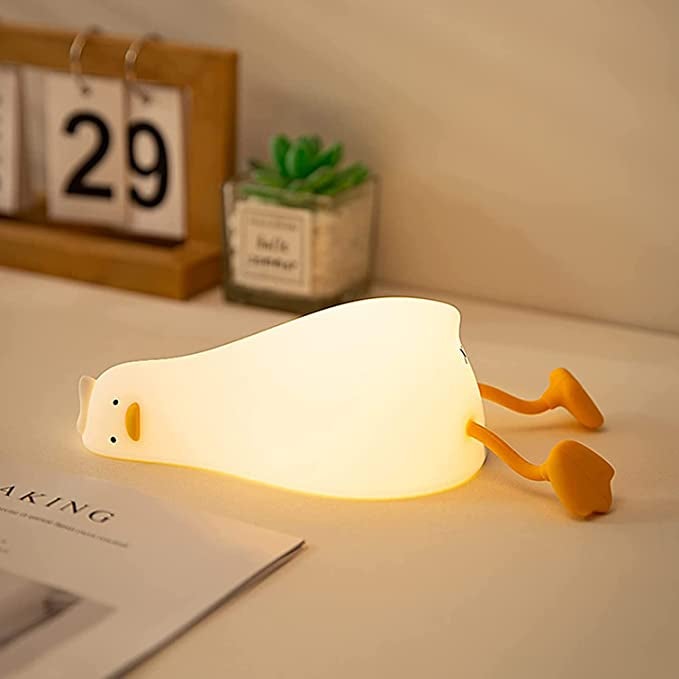 Promising review: "I ordered this lamp because of its appearance. I didn't NEED a depressed duck lamp ... but it has totally filled a void in my life I didn't know existed. Everyone who sees it pokes it. The lamp is actually very functional. It's got a really nice set of brightness options and the glow is yellowish, which is much nicer than white in a dim/dark room. One thing that isn't mentioned in the description is that its legs are utterly floppy. It's terrific." —Literated

Get it from Amazon for $15.99 (available also as a cabbage?? I don't know, you do do). 
4.
A ridiculously fun Tiki Toss ring game for anyone who wants to humble their jock friends REAL fast — this game is super easy to set up and learn, but tricky enough to get juuuust right that it will even the whole playing field. Reviewers love that is is a fun-for-all-ages game (but aren't not using it as a a drinking game too 👀 ).  
Tiki Toss is a small business that specializes in family-friendly games for home and outdoor use. 
Promising review: "We all love this game. Everyone who comes over cannot stop playing Tiki Toss. So simple and so fun. Quality and design of product is fantastic. Also makes a great gift." —jzek

Get it from Amazon for $17.14+ (available in three sizes).
5.
An oh-so-satisfying 1,000-piece Mystic Maze puzzle you may have already seen on TikTok, where lovers of puzzles and magic lore are singing its praises. This whimsically illustrated, colorful puzzle isn't just a puzzle, but a journey — there are over 50 Easter eggs in it, tons of miniature scenes full of optical illusions and surprises, *plus* a magical twist at the end. You'll have to solve the puzzle to find out!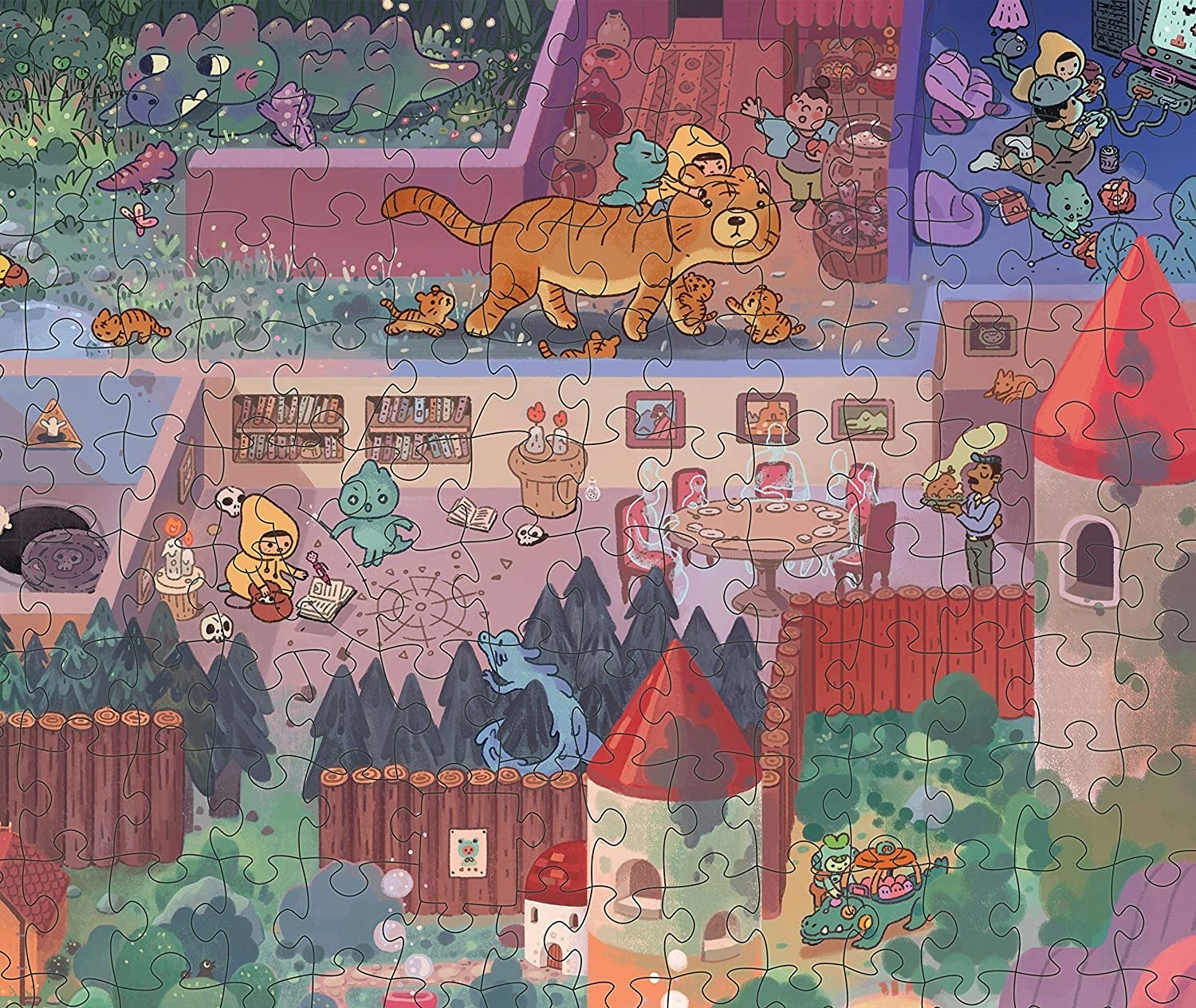 Promising review: "I bought this as a gift for my husband because he absolutely loves puzzles and magic, so it was a no-brainer! I was honestly way more excited to finish putting this puzzle together than a normal puzzle because I couldn't wait to see the end result. Blown away. I'm super impressed and will be purchasing a different version. Oh, and they weren't kidding about the no dust in the box...very pleased with this purchase!" —Nlbrimberry
Get it from Amazon for $22.97.

6.
Taco Cat Goat Cheese Pizza, a DEEPLY beloved, fast-paced card game suitable for kids and adults that will have everyone in fits of high stake giggles in no time. Bonus: each game only lasts 10–15 minutes, so you can go one or a few rounds depending on how much time you've got together.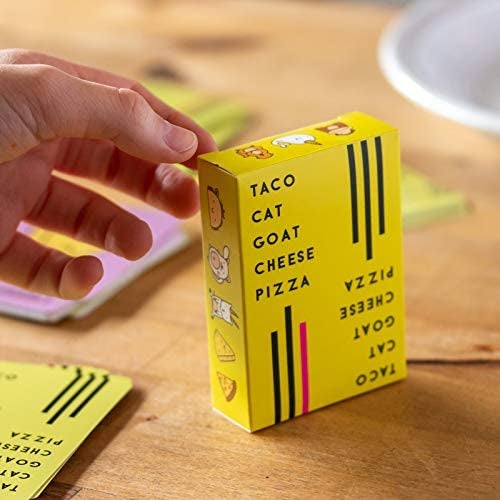 Dolphin Hat Games is a small business that specializes in family-friendly card games. 
Okay, so the rules: you divvy up all the cards equally, and then all the players take turns putting down cards that have different illustrations on them, saying "taco," "cat," "goat," "cheese," and "pizza" in order. If the card put on the table matches the word that's being said in that moment, whoever slaps a hand down on the card first gets all the cards under it. You keep playing until someone comes in possession of all the cards (or until you all start craving tacos and pizza so much you drive yourselves to the nearest combination Pizza Hut and Taco Bell). 
Promising review: "This game is hysterical! I played with my 7-year-old daughter and my 70-year-old father and we all enjoyed it. I haven't laughed that hard in a long time!" —bobkopolow
Get it from Amazon for $7.97. 
7.
A set of moisturizing animal-themed sheet masks that are pretty much mandatory for your next sleepover or at-home spa day with friends, I don't make the rules!! Except I will fight you for the mermaid one. 

8.
A pair of glowing lightsaber chopsticks to bring balance to The Force *and* to your sushi. 
As you can see from the above GIF, I bought these for myself, and I love them to pieces. TBH, I use them as decor every bit as much as I use them to eat. Sometimes I just keep them in my work area to light them up during the day to feel fancy. They toggle back and forth between a bunch of different colors, like red, blue, yellow, purple, and multicolor, so you can either make them match *or* have a red and blue one together and bring ~balance~ to the Force.

Get it from Amazon for $11.98.

9.
A Silly Poopy's Hide & Seek game, aka any parents' dream — this gizmo keeps kids entertained for hours of fun hiding it all over the house, where it makes little noises to give clues about where to find it. It's basically all the joy of playing hide and seek, except it's the *toy* hiding, not the humans. 
Check out a TikTok of the Silly Poopy in action. 
Promising review: "Let me tell you that if you want hours of endless fun of hide and go seek without having to hide yourself, this is a must get! When it's hidden it makes various toot noises and says stuff so the kids know if they are close. And when they find it and press the button to do and sing the silly poopy dance ... even you will dance and sing along!!! Doesn't need batteries and come on, it's poop? Who doesn't think poop and toot noises are funny and if they don't they are lying to themselves. A must-have for fun with your kids without barely doing any work!!" —andrea kelli gorman
Get it from Amazon for $12.99.

10.
A Michael Scott/Prison Mike reversible dishwasher magnet so you always know whether the dishes in there are clean and need to be put away, or whether they're dirty and here to SCARE YOU STRAIGHT.
Promising review: "My whole family is a fan of The Office, so when I was searching for a magnet we could use on our dishwasher, this was the hands-down winner. Does it go with my farmhouse decor? Nope, not at all. But it does get the attention of two teenage boys. Had I gone with something a bit more my decor style, I can guarantee you it would not be as useful. I mean, we all would much rather see Prison Mike staring back at us than suit and tie Michael Scott, right? And there is only one way for that to happen...clean out the dishwasher!" —R. Funk

Get it from Amazon for $8.99.
11.
A mini inflatable tube guy for your desk to cheer you on (or remind you to take a lil' dance break whenever you overwork yourself).
Promising review: "OMG! I love this guy! These things large and small will ALWAYS make me laugh. My husband bought the desk version for me and I can always count on it to make me laugh. My co-workers love it too. People just stop by to turn him on for a quick pick-me-up. I would recommend getting the AC plug since batteries can run down fast. I think we should create a community of fellow air-dancer-havers and post clips of our little guys dancing to our favorite songs. Anyone in?" —Mark
Get it from Amazon for $9.58.
12.
A teensy tissue box home with "smoke" coming out of its chimney that's so darn precious you'll want one for every room.
Here's what BuzzFeeder Elizabeth Lilly has to say about it: "I, an adult woman, cannot remember the last time I bought a box of tissues for my home (though I have several purse packs?!). It may have been when I most recently had a sinus infection, which I guess was two-plus years ago. But now that I'm playing house as a grown-ass person in an apartment to myself, I'm trying to be *responsible*. So obviously buying this whimsical tissue box cover we've featured in a million BuzzFeed shopping posts is peak adulting. Perhaps the reason I've been so bad at keeping around a box of tissues is because tissues just look...kind of ugly out in the open. But not with this lil' cover! Now it's a ~design element~ that I'll hopefully remember to keep full. For now, it's filled with a square box of tissues I unearthed from my old apartment's closet while packing; it's presently neatly housed inside the tissue box cover, providing the 'smoke' for the tiny chimney. The only downside to committing to this box is that I'll have to buy square-shaped tissue boxes only now. But I can live with that. And with my not-snotty nose."
Get it from Amazon for $8.86+ (available in four colors).

13.
A set of zombie ice pop molds for some delectably undead snacking — reviewers use these for fruit, yogurt, and ice cream pops, and especially love that the "stick" is a base that you can use to stand them up like a terrifying lil' action figure. 

Promising review: "My 4-year-old granddaughter loved these zombies molds. She had fun making the ice pops! She made yogurt and fruit pops, and they looked just like they are pictured." —Amazon Customer

Get a set of four from Amazon for $16.10 (available in three other styles).