1.
A cult-favorite ~secret~ popcorn salt anyone in the movie theater industry will tell you is a perfect dupe for that oh-so-savory buttery goodness you love to inhale before the previews begin. Not to be dramatic about popcorn on main, but this stuff is game changing.
Our family recently unearthed this because beloved To All The Boys I've Loved Before author Jenny Han mentioned that it was her secret to delicious popcorn, and it may have just wrecked me for other at-home popcorn for the rest of my life. It genuinely tastes just as salty and buttery and savory as fresh movie theater popcorn. I inhaled it so fast that every single one of my organs lit up in mild alarm.
Promising review: "I am a person who will make myself sick eating buckets of popcorn (I have no self control). This has by far been my favorite 'TikTok made me buy' item. My at-home popcorn is now my favorite thing to make and I don't need to go the theater for popcorn. Very much worth the purchase and this will last me such a long time." —S Martinez
Get it from Amazon for $9.25.
2.
A pair of popular cross-waist leggings heralded as the perfect dupe for the Aerie leggings that went bonkers viral on TikTok — reviewers love this version for the streamlined look, the soft four-way stretch, and of course, the hidden pocket in the waistband 👀. 

Promising review: "I absolutely love these leggings. As a plus size girl it's hard to find really nice leggings on Amazon, but these are so great! They did not move much during my work out, they are squat proof, and they are so comfortable. I will order the next pair a size down because they were a little bit more roomy in the waist than I anticipated. Can't wait to buy more colors!" —Lillian Williams
Psst — if you have Amazon Prime Wardrobe, you can try this piece out before you buy it! 
Get it from Amazon for $22.98 (available in women's sizes XS–3X, two inseams, and dozens of colors). 

3.
Tonymoly Magic Food Strawberry Mushroom Sugar Scrub, aka an enchanting, cottagecore combo of strawberry seeds, sugar, and mushroom extract that helps remove dead skin cells and even out texture for brighter, smoother skin. 

Promising review: "New favorite scrub! Dudes, it's got real strawberry seeds. The fine sugar and the thick glycerin texture make this a very gentle scrub that leaves your skin moisturized. I'm sure those seeds don't really add to the exfoliating, but come on, proper seeds, it's too cute. I can see myself using this up fairly quickly, as it's the first thing I reach for when my skin feels dull or flaky. The smell is heavy and sweet, like strawberry syrup, but doesn't linger on skin after rinsing." —autumn

Get it from Amazon for $16.50. 
4.
A painless, mint-flavored teeth-whitening pen that gets results from the very first use, lightening up years' worth of stains from coffee, tea, wine, or just...you know. Existing as a human with teeth.
Promising review: "I bought this on a whim when I saw someone review it on TikTok. After using it several times over the course of a week, I immediately noticed the difference in the color of my teeth. I'm a smoker and a heavy coffee drinker. I'm finding that this product will be a lifesaver in terms of what my smile looks like. I would definitely recommend!!" —Mully
Get a two-pack from Amazon for $19.99. 
5.
A SwitchBot Smart Switch Button Pusher to turn virtually *any* device with a press-able "on/off" switch into smart tech in an instant. Once you adjust the device over the button — be it a light switch, a switch to turn on your kettle, or a switch to turn on a fan — you can ask Alexa or Google Home to turn it off or on, or control it via an app on your phone. 

Reviewers love this because it doesn't require you to "smart enable" other parts of your home. It's also a great way to turn on your kettle or coffee brewer from the other room so it's ready for you when you get out of bed! 
Promising review: "Super great! Comes with clear instructions, the mobile app is clear and well designed and it's super easy to set the whole thing up. Honestly I'm really happy with the product. Now I don't have to get up all the time when I inevitably forget to turn the lights off. I can just hit the button on my phone and VOOP the little arm comes out and presses the switch!" —Noah R. 

Get it from Amazon for $29 (available in white and black). 
6.
A tablet and phone stand for hands-free streaming and FaceTiming when you want to be snuggled in your bed or on the couch as cozily as humanly possible. Reviewers also use this on exercise equipment, to stream content when they're cooking in the kitchen, or to record videos! 
Promising review: "For years, I saw my wife watch her Korean dramas and YouTube videos in bed, lying on her side with her phone or iPad propped on a pillow! This was not comfortable or easy to move around if interrupted. Got her this and we like it so much I bragged about it and purchased another one for a family member!" —Z

Get it from Amazon for $22.99 (available in black and white).
7.
A copy of Burn After Writing, a guided journal that tens of thousands of reviewers swear by — through a series of questions and thought experiments, it encourages people to take time away from their screens to explore their feelings, both new and old, so they can embrace meaningful ones and try to let others go. 

Promising review: "I first saw this book on TikTok and decided to look more into it. I purchased four total because I know some people holding onto things that are difficult to let go of. It's a great way to look at things from a different perspective and truly hold yourself accountable to different things in your life. I love what it stands for and I look forward to when I burn mine after I'm done. Self love, self care, and meditation for a better state of mind tomorrow is always the goal. I definitely recommend it to those susceptible to change and the willingness to try things different. You're so much more than what's been done to you and someone's inability to see your worth does not decrease your value. Choose you for a change." —Brent Helm
Get it from Amazon for $7. 
8.
A plug-in color-shifting mushroom light for anyone whose little cottagecore heart could use an extra dose of cozy in their room. 
Promising review: "I LOVE this night-light. It's in my bathroom and is a lovely addition. It turns off the second the lights go on which is nice that I don't have to worry about accidentally leaving it on. Super cute and the little itty-bitty lighting element does a good job lighting, just enough so I don't have to turn the main lights on in the middle of the night." —1Thand

Get it from Amazon for $6.48. 
9.
A bottle of Elizavecca Hair Treatment, an Olaplex "dupe" repairing mask infused with collagen ingredients and protein extracts that will help restore hair health and reduce shedding. All you gotta do is apply it on wet hair after a shampoo, wait five minutes, and rinse it out.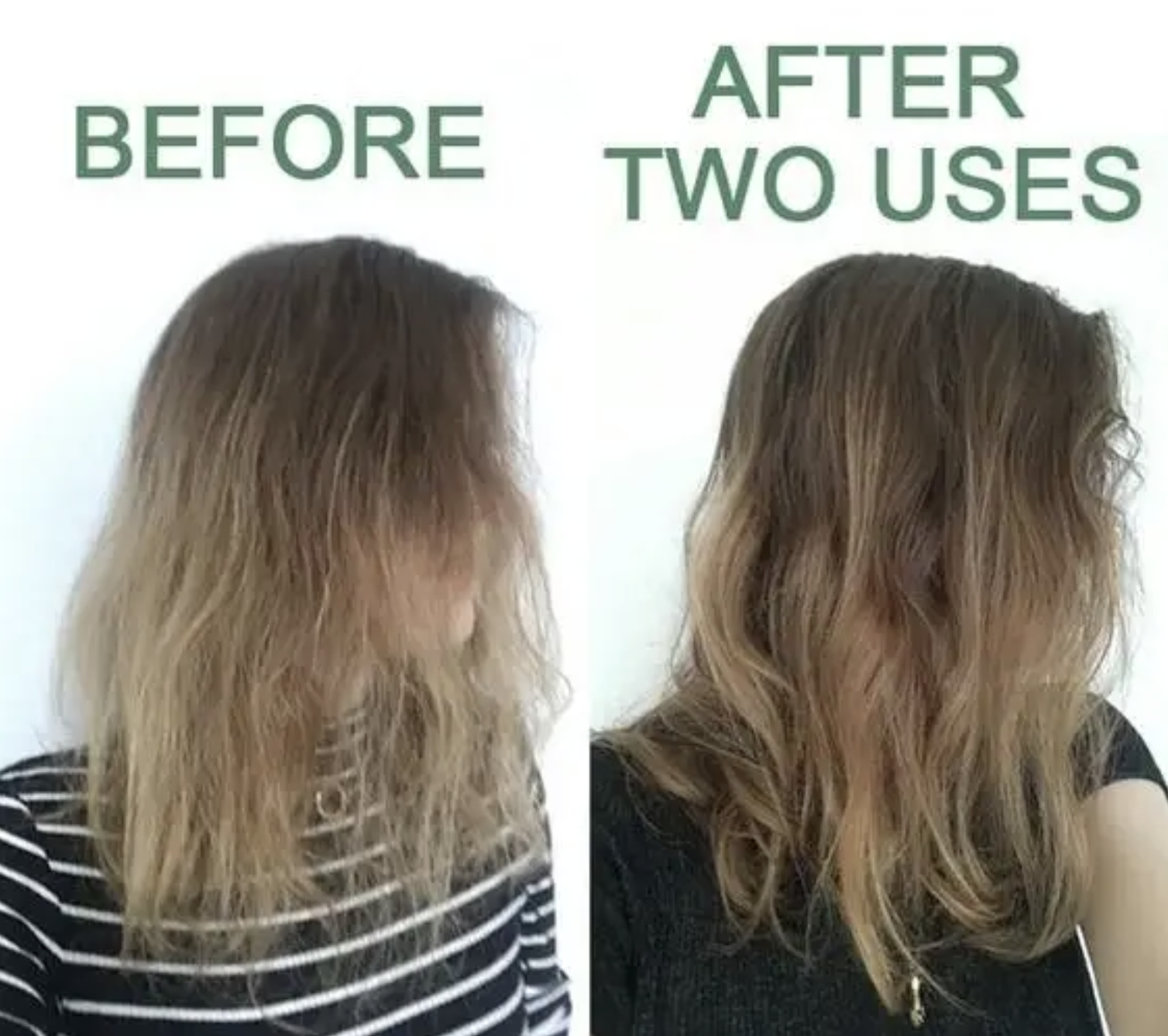 This is designed to work on all hair types, with reviewers with 2b to 4c curls mentioning it worked for them! 
Promising review: "I saw this on TikTok, and in between other compares products that were four times the price, I decided to bite the bullet and buy this — let me tell you, best decision ever! I shampooed my hair, then heavily massaged this in, from ends to scalp. The carton says 5-20 minutes... But I ended up leaving it in for two days! And after washing it out, my hair was so shiny, bouncy and CURLY! My curl recovery journey has been long, but this has helped restore so much vibrance and shape to my hair. My mom has been stealing it from my bathroom every couple of days, after having similar results on her hair. Going to need to buy a few more to ward her off." —curlyhead3
Check out BuzzFeed's full review of the Elizavecca hair treatment for more deets!

Get a bottle from Amazon for $7.70.
10.
An automatic soap dispenser that's also a clock (!!) because we're all just getting closer to living in The Jetsons every darn day. Reviewers love how modern and sleek this gadget looks in their bathrooms (and how it also helps them keep track of time if they're running late!). 

Promising review: "I'm obsessed with this thing! I'm always trying to make my rental apartment's kitchen feel a little more luxe, and this is a great addition. It looks a lot more expensive than it actually is, it's really sleek. The suction/adhesive to keep it on the tile backsplash also works really well. I'm a few weeks in and it feels very sturdy. The charge also lasts decently long, and it charges quite fast when you do need to recharge. I want to order the white one for my bathroom next!" —Jenna Rose

Get it from Amazon for $15.99+ (available in white and black). 
11.
A discreet rechargeable neck warmer for when the infamous "Hot Girl Walks" become "Freezing Cold Winter Gremlin Walks" — this holds a charge for over three hours and helps regulate your body temperature with multiple heat settings.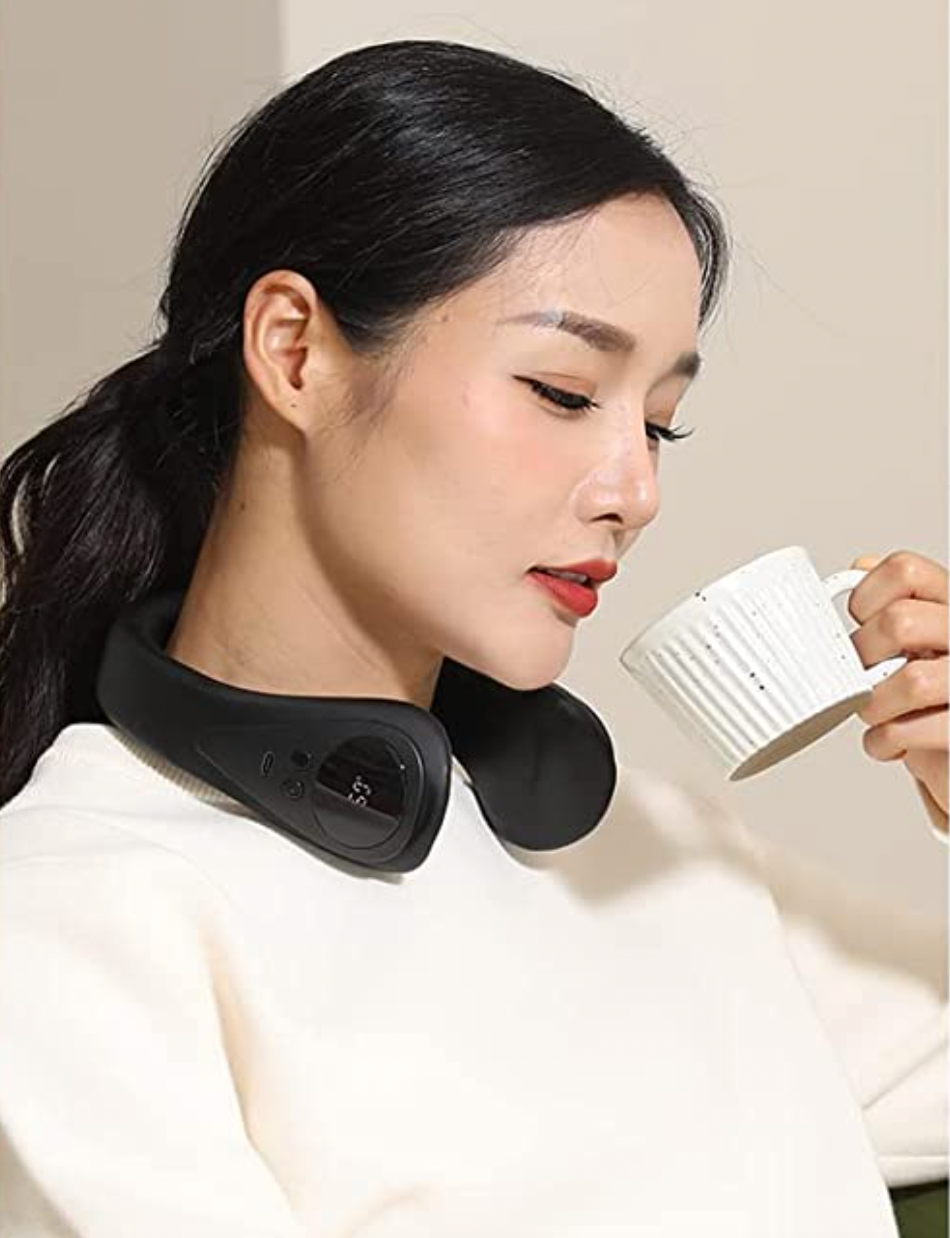 Promising review: "I am really happy with this portable neck warmer. I have other heated massage devices to help alleviate pain and other heated devices that work just for warming up the body. This device does both. It works like hand warmers, but it is designed to wear around your neck. Since I tend to carry tension in my neck, this provides relief. It is easy to charge and easy to use on the go. Good choice." —Jen C. 

Get it from Amazon for $39.99 (available in two colors). 
12.
A sophisticated marble-patterned dish drying mat designed to actually fit into the aesthetic of your kitchen, so you're not always tempted to hide it away (and procrastinate on dish washing as a result). 
Promising review: "Matched our counters and almost blends in completely. We roll it up in the morning after all the dishes are dry. Great for smaller spaces with less counter space and protects the counter from water damage over time. Washed it in normal laundry cycle multiple times and it comes out clean as if new each time with no pilling. Spilled coffee on it on accident, sprayed flex, tossed it in the wash and it cleaned completely." —Shopmindfully

Get it from Amazon for $12.99. 
13.
A fast-acting ChomChom pet hair remover roller deeply beloved by pet owners — it's like a sticky lint roller, but specifically designed to pick up pet hair. It not only locks it in, but also stashes it inside the roller itself so you don't end up making matters worse by just shoving the hair around (instead of getting rid of it properly). 

Promising review: "I have a golden retriever and the shedding is out of control. My fabric sofa is constantly covered in hair and I finally decided to try this after reading an article about popular TikTok products. The reviews do not lie, this thing works magic!! I wish I had taken a before and after picture because the difference is noticeable. I watched the video tutorial before I tried it to ensure I was using it properly and everything he says is true, you do really have to put your arm to work with vigorous back and forth movement! However, I find it's a great arm workout and it works wonders." —Joanne Ertel
Get it from Amazon for $25.44 (clip the $3 off coupon on the product page for this price).