1.
A set of Globbles, which are about to be your new favorite stress-relieving fidget toy. These colorful balls are squishy, stretchy, and stick to pretty much any flat surface you throw them at *without* leaving any messy residue. TikTokers are having a blast tossing these at walls and ceilings to see the satisfying way they glom onto them. 

Check out a TikTok of the Globbles in action. 
Promising review: "Bought a six-pack for my neurodivergent family. We are all either ADHD or autistic. I struggle with compulsive hair pulling and bought these to help keep my hands busy. They are the perfect size, more satisfying than a stress ball, clean easily, fun to hurl at the wall or ceiling, and so far have lasted very well. I did test the durability of one and did break one when I pulled it as hard as I could. The inside looks something like shaving cream and didn't smell or anything. But if you have a kid who is an aggressive chewer, perhaps keep an eye on them." —Amazon Customer
Get a set of six from Amazon for $10.27. 
2.
A copy of Burn After Writing, a beautifully-designed guided journal tens of thousands of reviewers swear by — through a series of questions and thought experiments, it encourages people to take time away from their screens to explore their feelings, both new and old, so they can embrace meaningful ones and try to let others go. 

Promising review: "I first saw this book on TikTok and decided to look more into it. I purchased four total because I know some people holding onto things that are difficult to let go of. It's a great way to look at things from a different perspective and truly hold yourself accountable to different things in your life. I love what it stands for and I look forward to when I burn mine after I'm done. Self love, self care, and meditation for a better state of mind tomorrow is always the goal. I definitely recommend it to those susceptible to change and the willingness to try things different. You're so much more than what's been done to you and someone's inability to see your worth does not decrease your value. Choose you for a change." —Brent Helm
Get it from Amazon for $7.32. 
3.
A Michael Scott/Prison Mike reversible dishwasher magnet so you always know whether the dishes in there are clean and need to be put away, or whether they're dirty and here to SCARE YOU STRAIGHT.
Check out a TikTok of the Michael Scott dishwasher magnet in action. 

Promising review: "My whole family is a fan of The Office, so when I was searching for a magnet we could use on our dishwasher, this was the hands-down winner. Does it go with my farmhouse decor? Nope, not at all. But it does get the attention of two teenage boys. Had I gone with something a bit more my decor style, I can guarantee you it would not be as useful. I mean, we all would much rather see Prison Mike staring back at us than suit and tie Michael Scott, right? And there is only one way for that to happen...clean out the dishwasher!" —R. Funk

Get it from Amazon for $8.99.
4.
A dimmable sad duck nightlight because sometimes you just have to look at this emotionally deflated creature on your desk and be like, "Welp. At least I'm doing better than that little dude."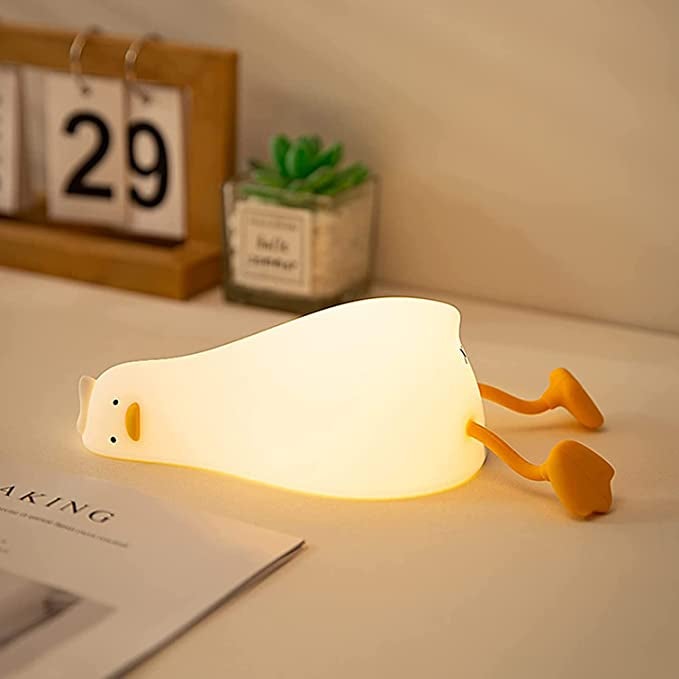 Promising review: "I ordered this lamp because of its appearance. I didn't NEED a depressed duck lamp ... but it has totally filled a void in my life I didn't know existed. Everyone who sees it pokes it. The lamp is actually very functional. It's got a really nice set of brightness options and the glow is yellowish, which is much nicer than white in a dim/dark room. One thing that isn't mentioned in the description is that its legs are utterly floppy. It's terrific." —Literated

Get it from Amazon for $15.99 (available also as a cabbage?? I don't know, you do do). 
5.
A tear-off daily self-care calendar for a gentle way to start your day and still keep it productive and fulfilling — this has space not just for a to-do list, but affirmations, things you're thankful for, reflections, meals, and plans for self-care.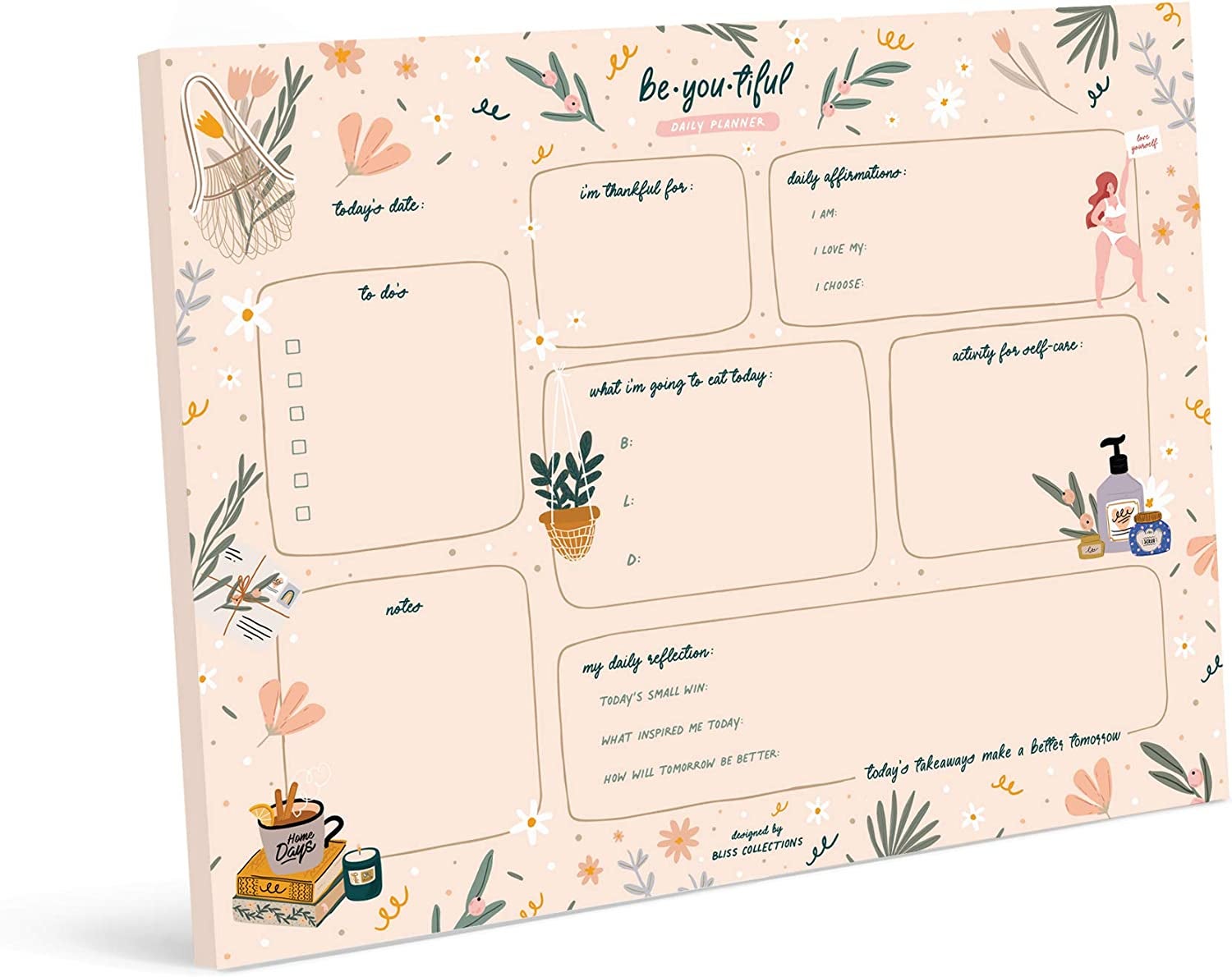 Bliss Collections is a family-owned, Wisconsin-based business established in 2012 that specializes in stationery, planners and pads, and drinkware.
Promising review: "I got this for my mental health when I was in a really bad place mentally and I was trying to figure out why I was having so many panic attacks. This made me feel on top of stuff and gives me something to look forward to. Super cute, super cheap, and it makes me happy." —katelyn
Get a 50-sheet pad from Amazon for $9.49. 
6.
A shaker of salt and vinegar seasoning so you can get all that puckery salty goodness *without* sacrificing crunch. Reviewers love using this for everything from chips to baked potatoes to fried chicken to veggies, and mention that since it packs a punch it lasts a while and is def worth the investment. 

Promising review: "Always loved salt and vinegar and this is a great way I can satisfy a craving without necessarily having to buy a pricey bag of chips. Another reviewer said that this particular product was pretty tangy and not sweet like some other brands — I can't speak to other products, but this stuff is definitely tangy and doesn't really have any sweetness to it. The consistency is almost like powdered sugar, which is great because it sticks to almost anything. The flavor reminds me almost exactly of Lay's S&V chips — it's more of a white vinegar than a malt vinegar (more like Kettle brand or British S&V chips). Def will buy this again." —WJ
Get it from Amazon for $9.81 (and check out some other fun seasonings like sour cream and onion and wild buffalo for more options!). 

7.
Essence's Lash Princess mascara, because TBH, we've all wasted too many years and too much money looking for the ~holy grail~ mascara. This one is less than $5, gives you instant length, and is DELIGHTFULLY sweatproof. 
Hello, that is my face above, because I bought into the hype of all the 5-star reviews and now I will never look back!! Putting it on is like giving my eyelashes butterfly wings. It doesn't get clumpy, it stays put ALL the livelong day no matter how much you sweat, and you can apply it on very lightly if you don't want it to look so dramatic, or continue applying for longer lashes each time.
Promising review: "Saw this product on TikTok and thought it would be expensive looking at the results they got. I am beyond amazed with how my lashes look after about two coats. For around $5 you couldn't ask for a better mascara! I will be buying this same one when I run out. I was not expecting to like it as much as I do! No complaints." —Kd
Get it from Amazon for $4.99.
8.
A trio of hydrating lip sleeping masks for three just-as-good-as-Laneige products in *one* — this even comes in four different flavor combos so you can split them among friends, if you're feeling generous during this dry skin-inducing winter. 

Promising review: "This is the most moisturizing lip treatment in the market. When my lips started getting dry due to the cold season I was thinking of buying the Laneige lip mask, but it's soooo expensive. This is a fraction of the cost and feels just the same. Very good product." —Riya

Get it from Amazon for $9.90 (available in four combos). 
9.
A set of rainbow bath fizzes that are just. Lawlessly joyful. *grabs you figuratively and respectfully by the face* LISTEN. You deserve this technicolor chaos in your bath water. You just do!! 

Promising review: "I bought a two pack of these for my seven-year-old for Christmas and they did not disappoint! The rainbow lasts a long time and makes beautiful, vibrant trails across the water. My daughter was completely enchanted! I highly recommend this product!" —JRoff81

Get a two-pack from Amazon for $8.95 (available in four-packs and three other styles). 
10.
A set of eye-popping fine point pens designed for planners and journals, so you can — gasp — color code all your to-do lists, fun plans with friends, and scrapbook pages. 

Perhaps most importantly for anyone out there planning to go full Leslie Knope on these is that they're designed not to bleed through thin pages!
Promising review: "I love how this pen feels to hold and it writes beautifully! I am very picky about how the ink looks from the pens I use and I don't remember having one that writes so smoothly and beautifully! I will buy these whenever I need more. I actually just purchased another package of all black!" —Marcia
Get a set of 18 from Amazon for $7.99. 
11.
A Starbucks custom drink order sticker complete with your go-to beverage listed out so you can feel *seen* every time you look down at your laptop or reusable cup. Truly nobody knows you better than the the Starbucks mermaid and your local barista!!!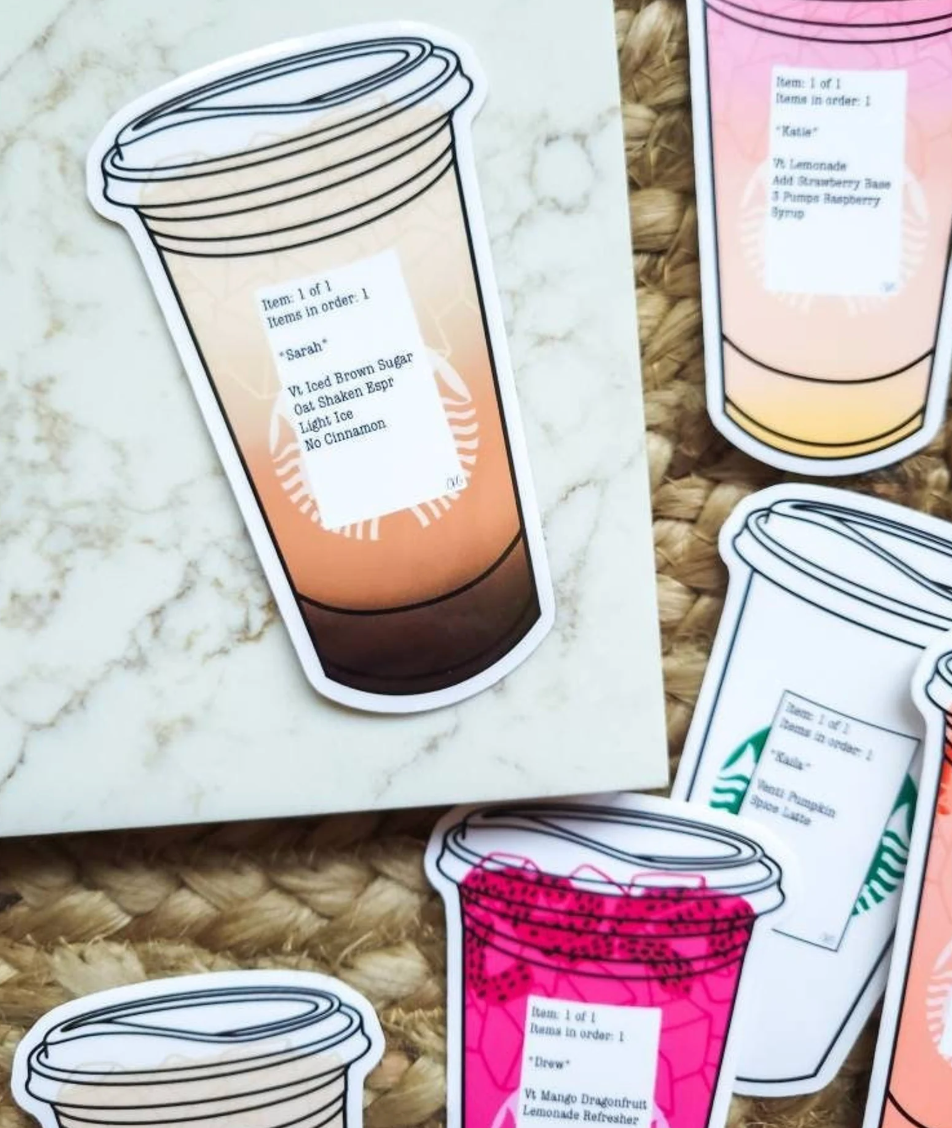 Copper Penny Co. is a Canada-based Etsy shop established in 2020 that specializes in custom gifts and homewares. 

Promising review: "Perfect quality. I was gifted color changing cups and will be adding these onto them. Expectations EXCEEDED!!!" —GDub

Get it from Copper Penny Co. on Etsy for $5.33. 
12.
A book-shaped flower vase with some real "Belle from Beauty & the Beast" energy (like TELL ME this vase wouldn't absolutely come to life and start strutting its stuff all over the library). 

Check out a TikTok of the book vase in action. 

Promising review: "The vase was so pretty I bought a second! They're durable and very appealing to the eye. I will be purchasing more." —kayla
Get it from Amazon for $24.99+ (available in four colors). 
13.
A light up wooden vinyl record display, because there's vibe curation and then there's ~viiiiibe curation~. Which is to say, you can now recklessly immerse yourself in the ten-minute version of "All Too Well" with your ears *and* your eyeballs. (Godspeed.) 

14.
A set of heart-shaped bookmarks to save your place on all your beloved rom-coms, rom-drams, and 🔥🌶️🥵  BookTok recs. 
Promising review: "These are adorable and functional! I used them as markers in a reference book. Nothing sticks out, but I can find many key pages easily. I'd absolutely recommend these." —Anonymous One
Get a set of 10 from Amazon for $4.96.